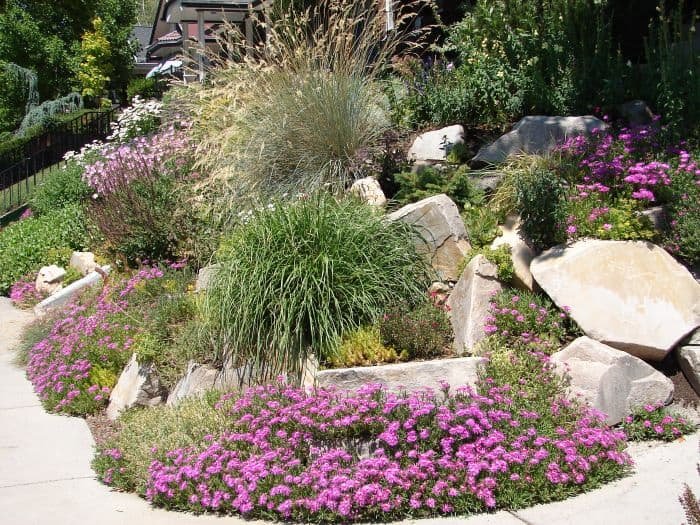 You many hear xeriscaping and think what in the world is that? The name is so unusual you might think it's something involved with space travel.
We'll talk about what is xeriscaping and why you might want to use it if you live in an area with drought conditions.
What Type of Landscaping Is Xeriscaping?
There are many things that make xeriscaping an increasingly popular approach to landscaping.
Xeriscaping is a type of landscaping that is focused on planting slow-growing plants that are drought tolerant. It requires few resources to maintain and a reduction in the waste produced by these plants. In fact, xeriscaping can potentially reduce water use by up to 75%.
The purpose of this type of landscaping is that it can reduce any yard trimmings while also helping conserve water.
Why Consider Xeriscaping?
There are plenty of benefits to choosing the xeriscaping approach for your backyard.
Some of the top benefits of considering xeriscaping include:
Reduces your water waste: It is estimated that more than 50% of all residential water usage is used for maintaining lawns and landscaping. As previously mentioned, it is estimated that you can reduce your water usage by up to 75% by using xeriscaping.
Reduces maintenance: It can require a lot of maintenance to keep up with your landscaping. It's very time consuming and sometimes doesn't even give you the reward of having a great looking yard.
Saves money: You can save a lot of money by choosing xeriscaping for your property. You won't spend as much on your water bill, and you have a reduction in money that you need to spend for maintenance costs such as buying fertilizer.
Reduces need for fertilizer: There is also a reduced need for fertilizer when you use xeriscaping. This is good because not only does it save you money from spending money on fertilizer, but it also is good for the environment.
Improves look of the property: As plants die and grass isn't properly tended to, this can make the property look unkempt. Since xeriscaping focuses on using plants that are low maintenance and native to the area, you will have plants that require less maintenance and thrive in your location.
Now, let's see what kind of plants you can use in a Xeriscaped yard.
What Kind of Plants Do You Use in a Xeriscaped Yard?
Plants known as "xeric" plants are used in xeriscaping. These are plants that typically have low water requirements, meaning that they can handle drought conditions well.
There are several different plants that can fit in this category, but keep in mind that you need to consider your hardiness zone when choosing the right options for your yard.
Some plants that you can use in xeriscaping include:
Acacia
Weeping bottlebrush
Incense cedar
Cypress
Juniper
Eucalyptus
Pine tree
Bottle Tree
Crepe Myrtle
Desert Willow
Bearberry
Brittlebush
Christmas berry
Blue hibiscus
Lavender
Rose of Sharon
Cape honeysuckle
Yellow bells
Flannelbush
These are just some options that you can use as part of your xeriscaping project.
Principles of Xeriscaping
There are 7 principles of xeriscaping that you should be aware of before taking the plunge.
Here is each one explained:
Conserving water: One of the main goals of xeriscaping is to conserve water, so you want to take care in finding plants and landscaping designs that serve this purpose.
Improving soil: It's also important to improve the soil when picking plants and landscaping designs. You want to make sure that the soil can store water and quickly drain all at once, which is a difficult balance to achieve.
Limit the turf area: When done properly, there should be limited turf/lawn around the space. You can still have some turf areas around the property for aesthetic appeal, but it should be in limited areas.
Using native plants: One of the most essential things to remember is that xeriscaping relies on using native plants to work. Native plants tend to require less to survive, which is why this is a crucial part of xeriscaping.
Utilize mulch: Mulch is a major part of xeriscaping. The mulch is used to cover the soil, which can be created from a variety of materials such as pine needles, compost, and leaves. Mulch can prevent weeds and help the soil retain healthy moisture levels.
Irrigation: The goal of a xeriscaped garden is to conserve as much water as it possibly can. With proper irrigation, you can avoid overwatering issues that lead to wastefulness. There are various irrigation techniques that you can use that will work best for your specific garden.
Maintenance: Xeriscaping ensures that there is minimal maintenance required for your garden. This makes it so that you can spend more time enjoying your landscape rather than tending to it.
Now, let's see some of the limits to xeriscaping.
Limitations of Xeriscaping
As great as xeriscaping is, there are still some limitations with this approach.
These downsides include:
There is a sparse amount of greenery, which is a major part of xeriscaping.
Not having green grass can be a turn off for potential buyers.
Though it takes time and money to create a xeriscape yard, if your needing to redo your landscape already, it will actually save you money in the long run with less water and chemical usage.
Obviously if you want a lot of greenery and blooms, xeriscaping might not be for you but do consider if you live in a drought area, how much water it will require to keep everything green.
Taking into account future buyers of your home is a constant worry for any home renovation, especially if you plan to sell your home soon. But, as xeriscaping becomes more popular, those "potential buyers" might see it as an upgrade.
Conclusion
Now you know everything about xeriscaping, including what it is and some examples of plants you can use in this type of landscaping.
If you live in drought areas, some municipalities will actually pay you money to get rid of your lawn and xeriscape your yard.
I'm not a fan of lawns due to the constant upkeep and costs and hopefully will get some more xeriscaping plants for our Florida home soon. Good luck with xeriscaping your backyard!