Weeds are annoying. They can pop up out of nowhere, harmful to your lawn. They can make a beautiful yard look like an ugly one and ruin the appeal of your house. So how do you get rid of them for good?
There are multiple ways to permanently kill weeds. Store bought weed killers can kill them permanently, but they may also damage your lawn or harm pets. There are also various home weed killers, such as:
Now, if you go out and purchase any dual-action weed-killing products, you need to consider a few things. Decide how quick you want the products to work, figure out what's best for your lawn, and identify where you'll be using the chemicals. Keep reading to learn about the different types of herbicides, natural products, and different ways to prevent and keep weeds away from your lawn.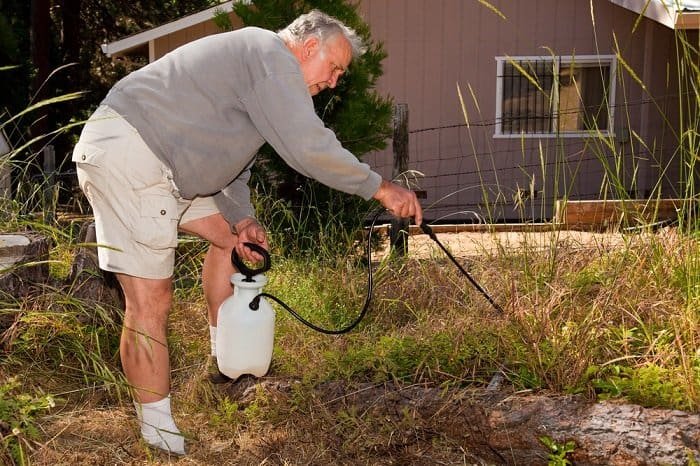 What Kills Weeds Permanently?
To get rid of weeds for good, you need to attack the weed at its roots, take steps to prevent them from coming back, and here's how you can do that:
Using a homemade weed killer by combing vinegar and dish soap: This your safest, simplest, and most cost-efficient option.
Buying chemical weed-killing products such as Natual Armor: This spray kills over 200 types of weeds and is highly rated.
Making sure you take steps to ensure the weeds don't grow back: Laying down mulch can deprive weeds of light, stunting their growth.
Identify what type of weeds are in your yard: Not all weeds are the same, some have to be treated differently than others.
Using Home Grown Methods
Most gardeners use this option. It's simple and won't cost you a ton of money. All you need is salt, vinegar, dish soap, and a spray bottle.
Get about one quart of the vinegar and heat it up in a pan until hot.
Pour in about a cup of salt into the vinegar, mixing until it is dissolved.
Take your mixture, pour into a spray bottle, and then pour in dish soap.
Let your homemade weed killer sit and then get to work. This shouldn't cost you any more than $20, much cheaper than spending anywhere between $40-$50 on chemicals. With it being non-toxic, it's also safer to use around your pets.
After you've let your mixture sit, head out to your yard, spray the weeds and make sure to be careful to not spray any plants. It's best to spray during the hottest part of the day to ensure the weeds will get killed. The spray draws the moisture out of the weeds, hurting its chances of survival.
Keeping this on hand is inexpensive and works in just about any season.
Purchasing Chemical Weed Killer
So, you decided to head to Home Depot and tackle the weeds using chemicals. Well, there's a long list to choose from, but we'll explain all those options right now.
While you're shopping for weed killers, here are some things to consider:
How fast do want the weeds to die out? Some weed killers can destroy weeds within 24 hours, some kill them out over time. Figure how bad you want the weeds gone.
Do you need pre-emergent or post-emergent weed killer? Pre-emergent is best for preventing weeds, which destroys seeds and stopping them from growing. Post-emergent will get rid of weeds while they're growing or sprouting.
Where are the weeds? Are they close to your plants or flowers? If so, you may want to carefully read what chemicals are in the weed killers and if they can be harmful to your plants and pets.
What's best for your lawn? Do you want your grass to be harmed in the process? You don't want to harm your lawn in the process of getting rid of weeds. There are some herbicides that won't do any damage to your lawn.
Compare-N-Save weed and grass killer would be one of your best options. It kills weeds fast and gets the job done. The product also kills grass, so be careful if you don't want too much of your grass killed. It won't cost you much, running you around $20-$25 for one gallon.
If you want to protect your lawn, then Southern AG 2,4-D weed killer is your go-to. It attacks broad-leaf weeds and plants, so it doesn't kill grass. It's also a little bit cheaper, costing you about $16 for one gallon.
Beware that broad-leaf weedkiller will also kill plenty of helpful and good plants, too, such as clover. Lawns with clover are much more drought resistant and are generally healthier due to the nitrogen that clover fixes back into the soil.
Buying Non-Chemical Weed Killers
If you're still wary about using chemicals in your lawn, then look into a natural weed killer. There are plenty of safe and organic weed killers that don't contain any chemicals.
Natural Armor Weed & Grass Killer is a popular weed killer that gets the job done. It contains no glyphosate or any chemical poisons. It's non-toxic and eco-friendly, plus it's fast-acting. After a few sprays, it'll look like you took a torch to your weeds, so don't be alarmed at how they look.
Another option is Green Gobbler. It's also organic and herbicide-free and contains 20 percent vinegar. Your veggies and other plants will also be safe, as this product is very eco-friendly. And it doesn't take long to work. This product claims to kill weeds within 24 hours of contact.
Ensuring That Weeds Don't Come Back
Ok. You've decided how you wanted to get rid of the weeds and after a few days, they went away.
Now it's time to make sure they don't grow back.
One simple trick that'll make sure weeds don't return is putting down mulch. Laying down a thick layer of mulch smoothers small weeds and creates an environment that's tough for weeds to grow. Mulch also helps plants by keeping them cool and also deprives weeds of soil.
Speaking of plants, make sure you grow your plants together closely. Weeds like to pop up in open spaces between plants, that can't happen if your plants are tight together. It may be easy to just block your planets together in a section, whatever you do, just make sure they're tight together.
And the oldest trick in the book to stopping weeds from growing is to simply pull them. There's nothing fun about weeding, but it'll definitely pay off and that's a sure-fire way to get rid of the weeds.
How To Prevent Weeds
Even after doing those steps, you still have to take measures to prevent any new weeds from popping up. It's important to catch them early. Here are a few steps to stop weeds in their tracks:
Check your garden daily. A brief check before work or after work can pay dividends in the future.
Clean your tools, you don't want weed seeds spreading from one area to the next.
Be careful not to over-fertilize or under fertilizing your lawn.
When buying mulch, purchase weed-free mulch.
Conclusion
Keeping your lawn free of weeds can be tedious, but it'll be worth it. Your lawn is essentially an extension of your home and doesn't want their home to be nice and tidy.
Weeds aren't appealing and can be harmful to your plants, so it's best to take care of them. Plus, who doesn't want bragging rights about having the nicest lawn on the block? Be sure to checkout our article on how you can get rid of pokeweed from your yard!