Our very first house had a large slope in the backyard. We didn't know what to do to keep the dirt from washing away every heavy rain. Luckily we went to our nearest garden center and they suggested a couple of different ground covers.
We hired a landscape company to plant the ground cover and voila, it was like night and day difference. Where there was just patches of dirt and grass, was now a thick green mat of ground cover.
If you have the same problem, we'll show you several different ground covers that will work in a variety of circumstances.
Having good ground cover helps you reduce erosion within your yard and add to the aesthetics of your landscape. You can't go wrong by adding ground cover, but you want to make sure you get the right ones.
Here are some options to choose from:
Spotted Dead Nettle
Asiatic Jasmine
St. John's Wort
Pachysandra
Creeping Junipers
Creeping Phlox
Stonecrop
Lamb's Ears
Many of these can grow in different zones with a mix of partial to full sun plants. Continue reading to see what plants are best for your area.
Spotted Dead Nettle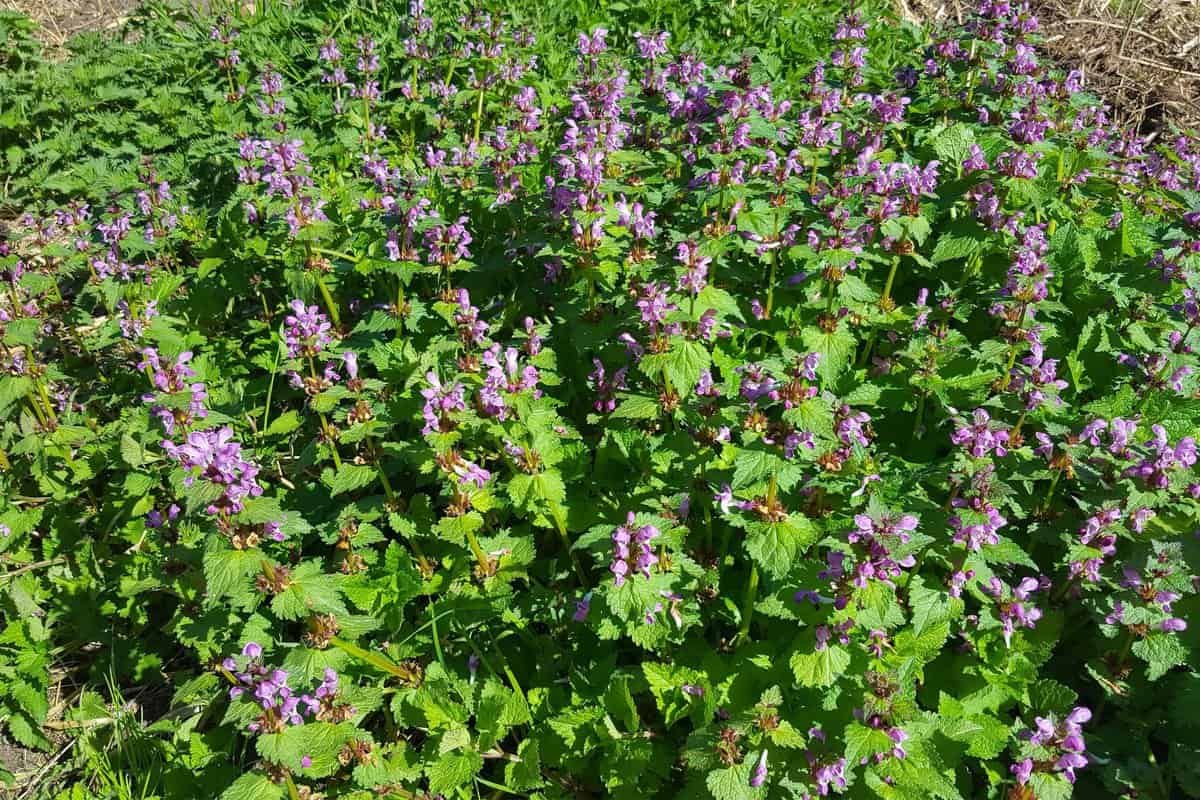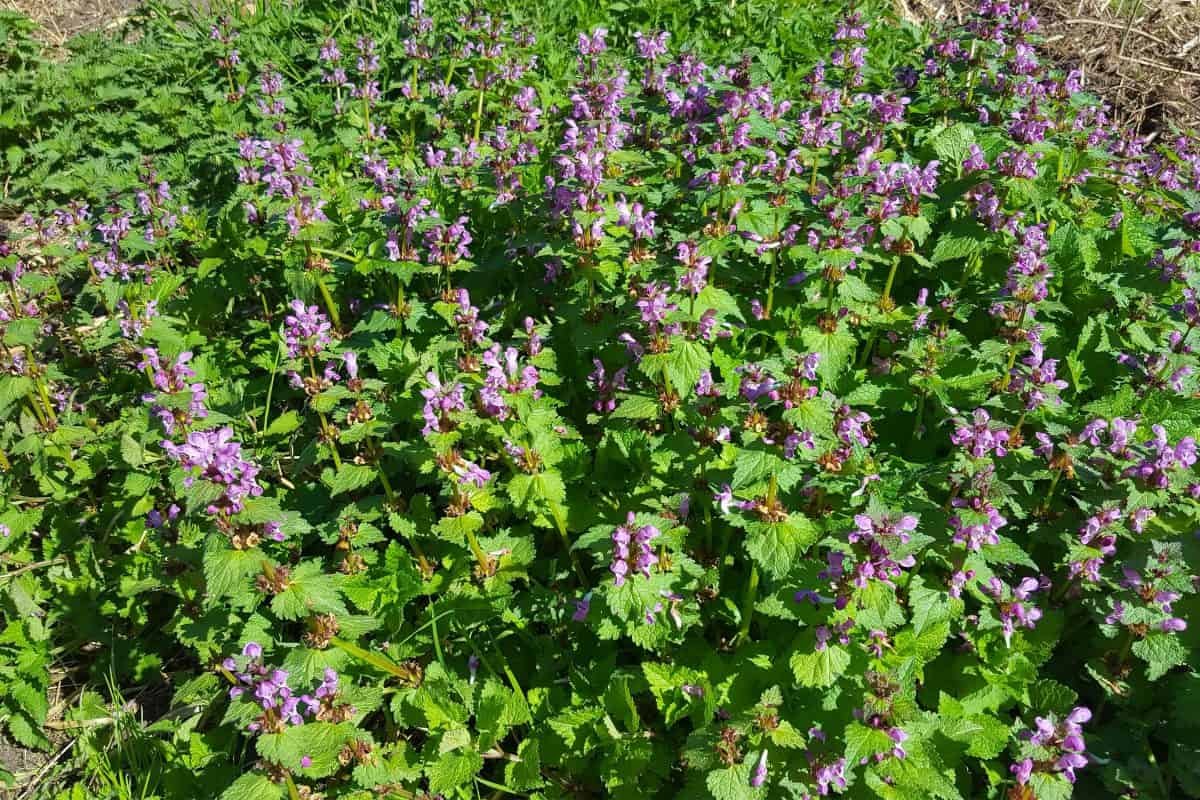 The Spotted Dead Nettle is a unique ground cover with green leaves and flowers that are a shade of purple or pink.
Zones 3 through 9 are the best places to plant this ground cover. It loves a little shade but also likes at least 6 hours of full sun.
It likes dry soil and doesn't thrive in soggy conditions. In the right conditions, it is perennial, so you will get to see it every year.
Asiatic Jasmine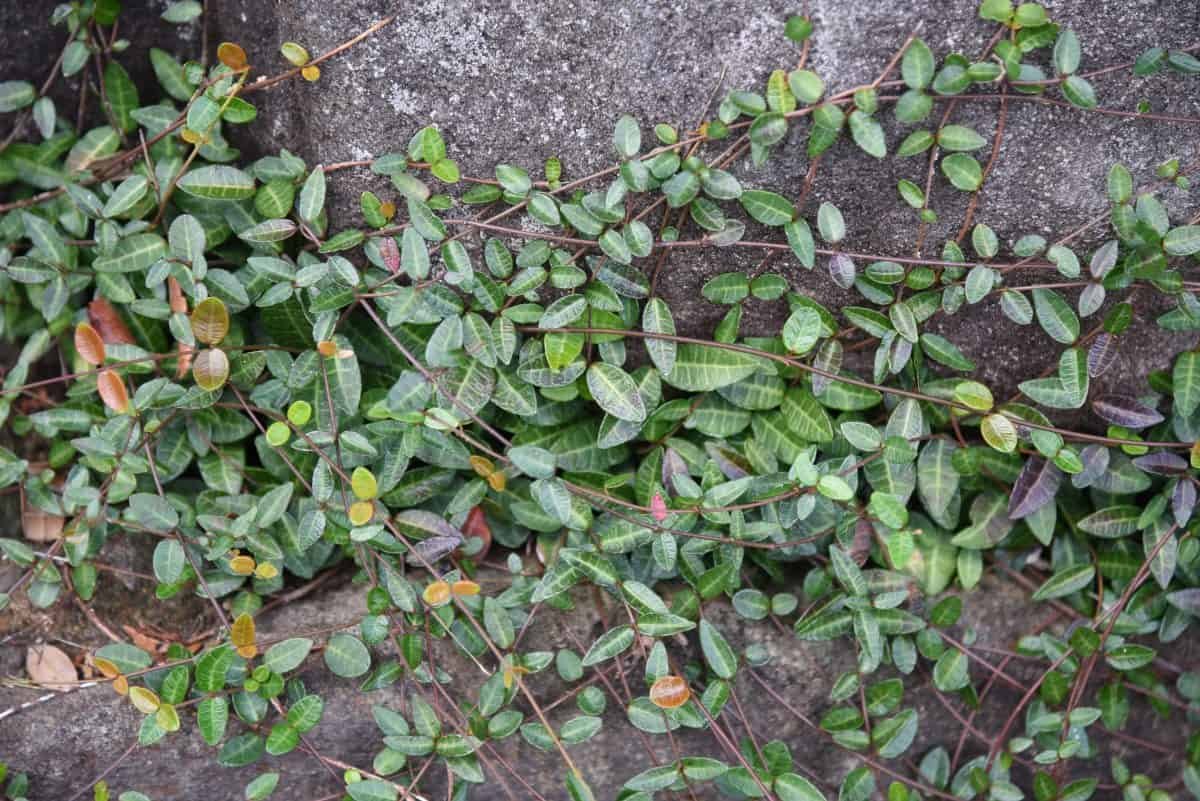 This ground color is used all over Florida, even in coastal areas due to it's salt tolerance. Anywhere that a lawn won't grow is perfect for Asiatic Jasmine. It tolerates shade well and is perfect under a tree canopy.
Perfect for drought tolerant areas due to it's hardiness. It thrives in zones 7b to 10.
It's a very low maintenance plant, once established it will grow 3 feet wide and 6-12 inches tall. It's vine like roots are great on slopes to keep dirt in it's place. This is what we used in our backyard on our slope.
Unfortunately it does not have a scented flower like the other popular Jasmine.
St. John's Wort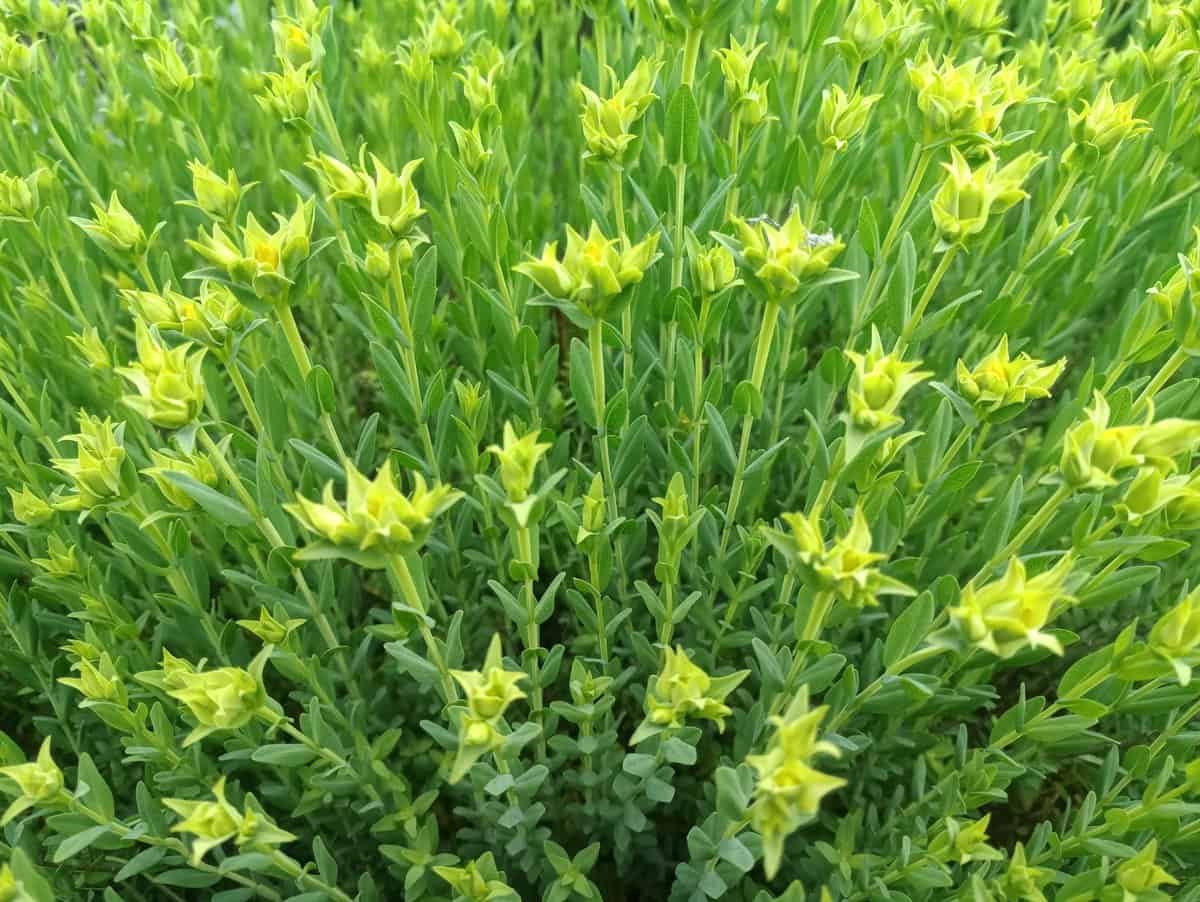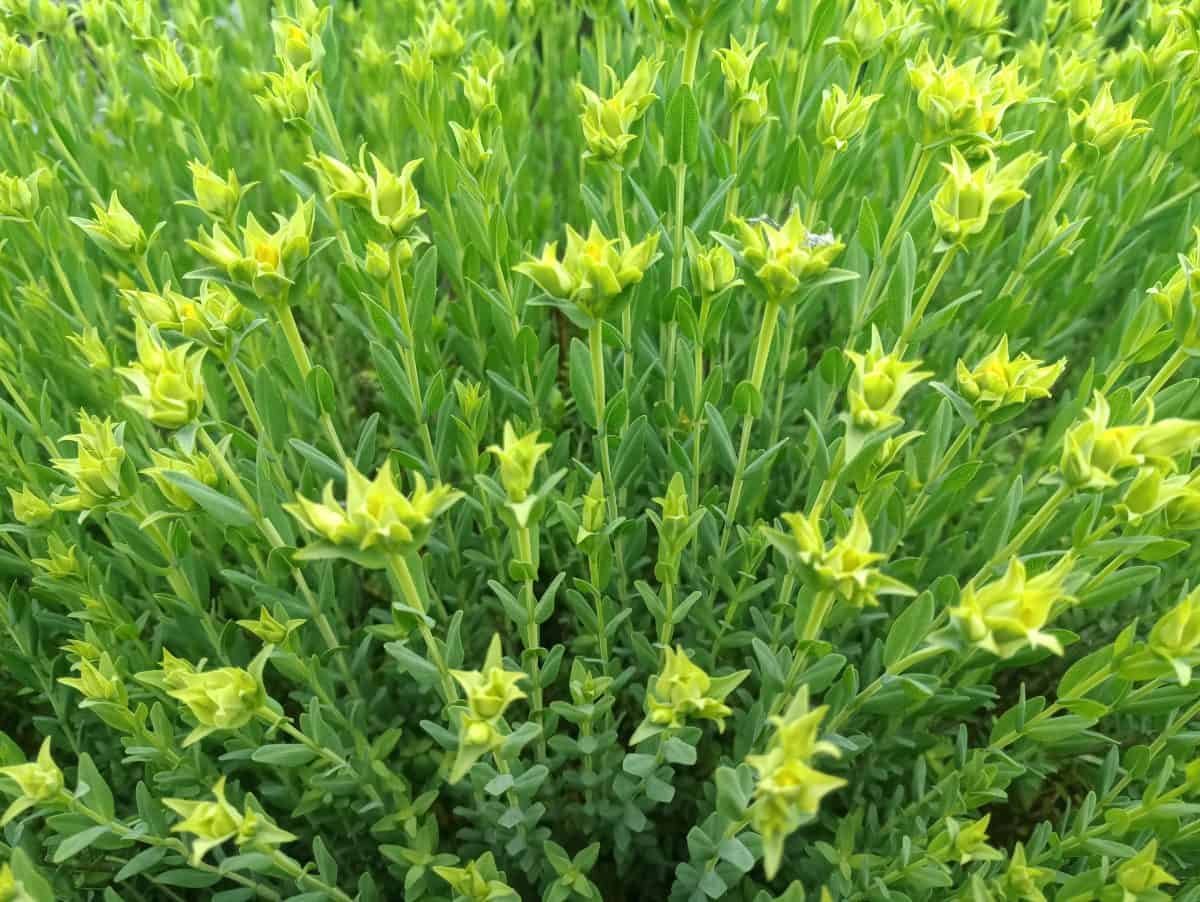 St. John's Wort is a yellow flowering ground cover that is not only stunning, bringing color to your yard but is also quite easy to grow.
It is great for those who are new to gardening, and you won't have to struggle with this one due to its ease of taking care of.
You can even use the flowers for medicinal purposes if you are looking for a multipurpose plant. But if that's not the case, it does well to reduce erosion and provides the cover you need, in full sun with a little bit of shade. It grows best in zones 6 through 9.
Pachysandra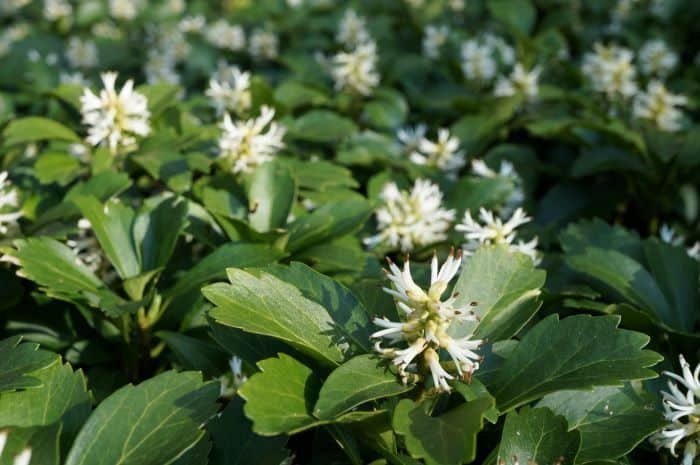 If you need some ground cover for a shaded area, the Pachysandra is a perfect fit!
It doesn't like a lot of sun and will burn if put in full sun. It grows in zones 3 through 9.
It doesn't have any crazy colors and is not a flowering plant but is great to accent against a brick wall or other ground cover that has a little more cover. Or, if you just want to go with a more classic look, this one is a great option.
Creeping Junipers
Also known as Creeping Cedar, this Juniper is low-growing and more of a shrub.
This plant does best in zones 3 to 9. It is hardy surviving in mountainous conditions but able to survive in other conditions as well. It is a very adaptable plant liking all types of soil.
You don't have to prune these a lot since they don't grow outward too far, but you may need to give it a trim every now and then.
Creeping Phlox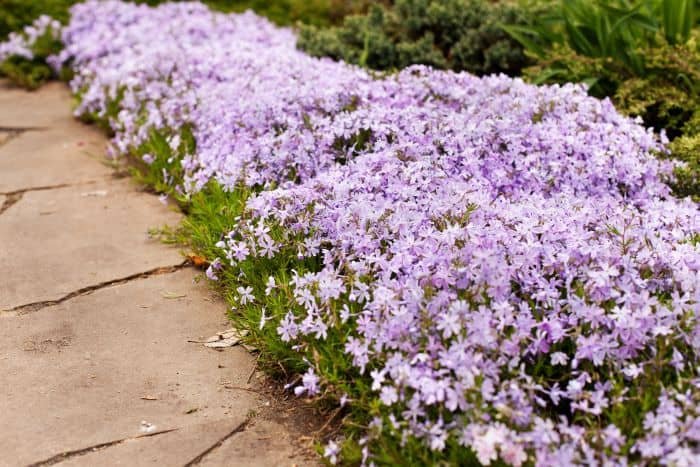 Creeping Phlox is another flowering ground cover that can add some color to your yard. The flowers are a beautiful pale pink, while some are even white.
It is a mat-forming type of plant, so it doesn't grow tall at all. It likes zones 3 to 9. These are also considered perennial but do go dormant during the winter seasons.
The leaves are thick and needle-shaped, so it is important that it doesn't grow in places of high traffic. It will poke you, and it will be uncomfortable, maybe even hurt.
Stonecrop or Sedum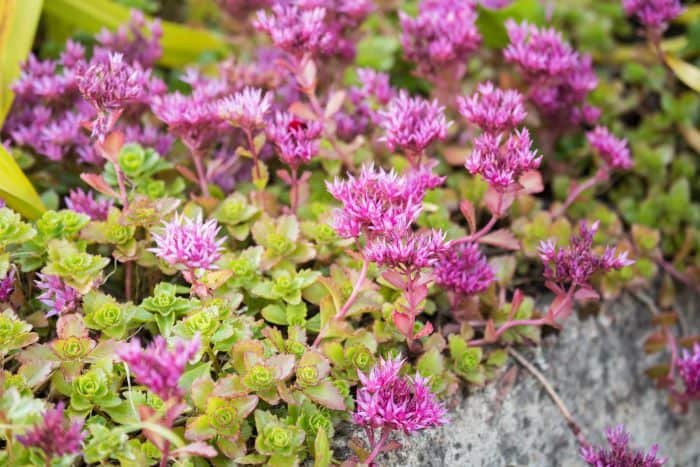 A succulent plant, the Stonecrop is ideal for arid areas. It is large and doesn't grow very high. More of a mat-like plant. It does provide tall spike-flowering plants that are beautiful and glossy.
If you are in zones 4 to 9, you can use this as your ground cover. It thrives in sunny locations.
There are many different versions of this plant, so you don't have to settle for one and can mix it up with a variety of species. It can add quite a diverse ground cover to your yard.
Lamb's Ears
Lamb's Ears loves the sun and will come back every year. It has a thick, fuzzy leaf that is soft to the touch. It gives your yard a softer aesthetic because of its silvery tint of green and is a wonderful addition to your landscape.
It is best planted in zones 4 through 8 and likes full to partial sun.
Lamb's Ears or Donkey's Ears grow well on a slope due to water drainage since it has a tendency to get root rot in flat areas. It's part of the mint family and will emit a scent when crushed.
Conclusion
Hopefully you have some different choices of ground covers to plant on the slope in your backyard. Some times a mixture of big rocks and ground cover will help stop erosion on slopes as well as make a dramatic statement in your landscape.