Gutters seem like the last thing anyone thinks about. Part of this is because if they are doing their job, you do not notice them.
When they are doing their job, gutters are protecting your house from potential water damage from rain. If you do happen to think of gutters, you may wonder, which are better: vinyl or aluminum?
Vinyl and aluminum gutters each have advantages and disadvantages. Vinyl gutters are made from a plastic-based material.
Aluminum gutters are made out of metal. Both are quite strong, but there are still a number of differences between the two.
There are advantages to either aluminum or vinyl gutters depending on your budget and where you live, but, in general, aluminum gutters are the best way to go.
Read on to learn all about the differences between vinyl and aluminum gutters and why aluminum gutters reign supreme for a house.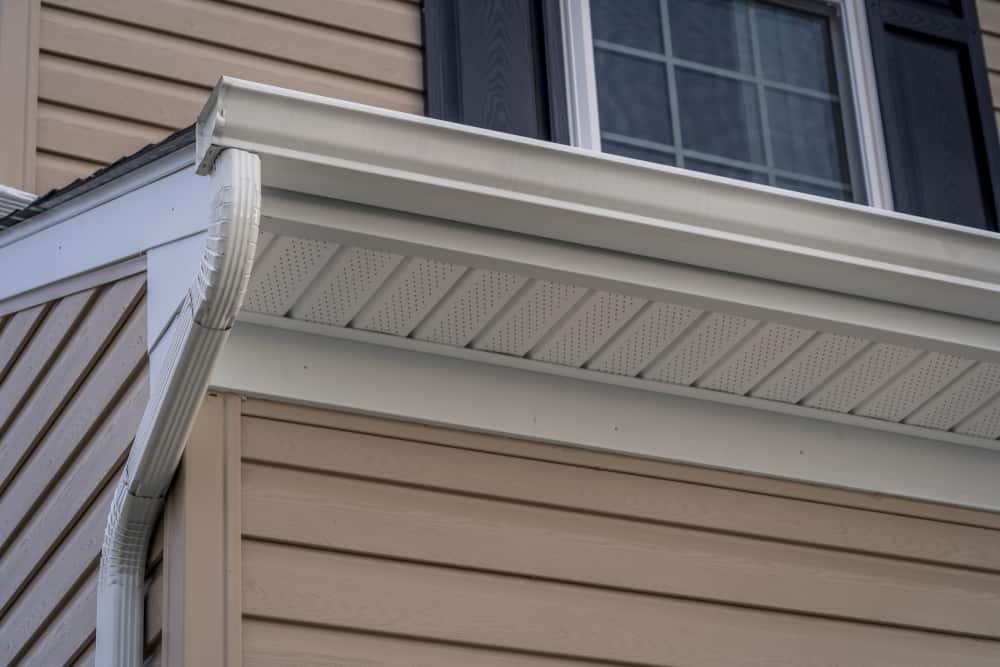 What Tasks Do Vinyl and Aluminum Gutters Need to Accomplish?
Before the point of durability, as well as the other strengths and weaknesses, gets discussed, it is important to go over why houses have gutters in the first place.
If you are going to understand the importance of a product lasting a long period of time, you need to understand the damage that can be caused over that long period.
Houses have gutters to prevent water damage from happening to specific areas of the home. This is the type of water infiltration that can cause rot damage to structural materials over time. This kind of damage includes rot to:
Foundations
Window sills
Eaves and roofing materials
If houses did not have gutters, water would roll over the roofs and pool against foundations. In the case of raised foundations, this water could leak into the crawlspace or the basement and cause rot damage to the posts supporting the house.
Heavy amounts of water can also splash against window sills causing leaks and rot.
Once installed, if the gutters do not drain properly, they can back up and cause water damage and rot to the eves and roofing materials.
So durability is of critical importance when discussing gutters. You want to have gutters work well, and that lasts a long time.
What is the Difference Between Vinyl and Aluminum Materials?
Vinyl gutters are made from a plastic-based material, whereas aluminum gutters are metal. Both gutters are durable to a point, but their material affects how they respond to the elements or to other things that may impact them.
Even though vinyl gutters are plastic-based, the material is quite strong, and, surprisingly, it is also very light. That makes it easy to heft around while still being able to resist heavy rain or dents from a misplaced ladder.
Aluminum, on the other hand, is a metal, so the gutters are much heavier than vinyl. Ironically, they also tend to dent easier when subjected to the force of a ladder with a person on it.
Vinyl gutters seem to come out ahead at first. But, durability can only truly be compared over a long period.
Vinyl vs. Aluminum: Durability
When it comes down to durability, which is the best, vinyl or aluminum gutters? Vinyl and aluminum are neck and neck in the short-term, day-to-day category, and it is fair to emphasize that vinyl performs well against rain and is a strong material.
Vinyl gutters, however, are not as durable as aluminum over the long haul. Because vinyl is based on plastic, it contracts in the cold and expands in the heat. This weakens the material over time, causing it to become brittle and crack.
Aluminum does not have that problem, being a metal. In environments with harsh winters and hot summers, aluminum is the only way to go for gutters. Also, aluminum does not rust. It does, however, corrode if exposed to salt and moisture for long periods.
Vinyl is a workable option if you live in a mild, dry climate, but not if you live in a climate with any winter weather. Aluminum is the best all-around choice, although it could corrode in coastal areas.
Vinyl vs. Aluminum: Appearance
It seems like vinyl would look cleaner, shinier, and smoother than metal. Aluminum, on the other hand, seems like it would look rough and grey.
Actually, in this category, aluminum wins out again overall. But first, the positive points for vinyl. Vinyl has this going for it:
Fresh, clean look when installed
Once you buy it in your chosen color, you do not need to paint it or do anything else to it
However, vinyl does not get away scot-free in this category, either. Some of the drawbacks to the appearance of vinyl gutters:
You are limited to about a dozen color choices
Long exposure to the sun makes the lighter colors appear yellowish over some time
Once you install the color you like, you are stuck with it
Future house colors will need to conform to the gutters, or else the gutters will have to be replaced to match the house
Aluminum will always look like metal as opposed to the smooth, shiny look of vinyl. But they can look no less clean and sharp once installed and painted. This brings up the color. Aluminum gutters can be painted any color to match a scheme for the house. And if you change the house color, you simply change the gutter color to match.
Vinyl gutters do not take paint well, so it is never a good idea to paint them. So, while in the short term, Vinyl gutters may seem to be a good choice, they can have long-term repercussions.
Vinyl vs. Aluminum: Installation
Here, vinyl has a clear edge. Vinyl gutters tend to be favored by DIY enthusiasts because of the relative ease of installation. Vinyl gutters come in lengths that you can snap into the roof hangers that you install ahead of time. You then have to connect the seams in order to keep installing.
On the other hand, you typically need a contractor to install aluminum gutters because they are much more difficult to attach to the eves and to seam together. If you go with seamless aluminum gutters (which are a good option), they need to be sized and created on sight by the contractor.
However, there is one thing to keep in mind regarding vinyl gutter installation. If you get stuck on a project installing vinyl gutters (which can happen because they can be more difficult to seam than is at first apparent), then you might not be able to get help from a contractor. Many contractors will not work with vinyl gutters.
Vinyl vs. Aluminum: Cost
The final factor in the contest of vinyl versus aluminum gutters is cost. Vinyl gutters are not only (theoretically) easier to install. They are cheaper. Aluminum gutters, on the other hand, are more expensive to install.
Here is how the cost breaks down:
Vinyl gutters are priced at around $5 to $10 per section.
Aluminum gutters are priced at around $9 to $14 per section.
As you can see, they are only comparable when vinyl is at its most expensive and aluminum is at its cheapest.
Conclusion: The Final Analysis
The final determiner for a lot of people is going to be the budget. Of course, you have to consider all the factors of cost. Vinyl gutters are going to have to be replaced more often than aluminum. They may be cheaper to buy in the short term, but you will be replacing them more often, costing more money in the long run.
Additionally, if you are living in a climate with harsh winters and hot summers, vinyl simply would not be a good purchase because you could end up replacing them as soon as 10 years after installation due to their material durability. While both materials have their pros and cons, aluminum gutters are the clear option.
Cleaning gutters can also be a hassle and dangerous, so be sure to check out our article on how you clean them from the ground safely, as well as looking into leaf guards to help keep them clean.
We also have an article were we provide other gutter alternatives that you may find useful.