Most homeowners enjoy using their home's outdoor amenities for a variety of reasons. Depending on the exact set up of one's home & property, the homeowner's interests, and the home's location (in terms of climate).
Outdoor living may be available throughout the year (think Florida or Southern California, for example), or maybe just a few memorable months during the spring and summer seasons.
For homeowners in the more northern sections of the United States, outdoor furniture has limited use simply because the time spent outdoors is limited.
This is one good reason to look for porch or patio furniture at rock-bottom prices, because patio furniture can only be used during a portion of each year.
But even homeowners residing in the year-long outdoor living states like Florida, California, and Arizona, etc., will benefit from reduced patio furniture prices.
Dollar for dollar, a reduced price offers high-end and longer-lasting patio furniture buyers the opportunity to purchase the type of furniture that may have been outpriced if it was bought at full retail price.
In fact, demand is at its highest when neighborhoods are filled with BBQ aromas and sounds of splashing from pool parties. This is the reason buying patio furniture at these times tends to be the time when prices for patio furniture are highest.
So, when is the best time to patio furniture?
Most homeowners enjoy a mimosa or frozen daiquiri with friends and family during a late afternoon in Spring or evening dinner during Summer months – perfect times to use patio furniture.
These seasons are not an ideal time to buy patio furniture ,if you have a choice. Finding the best price for patio furniture depends on knowing when the demand for furniture is low.
Think late summer or early Fall!
Most in-the-know patio furniture shoppers suggest that the best time to buy patio furniture is when the outdoor season is winding down, but supplies have not yet dwindled to levels retailers find acceptable to maintain.
Some shoppers argue that patio furniture goes on sale in August, while others say that September offers the best after-season prices.
In some respects, each of these sale-date opinions has merit. However, there are still shopping experts that believe those with a keen eye for a yet-to-be-discovered deck or porch trend may find pre-season pricing preferable.
Most smart shoppers begin their hunt for sales prices in September as they believe that is the best time to grab the lowest pricing for patio furniture, when one weighs essential factors.
Although marketing and economic metric experts will tell you that, depending on the particular year (and the impact economic conditions has had on consumer spending), August may offer at a time that has equally low, below-market prices.
Whether September or August provides the lowest prices is primarily dependent on climate factors – more specifically, how late past summer does summer weather linger? In other words, can the retailer hold 'summer prices' a bit longer if the warm weather persists?
Why Late Summer or Early Fall?
September – arguably a month that defines both late Summer and early Fall, offer the best pricing on the patio and porch furniture because:
Demand is waning as colder weather approaches
Retailers need to clear out summer inventory to stock up for the Fall and Winter seasons – discounting patio furniture when summer has ended is the best way to unload unwanted seasonal inventory.
The more inventory that a retailer has at the end of the selling season, the greater the need (and likely the greater the discount) to move out-of-season inventories.
Another lesser-known factor that may impact when patio furniture will go on sale is simply how the holidays fall on a given year. The timing of when Thanksgiving falls is often a factor. When Thanksgiving falls early, pricing changes for patio furniture may be impacted.
So, in those years, with summer temps extending well into September (and demand remaining strong), porch and patio furniture may not go on sale until October.
Waiting to buy patio furniture deeper into the Winter season, pricing may not even be relevant because there may be little to no inventory available until the retailer restocks for the following spring or summer outdoor seasons.
Types of Patio Furniture
Patio furniture is explicitly designed to be used outdoors and to weather the outdoor elements.
Patio furniture must be made of materials that are weather-resistant as well as rust-proof. It is designed and manufactured to be beautiful, comfortable and extremely durable. 
Early patio furniture was made from woven grass and other natural materials, include swamp grass and reeds.
Modern porch and patio furniture is designed to using a multitude of materials that include the following below.
Wood – originally wood furniture was brought outdoors in warmer weather to be used in the garden or on a patio. Eventually, wood was treated and used throughout early American and England for places in public areas to sit for a rest or conversation.
Wicker – although most think of wicker as a material, technically, it is weaved by artisans from branches and stalks. Weaving can be used with rattan, willow, a number of grasses, bamboo, to name a few.
Teak – made its debut during the mid-1950s and is often preferred because it is naturally resistant to rot, insects and disease. Even untreated, teak can endure decades of outdoor use.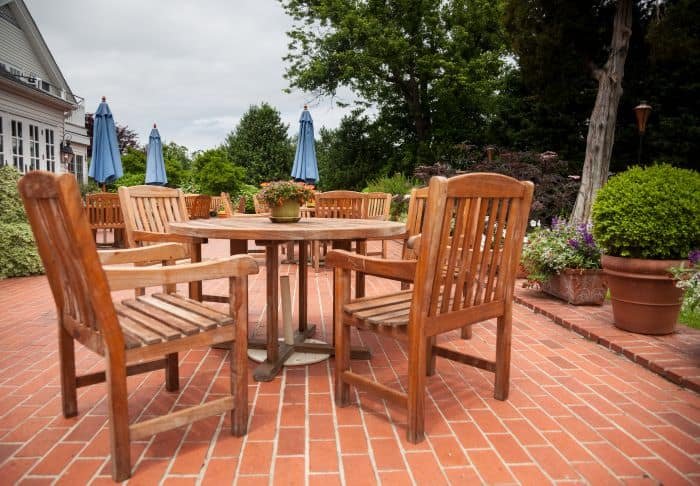 Resin – modern patio furniture combines a woven sticker made from synthetic resin materials that offer incredible durability with the flexibility to create stylish tables, chairs, comfortable lounges, and tables, to name a few.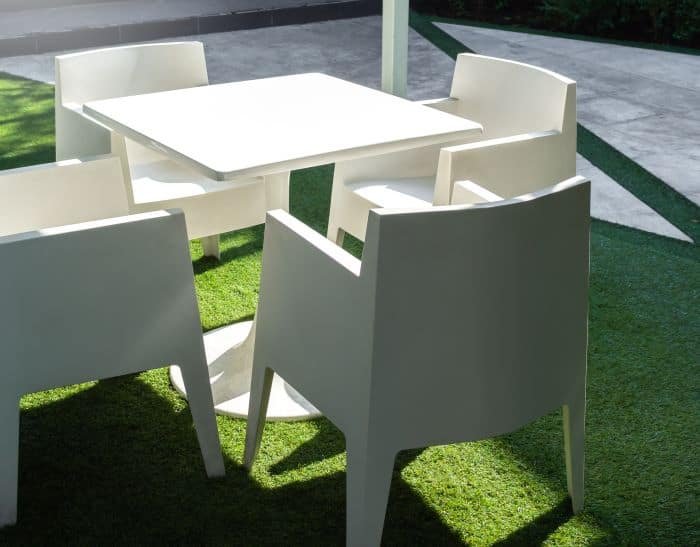 Iron – iron makes an excellent material for use as outdoor furniture as, if designed (i.e., rust-proofed) and manufactured correctly, iron can offer years of enjoyment and use for homeowners everywhere.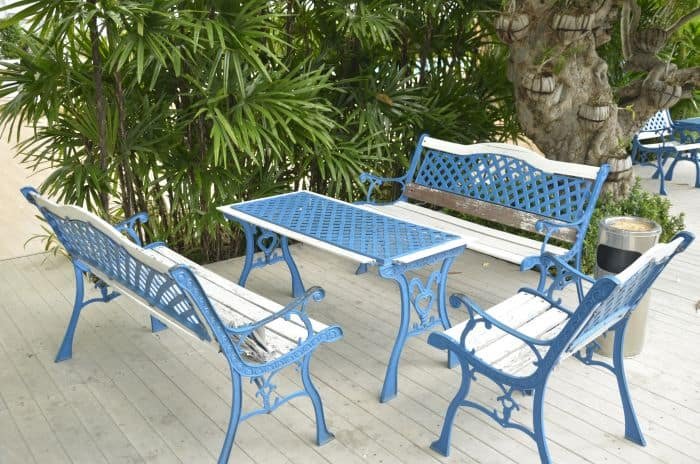 Stone – although quite durable, the stone is heavy to maneuver and not typically considered a comfortable material for outdoor furniture. Stone benches have been used for a variety of purposes for centuries, from meditative gardens to functional seats.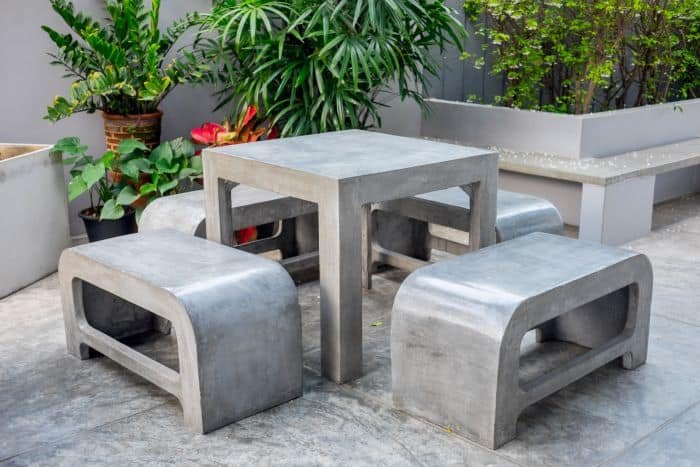 Metals of many kinds, to name a few as well as combinations of metal and wood.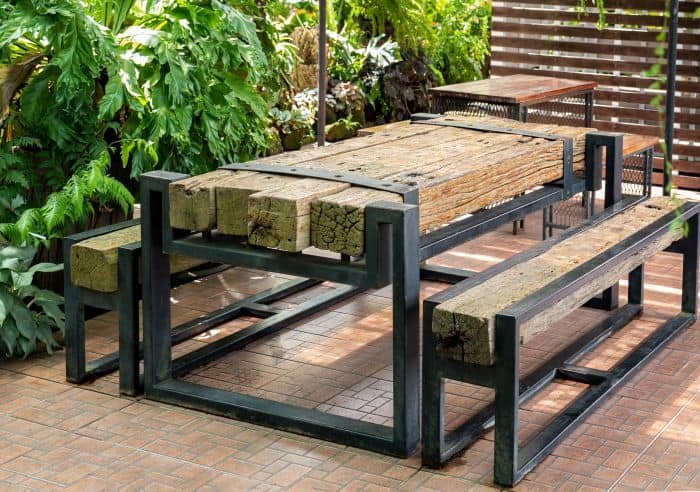 The Take-Away
Labor Day has become the unofficial holiday that marks the end of summer because Labor Day marks the beginning of most school calendars, the end of summer vacations, and the start of colder weather and temperatures.
For most outdoor patio, porch, and accessory stores and suppliers, rock bottom patio furniture pricing typically happens in late September. As temperatures fall and summer is further in the rearview mirror, suppliers become more motivated (or desperate) to free up both inventory space and capital for new inventory.
If you have a serious interest in updating your outdoor living space, the best patio furniture prices will likely be available somewhere near the end of September, although, as noted above, there are external factors that may impact the exact time of these patio furniture discounts.
Don't forget to check out our article were we go over some of the best brands you when looking for furniture pieces to fill your backyard.