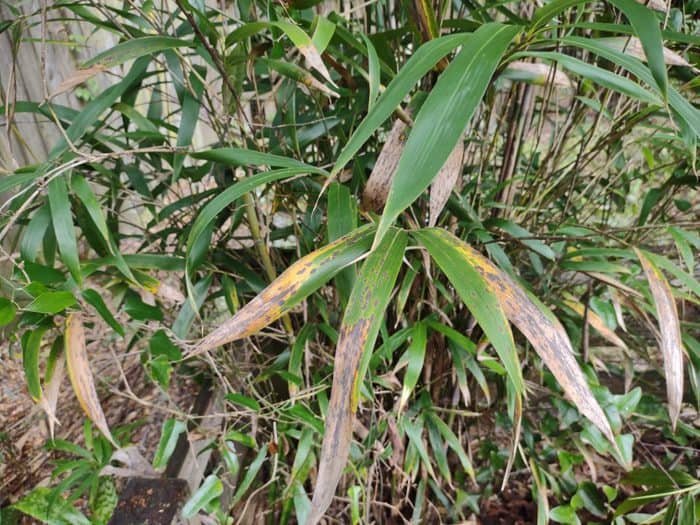 You've noticed what appears to be a sudden change in color in your bamboo plant. Is it dying? Sudden unhealthy changes to a plant's leaves or stalks are a warning sign that something is wrong, and it can be downright alarming when it happens to a plant you've come to love.
When a bamboo tree turns yellow, it can be a sign of many different things. The most common reasons for the color change are boggy soil, overwatering or lack thereof, or low soil nutrient levels.
In this blog post, we will explore various reasons why your bamboo might be turning yellow and what you should do about each situation!
Reasons Why Your Bamboo is Turning Yellow
No one wants to see their hard work and investment in a plant slowly disappear into nothing. When you have spent time, effort, and money to grow a healthy bamboo tree from seedling or cutting, it is disheartening when the vibrant green color of its leaves starts fading away as yellow spots appear on them one by one.
But don't panic. The first thing to do is determine why your bamboo plant's leaves are turning yellow. We will explore various reasons why this might be happening and what you should do about each situation!
There are four main factors you should consider to determine the exact cause of the problem:
Boggy Soil
When soil becomes too muddy, it can cause the roots to rot. This is especially true for bamboo since its root system spreads out very quickly in search of water and nutrients. If your soil becomes too boggy, it will prevent access to oxygen needed by the roots for photosynthesis – which means no more food production! Therefore, it's crucial to ensure that your soil drains well.
Excess Watering
We've mentioned how bamboo roots are susceptible to rotting if the environment becomes too wet. This is because it will prevent oxygen from getting into the root system, causing anaerobic respiration, which results in insufficient nutrients for growth and yellow leaves instead of green ones!
This problem isn't only caused by poor drainage. If you overwater your plants, it will also result in anaerobic conditions, which will eventually cause the leaves to turn yellow and die.
If this is the case, the best remedy is to gradually reduce the amount of water you're providing your plant until it's able to survive with just rainfall. The use of a fine misting nozzle on your hosepipe is particularly effective as it will allow for an even distribution of water without saturating one spot, which can lead to problems!
Underwatering
Underwatering can also cause yellow leaves to appear, but this is usually accompanied by pale new growth. Sometimes it can be difficult to tell the difference between underwatering and overwatering with certain plants as both problems present themselves with similar symptoms!
However, there's a quick way to find out which of the two is your problem!
Begin by checking whether or not the roots are still green. If they're brown, yellow, and slimy, then you have a case of overwatering on your hands. If they are white but firm to touch, this means that it's underwatering, causing all those yellow leaves. Start watering your bamboo more frequently if you think that it may be underwatering. 
Low Nutrient Level
Yellow leaves may also indicate a lack of nutrients. In this case, you will have to increase the fertilizer you provide your plant with to make sure it's receiving all the nutrients it needs. You should see an improvement within days!
However, be careful not to overfertilize. If you notice the ends of your leaves start to turn brown, it may be a sign that you're giving too much food and should cut back.
Plant Injury
If there are yellow spots on individual bamboo plants or branches of culms (the singular form is "culm"), this typically means an injury has occurred due to plucked leaves, broken branches, or other similar issues.
Treatment: You should trim away dead leaves and branches when you notice them, but otherwise, the plant will heal itself over time.
Of course, this is a natural process in bamboo plants and not necessarily something to be worried about! As long as your plants are growing well (i.e., they've maintained their natural color and are not drooping or browning), then they're probably thriving.
Can Yellow Bamboo Turn Green Again?
Bamboo is an evergreen plant. These plants are usually green year-round, although they do experience changes in color throughout the seasons. For example, during the autumn and winter months, bamboo plants will typically turn yellow or golden brown due to lower levels of sunlight during these times of the year.
At this point, it's natural for some people to worry that their plant is dying or dead because it has turned yellow! However, it's a natural process and one that you don't have to worry about. The leaves will fall off, and the plant will go dormant in the winter, meaning that it is still alive and will return to its green state when spring arrives.
The plant may also go back to its former glory if the issue is nutrient deficiency. Once you fix the problem, it will take some time, but the leaves will turn green again.
However, if the yellowing of the leaves is due to the other factors mentioned above, it's an indication that the leaves are dying o they are already dead. As a result, it's impossible to revive them. Pruning the yellow leaves will help the plant to recover as it encourages the regrowth of new fresh, green leaves.
Wrapping Up
Realizing that your bamboo has turned yellow indicates that the plant has been affected by one of several factors. Luckily, as you've learned, none of these involves your bamboo dying or being left to die! 
Figure out what's causing your bamboo to turn yellow, and follow the remedies we've discussed. However, don't expect the leaves to return overnight – it may take a few months. Keep your bamboo well-watered and avoid the factors that caused the problem in the first place! If nothing works, it may be time to call in the experts to take a look!
We have plenty of articles you may enjoy looking over. We go over how you can grow monkey grass and how much topsoil weighs as well as many other things!