There is nothing quite like a night out in the backyard with loving family and friends and a nice fire. In order to make that fire happen, you will need good firewood—and there is no better firewood to use than kiln dried firewood.
Here's why you should use kiln dried firewood:
It lights and Burns Easily
It does not require any more drying out
It produces less smoke while burning
It doesn't have bugs or fungi
It's very lightweight and easy to store
We are going to dig deeper into the reasons why using kiln dried firewood is the best option you can go for, so keep reading to learn more!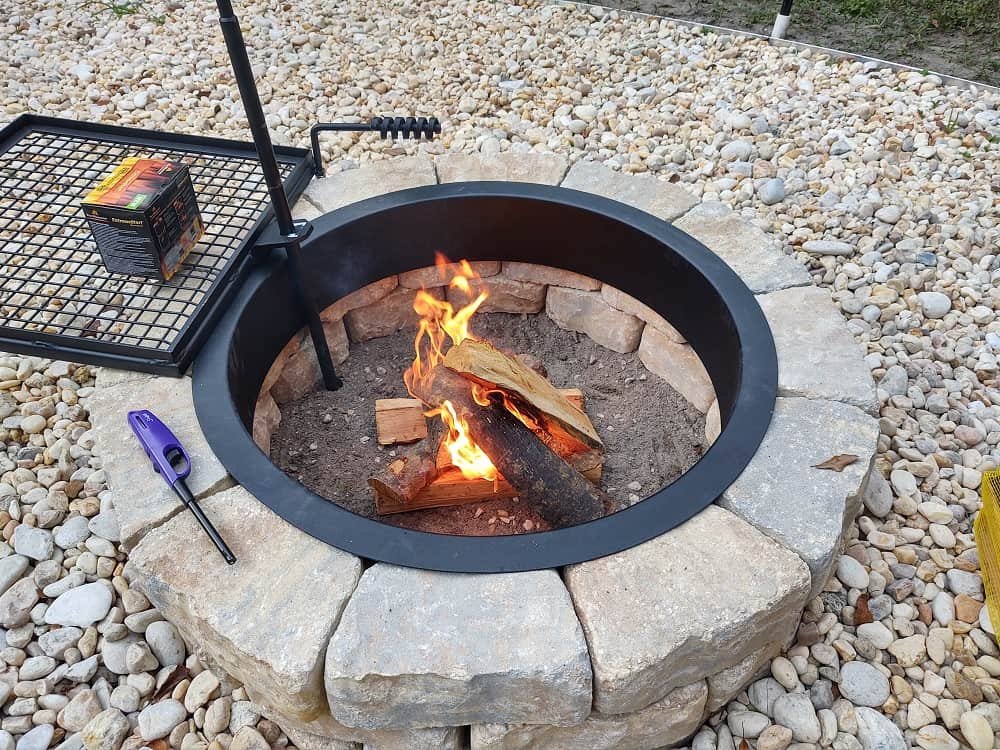 The Reasons Why You Should use Kiln Dried Firewood
As mentioned above, there are several reasons why you should be using kiln dried firewood. Throughout this article, we are going to examine the reasons and show how and why it is the best choice.
It's Easy to Light and Easy to Burn
The first reason why you should be using kiln dried firewood is because it lights and burns easily. This is made possible all because of the kiln drying process.
Once wood is chopped, it is placed in a kiln, which is basically an oven that generates extremely high temperatures. The wood is then heated for a specific amount of time with specific internal temperatures in order to reduce the amount of moisture.
Since the moisture of the wood is reduced anywhere from 10 to 20%, it will be no problem getting your firewood to light easily and stay lit.
This will also help your fire to burn for a longer amount of time and produce more heat.
It Comes Ready to Burn
Unlike firewood that is chopped and left in nature to dry out, kiln dried firewood is ready to burn immediately.
If you are chopping the wood yourself, and do not happen to have a kiln laying around, then it is going to take approximately 6-18 months for your wood to dry out and become a great wood for burning. That is a whole lot of time to wait around for your wood to be seasoned correctly.
It also takes a significant amount of effort to store your own firewood, after chopping it, from the elements. With the do-it-yourself method of seasoning firewood, you will have to keep it dry, but also, not cover the wood so much that there is no air circulation.
This could cause your wood to dry out too much making it more difficult to control the flame.
With kiln dried firewood, it is completely ready to burn as soon as you receive it and perfectly seasoned so that the flame is exactly right.
It Produces Less Smoke
One of the less-pleasing things about having a nice little fire, whether it be in your backyard or fireplace, is the amount of smoke that is produced. It just:
Makes you smell like a bonfire,
Sets off smoke alarms,
And makes it hard to find a good place to sit and relax around the fire!
This is not a big issue when it comes to kiln dried firewood. The reason why the smoke can be difficult to control with other types of firewood is because they have too high of a moisture content. There are plenty of other ways you can reduce to amount of smoke your fire pit produces.
Over the weekend, we got some wood from Lowe's and saw that it was kiln dried. I was amazed at how quickly it started and how clean it burned all night.
If you have ever poured water on a fire to put it out, then you know that as soon as the water hits, the flaming hot wood starts to steam, releasing tons of smoke. This is basically what happens when your firewood is too "green".
The extremely high temperatures heat the moisture inside of the wood producing an abundance of smoke.
Kiln dried firewood is nearly completely dried out, reducing that moisture content so that your firewood does not create gigantic clouds of smoke.
It Has No Bugs, Fungus, or Molds
Since kiln dried firewood is heated for a very long time at high temperatures, bugs, fungi, and mold are killed off. This would make it the ideal firewood to store inside of your home. There would be no bugs, dangerous molds that could cause illness, or yucky fungi.
Being able to store the wood inside your home also makes things simpler for you for a couple of reasons.
There is no need for you to create a safe place for your wood. When storing firewood that you have chopped by yourself, it is important to find a place that is close to your home, for convenience, but also not so close that termites could infest your house.

It is also important that you do not store your firewood in soil because it will rot quicker, which will cause bugs and bacteria to move right in. Kiln dried firewood can be stored right inside your home without the fear of having a bug infestation, saving you the trouble of creating a designated place.

You will not have to worry about it getting wet or getting too dry. With firewood that is not kiln dried, you will have to store it outside and keep it covered from the rain with a tarp—but not too covered, as you do not want it to dry out too much. Kiln dried firewood is safe from all of the elements of nature inside your home.
When it comes to choosing a firewood, there is no easier way to go than with the kiln dried firewood.
It is Lightweight and Easy to Carry
If you have ever had to help move firewood that someone chopped, then you know very well that hauling it back and forth can be exhausting.
The extra amount of moisture that is inside of the firewood when it is dried out in nature causes it to be a little on the heavy side. Since kiln dried firewood has much less moisture, it is lighter, in comparison, and much easier to carry.
This makes it the perfect firewood if you are camping and will be carrying it for long distances, but even just for hauling it around the house. Why not make things easier on yourself, if you can?
Is Kiln Dried Firewood Worth the Extra Money?
The advantage of doing things yourself is that it usually costs little to no money and does not require too much effort.
In the case of kiln dried firewood, it is definitely worth the money you will have to spend on it.
Chopping your own firewood is a huge amount of work. It will take weeks just to split the number of logs that is worth storing and drying out. Then, you will have to leave them to season anywhere from half a year to one and a half years.
And if you happen to mess up the storing process, your wood could become too wet or too dry, and all that work will just result in sub-par firewood.
Kiln dried firewood will cost you some money, but you are guaranteed perfect firewood and no extra work, leaving you time to do more important things.
Conclusion
You should be using kiln dried firewood anytime you need firewood. Even though it will cost a few extra bucks, you will save so much time and effort.
The advantages for using kiln dried firewood are undeniable:
It lights and Burns Easily
It does not require any more drying out
It produces less smoke while burning
It doesn't have bugs or fungi
It's very lightweight and easy to store
Once you start using kiln dried firewood, you will never want to go back to using any other kind of firewood! Also be sure to check out what other materials best burn in a fire pit!