Have you ever wondered how to find crystals in your backyard? You might be surprised by the number of crystal formations that are found right under our noses.
There are many different types of minerals and crystals, but most people know about quartz. In this blog post, we'll explore where to look for other common rocks and minerals like calcite, peridot, agate, and other varieties.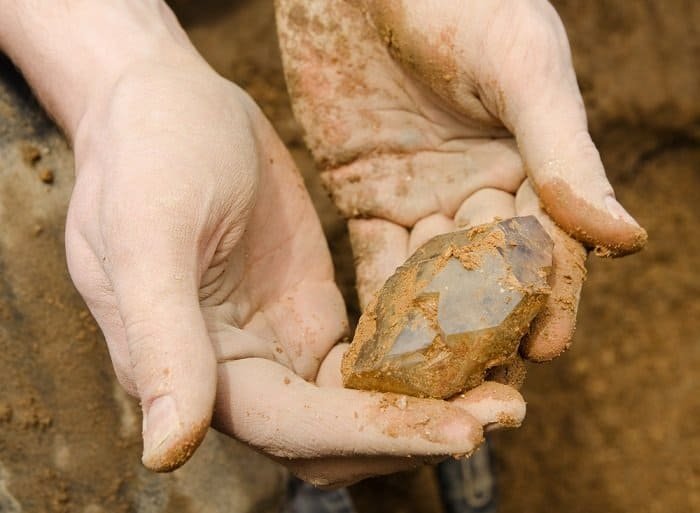 Supplies You Will Need to Find Crystals
Before you set out to search your backyard, there are specific supplies to make your dig easy. There are junior digging kits for kids, beginner or more novice diggers. You won't have to search around for the right equipment; it is already put together for you. Or you can go the DIY route and create your kit with gardening items you own along with a few other items to hold your newfound crystals.
Bring Along the Right Shovels for Crystal Digging
The first tool you should have is a shovel. The type of soil in your backyard and how much area you want to cover will determine the type of shovel you should use. A simple hand shovel, or trowel, with either a rounded cutting edge or a pointed cutting edge, would break up the topsoil.
Whether you are working with soft or hard topsoil, using a round digger shovel is a perfect choice. The rounded tip easily breaks into the soil with minimal effort. A round digger shovel could have a long handle to use while standing or use a round hand shovel- either one will still break into the dirt with the same effect.
Additional Tools to Use When Digging
Searching for crystals and being a gem hunter can be fun. However, you need more than just a shovel to explore your backyard. Start with gardening gloves, and remember to wear comfortable clothes since you will likely be kneeling.
Other supplies include:
Garden Spade– has a long and flattened blade, different from the rounded hand shovel
Pickaxe– a T-shaped tool generally used for prying
Sifter– removes larger materials from the dirt
Bucket– open container made typically made from metal or plastic
Using more than just a shovel, these additional tools come in handy when working in more compact soil. The pickaxe is great at breaking up harder soil or chipping away rocks and compact soil. Tools like the sifter can be used with a mining pan to sieve through the dirt easily. The pan under the sifter can catch any smaller pebbles that could be crystals.
Where Are the Crystals in Your Backyard?
Now that you have your supplies, where to start digging? Crystals can pretty much be found anywhere on your lawn. Besides soil, crystals could be mixed in with gravel or within a rocky area.
When it comes to finding specific types of crystal structures, it depends on your region. There are common locations where crystals may not traditionally be found, but it may be home to some other interesting rocks. It is best to research your area to see what crystals are most popular where you live.
Crystal hunting can become a fun little obsession.
Sieving Through Dirt to Find Crystals
When sieving through your soil, there are different size sifters you can enjoy using. Smaller sifters are handheld and works perfectly at quickly sieving through dirt. If DIY is more your style, creating your own sifter from hardware cloth and wood is optional. You can create a larger sifter if you are planning to dig deep and are looking to cover a large area at one time.
Searching Near Rocks or Water for Crystals
Should your backyard have access to a body of water or live near creeks, and you live in a region that has crystals, use your sifter with a pan to search through pebbles. Using the same technique as if you were sifting through dirt, take a sifter with a pan and find an area with many rocks or pebbles to sieve. Remember to bring a rock pick or rock hammer in case you need to chip away at any hardened rocks. You should also notice if any water erosion freed up any stones that are free now.
Avoid Power Lines When Digging
For safety purposes, you should make sure where you plan to dig is clear of any electrical or water lines. Find if and where the following lines are laid within your backyard:
It is best to avoid these areas, so you won't accidentally rupture one of these lines. Cable lines may be closer to the surface, while the other lines are typically laid deeper within the ground.
Types of Crystals and Gemstones You May Find
A rock crystal is known as a crystalline mineral that is transparent with minimal flaws. There are many types of crystals you could find, depending on where you search. When searching, crystals can be a part of parent rocks or found on their own.
Different types of crystal specimens can be found throughout the world. So when digging in your backyard, you should research your area first to see what is most prevalent in your area.
| | |
| --- | --- |
| Type | Characteristics/Color |
| Quartz | White, citrine yellow, purple, pink |
| Amethyst Crystal | Rich purple shade |
| Agate | White, gray, black, yellow, brown, red, lilac, pink |
| Topaz | Blue, green, yellow, orange, red, pink, |
| Opal | White, yellow, gray, black, brown |
| Peridot | Variations of green, yellow-green to blue-green |
| Obsidian | Black, occasionally brown, green, or tan |
| Garnet | Dark red |
| Tourmaline | Black, bluish-black, deep brown |
| Malachite | Green, dark green |
| Turquoise | Blue, green, or mixture of both |
| Jade | Green |
While the most widely found crystal specimens across the United States would be the quartz crystal, certain regions are known for quartz crystals like Arkansas in the USA and Brazil. Luckily for popular crystal-like quartz, finding these in other states or regions is highly likely.
Popular Locations to Find Crystals
Crystals are formed when liquids cool and certain molecules start to harden or crystallize. States like North Carolina or Arkansas are popular locations to find crystals, so if you live in those regions or somewhere similar, your chances of discovering crystal rocks are higher.
In general, any place or location that had their soil dug up or built up are also great options, which is why your backyard could be the perfect scene to dig for crystals.
Be mindful if you search outside of your land and go to public lands as searching for rock geodes might not be permitted
Cleaning and Storing Your Crystals
With your fiber cloth, make sure to wipe off your crystals before placing them in your container. A standard bucket would work to collect the crystals while you search. Make sure your container is sturdy, and it doesn't matter if it is a plastic container or a metal bucket.
To thoroughly inspect what type of crystal you have, wipe it down with a cloth and bowl of water before referencing a book or the Internet to identify it. There are many books on the subject as well as research on the Internet to categorize your crystals. Even take an extra step and keep a notepad of the different crystals you've collected from your backyard. Once your crystal is free of dirt, you can show them off in a display case alongside your other finds. Crystals can be displayed throughout your home, and you will have the story of finding them in your backyard. While looking for crystals, you may also come across worms!
Another thing you may come across is actually finding diamonds! So go on and get to digging, you never know what you could find!