Hey There. Thanks for stopping by. You're probably wondering who in the world is writing all about backyards.
We're Jena and Christina. Our friends call us the Inas and now you can too.
We've been together for 20 years and lived in several homes during that time. Throughout all our homes, our backyard was always our favorite part of the house to transform.
Jena loved being a DIYer so much that she apprenticed with a carpenter for several years and started her own carpentry business several years after that. Out of all the things she loves building with wood, backyard hardscapes are her favorite.
She has built many decks, fences, pergolas for clients over her 10 years in business. Every time she gets a call about building a new backyard hardscape, she still gets excited!
She loves being able to impart that building knowledge to our readers to help you overcome an obstacle or problem you may face in your own backyard.
When we're not working on backyard projects or talking about them, you can find us at the nearest beach.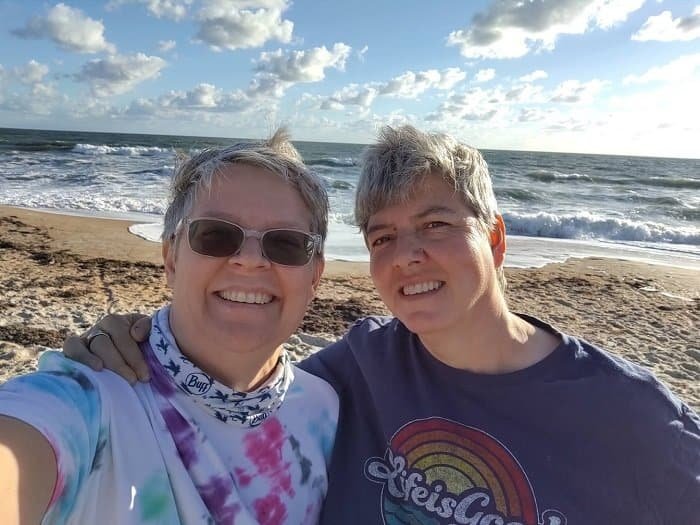 Over the years our backyard transformation has gone like this:
First home we paid a landscaper to redo the whole backyard in one day.
Paid a landscape designer to design our backyard that we built out by building the hardscapes and planting all the softscapes.
Now Jena uses something simple like Google Drawing to design our backyard and we are slowly working off that design.
Most of the gravel and all of the decking is done. We have a lot of the trees and shrubbery in place. And she finished doing an enclosure to hide our AC unit.

We realized we've done so many different projects over the years and we love talking about backyards so we thought we'd share it all with you.
Why Talk About Backyards?
Good question.
Backyards are so inviting and cozy. Or they can be. We spend a lot of our time outside since we live in Florida. Plus, most of our gatherings and parties or tailgating are in our backyard with friends.
Plus, there's so much you can do in a backyard to get out of the house and to reconnect with nature.
Aside from all that, there are so many projects you can do in your backyard. We love projects. I know Jena does. But we like more functional projects than pretty. If that makes any sense.
Thanks for dropping by and if you have any questions about any of the projects, just let us know.