We're spending more time than ever outdoors with our loved ones, which means looking for solutions to stay warm in the colder months. There's no shortage of amazing backyard landscaping ideas. If you're wanting to spend more time outdoors in the Fall, you'll need some means to keep warm.
For many, this means buying a patio heater. If you're planning on using a patio heater, it's important to learn how to prevent it from tipping over.
Below we showcase all the safety tips to keep your patio heater upright.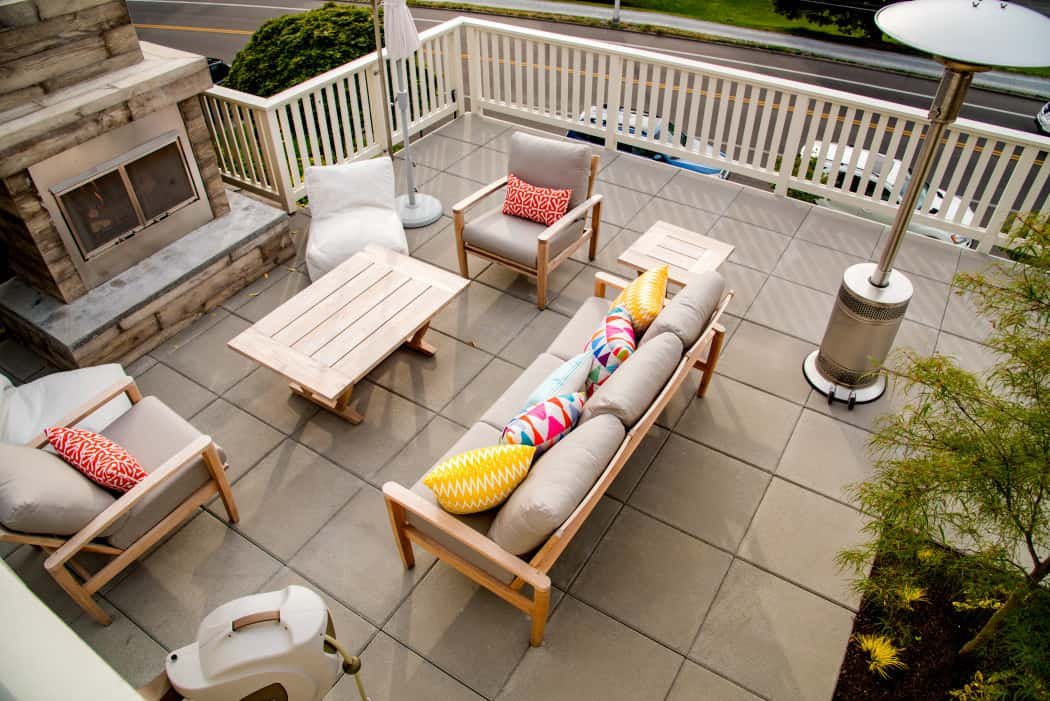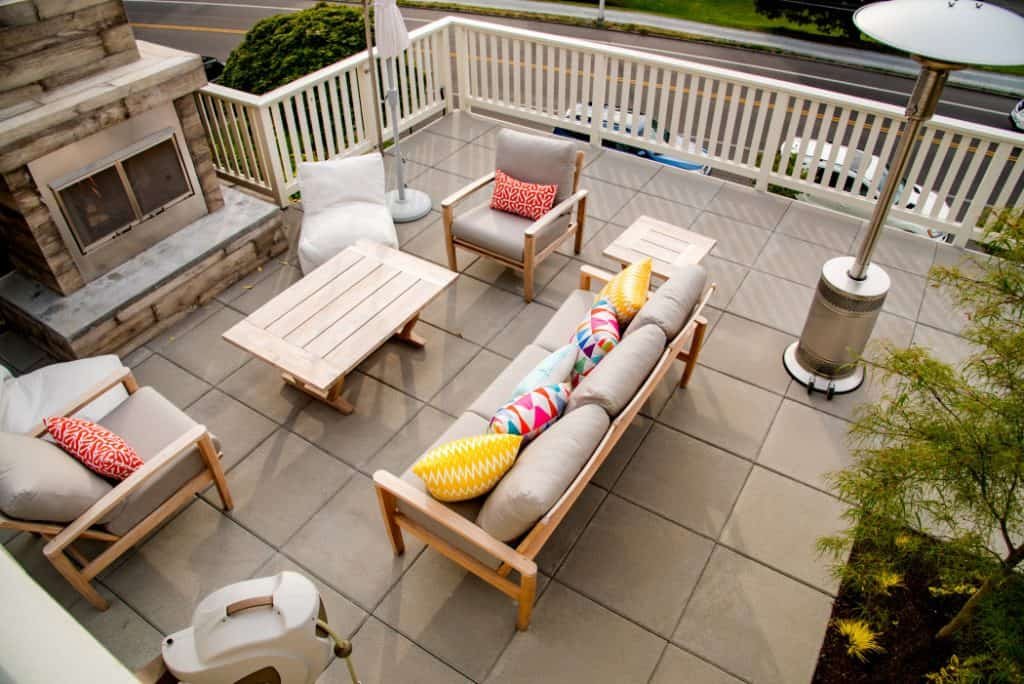 To keep your patio heater from tipping over, try the following tips:
Make sure the base of your patio heater is stabilized
Place your patio heater in a safe area away from hazards
Test the anti-tilt features in your patio heater, if included
Consider a mounted patio heater
In this article, we'll show you how to make sure your patio heater is a safe, secure way to keep you warm this fall and winter.
Stabilize Your Patio Heater
The most important step you can take to keep your patio heater from tipping over is to stabilize the base of your patio heater. There are a few ways to do this:
Weigh down the patio heater
Secure patio heater to a stable structure
Anchor the patio heater to the ground
Each option will make your patio heater less prone to tilting over, but the best course of action would be a combination of the three. The more precautions you take, the less you'll have to worry about your patio heater tipping over in the future.
Weigh Down the Patio Heater
The easiest solution to keeping your patio heater from tipping over is to weigh down the patio heater. By weighing down your patio heater, you'll provide balance to the top-heavy design of most patio heaters and make your heater more stable. You can weigh down your patio heater by:
Filling its built-in reservoir with water or sand
Using sandbags
Attaching water weights
One option is to weigh down your patio heater by filling the reservoir in its base. First, check to see if your patio heater has a reservoir in the base of its model.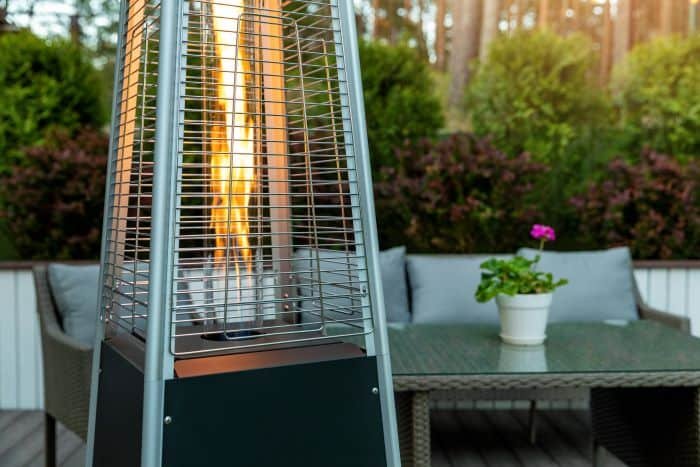 If it does, then you can weigh down your patio heater by filling the reservoir with water or sand. Always make sure to follow the manufacturer's manual for specific requirements.
If your patio heater doesn't come with a built-in reservoir, you still have options for weighing down your patio heater.
Look for flame-resistant weights that you can attach to your patio heater. Popular options are sandbags or water weights. Sandbags typically don't look very nice and have a risk of tearing and spilling sand but will do the job nicely. Water weights work well and can be secured to the base of the patio heater.
No matter which option you choose, finding a way to weigh down the base of your patio heater is an efficient way to ensure that your patio heater won't fall over.
Secure Patio Heater to a Structure
Another way to stabilize your patio heater is to secure it to a stable, grounded structure, like a pillar. Take care to use flame-resistant ties, like bungee cords, to fasten your patio heater to the pillar. Securing your patio heater in this way adds an additional layer of insurance on windy days.
Anchor Patio Heater to the Ground
Finally, a surefire way to stabilize your patio heater is to anchor it to the ground. This is a great option if you're happy with where you've placed your patio heater and don't have plans to move it anytime soon. Using ground fixtures, simply bolt your heater to the ground to secure your patio heater.
Place Your Patio Heater in A Safe Area
Beyond securing your patio heater, the best thing you can do to prevent your patio heater from tipping over is to place it in a safe area.
Here are a few tips for an ideal area to place your patio heater:
Well-ventilated outdoor area
Hard level flooring
Placed away from hazards
Option to secure patio heater (deck, cement, pillars)
Avoid placing your patio heater directly on grass, as the uneven ground could cause your patio heater to tip over. An ideal location would be a level surface with an option for securing the patio heater, such as a deck to anchor the heater to or a surface available as a place to secure your patio heater to, like pillars.
Place Your Patio Heater Away from Walkways and Doors
While you want your patio heater in a convenient area, make sure that it is a safe distance away from walkways and doors. If your patio heater is in a high traffic area, there's always a chance it could be accidentally hit or knocked over. Plus, placing your patio heater in an area where people often cross will make your patio heater an annoyance to get around.
Short and sweet – make your life easier by placing your patio heater away from people to avoid any accidents. Less stress for you and your guests!
How Wind Conditions Affect Patio Heaters
You may already know that it's not recommended to use your patio heater in windy conditions, as the wind prevents your patio heater from working efficiently. It can also be easy to forget about an unused patio heater on a windy day.
But before you shelter indoors on a windy day, remember to check on your outdoor patio heater.
Making sure it is safely secured or weighted
Add additional security by tying it down
Cover your patio heater if there is also a chance of rain
Safely store it inside when not in use
Take care to also ensure that any furniture placed near your patio heater isn't in danger of blowing away. If they are not secured or stored on a windy day, there is a possibility that your chairs or tables could knock into your patio heater.
To mitigate this risk, weigh or tie down your patio furniture to keep them in place on windy days.
To secure your outdoor furniture, you can use:
Deck down anchors
Bolts
Bungee cords
Sandbags
Furniture weights
Stack furniture when not in use
Ties or Velcro to keep cushions in place
Anti-Tilt Feature on Patio Heaters
In addition to a weighted reservoir, some patio heaters will have another anti-tilt feature called an anti-tilt switch. This feature will automatically shut off your heater when the patio heater is tilted, preventing gas leaks and worse.
If your specific patio heater doesn't come with a built-in anti-tilt switch, there are switches available for purchase that will fit certain newer models.
Testing Anti-Tilt Shut-Off Switch
It's important to test your patio heater's anti-tilt switch every once in a while to make sure it's working. The safest way to do so would be according to your specific patio heater's manual. Don't try to test the anti-tilt switch by physically tipping over your patio heater, as this could cause the very damage you're trying to prevent.
When checking your patio heater's tilt-switch always:
Make sure the heater is off
Keep at least a 3-foot radius clear around your work area
Follow standard safety precautions
Another reason to check your patio heater's tilt-switch regularly: a faulty tilt-switch will cause your heater to malfunction.
According to one patio heater's manual, a faulty tilt-switch could result in the heater's pilot going out when the heater is turned on. Knowing where your tilt switch is will come in handy if you ever need to replace it.
Always check your heater's tilt-switch when doing your regular maintenance. Doing so will keep your heater in tip-top shape and add extra security in case of an accident.
Consider Mounted Patio Heaters
If you don't have room for a standing patio heater, a great option would be a mounted patio heater. These heaters are usually electric, but they are efficient enough to do the job of heating smaller spaces well. They have their pros and cons, but they could be a perfect solution if they meet your needs.
Benefits of Mounted Patio Heaters
Mounted patio heaters attach to walls, forgoing the need for additional securing and weighing down of standing heaters. And, because mounted heaters are typically electric, there's no need to fuss with propane. As long as you have electricity, a mounted patio heater will warm up smaller areas without taking up any additional space.
Some mounted patio heaters also have pretty sleek designs and can blend into existing décor nicely. If you need more than one, they can become part of your area's layout with minimal intrusion.
And of course, you also won't have to worry about mounted patio heaters tipping over!
Cons of Mounted Patio Heaters
Because mounted patio heaters are usually electric, they also come with a couple of cons.
Electric heaters aren't quite as strong as propane heaters. A single standing propane heater would likely be enough to heat larger areas by itself, but you would probably need a few electric heaters to produce the same amount of heat in a large area.
So, mounted heaters will need a few considerations before they're installed:
How many would you need to warm up the room?
Is there enough available wall space to mount them?
Will my electric systems be able to handle the electrical needs?
Which way and how far will the heat be directed?
Choosing multiple mounted heaters might be a little extra work, but they could still be a great choice for warming up larger areas.
Place Heaters Away from Flammable Areas
Keep in mind that your patio heater should be placed at least 3 feet away from flammable objects to operate it safely. This means keeping it away from highly flammable materials such as:
Gas tanks
Lighter fluids
Aerosols
Fabrics
Plants and trees
Grass
While our common sense knows to keep flammable materials away from flames, accidents happen. Be careful, and keep an eye on what household products are placed near your patio heater.
In short, keep at least a 3-foot radius clear around and above your patio heater. But to be safe, always double check your patio heater's manufacture guide for additional clearance requirements. To ensure safety, look at this article if you're considering placing the heater under a covered patio.
Differences Between Propane, Electric, and Gas Patio Heaters
Let's discuss the differences between the fuels that can be used in patio heaters. There are three types of fuels used in heaters:
Each fuel type has its advantages and disadvantages, which will affect factors like cost and portability in patio heaters.
Gas, propane, and electric heaters excel in different conditions, so which type of patio heater you choose depends on your environment. Luckily, if one type of patio heater doesn't sound like it would work for you, there's bound to be a model that would fit your needs.
If you haven't already purchased a patio heater and are doing your research, here's what you need to know about each type of heater.
Electric Patio Heaters
Electric heaters use bulbs to produce heat and are powered by electricity. These come in models that vary from tabletop to mounted heaters, making them a versatile option. While their size and variety typically make them a less expensive option, it may take more than one to warm up larger spaces.
If you have a smaller area you're looking to heat, electric heaters would be a great option for you. Finding a tabletop or mounted model would save valuable space while still producing enough heat for a small group of people. Keep in mind that electric heaters produce heat wherever they are directed, not all around them.
Electric heaters are also a perfect solution for those who only use patio heaters occasionally, as they are easy to use and maintain. They only require an outlet, meaning fewer steps for use than propane or gas heaters. Electric heaters also don't need the same level of routine maintenance that propane and gas heaters would require because they don't use propane tanks or gas lines.
Electric heaters are also the only option that can safely be used in enclosed spaces with proper precautions. Many models are small enough to be moved easily, making them a great portable heating choice for one for two people.
Propane Patio Heaters
These heaters use propane tanks for fuel and typically come in standing models. Propane heaters are a great choice for larger outdoor areas. They produce more heat than electric heaters, and because the warmth isn't directed towards a single area, the heat can be felt over a larger distance.
Propane patio heaters would require stabilization to prevent them from tipping over, as well as regular maintenance to ensure they're working safely and efficiently. If you buy more than one propane tank at a time, proper storage of the tank is also a factor in upkeep. However, propane heaters can be less expensive than electric heaters, depending on how often they are used.
Many propane heaters have stylish designs that can become a part of the décor in addition to warming an area. They can also be moved easily to suit the area without needing to be close to an outlet or gas line.
If you have a larger patio and enjoy spending time outdoors frequently with a group, investing in a propane heater would be a perfect option.
Gas Patio Heaters
Gas heaters are connected directly to a natural gas line, making this the most permanent option out of the three types of heaters. Installing a gas heater would require contracting professionals to ensure it is done safely, and you should be certain that you don't want to move the heater for a long time.
While gas heaters have more upfront costs, over time they are usually cheaper than electric or propane heaters. Some types of gas heaters also require less routine maintenance. Therefore, gas heaters are great if you plan to use your heater for years to come.
Gas heaters provide the highest level of heat compared to propane and electric heaters, making them the best choice for large outdoor areas. If you're lucky with where your gas line is placed, gas heaters could be the perfect option if you're looking to invest in your home and make the most of your backyard for the foreseeable future.
Maintaining Your Patio Heater
Now that you know how to keep your patio heater from tipping over, it might be worth taking a step further to look through your manufacturer's manual for more tips on maintaining your patio heater.
Taking the time to ensure that your patio heater is stable and at peak performance will allow you and your loved ones to enjoy time outdoors without worrying about accidents. With proper maintenance, your patio heater will last a while – meaning more time for you to spend connecting safely with friends and family.
Don't forget to check out this article were we talk more about patio heaters!