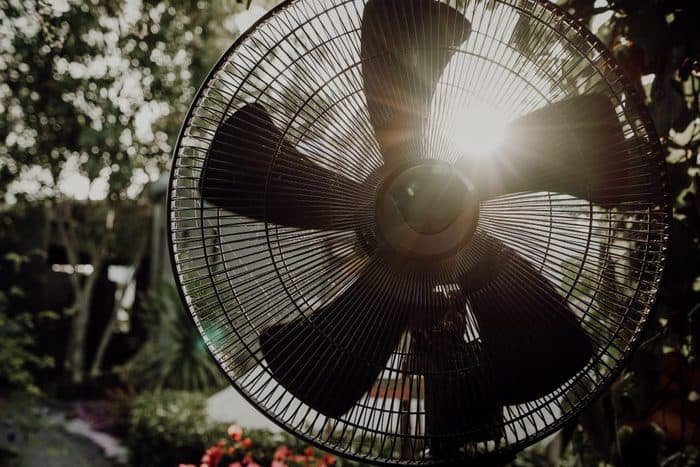 Spending time outdoors during summer might be too hot to enjoy, especially if you live in a very hot climate, like we do in Florida.
While you cannot bring your AC out with you, you can get an outdoor pedestal fan instead. It does the same work as the AC, but it's portable, easy to operate, and consumes less electricity than AC.
With the market saturated with all sorts of outdoor pedestal fans, it could get a little complicated to find the right one. That's why we have compiled a list of the five best pedestal fans you can use outdoors, and which ones we recommend.
Outdoor Rated Fans vs Outdoor Capable Fans
An outdoor rated fan can withstand all the weather elements including rain while an outdoor capable fan should be used only under a covered patio or moved indoors after each use.
Outdoor rated fans are more expensive due to construction that can withstand the outdoor environment while a outdoor capable fan can have plastic parts wear out sooner if used in direct sun or it gets rained on.
If you have an open outdoor patio without any cover, you definitely need an outdoor rated fan to last more than one season. But, if you have a covered patio where the fan will not get rained on or direct sun, I would choose a regular pedestal fan to save money.
The ones list in the table below are all rated for outdoor use in all weather situations. The fans listed below the table are all outdoor capable fans for your covered backyard needs.
Our Pick
Rowenta Extreme Outdoor Fan with Remote 65 Inches...
DecoBREEZE Pedestal Standing Fan, 3 Speed...
OEMTOOLS 23978 20" Tilting Pedestal Misting Fan,...
Our Pick
Rowenta Extreme Outdoor Fan with Remote 65 Inches...
DecoBREEZE Pedestal Standing Fan, 3 Speed...
OEMTOOLS 23978 20" Tilting Pedestal Misting Fan,...
This pedestal fan takes the first spot due to its design, portability, and versatility. Lasko is known for creating great products, and this fan is proof of that. They have kept the design very simple, with the metal blades curved for maximum air pressure.
Sale
Lasko High Velocity Floor Fan with Wall mount...
✅【EASY CONVERSION FROM FLOOR FAN TO WALL FAN】This high velocity fan features QuickMount that easily converts this fan from a floor fan to a wall fan with the included wall bracket, this fan...
✅【POWERFUL AIR CIRCULATION】This high velocity floor or wall fan features 3 powerful speeds and 3 metal fan blades that provide superior air movement around your space
✅【DURABLE AND BUILT TO LAST】Tubular steel construction make this fan strong enough to stand up to years of use; with a metal fan cage and stand this fan is strong enough to last in workplace...
Pros
It comes with rubber pads on the stand to protect the surface.
It's straightforward to install and doesn't require any tools.
The manual control gives you complete control over the speed of the blades.
Cons
It can get a bit noisy when it's set to maximum speed.
QuickMount System
You can easily use this fan as a wall fan or a floor fan without any additional accessories. To use it as a wall fan, all you have to do is hang the fan stand on a wall mount, a process that doesn't require specialized skills and experience. Unhook it from the wall mount, and you're ready to use it as a floor fan.
3 Powerful Speeds
It comes equipped with three powerful speeds to help you choose and control the wind velocity. For better cooling effects, the curved metal fan blades combine with a powerful motor to conjure powerful air movement.
Pivoting Head to Direct Air Flow
Other than controlling the air's intensity, you can choose to direct the airflow to the desired direction by tilting the pivoting head. This feature eliminates a need to move the fan any time you want to control the airflow.
The Blue Plug for Safety
Lasko takes serious measures to ensure the safety of their products and the people using them. That's why they include the Blue Plug with every fan they make, including this one. The plug helps to cut off the electric current once there is a fault within the circuit or the motor. This helps to alert you of the immediate problem and also keeps you safe from electrocution.
Built-in Carry Handle
Besides weighing less than 15 pounds, the fan comes with a built-in carry handle to help you move it around without interfering with the metal cage.
This fan takes the second spot due to its ability to emit steady airflow. It also has an adjustable height, and it's relatively quiet.
Honeywell Double Blade 16 Pedestal Fan Black With...
POWERFUL & QUIET COOLING: This fan features double blade configuration with 3 speed settings & oscillation for wide area cooling in medium to large rooms; it features easy to use electronic controls...
CUSTOMIZABLE COOLING: This fan offers oscillation for whole room cooling plus a unique customizable experience with 3 power settings plus 3 breeze options: variable, breezy and constant; The remote...
INCREASE YOUR COMFORT: Using fans for air circulation in your home can help Increase your comfort, and help reduce energy costs as well; Honeywell carries a range of tower fans, floor fans, and...
Pros
Very easy to clean since the grille is removable
The base is stable and heavy-duty to keep the fan firmly on the ground.
It comes with electronic LED controls.
Cons
It doesn't include many colors to choose from.
It's Very Powerful
To say this fan is powerful is an understatement. It's among the most potent pedestal fans around, all because of the 3-speed setting coupled with the DualAirfx double blade configuration. The fan delivers up to 15% more air volume compared to other models in its class.
Wide Oscillation
There is no need for repeatedly repositioning the fan, especially if there is company around, since the wide oscillation ensures air is directed to every angle. The oscillation capability has made it a preferred fan for both indoor and outdoor use.
Remote Control and Auto-off Timer
The auto-off timer allows you to decide how long the fan should remain active. You can set between 1 and 8 hours, and the timer will trigger the off switch immediately after the time lapses. If you like taking a nap during summer days and you don't want to get up to switch off the fan, this feature will come in handy.
Customizable Cooling
This fan puts the power on your hands of how you want it to cool. The adjustable height allows you to decide how high in the room should be cooled, while the adjustable tilt fan head enables you to dictate the airflow direction.
Rowenta takes the third spot on our lists primarily because it has five speed settings. The impeccable airspeed, size, and power-saving capabilities make this fan ideal for indoor and outdoor uses.
Sale
Rowenta Turbo Silence Standing Floor Fan with...
Ultra quiet technology: enjoy a peaceful environment with Rowenta's Turbo Silence technology, which reduces noise level as low as 35db(A) compared to traditional fans.
Powerful oscillating airflow: experience exceptional airflow (up to 2436 Cu. Ft./min) that oscillates for broad coverage, thanks to the 16"-diameter head and 5 effective blades.
5 speed settings: choose from 3 speed settings and 2 additional speeds, including Turbo Boost for extra power and Silent Night mode for especially soundless operation.
Pros:
Powerful airflow for maximum cooling effect
Only 35 db(A) for quiet operation.
It has a power-saving mode.
Cons
You cannot use chemicals to clean it.
Very Quiet
Fans can get quite noisy, especially when rotating at maximum speed, but not the Rowenta. Producing 35dB of sound, this fan ensures noise is not an issue, regardless of the speed.
Powerful Oscillation
The fan performs robust oscillation that ensures optimal airflow around the room to cover broad areas. The five blades help push fresh air further around the fan, hence giving you a refreshing feeling.
5-Speed setting
This is the primary feature that sets this fan apart from the rest. It contains the three speed settings found in other pedestal fans, with an addition of two more. The manufacturer has included the Turbo Boost for extra power, which is the maximum this fan can reach. There is also the Silent Night mode that is whisper-silent for a quiet undisrupted sleep.
Remote Control and Electronic Control Panel
The remote control capability makes it effortless to use, while the electronic control panel allows you to customize how you wish it to operate. You can switch between normal mode and energy-saving mode or set up the switch-off timer.
PELONIS has a reputation for designing some of the best residential fans, and this model lives up to expectations. It packs impressive features, such as the ability to adjust the height to 4 feet, making it a contender in this list.
PELONIS 16" Oscillating Pedestal Fan | Standing...
STRONG PERFORMANCE: specially-designed BRUSHLESS DIGITAL DC MOTOR and air blades, quiet but powerful while generating a stronger airflow. This pedestal fan not only lowers energy bills but is also...
12 SPEED SETTING: An auto-dimming LED display provides readings of up to 12 speed settings/3 wind modes. You can easily optimize the cool airflow through adjustable speeds or use the remote control...
12 HOURS AUTO ON/OFF: Use the preset timer to turn on/off the oscillating tower fan in 1-12 hours and keep a comfortable room temperature with the help of your tower fan with remote.
Pros
It comes equipped with a five-foot cord.
It's effortless to use, and you can interact with it through the electronic control panel and a remote.
Easy to clean due to the removable blade guards.
Cons
Louder than other fans at 50 db(A).
Overheat Protection
The fan comes equipped with motor overheat protection for added safety. Not only does this help to protect the motor, but it also gives it a longer lifespan.
3-Speed setting and a Remote Control
For a desired cooling effect, the fan utilizes the three speed settings coupled with a very powerful motor. You can also interact with the fan remotely from across the room to determine the speed, adjust the tilt, or when to oscillate.
Impeccable Oscillation Angle
Oscillation is part of any optimal fan, but this item takes it to a new level. Capable of covering an 80–degree angle in one oscillation, this fan is perfect for a group of people or individual use.
Auto Shut Off
It comes equipped with the auto-switch off timer, allowing you up to 7 hours of operation. You use the remote control to set up the timer and dictate other settings. It doesn't require batteries to work since it comes with a five-foot-long cable.
Last on our list is the VanSmaGo pedestal fan that is purposely designed for outdoor use. Besides being portable and durable, this fan makes it on this list because it comes equipped with rechargeable batteries.
No products found.
Pros
It's versatile enough to be used as a desktop fan.
It's very quiet, producing only 30 dB of wind noise.
It's foldable and easy to carry.
Cons
It's not an oscillating fan.
4 Speed Settings
For an optimal cooling effect, the fan comes equipped with four speed settings, one more than most fans. In addition to the three basic speed settings, the manufacturer has included a fourth setting known as Natural Wind.
Rechargeable Batteries and Remote Control
The rechargeable batteries give you a remarkable 12 hours of use before they run out of power. You can control the fan from across the room through the remote control.
Mobile Phone Charging
In case your phone runs out of power, you can charge it through the mobile charge function reserved for emergencies.
Outstanding Customer Service
The manufacturers offer satisfactory customer services and are ready to offer any assistance. There is also a 60-day money-back guarantee to protect you from faulty products.
Conclusion
Outdoor pedestal fans can help keep you cool while enjoying your backyard this summer. While your budget might influence the type of pedestal fan you'll buy, also consider the fan's features and performance for optimum satisfaction.
A good pedestal fan will offer better airflow, and be portable and durable, perfect for your outdoor setting.