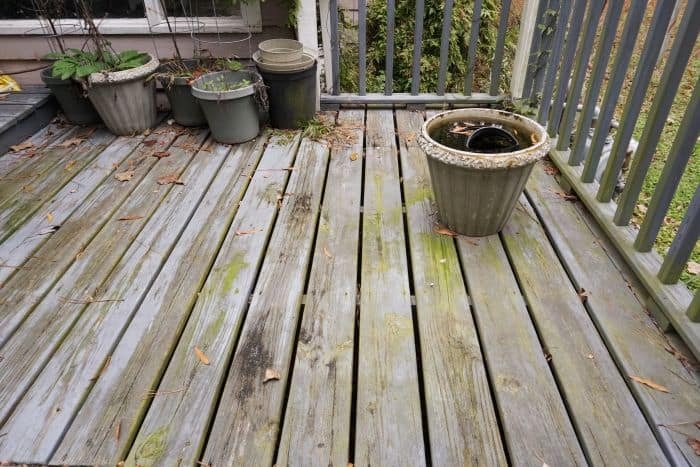 Fall is coming up and it's time for some home improvement maintenance projects. Why not start with your backyard deck? How does it look? Has it seen better days?
Maybe it's time to freshen up your deck with a new color. Before you paint it, you need to use a primer. A Primer will make the paint adhere better to the wood.
Before you get started, verify the type of wood you have for your deck. If you have pressure treated, you might have to approach it with caution. Here are a few tips from what a primer is to what is the best primer for pressure treated wood.
What is Primer?
For everyone doing this for the first time, you are going to need to know what a primer is. What is a primer? A primer is a substance similar to paint that is used to prep and protect unpainted surfaces such as wood, metal, or canvas from elements such as rust and water damage.
Basically, it's a coat to protect the wood from the elements. It also helps to receive paint much more easily. The paint will last longer and look so much better.
A deck is part of your home that needs a lot of maintenance to keep it looking good and functioning well. If the decking boards gets too damaged, you might have to replace them, which can be very costly.
There are two main types of primer: a traditional oil-based primer and a newer latex-based version. A primer can help you save money by making the paint last longer and go on better than just on bare wood.
Primer is found in the same places you buy paint as well as online. You are also going to need to know which type of primer you will need, depending on what kind of wood that you have on your deck.
What is the Best Primer for Pressure Treated Wood?
Pressure-treated wood undergoes a special process that makes it more durable and more resistant to decay, insects, mold, and water damage. When pressure-treated wood is dry, it will completely absorb water droplets.
There are many types of pressure-treated wood out there. The main problem is that not all pressure-treated wood is ready to accept a coat of primer or paint. Click the link for more information on different types of pressure treated wood and how long to wait to stain or prime.
People say that the best option is an oil-based primer for pressure-treated wood but many water-based primers have become very good as well. We'll show you four different options, two water based and two oil based.
Any of the following primers will do a great job at getting your deck ready for paint. Here is a shortlist of primers to look at.
Pros: Water-based, easy to clean, excellent adhesion, versatile, meaning that it can be applied on many exterior surfaces, smooth finish, great coverage, has mildewcide protection, and low odor, and zero VOCs.
Cons: None
Pros: Ideal for most surfaces; better adhesion for topcoats, quick-drying, durable, corrosion-resistant primer, longer-lasting, smooth finish, and enhances the vibrancy of topcoats
Cons: thick consistency
Pros: Excellent adhesion, multi-surface primer, great coverage, excellent in covering up stains, block odors, quick-drying, enhances paint/topcoats vibrancy, and water based for easy clean-up
Cons: none
Pros: Multi-surface primer, excellent adhesion, stain killer, effective in sealing, water, smoke, and nicotine stains, smooth finish, great coverage, quick-drying formula, provides enamel undercoating, that helps further protect the material, and deemed as the best exterior wood sealer
Cons: Oil-based formula and has very thick consistency
How to Apply Primer
Now that we've shown you some primers to purchase, we'll show you the best way to apply the primer to wood. Primer is chemically made to dissolve while hiding the damage and flaws on the surface of your wood.
You won't see the little holes, knots, and stains when you are finished but there are several things to make sure of before putting the primer on the wood.
Fist thing is to make sure your decking boards are clean. You can easily clean the wood with soap and water but the easiest way is with a pressure washer. After you clean the wood, see if the wood is dry. If the water droplets absorbs in the wood, you are ready to get to work.
Next, you have to make sure that the primer is properly mixed. Pour it into a larger bucket and stir it well with a mixing stick. To make sure that it's consistent, take a brush and paint it on a surface. (You might want to use a piece of cardboard or the like.)
Your primer should not have thick lumps, if you do, stir it again. Then you have to test the mixture again. Once it has a consistent texture, you are ready to apply the primer.
The easiest way to apply the primer to your deck is by rolling it first on the top side, then brushing along the edges between the boards. You may need more than one coat to get it in every crevice of your decking boards.
When you are finished, let it dry for six to eight hours. If you have pets, you might want to take them out through the front door. You don't want all of your hard work to be ruined.
Finally, once the primer is dry, you are now ready to paint your deck. If you're wondering what is better, staining or painting the wood, we provide additional information for both here! If you're still intent on painting your pressure treated wood, read our other article.