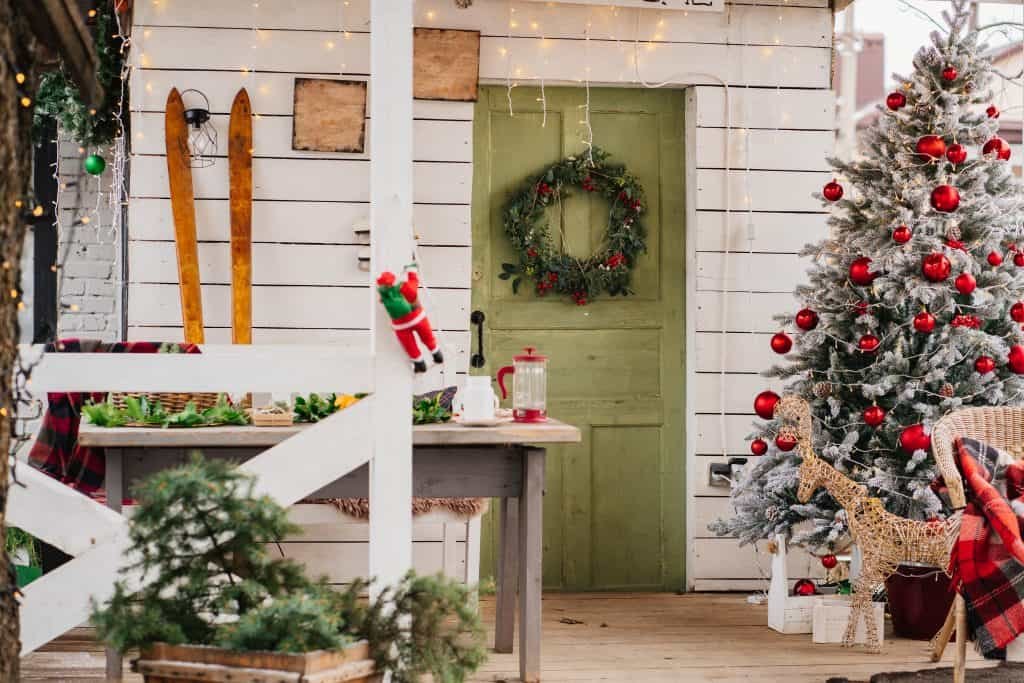 If you love the look of a Christmas tree lit up outdoors but don't have any trees to decorate, an artificial tree is a perfect substitute. A pre-lit fake Xmas tree is even better, since there's no stringing needed. But, can you put a pre-lit artificial Christmas tree outdoors?
Yes, you can use a pre-lit artificial Christmas tree outdoors, if it is rated for outdoor use. Make sure the packaging says outdoor use. Some will specify the tree to be used in covered outdoor areas only, such as a porch.
Pathway Pre-Lit Christmas Trees
The pathway Christmas trees shown above are perfect to line your pathway. While they are smaller at 2 feet, than a regular size tree, they're big on Christmas cheer. They are rated for outdoor use and are less expensive than the full-size trees below. They are battery operated with a timer.
Porch Rated Pre-Lit Christmas Trees
If you have a front porch, the National Tree Company tree shown above will bring holiday cheer to anyone visiting your front porch. They have a 4 foot or 5 foot tall tree set in attractive gold urns. It has white lights and is ready for all your Christmas tree decorations.
Birch-Look Pre-Lit Tree
Lightshare's 3 pack of birch looking trees is beautiful. They can be used year round indoors or outdoors, but add ornaments and they make a perfect Christmas outdoor decoration. Ground stakes are included for a stable installation.
Full-Size Pre-Lit Christmas Tree
If you're looking for full-size outdoor rated pre-lit Christmas tree, we've gathered the two best options below. Both of these full size trees can be placed outdoors and be exposed to the elements.
Balsam Hill is known for its realistic Christmas trees and is considered one of the best companies for artificial Christmas trees.
Their Oakville Outdoor Christmas tree features over 2000 true needle and classic needle branch tips to give it the most realistic look. It is trimmed with over 700 pre-strung candlelight clear led lights.
This decorative tree, with its three section construction, goes up fast, leaving more time for holiday cheer.
Their easy plug system has wiring inside the main tree branch. As you assemble the three sections, the lights will automatically come on if plugged into an outlet. All that is left is shaping the branches.
The Oakville outdoor tree comes in five height sizes ranging from 6.5 to 12 feet tall. The tree is considered slim by Balsam Hill standards. The 7.5 feet tall tree is 48 inches wide, weighing just under 50 pounds.
The tree has a special UV coating to prevent fading in the sun. It also includes a beefier stand and stakes so it won't blow over in the wind. One of the best features is the three year warranty.
What Makes It Special
• Five different sizes available
• Durable design
• Simple Storage
• Easy set up
• Natural most realistic look
The other full size outdoor rated pre-lit Christmas tree on our list is from Frontgate. Frontgate is known for their quality products and this Christmas tree is no different.
This flocked snow dusted pine Christmas tree is 6.5 feet tall, 42 inches wide and comes set inside a black nursery pot. There are over 2300 tips for a realistic look and pre-lit with 500 warm white microlights. Assembling this amazing tree is easy since it only comes in two sections.
The lights have a built in timer option to automatically turn the lights on for 6 hours and off for 18 hours which is an added bonus. The tree has a UV treatment to prevent fading in the sun. As with the Balsam Hill tree, Frontgate has a three year warranty with this Christmas tree.
What Makes It Special
• Easy assembly
• Flocked design
• Full appearance
• Made from high quality materials
What to Look for With Pre Lit Christmas Trees
When you plan on using a pre-lit tree outdoors, it must be rated for outdoors to withstand the weather elements. An indoor only rated tree color will fade in the sun and that's not the worst part. You could get shocked by the lights if they're not outdoor rated and get moisture inside.
Outdoor rated pre-lit Christmas trees use outdoor rated lights that can get wet. It will also come with some UV resistance so it won't fade in the sun. If you see a tree that says outdoor rated, look a little closer, since it may also state under cover only.
A pre-lit artificial tree is great since you don't need to worry about stringing lengths of lights up and down the tree. What once was one of the biggest hassles of Christmas tree decorating of detangling and checking all the lights has now been solved.
You take your artificial Christmas tree out of its packaging and the lights are already attached to the branches. I can still remember sitting for hours checking every light in each string of lights.
Conclusion
Though there aren't a lot of choices when it comes to outdoor rated pre-lit Christmas trees, the two above are from the most respectable companies in business today. You can't go wrong with either tree design and your front yard decorations will be the envy of the neighborhood.
If you're putting the Christmas tree under a covered porch or patio, you may be able to use an indoor rated tree if it doesn't get wet, but always err on the side of caution.