Cleaning your gutters is an important part of maintaining your home, but it can also be a very dangerous task if you're not careful. Don't worry about ever cleaning your gutters while balancing on a ladder again, because we have found better ways to clean your gutters without having to take your feet off the ground.
With the right tool, you can avoid precarious activities like climbing a ladder and successfully maintain your home without having to risk any injury. Keep reading to learn the steps for cleaning your home from the ground.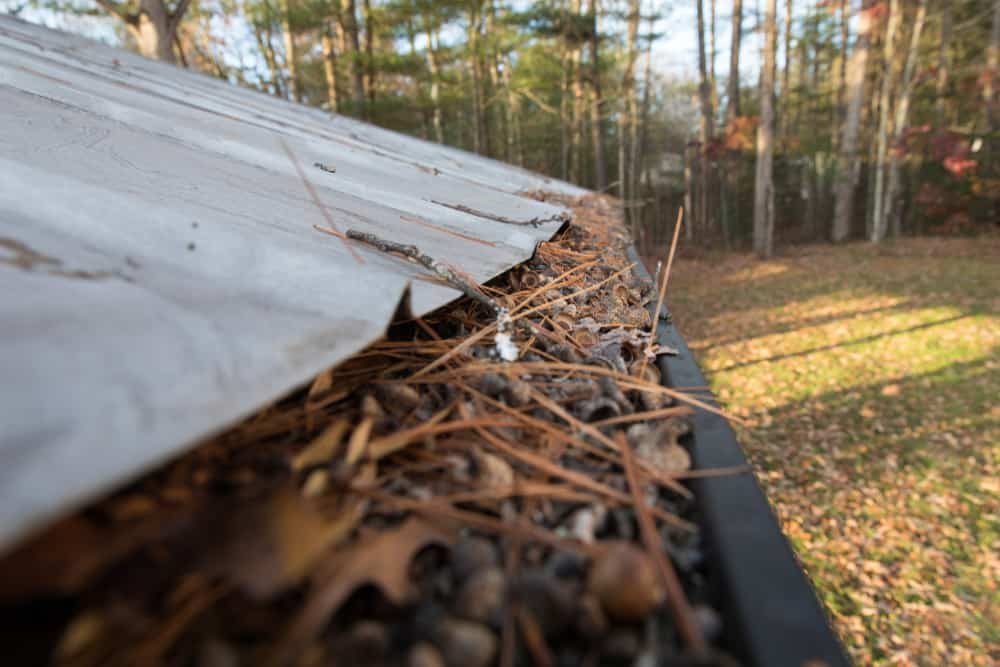 Pick Your Tool
The first step to cleaning your gutters from the ground is selecting the right tool. There are many options to choose from, including:
| | |
| --- | --- |
| Powerwasher | This is a great option because it packs a punch: even the most stubborn debris doesn't stand a chance. However, because high-pressure water is involved, things may get messy so dress wisely and be prepared for a clean-up. We have a Ryobi electric power washer. |
| Wet/Dry Vacuum | A wet/dry vacuum is a great option because you don't have to worry about clean-up and they are a common item found in a garage or workshop. Many companies sell extensions, but you may have to get creative and make one yourself. |
| Garden Hose | This is the most straightforward and reasonable option: everyone has a garden hose for their home. You can make an attachment or purchase one long enough to reach your gutters. Success with your garden hose depends on water pressure and debris. |
| Leaf Blower | A leaf blower is our last option. It's another common item that many people have lying around their house, so it's simple and convenient. Moreover, many leaf blower companies sell gutter cleaning attachments so no need to worry about making one. |
For each of these machines, you will most likely need an attachment to reach your gutters and complete the cleaning job. If you're feeling extra creative, you can even craft your attachment out of PVC piping. However, for power tools like your power washer, vacuum, and blower you're better off purchasing one.
Depending on what you already have readily available, one of these options may make more sense for you than another. It's good to know that any of them will work great and will allow you to clean your gutters successfully from the ground.
Wear Clothes That You Are Ok With Getting Dirty
One thing you need to take care of before you start cleaning away is preparing yourself properly. Cleaning gutters from the ground means all of the nasty debris clogging your gutter will be falling towards the ground and you.
Make sure the area under your gutters is clear of any pets or children. You should also wear protective eye gear and clothes you do not mind getting dirty. A large raincoat works well when using tools that involve water.
This step may seem non-essential, but it will save you a lot of hassle! Falling sticks and dirt in your eyes is not fun and neither is ruining a pair of your favorite jeans. Always make sure you are dressed for the job before beginning.
How to Clean Gutters From The Ground
Now that you have a tool and are dressed for the job, you can move on to the process of cleaning your gutter. Your exact process will differ depending on what tool you choose in the first step. For this reason, we are going to take you through a step-by-step process for each tool so that you can clean your gutters with no problem.
How To Clean Gutter from the Ground with a Power Washer
Step 1: Purchase a telescoping wand and a U-shape attachment for your power washing machine to successfully reach your gutters. You can do so through Amazon or at your local hardware store.
Step 2: Dress accordingly. Goggles and something waterproof are a great idea as things are going to get a little messy. Once you are ready to go, attach the equipment to the machine.
Step 3: Start at one end, positioning the powerwasher right about your gutter. Turn on your power washing machine.
Step 4: Pause every few minutes to let the water and debris drain through. Once you have worked to the other end, repeat the process for all your gutters.
Step 5: Debris may get on the sides of your home, so it may be a good idea to give the outside of your gutters and your outside walls a good rinsing, too.
How To Clean Gutters From the Ground with a Wet/Dry Vacuum
Step 1: purchase a hose and curved attachment for your wet/dry vacuum machine. Attach both to your vacuum.
Step 2: Beginning on one end, position the vacuum head right above your gutter and turn on the machine.
Step 3: Make your way down to the other end of your gutter, allowing the vacuum to suck up any debris located inside.
Step 4: Repeat the process for all gutters on your home.
How To Clean Gutters from the Ground with a Garden Hose
Step 2: Make sure that you are dressed properly, as things will get messy here. Some goggles and a raincoat are great places to start.
Step 3: Once you are ready, start on one end and position your attachment right above your gutter.
Step 4: Turn on your hose, and work your way from one end to the other, stopping periodically to let the debris and water drain down from the gutter.
Step 5: Repeat the process for all gutters.
How to Clean Gutters From the Ground with a Leaf Blower
Step 2: Since you are forcing debris out of your gutter it may be a good idea to wear goggles and protective clothing. Once you are ready start on one end of the gutter.
Step 3: Position the attachment right above your gutter and turn on the machine. Work your way to the other end, stopping for stubborn waste to be dislodged.
Step 4: Repeat the process for all gutters.
Clean Up the Debris and Your Tools
Cleaning your gutters themselves is not quite the final step in the gutter cleaning process. Now all of that nasty stuff in your gutters has fallen into your yard. Depending on how clean you like things, you may want to gather up the debris from burning or compost. A pair of rubber gloves and a bucket will suffice for this step.
Since you are using tools to get this job done, ensure that you clean your tools and store them properly when you are done. You will possibly need to clean a good deal of mud off your tool of choice. Most importantly, make sure that whatever you use has not become clogged with residue from the gutter before putting it away.
The time spent on this final step depends on you. Some people may not feel the need to pick up the fallen debris, and how much time you spend maintaining your tools will largely depend on how dirty they became during the cleaning process. 
For other alternatives to cleaning your gutters, you can learn how to use leaf guards. We also have a list of other gutter alternatives that you maybe interested in.