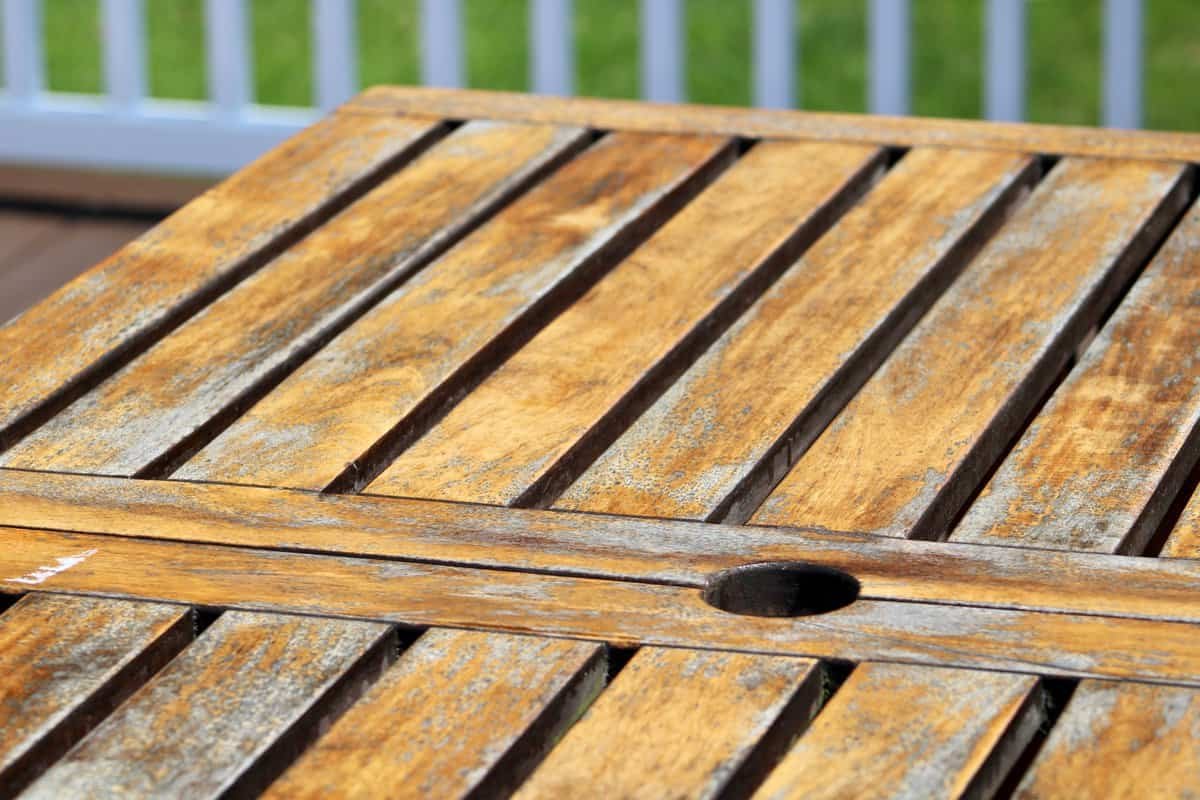 Whether it is used for dining al fresco, entertaining friends under the stars, or simply lounging around to catch some rays, outdoor wood furniture can transform any backyard space into an extension of your home.
From simple benches to elaborate 7-piece dining sets, wood furniture can truly set the tone for patio or backyard décor and create a rustic or modern, yet elegant, atmosphere for any occasion.
While outdoor wood furniture is known for its sturdiness, it is only with regular upkeep that it can provide many years of enjoyment. Proper care begins with regular cleaning and when it comes to outdoor furniture crafted from wood, there are certain techniques that produce the best results.
Keep reading to learn the best ways to clean outdoor wood furniture.
Always Go With the Grain of the Wood
A distinct characteristic of wood, and perhaps one of its most appealing attributes, is the unique look created by its grain. While this feature creates a unique, natural aesthetic, it is important to always note which direction the grain runs.
While some woods can have curly grain or grain running in two different directions, most wood grain is linear along the length of a board. In particular, you need to pay attention to the grain of your wood furniture. Here are some key pointers:
As a general rule, when cleaning outdoor wood furnishings, it is important to wipe along with the grain – in other words, wipe in the same direction that the natural lines in the wood run.
This is particularly important when hard scrubbing or sanding is needed to remove dirt, grime, or stains.
If you wipe or scrub against the grain (i.e., perpendicular to these lines), you run the risk of scratching or even damaging the softer wood material that lies between the grains.
This tip is particularly important when cleaning outdoor wood furniture made from pine, cedar or cypress as these varieties are considerably softer than hardwoods like oak, teak or ipe.
And no matter what type of wood your furnishings are made from, never use a power pressure washer. The pressure washer can damage the wood fibers on a high pressure setting.
Properly Dry Outdoor Wood Furniture After Cleaning
An easily overlooked aspect of cleaning outdoor furnishings is drying them properly. Because wood is a natural material, it is prone to mold or mildew growth if it is not allowed to dry fully. Therefore, it is important to leave outdoor wood furniture out in the sun or in a warm, dry location following a wash.
It is worth noting that repeated cleanings can result in the lines of the wood grain becoming more prominent as the softer wood between the grains gradually recedes. This is a completely natural process, and indeed, many people consider this part of the charm of owning wood furnishings. (A few strokes with medium-grit sandpaper will make the grain less prominent.)
Perform Spot Cleaning As Needed
One of the most important aspects of owning outdoor wood furniture is performing spot cleaning as needed. Certain things, like bird droppings and even sunscreen, can soil and discolor wood surfaces if they are not wiped off in short order. If neglected for extended periods, these marks can become permanent stains and even damage the wood itself.
Use a solution of water mixed with a mild soap or detergent (e.g., dishwashing liquid) for either spot cleaning or a full wash. This should do the trick in most instances. For stubborn grime, a mixture using oxygen bleach should do the trick without damaging the furniture.
Removing Mildew From Outdoor Wood Furniture
When it comes to cleaning outdoor wood furniture, mildew can be a formidable foe to overcome. In years past, I would grab a solution of bleach and water to clean my outdoor furniture.
As I've learned through trail and error, bleach can damage the wood fibers and the mildew will return in short order because the bleach doesn't penetrate the wood's porous surface. Now that I'm older and wiser, I use vinegar or oxygen bleach to clean mildew off my outdoor furniture.
Simple homemade mixtures can be equally effective and they can be prepared with household ingredients:
Pour straight white distilled vinegar into a spray bottle, spray onto the affected area, and then wipe off with a clean towel.
For mildew that is putting up more of a fight, use a mixture of oxygen bleach and enough warm water to make a paste. Scrub the paste into the furniture, wait a few minutes then rise with clean water.
Generally speaking, mildew tends to be more of an issue in warm, muggy areas as opposed to dry climate zones. This is definitely the case in Florida and we have mildew growing everywhere outside. Deck, Fence, House Siding, Furniture you name it. I stay busy keeping everything clean in our backyard.
Sanding Can Remove Stubborn Stains
Certain marks or stains cannot be removed no matter how hard they are scrubbed. In such cases, the only option may be to use sandpaper and a little bit of elbow grease to remove them. The best approach is to start with course grit, such as an 80, and finish with a medium grit like a 100 or 120.
If you furniture has a finish, you will need to refinish the area that you sanded since the sanding will take off any finish applied to the furniture.
Use A Wood Brightener To Restore Original Wood Color
After you've cleaned your wood furniture, it may still be a grayish color and not the original tan or brown color that you purchased. Some people like the grey color while others do not. None of the cleaners above will bring back the original color of the wood.
You could sand the entire piece of furniture but that would be a very labor intensive endeavor. Instead, use a wood brightener. Most wood brighteners use oxalic acids so be careful and use PPE and cover your plants if nearby.
Once the outdoor wood furniture is cleaned and brightened to it's original color, it is ready to be sealed.
Sealing Wood Can Help Keep Furniture Clean
Because outdoor wood furniture is constantly exposed to elements, like rain and sun, it may be necessary to periodically apply a coat of sealant to protect the wood from the harmful effects of UV rays and moisture. Here are a few tips to follow:
Make sure the wood surface is clean and dry before applying any sealant
Use only sealants that are recommended for the type of wood used in your furniture
Reapply sealant as needed (typically once every several years), unless you live in Florida which is every 1-2 years
Sealant not only provides a measure of protection but also makes your outdoor furniture easier to care for and in some cases, can even enhance its appearance.
Use Breathable Furniture Covers
In some instances (for instance, in warm, muggy climate zones), using breathable furniture covers can reduce the need for intensive cleaning sessions by keeping dirt and grime off wood furniture while protecting the pieces from the elements.
We have used the brand linked above for the past two years on our outdoor chairs and loveseat and they have worked well.
Conclusion
Wood furniture can turn any outdoor space into a functional area for dining, entertaining, or simply relaxing. And with proper cleaning, they can provide years of enjoyment, turning simple activities like eating a meal or playing a game of cards into special events.