If you're in the market for an electric pressure washer, we'll cover our review of the Ryobi 2,300 PSI 1.2 gallons per minute electric pressure washer in this article.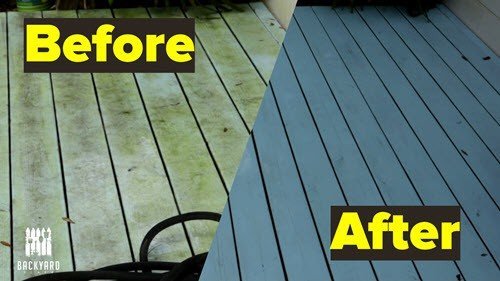 I felt the need to review this product since I have previously always used gas pressure washers for all my home projects.
I've used pressure washers for decks, house siding/roof trim, fencing, and concrete driveways. You know, all the most common pressure washing needs. There our also ways to wash a fence without a pressure washer.
I never felt the need to buy a dedicated pressure washer since I use it maybe 3-4 times a year.
And I didn't want to have to maintain another gas motor and deal with taking it to the mechanic each spring to clean out the old gas from the carburetor.
I was lucky that friends usually had one that I borrowed. One time I decided to borrow a friend's electric pressure washer a couple of years ago and it was horrible. That thing had only a small bit more pressure than a regular hose on the jet setting. I never used an electric pressure washer again, until today.
I had been noticing the mildew grow on my deck over the late fall and winter and knew I would need to do something about it when the weather was nice enough to pressure wash it.
After borrowing a friend's gas pressure washers the previous spring, I started researching good picks to buy.
I figured it was time to buy my own. Some of the first reviews I found showed an electric pressure washer that was highly recommended.
I still thought there's no way an electric can compare to a gas pressure washer and continued to research gas models. After more resarch, I was still coming across a lot of people recommending this one particular Ryobi 2300 psi electric pressure washer. At this point, I started to pay attention.
I dug deeper to read all the reviews and see what it was all about. The first thing that really intrigued me was the brushless motor.
Brushless Motors
I have been using dewalt's cordless drills that have the brushless motor and they have been fantastic.
The brushless motor is stronger and allows the battery to last longer than any of my previous cordless drills.
Brushless motors have less moving parts to break down and are more efficient than regular brushed motors which gives them more power.
If you want to get more geeky with how the brushless motor works in a pressure washer, this article gets more scientific
As I kept reading the different reviews, I also noticed it had a touch button start and that was really what finally got me to go look at it in the store along with the fact that it showed capable of 2300 psi.
All the things I do with my pressure washer and most other homeowners need only a little more than 2000 psi to clean most things.
I know I have damaged my deck boards previously with a gas pressure washer with a 15 degree nozzle tearing the wood fibers. There is a chart that showcases the required psi for the many different uses of a pressure washer.
I went to the store and bought the unit figuring I would try it and if it didn't have enough power, I'd exchange it for the gas model ryobi that also had great reviews with the honda motor.
I cleaned off the furniture and everything else off the deck and took my gas blower to get all the leaves off.
I also took my 5 in 1 paint scraper and scraped anything stuck between the deck boards. When I built my latest deck, I made sure to give extra room to leave a 1//4 gap once the wet pressure treated boards dried.
In the past I butted the deck boards up like other people recommended but the gap once it dried was only around ⅛ of an inch and much too small if you have leaves or pine needles that drop on your deck.
When the gap is too small, it traps everything to sit on the joist underneath and stays wet, which rots the joist faster. Larger gaps allow the leaves and needles to slip between the gaps and leaves the joist dry.
Sorry for the side rant, but very important to keep in between your deck boards clean of debris. Once I finished cleaning all that up, I unboxed the pressure washer.
It was very easy to slip the top handle part on and then just connected the hose to the nozzle and to the machine. I hooked up the water connection and added my mold and mildew cleaner in the storage container.
There are three tips that came with the pressure washer. The blue one was a soap nozzle that lets you soak the deck with the cleaner/water solution for difficult mildew.
It is just a soaker nozzle and has very little pressure. The second orange nozzle is a 15 degree nozzle for most pressure washing uses and has a lot of psi to handle all the tough pressure washing needs. The third black nozzle is a turbo nozzle. I haven't used that one yet so can't speak to it's effectiveness. That nozzle is best used for concrete or other hard surfaces that is won't damage due to it's very high pressure.
First thing I should say is that I was happy with the mold armor cleaner and I should have let that sit on the deck for a bit longer before I started pressure washing.
It was doing half the work and had I left it stay a little longer, I probably could have cut my cleaning time in half. The pressure with the 15 degree nozzle was more than enough to clean the mildew off the painted wood boards. It actually took some of the loose paint off the boards where the mildew was really bad.
In comparison to last years' deck cleaning with a ryobi gas pressure washer, the electric model took less time and was easier in my opinion. I didn't shred any of the deck fibers which I did a couple of times with the gas model.
No Cranking Necessary
It took me less time with the electric model due to having to put in more gas and then figure out why the gas model wasn't starting again. It took me 6-7 tries with the pull crank before it would finally run more than 10 seconds and shut off. With the electric model, it was so nice to simply touch a button and it would continue to run until I pushed the button to stop. I can't tell you how happy was the first time I used the button, it almost brought tears to my eyes it was so easy. If you have ever dealt with a pull crank on any motor, you can appreciate this small win.
I didn't have to worry about running out of gas than then having to crank it again after filling up the gas. I didn't have any gas spillage on me, which no matter how careful I am filling up any of my gas motors, some small amount of gas gets on me and that's all I smell until I can thoroughly wash it off. On a final note, it was much quieter than the gas model, which I'm sure my neighbors appreciated.
It cleaned the deck well and got rid of all the mildew. I do still have some rust stains, so I'm going to have to research how to get rid of those or I may just put another paint coat on the deck. The last thing I'm really looking forward to with this machine is less maintenance worries.
I won't have to worry about gas left in it and going bad which messes up gas motors. So far I highly recommend this pressure washer and think it's a great model for most homeowners.