You want to make your backyard look great, but you don't have a lot of money. If you're like most people, you might not be able to afford a landscape design from the pros, and DIY isn't for everyone.
Luckily there are plenty of ways to improve your yard without breaking the bank! Here are 37 inexpensive landscaping ideas that will help transform any outdoor space into an oasis in no time flat.
Planting Shrubs
Plant a couple of shrubs around your home for quick and easy landscaping. Shrubs are one of the easiest ways to improve the appearance of your backyard, as they add color, texture, height, or low-growing ground cover. You can choose from a variety of heights, textures, and colors to suit any mood or style – including evergreens which can add year-round appeal. Consider also using them for shady backyard ideas.
Shrubs will grow back after being cut down, so you can trim them without suffering from landscaping guilt. And, they make great privacy screens for backyards that border other properties. If you do opt to trim them, be sure to cut them back before new growth appears in the springtime.
Drought-Tolerant Plants
If you're looking for a way to save money on your water bill, drought-tolerant plants are a great choice. Drought resistant plants require minimal amounts of watering (if any) once they have established themselves in their new home. This means that you can skip the sprinkler and get right to your summer barbecue instead of mowing the lawn and watering plants.
Drought-tolerant plants are also great for those living in areas that cannot support grass, or in locations where a water shortage is common.
Add Window Boxes to Your Home
Add window boxes to your home for a cheap landscaping update. You can use them to create a pop of color or add greenery without committing to the large expense and upkeep of outdoor plants. Plus, they're easy to install (no digging required)! If you get sick of the box design, simply remove it and reattach it when you want to change it up.
Plant Perennials or Succulents Around Your Home
Rather than buying new plants, use some perennials or succulents to quickly and easily improve your yard. Smaller varieties can work as a border that you simply fill in with flowers or grasses once they've grown. If your outdoor space is mostly dirt, then succulents are an easy way to add color and benefit from low-maintenance plants that require hardly any irrigation or fertilization.
You can also save money by using perennials as ground cover in the spots where grass won't grow. Even if it dies off over winter you'll have a blank slate come springtime.
Build a Path
One of the cheapest ways to improve your backyard is to simply add some outdoor paths. You don't need curbing or complicated topography and it's easy to do yourself with basic materials from a home improvement store. A stone or pebble path or small deck will create an instant focal point for your yard and give you lots of landscaping ideas to choose from. You can also look at our flagstone patio ideas for your pathways.
Change the Focal Point of Your Yard
If your yard is full of grass, consider adding a fountain or rustic fire pit as the main focal point instead. This will give you endless options for landscaping around it and transform your yard from boring to beautiful in no time! Try using a large outdoor urn or planting some tall plants (like trees) as a backdrop to give your landscape real depth and visual interest.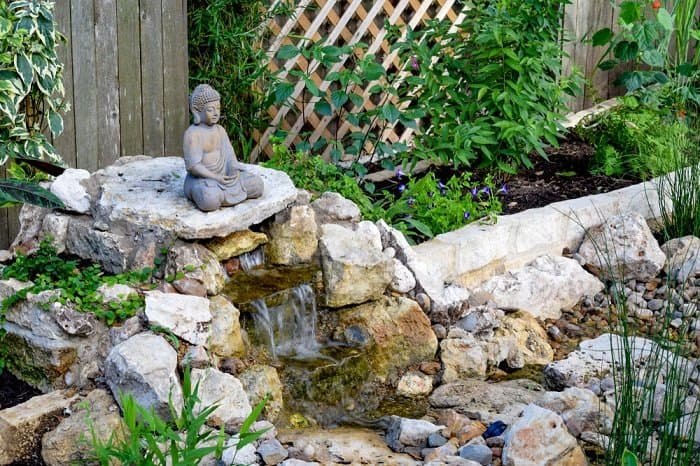 Add Hardscaping for Instant Appeal
Hardscaping is an easy way to create instant appeal in any yard. You can use large stone planters, outdoor furniture with built-in planters, or place a few rustic logs in the center of your landscaping to add instant flair and style. Hardscaping can mean so many things, including deck pergola ideas, a covered porch area, and more.
Add Some Ground Cover
If you have large patches of grass, consider using ground cover plants instead. They take up less room, give you tons of design options, and they look great while requiring very little care! It also makes it easy to create a border around your landscaping or to camouflage problem areas. You can also consider ground cover under pine trees as well.
Build a Fire Pit
If you've got an open yard, consider building a backyard fire pit as the main focal point and gathering space for friends and family. You can save money by doing it yourself and it's still a great way to spend time with friends and family.
This is one of our favorite landscaping ideas. You can do much with this area, from cooking to roasting marshmallows and catching up with friends and family.
Check out our article for tips on how to start a fire in a fire pit.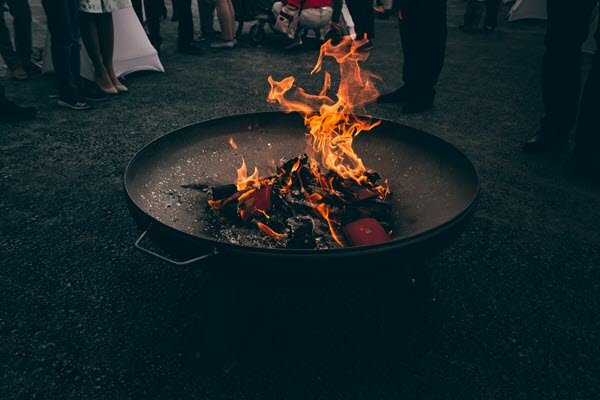 Hide Air Conditioner Unit Outside
Unlike most landscaping ideas, hiding your air conditioner unit is a great way to make your backyard look better just by hiding it. This quick weekend project does a great job of hiding it, but still giving you access to clean and maintain your ac unit.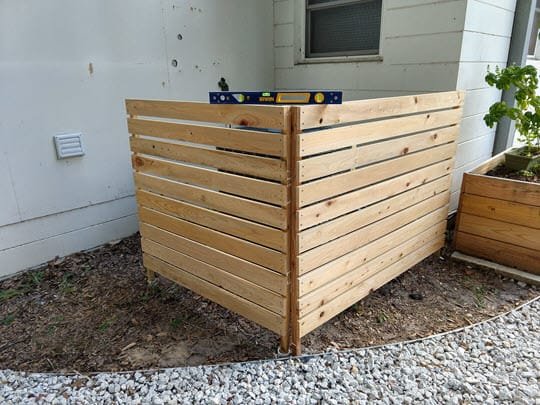 Upgrade Existing Plants
Replace your existing landscaping with higher quality varieties. You can find a wide selection of flowering perennials, grasses, shrubs, annuals, and trees that offer instant appeal at the garden center or nursery. Use them as replacements in your current planting or as the centerpiece of your yard.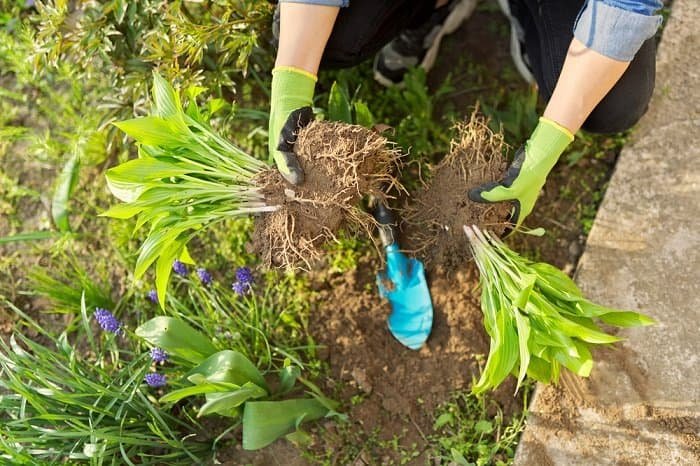 Build a Pond
Add a small pond to your backyard to give it another dimension that's impossible with other landscaping ideas. You can even add waterfalls and lilies to make it look beautiful! This is an easy way to create an outdoor oasis while also adding value to your home. Bonus: you can learn how to create a frog pond.
Add a Trellis
A garden trellis can be used to create shade, to support climbing plants or flowers, and it adds instant appeal. This is another easy way to add more dimension to your yard and make it look beautiful without spending too much money! For example, a simple wooden trellis works well with climbing plants that spill over the sides.
A fence is a great way to add privacy to your backyard and it's easy to do yourself if you have some basic DIY skills. If you're not sure how much space you need for your yard then consider using potted plants or metal trellis fencing to save space and leave room for a patio or fire pit. We've talked a lot about fences. You can do horizontal fences, living fence ideas, dog fences, and so much more.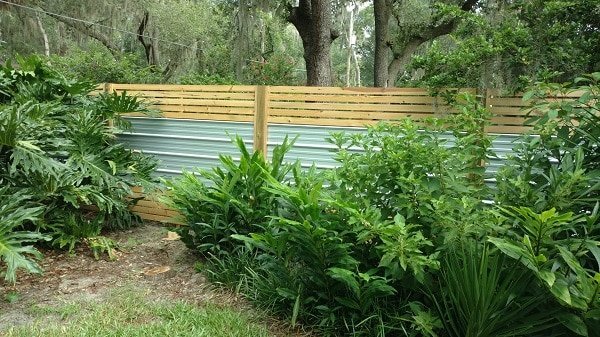 Build a Shed
Build a small shed in the corner of your yard or inside one of the garages on your property. This will give you more storage space, allow you to do DIY projects outside, and add instant appeal with its rustic look. If you don't have the experience to build a shed from scratch, then consider buying pre-built one and painting it to make the exterior of your yard look beautiful. You can also get some backyard office ideas and work in your backyard.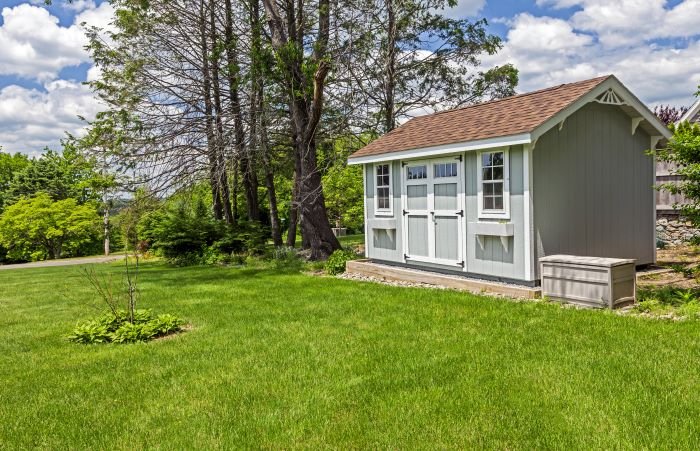 Build a Deck
I'm pretty sure we've built a deck at every house we've lived in. It's just an easy way to define your outdoor area. If your yard has enough room for it, consider building a small deck off one of the windows to display some of your potted plants. It's an easy way to add seating, storage and more all at once and it can be done quickly with basic knowledge about deck construction. Make sure you use low maintenance materials like cedar and pressure treated wood to save money in the long run.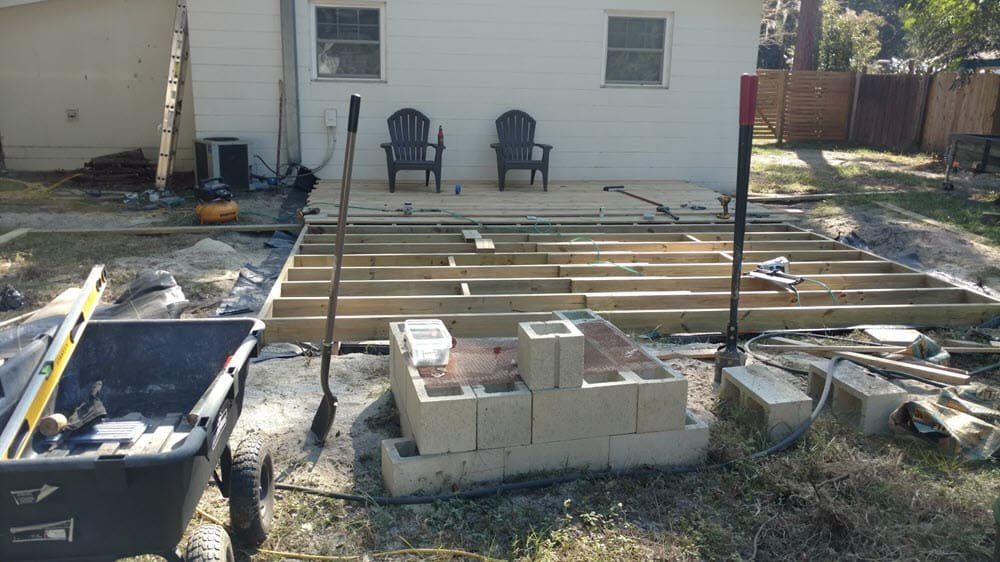 Create a Garden
If you've got some spare space consider building a small garden to add instant appeal. You can start from scratch and create an entire garden with raised beds covered in flowers, herbs and vegetables or you can convert the space you have now into one. It's usually cheaper than hiring someone else to do it for you but make sure that you know what kind of plants you want to use and how to take care of them before starting.
Don't Plant Grass
If your yard has patches of dirt or concrete, consider not planting grass at all. Concrete is easy to work with, it doesn't require much watering :), and it looks great when some decorative concrete designs are added. Dirt can be covered with rocks and gravel if you don't have the time or money to purchase grass, but it's best not to cover areas that receive a lot of foot traffic to avoid damage.
Have a Hot Tub
If you've got the space in your yard, then consider installing a hot tub. It's expensive but will add value to your home and create the perfect spot for barbeques with friends and family during the summer. It will also allow you to relax and unwind after a hard day at work.
Add a Water Fountain
Adding a water fountain to your backyard is a great way to add style and it's relatively cheap when you compare it with purchasing one pre-built. You can find all kinds of designs at the garden center or online so take the time to scout some out before deciding which one you want to use. Make sure that you place the water fountain near a seating area or planter boxes otherwise it won't get much use.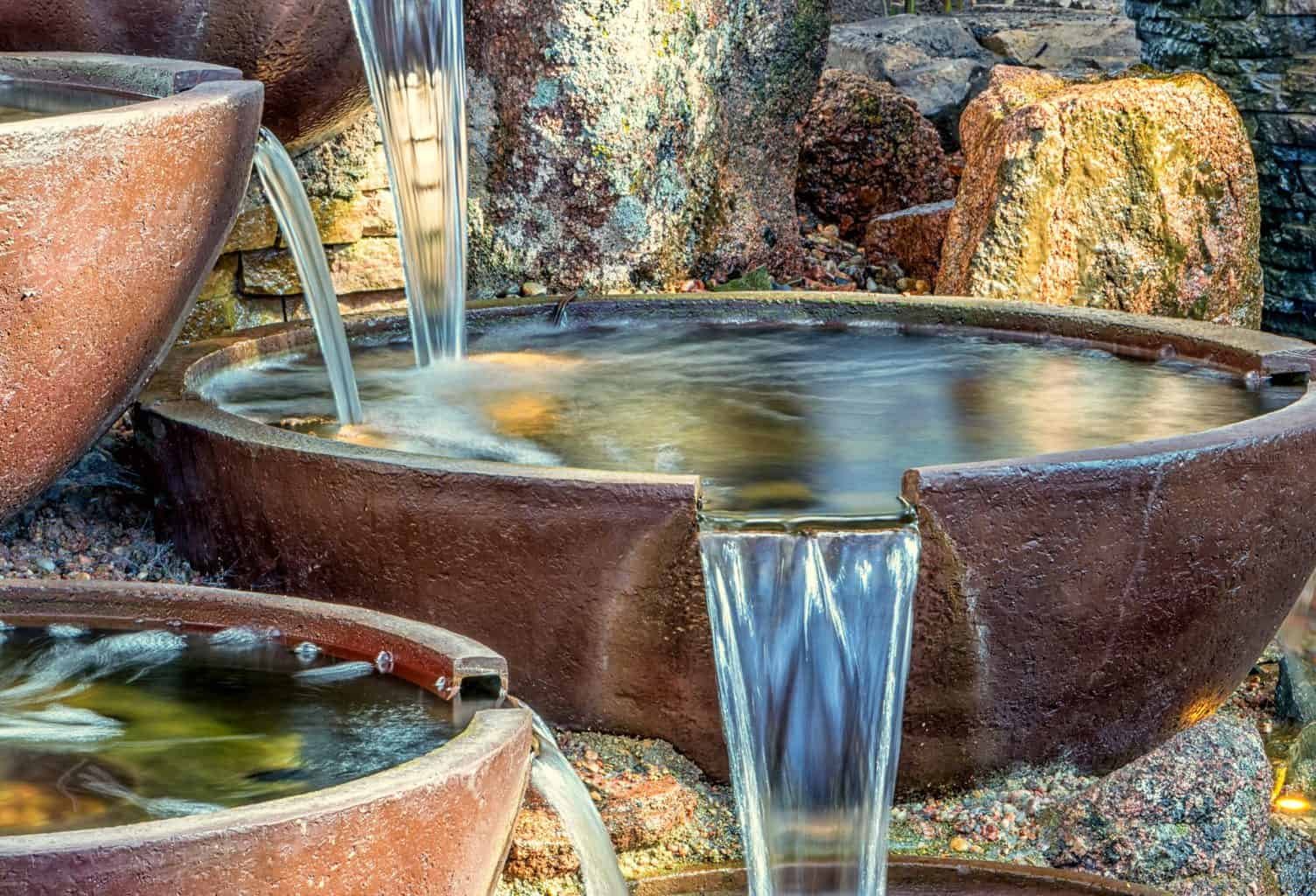 Outdoor Lighting
Having backyard lights installed is a great way to enhance your backyard and make it look beautiful. It's one of the best cheap landscaping ideas for your home as you can find solar powered lights that are relatively inexpensive but still look great.
You can easily string lights even if you have no trees.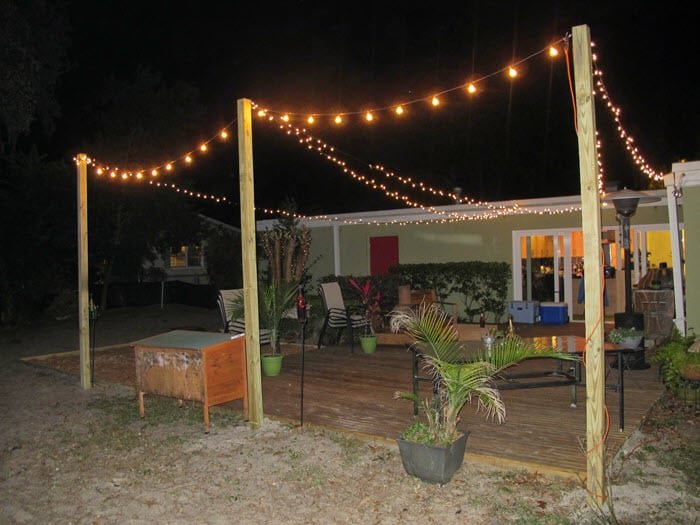 Hang Lanterns
You could also create a path or pathway through your garden and consider building a small deck off one of the windows to display some plant pots. Then hang up dresser or 'S' hooks along the path and attach a rustic looking lantern to each one. It's a great way to add style without spending too much money and it's an easy DIY project that will take less than an hour to complete.
Create a Walkway
Another cheap landscaping idea is to install stepping stones to create a walkway through your garden. It's the perfect way to divide sections off and give it a more natural look at the same time. All you need are some stones that have been cut down the middle, gravel, and sand for underneath.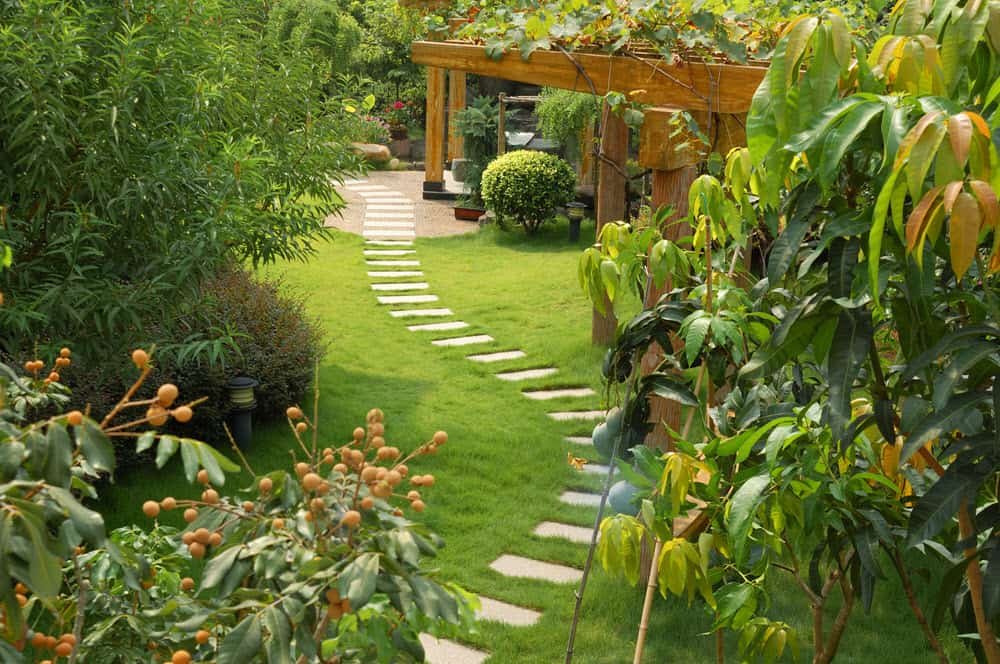 Build a Trellis Fence
If you have a side of your house that's obscured by bushes or trees then consider building a trellis fence to open up the space. It will allow some sun in and also create privacy for those windows that are right next to it. For a bit of extra flair you could even consider installing climbing plants on the fence such as roses or vines.
Build a Pergola
Building a pergola is a great way to add style while opening up your backyard. It will allow you to grow some plants and flowers which gives more privacy but it also frames the space beautifully. If you have the right tools then you can build it in one day and it doesn't cost much money either.
Add Privacy
Privacy is always a concern for homeowners with outdoor spaces and you can combat this by adding some raised flower beds, planting a mix of low privacy shrubs or using hedges to hide the unsightly areas. Privacy fences are great too. If you don't want to do any digging, consider growing climbing plants like kiwi over an existing structure such as the side of your house.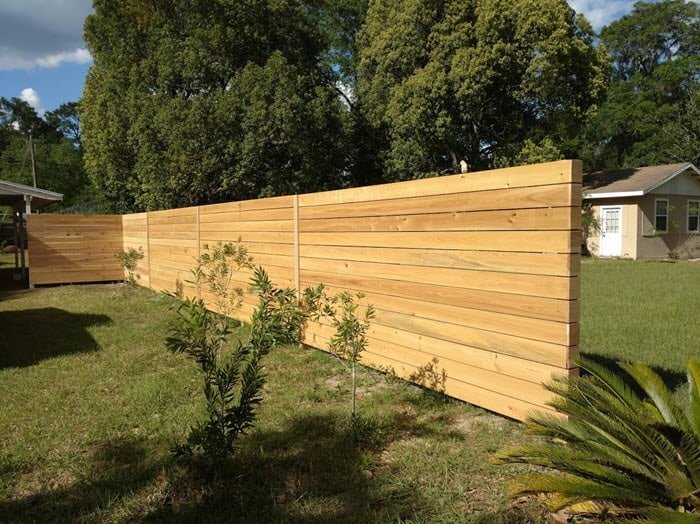 Kiddie Pool
If you have children, having a kiddie pool in the backyard is always good fun. It will give them something to do during the summer months and it's also a relatively cheap landscaping idea if you compare it with purchasing an in-ground pool.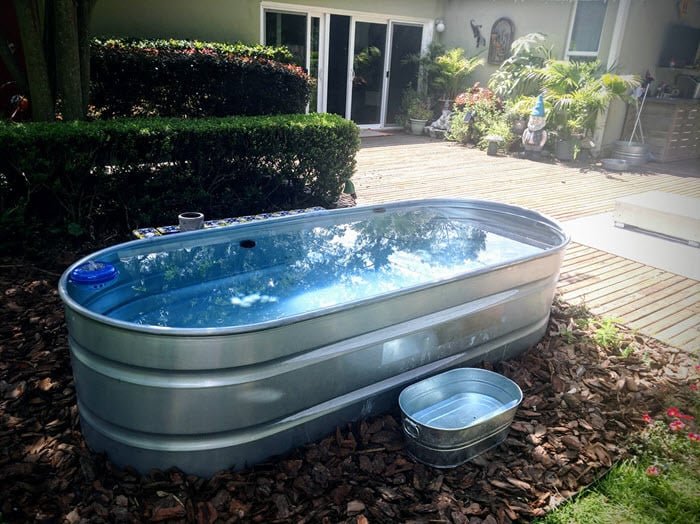 Add a Grill
If you have the space then it's always good to consider adding a grill of some kind. You could make your own or purchase one that has been pre-built for you. There are lots of brands on the market to choose from and even if you spend more money than intended it's still inexpensive compared with going out every weekend.
You can also add a grill deck as a dedicated spot for your grill as well.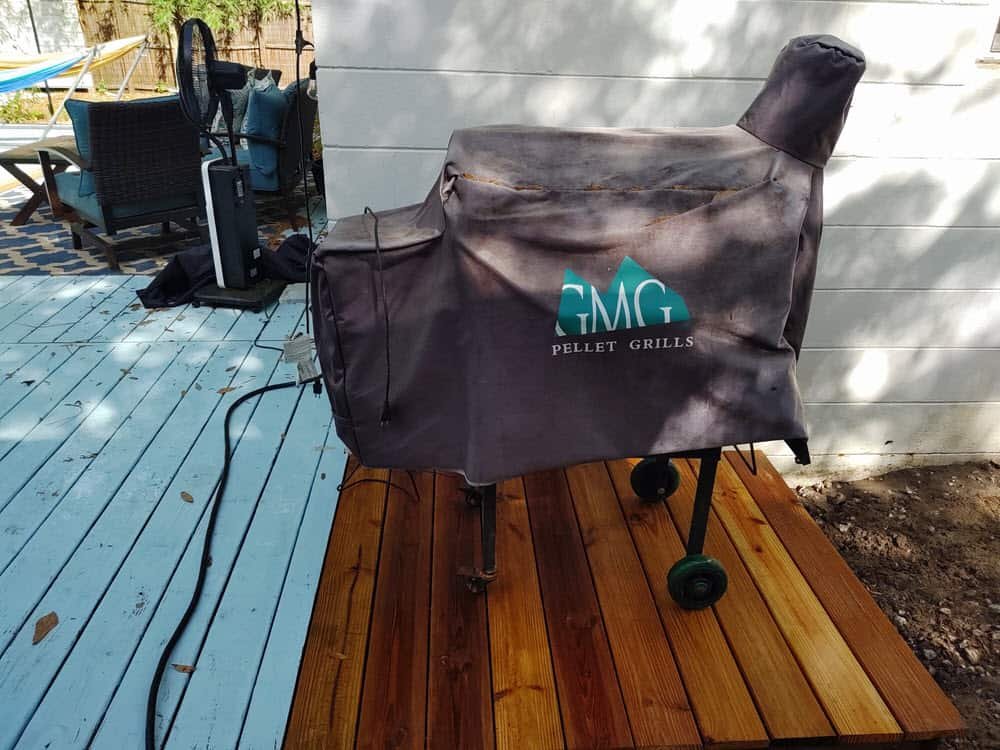 Outdoor Bar
Consider adding an outdoor bar to your garden if you have the room. You could add a few planter boxes and decking so that it has two separate areas and it's perfect for parties or just hanging out with friends. It doesn't cost much money but it creates a beautiful space at the same time.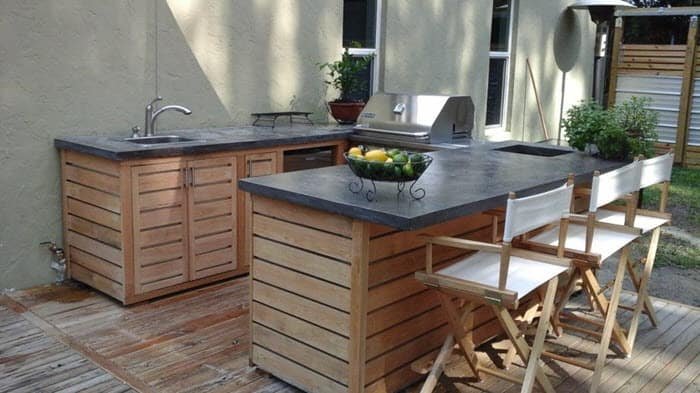 Outdoor Seating Area
Building a seating area in your backyard is a great way of adding style and creating an outdoor living space. You can find lots of kits online or purchase them at your local garden center. The best thing about this cheap landscaping idea is that you don't need to do anything except dig out the required space which makes it quick and easy.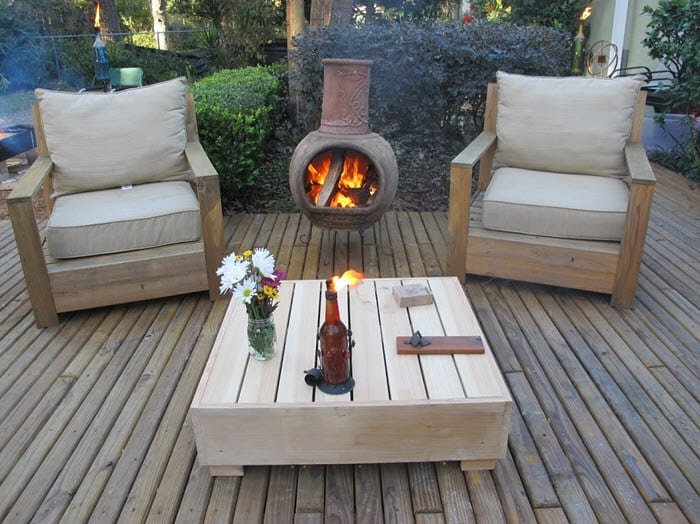 Outdoor Kitchen
Adding an outdoor kitchen to your backyard is a brilliant way of creating a space that's functional and stylish. The best thing about it is that you can keep the costs down by making sure you only purchase what you need. For example, you could use storage boxes for your utensils or add some reclaimed wood for extra style points.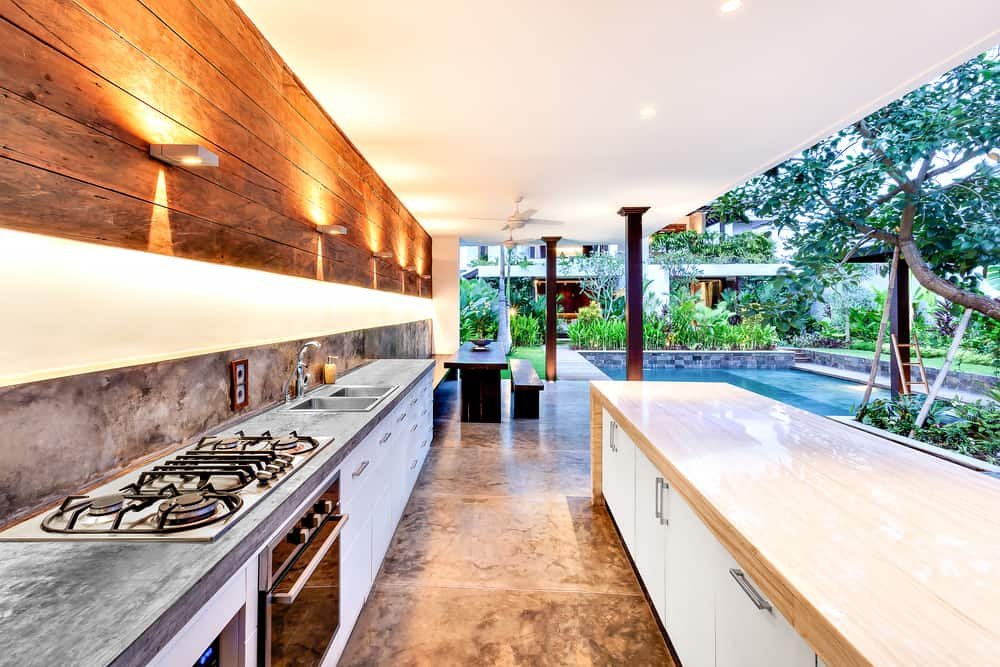 Hammock Area
Consider adding a hammock area to your garden for those long summer days. It's the perfect place to read or spend time with friends and family and it's super cheap. If you get creative, you could make a roof for yours so that you don't have to worry about overexposure from the sun.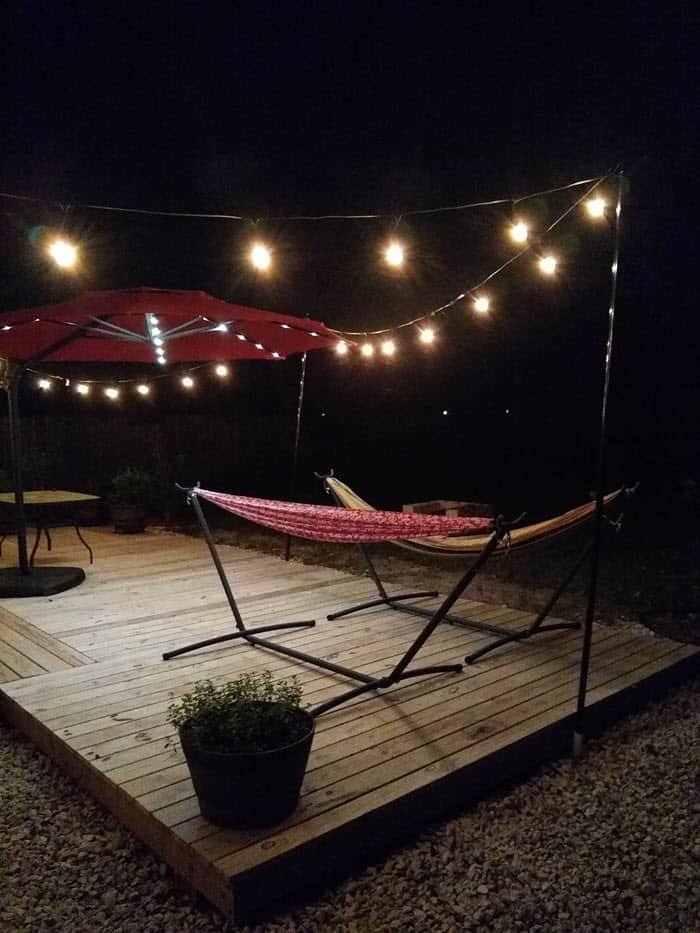 Paint Your Fence
If you have a fence in your backyard then consider painting it to give it that new look. You can use chalk paint for those temporary ideas or go down the traditional route if you prefer. You could paint it all one color or choose a more creative look like our friends did and go with a multi color fence in your backyard.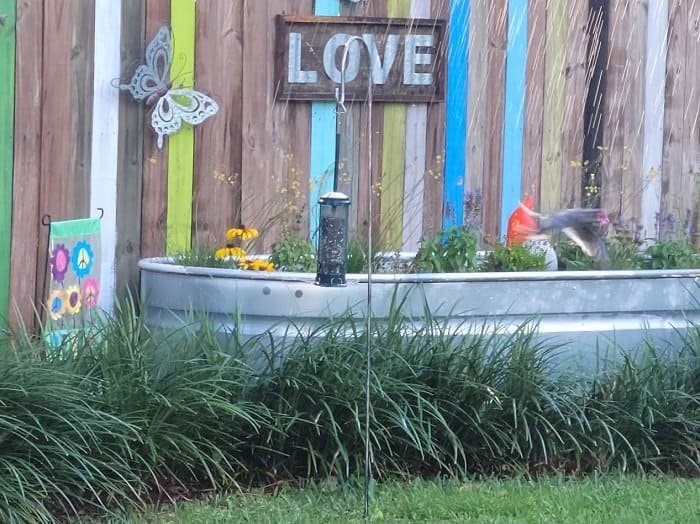 Tire Swing
If you want some cheap landscaping ideas for outdoor play then it's always a good idea to consider buying or making a tire swing. It's the perfect place for children to relax and unwind in and your kids are sure to love it!
Water Feature
Adding a water feature is an easy way of adding value to your home, creating an outdoor living space and adding a stunning focal point for you to enjoy. You could add an ornamental fountain or even a small pond if you have the room.
Pondless Waterfall
If you don't have the space for a full water feature, consider adding a small waterfall instead. They look fantastic, are easy to install and won't cost you a fortune. You could even consider adding some native plants to the area for an extra bit of style or mixing in your existing landscaping ideas so that it ties everything together seamlessly.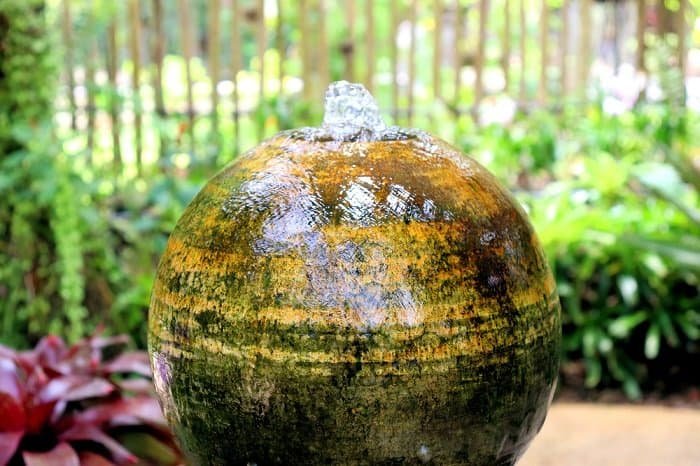 Succulent Garden
Creating a succulent garden is fun, unique and affordable. They're perfect for those who like their garden to be on the natural side and they're super easy to maintain. Succulents are perfect for adding a touch of nature to any garden, backyard or outdoor space.
Container Gardening
Adding container gardening is a great way of filling up space without spending much money. If you don't have the time or patience for planting then consider buying some cheap pre-planted containers from your local nursery or garden center.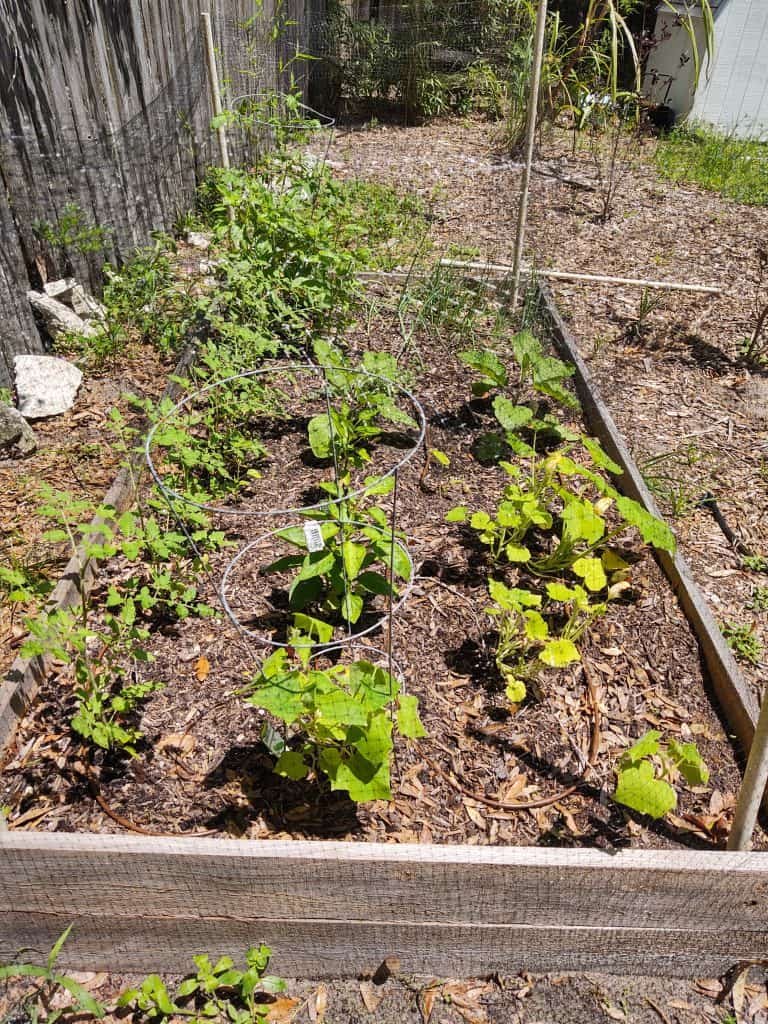 Conclusion
There are a lot of cheap landscaping ideas that you can use to spruce up your backyard without spending too much money. In this post, we've covered 37 landscaping tips from adding an outdoor kitchen to installing a pondless waterfall or simply painting your fence.
The best thing about these inexpensive ideas is that they won't cost you very much and will give you the freedom to easily create any look for your garden.
Which one of these cheap gardening ideas would work well in your yard? Let us know below in the comments section and our team of experts will be happy to provide more information on how it could transform the space into something spectacular.