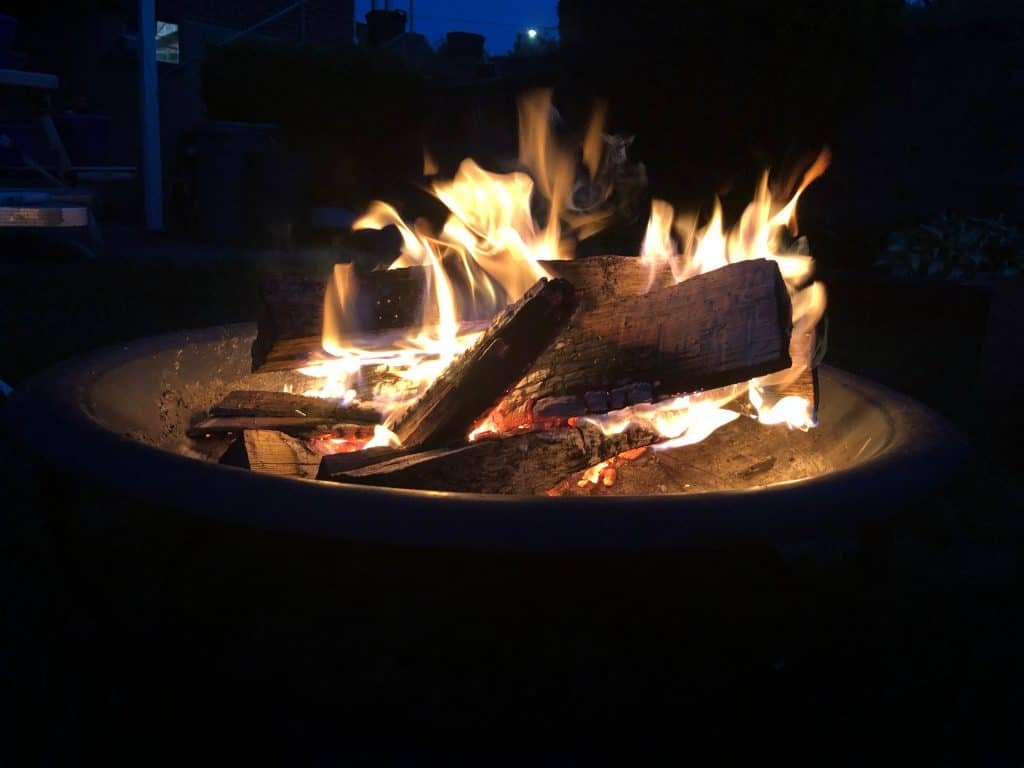 Are you in need of a backyard fire pit as the weather turns cold?
Since ancient times, gathering around a fire outdoors to keep warm or just enjoy the fire is a popular pastime. Backyard fire pits are the perfect place to unwind and relax. A cozy place to spend time with our families and friends.
Yet, picking the right fire pit can be a challenge. Firepits are made from a variety of metals and can use several different fuel sources. We've picked the best fire pits which we grouped according to their fuel usage. Discover the best backyard fire pits below.
The Best Wood Burning Fire Pits
Solo Stove's smokeless fire pit is a sleek minimalist stainless steel fire pit. This cool fire pit was engineered to provide a a backyard fire experience that cannot be duplicated. With a dimension of 19.5 x 19.5 x 14 inches, it offers several unique features.
Double wall design maximizes airflow and burning process. Bottom vent holes allow oxygen to feed the fire from below while simultaneously channeling warm oxygen up between the walls of the stove and back into the fire.
The fire pit will never rust with it's all stainless steel construction.
It's unique design creates a smokeless fire pit which is well worth the price for the Solo Stove. We bought the Yukon model with all the accessories because we wanted a larger fire pit with the smokeless design.
Coming up second is the Blumfeldt Tilting Fire Bowl. It offers an innovative design for a fire pit that can double as an outdoor fireplace. Its good looks and valuable features it provides, propels it into our list.
It is made with extra thick steel for a robust and sturdy design. The three leg stand makes it very stable whether it's used horizontally or diagonally.
Besides its features, Blumfeldt provides you with a stand, poker, grate and a cover. Fore the price, this very cool looking fire pit will make a great addition on a patio or terrace.
Next up, we have the Peaktop Fire Pit coming. The Peaktop comes with a simple and minimalistic design. With a dimension of 21.65 x 21.65 x 11.81 inches, it offers great features!
This patio fire pit serves several purposes. It works as a fire starter and a grill. The Peaktop Fire Pit comes with a BBQ grill for the best family experience in your yard. It comes with a poker, grills, and a spark screen, too.
The simple design of the Peaktop comes from its material. Made from concrete, this patio fire pit is strong and sturdy. Expect it to last decades with proper care and maintenance.
Considering its price tag, the Peaktop is still affordable. The sturdy quality of this fireplace justifies its price tag. A solid choice for your concrete patio ideas!
SuperHandy Fire Pit offers a family fun design for a fire pit. It covers an area of 21 x 21 x 27 inches, giving much space to burn wood. A great choice for your patio fireplace.
You can disassemble SuperHandy and assemble it whenever you need to use it. This enhances its portability and ease of use. Store and move them with convenience.
The distinctive feature of SuperHandy is its build material. It's made with carbon steel with 2mm thick plates to support it. This enhances its durability and longevity to last forever.
SuperHandy delivered an amazing fire pit with an affordable price tag. Consider it if you're looking for an easily maintainable fire pit.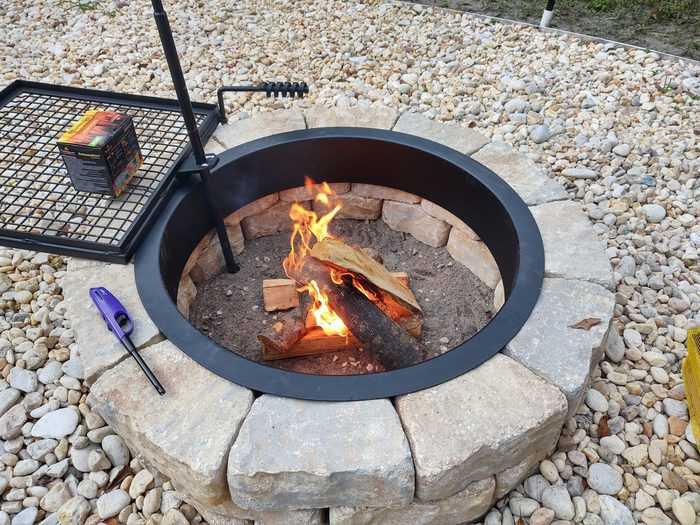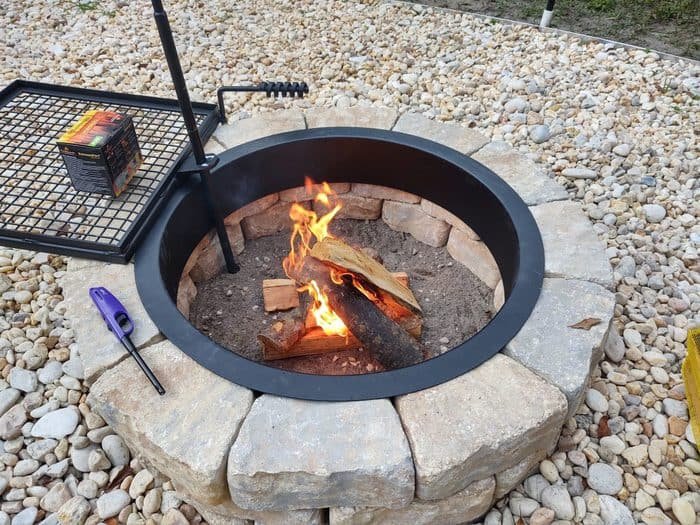 If you're up for a little bit of DIY, then this paver fire pit kit is a great addition to your backyard. This built in fire pit is roughly 44 inches wide and 12.5 inches tall. We even have a video showing how to build this fire pit.
The fire pit will last a long time since it's made from durable stone pavers. The insert is powder coated metal to prevent rusting. Thus, it offers heat resistance to complement its cool looks. We've had ours a couple of years and it's still not rusting in our brutal Florida weather.
Under $300 dollars for a built in fire pit is a great cost to value as well as long term durability.
The Best Propane Fire Pits
The Ciays fire pit is the first propane fire pit on our list. It comes with a sleek black antique copper design. With a dimension of 32 x 32 x 25 inches, it's a classic take for your patio fireplace.
Moderate All-purpose Heat
This propane fire pit can produce heat up to 50,000 BTU. It's perfect for warming up the night or having roasts. It uses a pulse ignition system that makes it easy to light and extinguish the flames.
Long-lasting Durable Materials
Beyond its practicality, the Ciays Fire Pit is made with long-lasting materials. Stainless steel burner and control switch as well as lava rock.
Propane gas tanks are typically more expensive than wood-fueled fire pits. Yet, with the value and convenience it offers, it's still a great fire pit to consider. Fulfill your inexpensive backyard design ideas with this fireplace.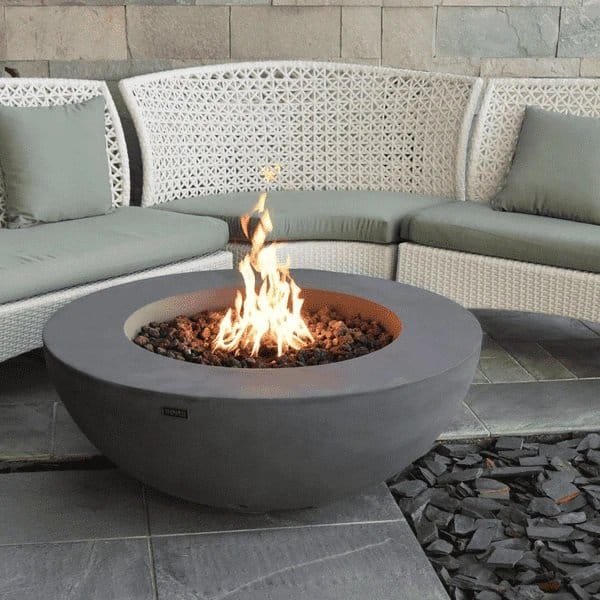 The Elementi Lunar Concrete firepit is the perfect fireplace for the romantics. Its dimension of 42 x 42 x 16 inches makes it a great addition for your backyard landscaping. This is a work or art doing triple duty as a fire pit and a table and will quickly become the focal point of any gathering.
The Elementi is made with durable and high performance concrete and stainless steel for its burner and comes with a 1 year warranty. 13 lbs of lava rock, canvas cover, 10ft hose and repair kit comes with this firepit. Just add a propane tank and you're ready to spend many nights staring at this firepit's beauty.
Great Heat and Great Accessories
This fireplace can give up to 45,000 BTU of heat, for a toasty evening hanging out with friends. To make this firepit even better, add a glass windscreen, stainless steel lid and a fantastic looking propane tank cover.
The price point is higher than the other fire pits listed but it's impressive looks and functionality will enhance any backyard, making it feel like a luxury getaway every night.
Next up, a great medium-sized fire pit! With a dimension of 19.49 x 19.49 x 29.13 inches, the Peaktop is a capable and worthy fireplace. It offers great features and extras!
The Peaktop is a CSA certified burner. It means that it's capable of producing less smoke and efficient burning. Thus, making it easy to maintain. And it can heat up to 40,000 BTU.
Strong Concrete Fireplace
Concrete is the main material for the Peaktop fire pit. It gives the Peaktop strong durability and longevity. It also comes with several extras such as lava stones, a poker, and a spark screen.
With the current price tag, the Peaktop fireplace is very recommended. It's a valuable firepit for your concrete patio ideas.
The Stone Best Choice Fire pit offers a built-in look with it's natural stone siding It has a dimension of 27 x 27 x 9.5 inches with lots to offer.
Best Choice offers you its fire pit with several amenities. Your purchase includes stainless steel burner, lava rocks and weather-proof cover.
This is as easy as unbox, connect to gas and start enjoying your fire pit with no assembly needed
Although only capable of heating up to 30,000 BTU, it will keep you warm and cozy and happy that you didn't spend a lot more money.
Frequently Asked Questions
What to look for when choosing a fire pit?
Fire pits come in a variety of settings. There are differences in purpose, fuel type, weight, size, and price. Get the fire pit according to your needs for the best experience.
What are the best fire pits to buy?
Before you buy a fire pit, imagine the purpose and usage of your fire pit. What is it used for? How much are you willing to spend? Do you like it big or small? Do you prefer gas or wood?
The best fire pits are the ones that fit with your backyard landscaping and patio ideas. Knowing what you need and want will lead you to buy the best fire pits available. It's also best knowing when fire pits go on sale.
Which fire pit gives off the most heat?
There are no certain fire pits that give off the most heat. Each fire pit varies in its capabilities for producing heat. Depending on its type, each fire pit can produce different heat levels. Take firewood fire pits for example.
They can produce 600°C on average. With drier woods and more oxygen, you can push them up to 1000°C. However, gas-fueled fire pits vary according to their specifications.
The manufacturers often provide the heating capability of the fire pits in BTU. A general propane-gas-fueled fire pit provides around 30,000-50,000 BTU output.
What should I set my fire pit on?
In general, it's common practice to set your fire pit on something flat, not slippery and more importantly, not flammable. Tilting or sliding your fire pit while using will always result in a bad experience.
Is stainless steel good for fire pits?
Certainly, stainless steel ensures that there is no rust buildup in your fire pit. Stainless steel also promotes more durability and longevity for your fire pit.
Can you roast marshmallows over a gas fire pit?
Yes, the average temperature of a gas fire pit is often suitable for cooking. Easily adjust the heat and roast by setting the length of your marshmallow to the fire. Be sure to check out our article to know more about roasting these delicious treats.
How do you increase the flame of a fire pit?
For wood-fueled fire pits, you can add dry wood into the fire. Also, you can blow in more oxygen. That will increase the flame of your fire pit. Meanwhile, for gas-fueled pits, simply adjust the knob to adjust its heat.
What are the best fire pits under $100?
Overall, the best portable fire pits under $100 would be the RedK Fire Pit. It is a cheap fire pit that doesn't sacrifice its quality. It offers great portability with its features and weight. Besides, it's durable and can be used in many settings.
If you're looking for a cheap fire pit with quality, check out the RedK Fire Pit. To get the best experience, remember to take your cheap backyard design idea into mind. They play a huge role in determining the best fire pits. Its also important to know how to put out a fire pit safely. Good luck!