Anyone that has ever eaten food off of fire pit grill grate will tell you that there's nothing like it. And you know what? And putting aside the deliciousness of such food, cooking the food on a fire pit grill grate is a unique experience, a ritual if you will.
If you are interested in finding a grill grate for a pit, you've come to the right place. Here, you'll find top 5 grill grates, and education information regarding grill grates, their purpose, use, and maintenance.
Our Choice Fire Pit Grill Grate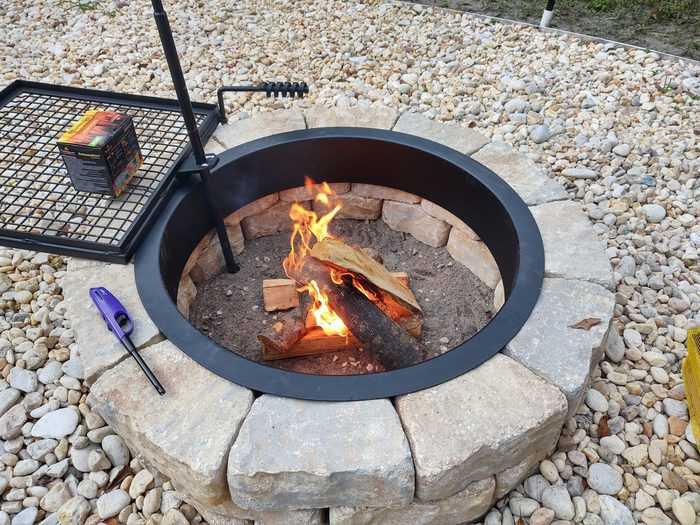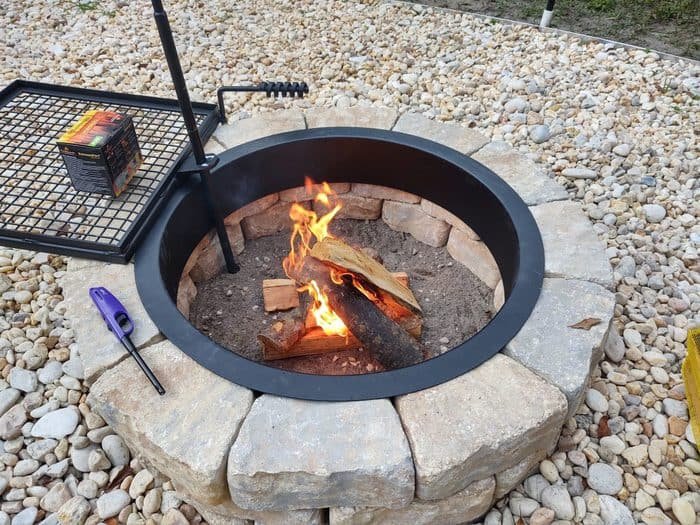 This is the fire pit grill grate that we use. The TITAN GREAT OUTDOORS Adjustable Swivel Grill features a unique design and requires quite a different setup compared to other items on our list. It goes over an open fire and features a swivel that goes directly into the ground.
This is the perfect grill for open fires, picnics, or backyard parties. Here's how we built the paver fire pit that the grate is used over.
We use it to roast oysters each fall.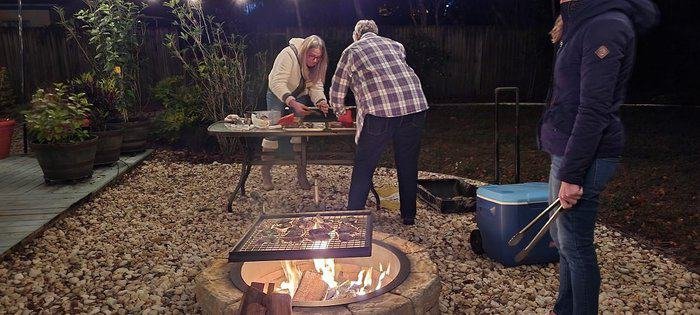 You have to drive in the dirt, and then adjust it to an ideal height (depending on the fire level and strength.) The good news is that the swivel rotates in all directions; if the fire goes wild, you can rotate it to protect the food from burning.
We have used it for two years now and it's starting to show some rust spots in the weld joints but is still sturdy as the day we installed it. We are very happy with this purchase. It's an excellent choice for outdoor fires, and it can be adjusted according to your liking.
The OnlyFire grill grate is, as the title suggests, made of durable stainless steel. It is 36 inches in diameter, which is an ideal size for large cooking places (like fire pits.)
It has two built-in handles, allowing you to remove the grate conveniently and when needed. This grill grate is perfect for outdoor cooking, such as picnics or backdoor parties. Note that the space between the grates is somewhat wide, so be careful with how you cook small pieces of meat or vegetables.
This grill grate is lightweight and durable. It is excellent at transferring and preserving heat and will heat up in just a manner of minutes. Keep in mind that the handles will heat up to an extreme level, which is why you'll need to wear safety gloves to avoid burning.
The OnlyFire stainless steel grate is one of the less expensive units on our list, perfect for people that seek quality for low cost. The bad news is that it comes only in 36 inches.
Best Squared Fire Pit Grate
The Sunnydaze X-Marks grate is sturdy, durable and made for heavy duty conditions. You can buy it in various sizes (24-40 inches), allowing you to choose an ideal size for your pit.
This item is made of durable steel, finished with paint that is resistant to high temperatures. The paint also protects steel construction from corrosion and oxidations and allows more simple maintenance. The 30-inch size is capable of holding up to 50 pounds of food.
It features integrated handles on the sides, allowing you to remove the grate when needed. This grate is meshed and is excellent for cooking even the tiniest of food, ensuring that nothing drops through it and into the fire.
While this item is perfect for squared fire pits, you can also install it on round fire pits, but make sure that you select the optimal size. It is worth noting that this grate is very easy to clean, so keep that in mind should you decide to purchase it.
Best Fire Pit Grate For Campers
This Folding Sunnydaze Camping grill grate has great portability since it folds and has lots of cooking area due to its 40 inches in diameter. This grate is very durable and will withstand virtually and heat.
The paint is also of excellent quality, and will undoubtedly extend the longevity of this unit. Moreover, the paint will protect the steel construction against oxidation and will make maintaining much more straightforward. While this product is made mostly for fire pits, you can also use it to replace your everyday grills.
Since this item is reasonably lightweight, you can install it on almost all tripods and make your cooking even more convenient. We did notice, however, that the craftsmanship wasn't perfect.
The gap between the bars varied, and some of the bars looked dented and bent. We were still able to use the product, but this lack of craftmanship ultimately pushed this unit to second place. The good news is that, despite these minor issues, the item performed well, didn't bend and did an excellent job of cooking the meat.
The Sunnydaze Decor fire pit grate is beautiful, sturdy and durable. It is lightweight, and features x marks design that not only prevents the food from falling through the grill but also leaves those juicy marks on the food.
This grate is very versatile, allowing you to use it in or on your firepit. The paint is resistant to high-temp conditions, and won't peel off even after extensive use. Much like the previous product, you can buy this one in sizes between 19 and 40 inches.
This item is excellent for virtually all kinds of cooking but ideal for cooking above an open fire. The item requires no assembly or any specific preparation; just put it over the fire and start cooking! It can also hold a lot of food, so feel free to fill it up with juicy sausages, bacon and chicken wings.
The Sunnydaze Decor Fire Pit Grate will wrap after a certain number of uses, so make sure you maintain it properly to prolong its longevity (more on that in the "How To Clean Fire Pit Grill Grate" section.
What Is A Fire Pit Grill Grate?
Whether you have one in your backyard or plan to use it on your camping trips or picnics, the fire pit grill grate brings forth many benefits. Often made of durable steel or stainless steel, the fire pit grill grates offer culinary and decorative benefits.
When installing appropriately, fire pit grill grates can enhance the appeal of your garden or backyard. During weekends, when friends and family gather, they will become the center point of your home, a place of laughter and joy.
And when the fire is started, and grill grate warmed, the time will come to cook the food. The aroma will spread rapidly, and hungry mouths will begin turning their necks and walk toward the source. But fire pit grill grates aren't your ordinary charcoal or gas BBQ accessory:
They are more extensive than any other cookware, allowing you to cook food for dozens of people in a short period.
They are made of quality steel and will transfer and conserve heat more efficiently.
They feature built-in handles and allow more convenient managing.
The food will cook evenly and will be healthier when it is cooked on a natural wood
How To Choose A Fire Pit Grill Grate
There are several factors you need to consider when choosing a grill grate, all of which are important to ensure that you are satisfied with your selection.
Size
Most fire pit grill grates can be purchased in various sizes. Generally speaking, you can buy grill grates anywhere from 19 inches to 40 inches. If you already have a pre-made pit in your backyard, then simply measure the diameter and choose accordingly.
However, if you plan on using your fire pit grill grate on your camping trips or picnics, then it might be a bit challenging to determine the right size. Consider, for instance, the number of people that will eat. The general rule says: the more the people, the larger the grate.
If you, however, plan on using the grate for just you and your closest friends, then there's no need for obtaining let's say a 30-inch grate. Of course, you can buy the size you want, but we are merely suggesting the cost-effectiveness involved in this because more massive grill grates also cost more money.
Durability
Durability should also be on top of your priority list. More durable fire pit grill grates will generally cost more money, but they are also a smarter investment. If you plan on using your grill grate frequently, then you should invest in the quality-made item.
You should either buy the stainless-steel fire pit grill grate or buy the one that is coated with high-quality paint. The most important thing is that you are satisfied with the metal construction. Paint is also important but not vital because you can always add a coat of high-temp paint to preserve the grate.
Design Types And Options
You can choose between square or round (circular) type of fire pit grill grate. Since fire pits are generally circular, most people opt for round design. But, squared grates have their advantages; they are more straightforward to store and transport, and often fits on most DIY fire pits.
Another thing you need to consider is whether you want the bar-type design or the X-mark type design. When choosing between bar-type, make sure that you are satisfied with the amount of space between each bar. If the space is too wide, then your food will fall through it, which of course is no bueno!
X-mark fire pit grill grates will leave that distinct mark on your food and will ensure that even the tiniest of food doesn't fall through. However, you won't get that same lined texture that you would otherwise get with the bar-type grill grates.
How To Clean Fire Pit Grill Grate?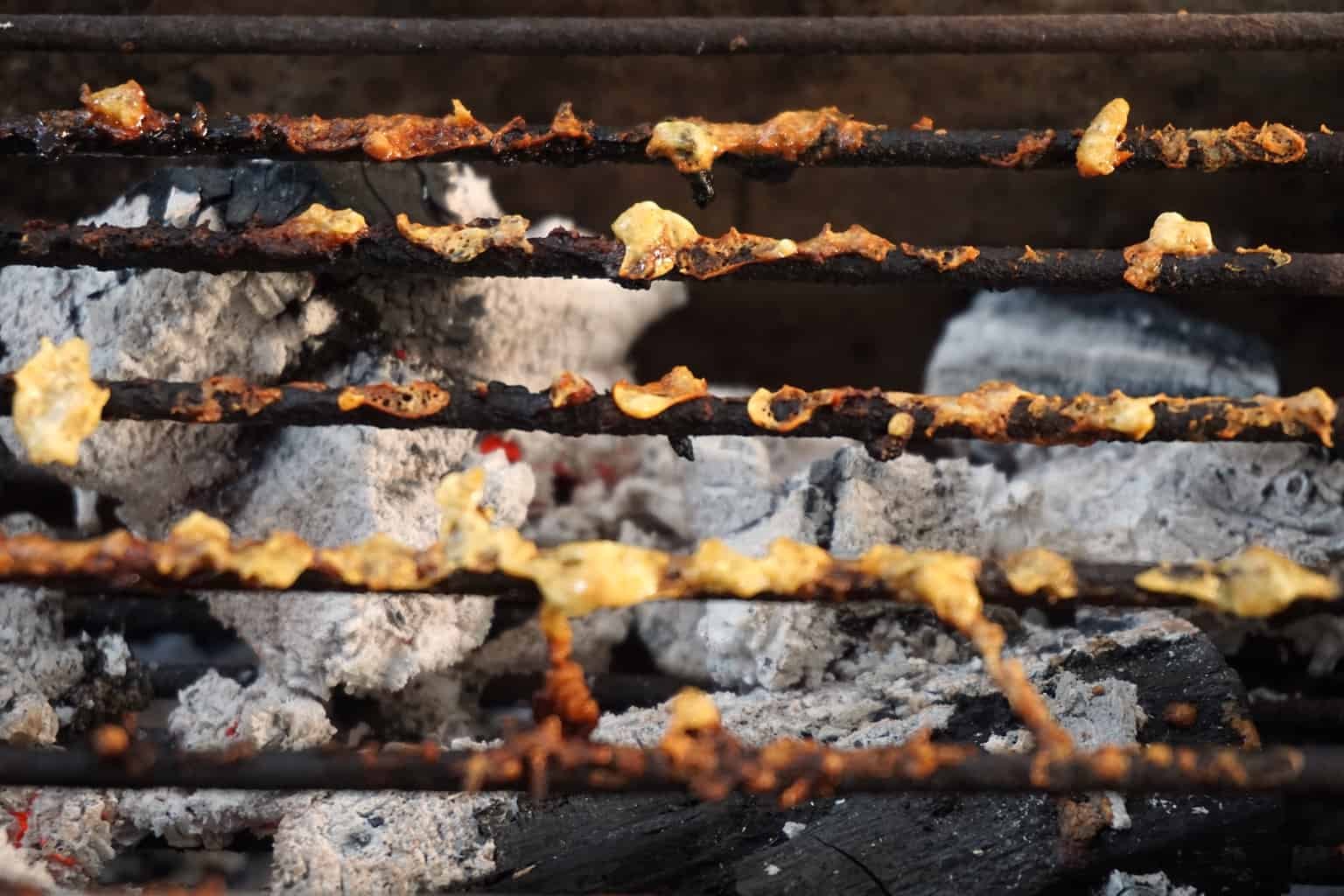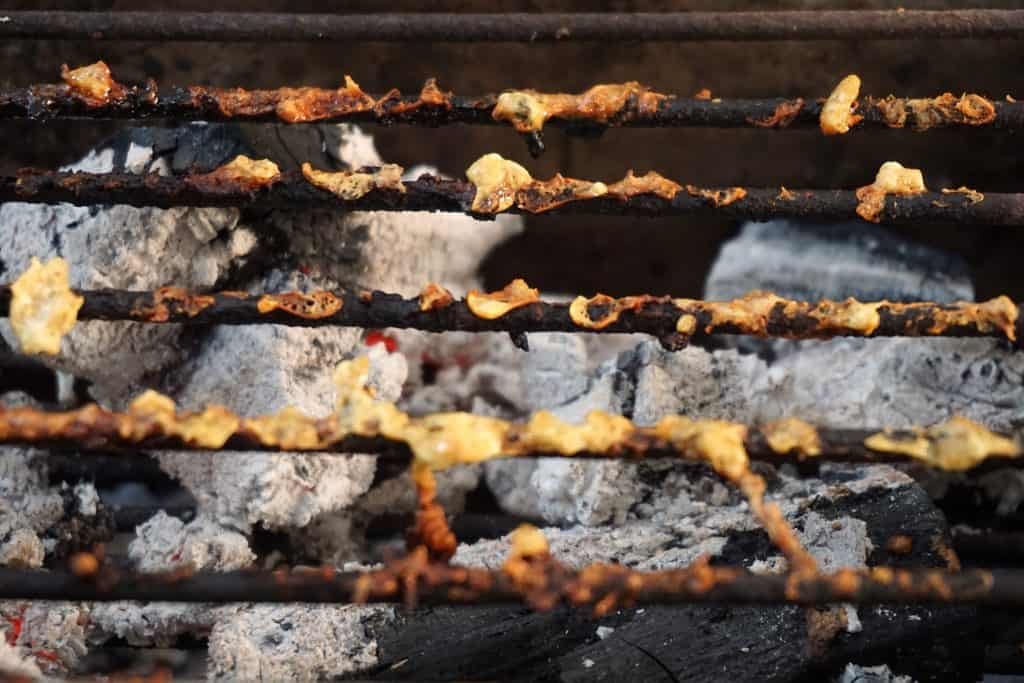 The most straightforward way of maintaining your fire pit grill grate is by burning the remaining food and debris. This is way easier after you've been able to start your fire. You can do this after the cooking is done. But, be careful with how you are burning your fire pit grill grates, especially if they've been exposed to 3-4 hours of the fire.
Additionally, using a wire grill brush should do the trick. Again, this can be problematic with some grill grates, especially if the coating is of poor quality. Then again, if the coating is that poor, perhaps it would be best to brush it off entirely and put your own layer of paint.
You could also oil your fire pit grill grate and then wrap it in newspapers (just as you would do with cast iron pans.) The oil will protect your grates from oxidation, and the food won't stick to it the next time you use it. Alas, if you notice that the paint is of poor quality, remove it with paint removers and then apply organic paint that is resistant to high temperatures.
Final Thoughts
Cooking food for your friends and family on a fire pit grill grate is irreplaceable. The food will look and taste like heaven, and the fire will hypnotize everyone around it.
Make sure that you follow our guide on selection and maintenance, to ensure that you can use your grill grate and that you can use it repeatedly over an extended period.
We hope this article helped you find the perfect fire pit grill grate.
If you liked this article, then please subscribe to our YouTube Channel for Backyard video tutorials. You can also find us on Facebook.