It's been a very productive couple of weekends to get the mulch down in the backyard. If you're getting ready to lay mulch and are researching how to do it, then keep reading.
In this article, we'll share all the research and how you can finally get your mulch project completed.
What is Mulch
Simply put, mulch is a layer of material put out on your soil or yard to help with a few different things. Mulching your yard can be beneficial as shown below:
Reduces the amount of grass you have to worry about mowing. This was one of the biggest sells for us. We wanted to remove some of the lawn we have to worry about mowing. We don't want a huge yard with grass, so we wanted to add a nice area of mulch.
Improves soil nutrients if you use organic mulch then it does a great job of breaking down and adding nutrients back into your soil.
Retains moisture for plants, trees, and shrubs Mulch, especially mulch like leaf mold does a great job of retaining moisture for your plants and tree roots.
Adds beauty to your landscape we just finished mulching a good area in our backyard and really like how beautiful it's made it look.
Reduces weeds we really like the fact that it reduces weeds. I wont]'t say it kills them completely, but it does cut them down tremendously.
Repels some insects like gnats, ticks, and fleas. But only certain types of mulch like cypress, pine, and cedar.
Controls Erosion having bare soil can cause erosion and runoff so adding a layer of mulch keeps the soil put.
What Kinds of Mulch Are There?
Since mulch is just considered anything that covers your garden or soil area, there are many different kinds of mulch to choose from and they are usually broken down into organic and inorganic materials.
Types of Organic Mulch
This is the most popular type of mulch. Usually it's shredded or chopped materials that we can lay over our yards. If you live in a hot humid area, you want to make sure you're using termite resistant mulch in your yard.
Here are some of the more popular types:
Pine bark
Mixed wood chips
Shredded leaves also known as leaf mold
Melaleuca mulch
Pine needles
Cypress mulch
Cedar mulch
Utility mulch we'll talk about this a little more in the cost section and how you can get it for free
Straw or hay
Sheet mulch also known as laying cardboard down before the mulch
Seashells
Types of Inorganic Mulch
Pea gravel
Recycled concrete
River rocks
Sea glass
Recycled tire mulch
Black plastic
Weed fabric
Black Plastic
How Much Mulch Do You Need
Which month to start your mulching project depends largely on what you're trying to do with your yard. If you're mainly doing it for your gardens and plants, then May is a great month to mulch.
People also like to add mulch in the spring time because it just makes the backyard pop more and adds a layer of vibrant colors to your backyard.
If you're laying mulch for walkways, pathways or just to change the layout of your yard, then you can lay the mulch anytime of the year.
We picked the end of July to do our big project this year and love how it turned out.
Where to Get Your Mulch
The main places you can get your mulch are:
Local feed and seed besides being local, these are usually fun places to go to see what all they carry for the local farmers and homesteaders.
Home improvement stores (Lowe's, Home Depot, Ace, RuralKing) You can either get just bags of it or you can arrange for larger cubic yards to be delivered. The pricing isn't always great.
Local Nursery or custom shop for rocks and such
Free Mulch from local utility or waste company you can get free mulch from your city or waste company (trees taken down from storms or around electric lines)and some will deliver it to you. Your local waste area/dump might also have mulch from recycled yard waste. This is considered utility mulch and a better fit for non planting needs like filling a pathway, driveway or landscape area.
How to Lay Mulch in Your Yard
I'll share the process we used to lay the mulch and how we got our mulch. This is our before and after. We had roughly 1,200 square feet that we had to cover.
Mow First If the area is high, you'll want to mow it down as low as your mower will go. This makes it easiest to deal with the next step



Remove all the weeds. Pretty much our whole backyard is weeds, so we'd be doing that for a while. Instead, we chose the next step.

Lay cardboard sheets around the area that you want to mulch. This is a great way to kill off the weeds and smother them. We did this one weekend because we had a lot of cardboard from an IKEA assembly. You have to take any tape that's on the cardboard off before laying it out because the tape won't decompose, and waxed cardboard takes forever to break down. This is also the perfect time to install your drip irrigation so that the much covers the larger tubing.

Water down the cardboard to weigh it down so it stays in place while you start adding the mulch.

Add Your Mulch depending on what type you went with you'll want to add your mulch over the cardboard. Some people use pitchforks or shovels and a wheelbarrow. We had to get the mulch from a different location, add it to a trailer, and then spread it in our yard. For that, we thought that using 5 gallon buckets and letting gravity help was the easiest way. Your mileage may vary for that.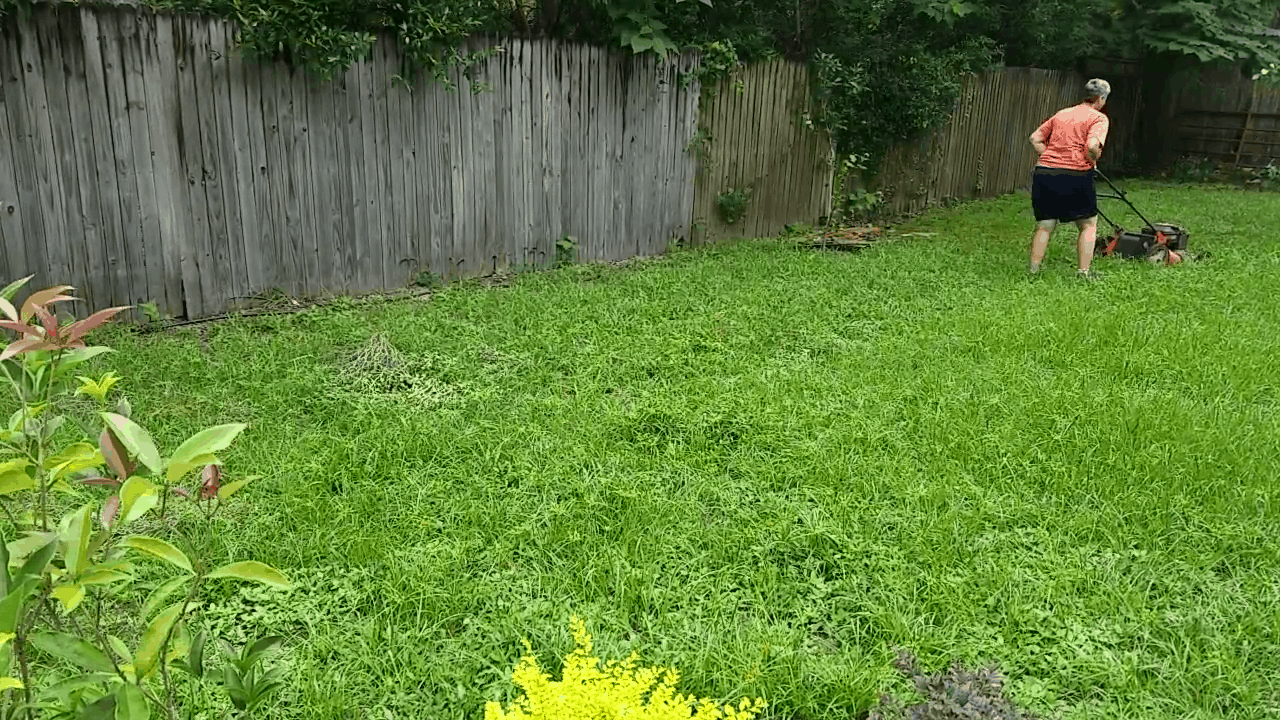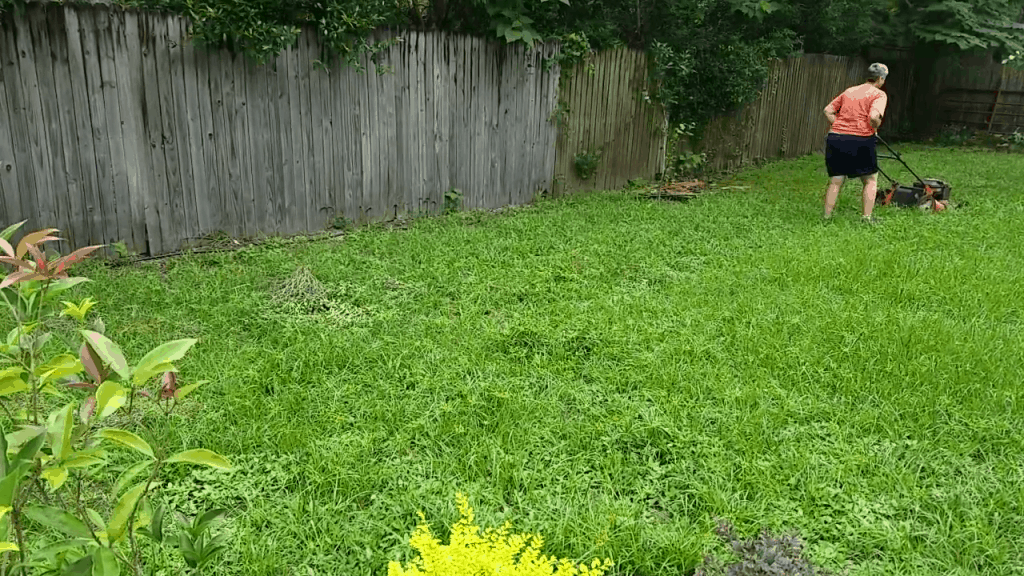 That was only five steps, but it felt like it took way longer. It's a simple process, not necessarily an easy one.
UPDATE, we did this project in 2019, and used utility mulch since our friends had excess and it was free to us. It was smaller and decomposed significantly with our weather that we were almost down to dirt and some weeds, but not as much as their were in the pictures above.
This time we got large pine bark mulch which will take longer to break down and our plants love the extra acidity. We also added aluminum landscape edging to keep all the mulch confined and it looks great.
We showcase how we installed the metal landscape edging in this separate article.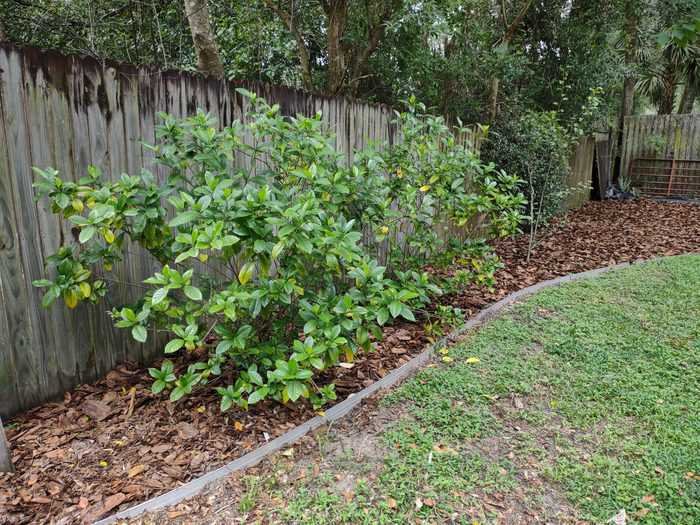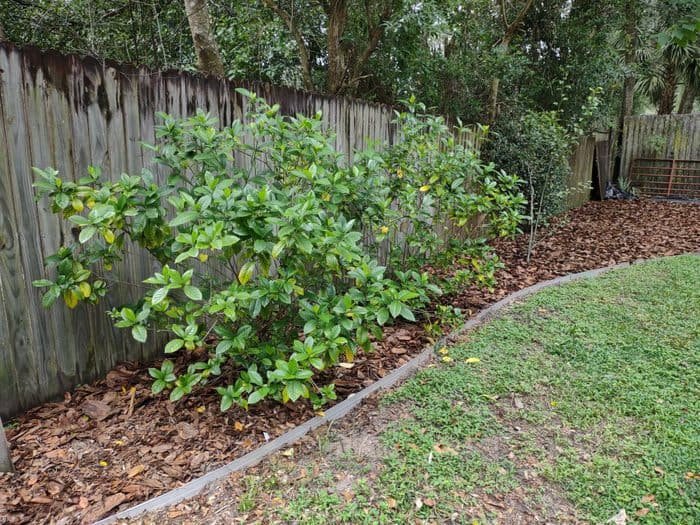 How Much Does Mulch Cost
You can get mulch for a decent price. There are two ways to buy mulch.
Either in a bag or in bulk. The bagged mulch usually comes in either 2 or 3 cu ft and bulk is measured by cubic yards.
The bagged mulch ranges from $2.50 up to $6 and more a bag for the higher end mulch.
For the bulk cubic yard, you're looking at between $25-50/cubic yard depending on the style and type. The higher end is more for rubber or specialty mulch.
Most places will also charge a delivery fee and some will waive the fee, depending how much you are getting and how close you live to their location.
So you're probably wondering if it's cheaper to buy mulch in a bag or in bulk.
It's definitely more expensive for a bag. A cubic yard is 27 cubic feet. And you can get that for, say $25. 25/27= .93 X2 = $1.86 per 2 cubic feet vs $2.50 for the bag.
But the bags are easier to deal with for smaller areas, so some people who don't need as much will just buy the bags.
How to Get Free Mulch
Depending on the size of the area you need to cover, you could just buy some bags of mulch at Lowe's or Home Depot or whatever local feed and seed place is. There is usually a break point where buying the bags is really cost prohibitive and it would be better to buy by the yard.
There are also free ways you can get mulch. The biggest way is to contact your local utility company or waste company and see if they have free wood chip program. Our county does, which is good.
This type of mulch is considered utility mulch and is more for pathways, groundcover, or driveways. They say that because it very well can be seeded with weed seeds and it also has a lot of leaves in it as well.
But it's free. So we had some friends who got it and the first batch was delivered, and spread through their yard. A week goes by and then they got a second batch unannounced
That they didn't need.
So we said we'd take it.
It was a lot more work to go to someone else house, pile up the mulch and then unload it at your house.
Usually, if you get local mulch delivery or buy it yourself, you'll have the mulch delivered in an area of your yard where you can spread it from there.
But it was a good work out.
How Much Mulch Do I Need
You want your mulch thickness to be anywhere from 2-6 inches. The thicker mulch is more for killing weeds off. So if you don't really need to do that, then you can get away with less.
I like 3 inch layer of mulch because it seems to cover well, but not look too high in the yard. NOTE, don't spread excess mulch right up to the roots of trees and plants as it can cause problems.
You'll need to do a little calculation on how much you'll need when you go to get your mulch, but it's not too bad.
You need to calculate your area: width x length and multiply that by the thickness.
For instance, we had roughly 20′ x 40′ area and we went with 3 inches.
So we had 800 sq ft to cover and mulch comes by cubic yard which will cover 324 square feet. 800/324=2.47 BUT we want 3 inches so we need to multiply that by 3 to get roughly 7.41 cubic yards.
Mulch Calculator
You can also use this mulch calculator to find what you need for the area that you're working on in your backyard.
What Are Some Mulch Alternatives?
Ok, not everyone will like the look of traditional mulch. And that's ok. Most of the best alternatives are also the more inorganic ones that I shared earlier.
Old newspapers make great mulch
Any shredded rubber can be a fantastic mulch alternative and will last a while
Crushed or recycled concrete we got a lot of this from our local concrete company. They come in "fines", which are less than an inch in diameter and another size called "57" which is smalls and larger concrete pieces up to 2 inches.
Pea gravel these look really good and are better on your feet than the crushed concrete
Grass clippings if your lawn mower has a mulching feature, then you can use that and either leave it where you mow or catch it in your bag to put it in the area of your garden where you want it to go.
Seashells -we were at Treasure Island, FL for vacation recently and noticed that they use this everywhere. It really makes the area feel beachy and helps keep down the dust.
Pumice Rock similar to seashells, but probably more prominent in desert areas.
Sea glass can be decorative like seashells. It just might take longer to get enough for your area.
Landscaping glass these are usually sold as more decorative and colorful accents for your yard.
Conclusion
I hope this article helped you learn more about mulch and it's benefits to your backyard as well as how to lay it in your own backyard. If you liked this article, please Pin it!