Landscaping is hard, especially when you plan your designs to make your yard look the best possible. Everything is easier with an app, so is there an app to make landscape design easier?
There are apps available for landscape design. Some of them are free. But all of them help you to create a beautiful landscape.
Sometimes you need more than just backyard landscaping ideas. Making your home and yard beautiful is a priority and something to be proud of. If you are looking for great apps to improve your journey to get to that goal, keep reading.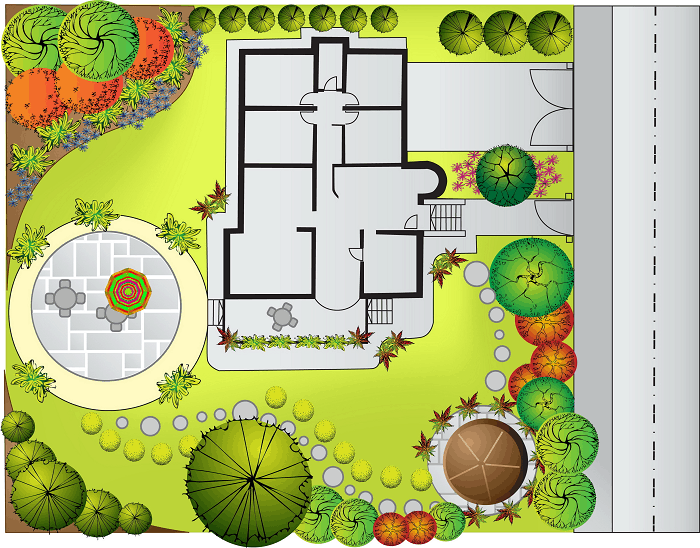 Apps to Help with Landscape Design
One of the biggest goals as a homeowner is designing a beautiful yard. But it is hard to decide where to begin. It is even harder to choose what and where to put things because you do not know how they will look once completed. Finding a landscaping app may be the best way to go. We have found several apps that you can choose from to help you get the best results.
Some of these apps may not be rated high, but they are all useful. It is important to give the apps a try to help you choose the best one for you.
The iScape App is the Top-Rated Landscaping App
First, we have the top-rated app for DIY landscape design; iScape. This app is recommended by the Wall Street Journal, NY Times, Fox News, and The Washington Post.
Pros
Cons
Offers great customer service.
This app is perfect for landscape designers showcasing their vison to clients.
iScape is free to download.
It allows sharing your designs with others.
Offers a pro subscription for professionals to handle pricing, sharing, calendars, etc.
Allows you to cancel your renewal up to 24 hours before your renewal date.
In-app purchases that could be considered expensive.
The free version only allows for about 20 plants for you to work with.
There have been issues with updates.
You cannot cancel an active subscription, only your renewal.




iScape Pro-What Does it Do?
iScape pro not only allows you to use it as a professional contractor, but the app also allows you, if you are a client, to find professional contractors. A contractor can add pricing details and share ideas with clients.
It allows you to add your email as a client and find contractors near you. By telling them about your project, they can match with a contractor best suited for your needs.
Share Your Designs Through iScape
Using the mobile app, you can not only create your designs, but you can also share them. People like your spouse, your client, or your contractor will be able to see exactly what you are talking about when speaking of a certain flower or moving a bush to a different place.
Most Home Outside App Reviews are Good
While there a few bad reviews for this app, most of the reviews suggest this app is good. There are a few bugs with the app, however.
Pros
Cons
Home Outside app offers 700 hand-drawn elements.
It allows you to organize and layer your designs. You can use this app to create, adjust, and view your lawn before landscaping it.
The app can be easily used for large-scale projects.
This app is much cheaper than iScape.
This app is also only available via IOS.
The app may rely too heavily on the drawing portion.
Even though you can use it for large-scale projects, it may be less effective for smaller projects.

Use the App to Change Your Ideas
Once you take a picture of the space you are working on, you can use the Home Outside app to expand and design that space. If you choose one thing and it does not work out, you can easily move things around or change what you are using with a simple switch on your screen.
It also allows you to organize your ideas, layer them on top of each other and compare them. This is important because comparing what looks and feels better is key to enjoying your special space.
The Landscape Design Editor App
This landscape design app offers quite a few tools. But it does not offer a free download.
Pros
Cons
You can resize the images
Cheaper than most landscaping apps upfront.


This app does not provide a good user guide.
It has limited plants to select from.
For this app you have to pay upfront, and it offers no free trial.
Resize Your Images with This App
Using this app, you can easily resize your images. This is important and very useful because you can change the plants' sizes and lawn ornaments you choose to use.
The Home Design 3D-Outdoor Garden Version
This app is not rated as great as the iScape app, but it follows closely behind.
Pros
Cons
Reviewers suggested app was easy to use as a homeowner.
It offers thousands of textures and over 100 outdoor design possibilities.
The app can now be used for multilevel garden designs.
The angle icons on this app stay in place, you cannot remove them.
Unfortunately, the app does not offer a free trial.





Design Your Multilevel Garden
Using this app, you can design multilevel gardens. Take a picture of your space and start adding the different levels however you choose to. Move things around using this feature until you get things in the right spot.
Pro Landscape Home App is Not Recommended by Users
Rated a 2.0 on Google Play, Pro Landscape Home app is an app that most users suggest not wasting time or money.
Pros
Cons
This app helps you prepare for working with a landscape designer.
It is easy to use for inexperienced homeowners.
Fortunately, this app is available on both Google Play and the App Store.
The app drains your battery life due to using GPS.
It also has a low variety of plants to choose from.
This app has hidden fees and is useless after downloading if you do not pay to get started.
Constant popups even after purchasing.
Prepare for Landscaping Using This App
Pro Landscape Home app helps you prepare for working with a professional. Using this app allows you to get your vision together before meeting with your contractor the first time.
You can easily show them what you plan on doing, and they can help you change and design your yard based on your needs.
Are Landscaping Apps Useful?
In one simple word, yes. Making decisions becomes an easy task. They also make things visual when trying to create your space.
Landscaping apps can help you to create a space that is:
Safe for you and your family.
Beautiful for you and your guests to enjoy.
A tranquil space that allows you to relax and be calm.
Apps Save You Money
While, yes, some apps are not free, using apps will still save you money in the long run. Instead of buying material and plants before you know what the finished product looks like, you can buy the app, design your landscape, and then purchase everything you want to create that perfect space. Don't forget to visit our article where we discuss how much backyard landscaping can cost you.
An App Can Save You Time
Apps can also be useful by saving you extra time. It may seem like an extra step to design your lawn before planting. If you use an app to plan your design, you reduce the risk of making mistakes and starting over. You can see the finished product before you start the project.
When an App isn't the Best Choice
If you have no clue what to do with your backyard and no idea on how you want it to look, an app may not be able to help you as much as a landscape design company. When you don't have a clue about landscaping, designers are there to give you options that will work well in your climate and are easy to maintain.
Tilly Design is an online landscape design company that help design your backyard, no matter where you live. They have great reviews from past clients that rave about their work. You might want to check them out.
Conclusion
It is easy to see why there are great apps for such a difficult job. Landscaping is never easy, but a landscaping app can make it simpler for you. They help you design your landscape, change what you think may not work, and even help you find a contractor to help you with your landscaping.
Some apps are a bit more expensive than others, but you get what you pay for. Sometimes it is better to pay the price and get a better designing app than to go cheap. If you want your landscape to come to life, then a landscaping app is the way to go.