Florida is a very diverse state with many different types of landscapes. What is planted in North Florida compared to plants located along the coast in South Florida can be very different. That said, many Florida's areas can grow very tropical plants. Florida's perineal flowers can only be grown as annuals in most other parts of the USA.
When you start to plan to landscape your backyard in Florida, you might be wondering what plants or trees are best to use, how long do they bloom, and what hardscape materials are best to use. However, before you start, it is best to make a detailed design.
Backyard landscaping in Florida is different from landscaping anywhere else due to the amazingly beautiful and exotic plants to choose from. There is an abundance of ways to landscape a backyard in Florida, and there is a wide variety of plants and materials a person can choose from to create the backyard of their dreams.
A backyard has many different functions, so it is important to know exactly how you will be using your backyard and how often. No matter if your backyard is big or small, or if you would like to have a lot of vibrant and colorful plants, or just a few, how you design your backyard is completely up to you.
Florida Friendly Plants, Trees, and Shrubs
When growing plants, trees, or shrubs in Florida, it is good to know some of the best types of each and what part of Florida they typically thrive in.
Here are some great plants, trees, and shrubs to consider using in your landscape:
| | | |
| --- | --- | --- |
| Plants | Trees | Shrubs |
| Milkweed: These plants produce yellow or orange flowers from summer to early fall and are known for attracting butterflies. | Crepe Myrtle: These trees produce pink, white, or red flowers. | Bottlebrush: These shrubs produce red flowers in spring and summer, and they attract beneficial insects. |
| Hibiscus: These flowers have large (pick your color)blooms that will make your yard look like a tropical paradise. | Geiger: These trees produce orange, yellow, or white flowers in warm weather. | Azalea: These shrubs produce many different colored flowers that bloom in the spring. |
| Gerbera daisies: These plants are perineal in Florida with their 3-4 inch wide large blooms in orange, yellow, red, pink, purple or white flowers. | Dogwood: This tree has beautiful white or pink flowers in the spring and grows to 12-36 feet. | Gardenia: These shrubs produce sweet-smelling white blooms in late spring. |
Materials to Use for the Landscape
You can use all kinds of different materials for your backyard landscape to help preserve it and help make all of the elements blend together seamlessly.
Mulch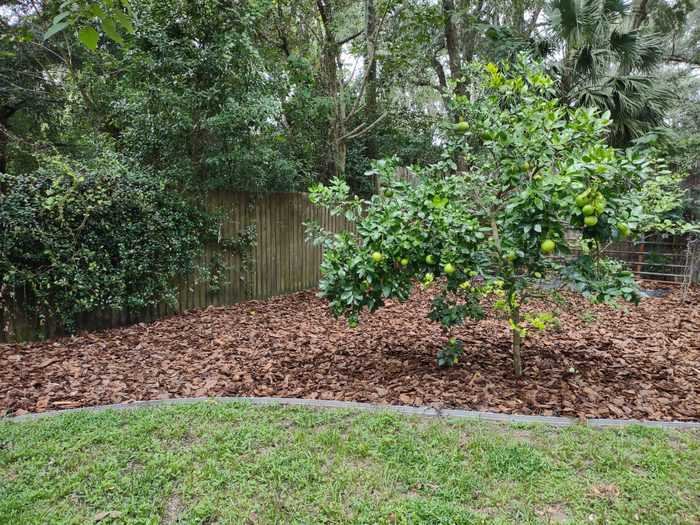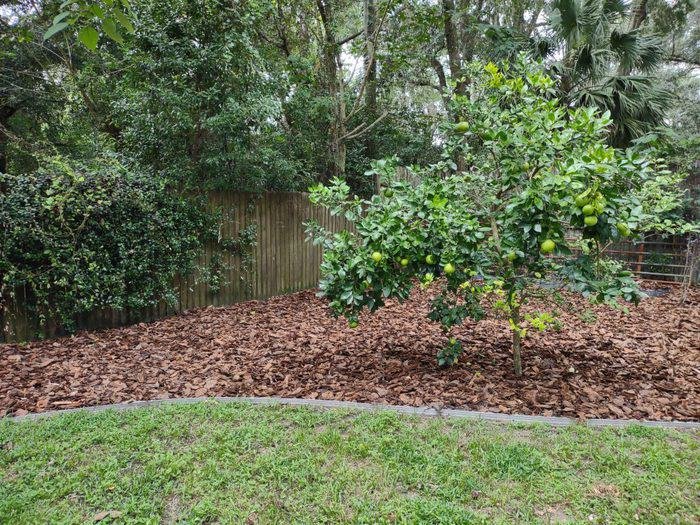 Using mulch has a lot of great benefits for your plants, from keeping the soil around your plants moist during the summer months to keeping the soil and your plants insulated during the colder months. Using mulch can also keep weeds from growing around your plants.
Since you do live in Florida, make sure you're using termite resistant mulch. Termites lives in our soil naturally, so know how to keep them away from your house.
Small stones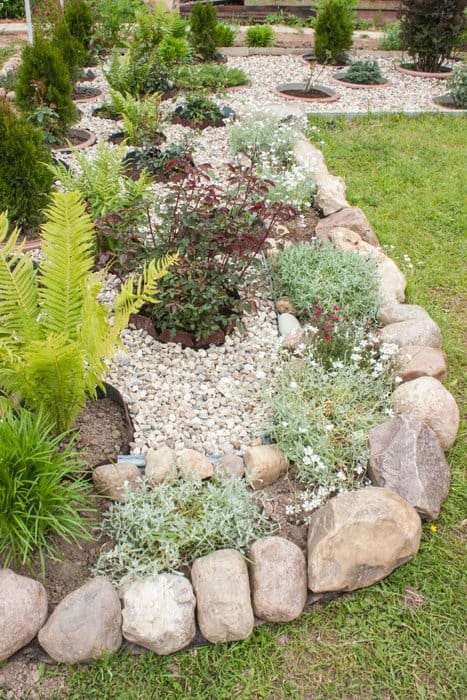 If you like the thought of adding some small stones or river rock to your landscape, there are a few great ways to do so. We added river rock to build a fire pit area and it turned out great.
You could place small stones around your plants instead of mulch to keep weeds at bay.
You could even use small stones to make your landscape look more decorative.
You could also use small stones as a border between your lawn and your plants.
You can replace lawn with gravel or small stones to achieve a xeriscape look and cut down on water and lawn fertilizer use.
Pavers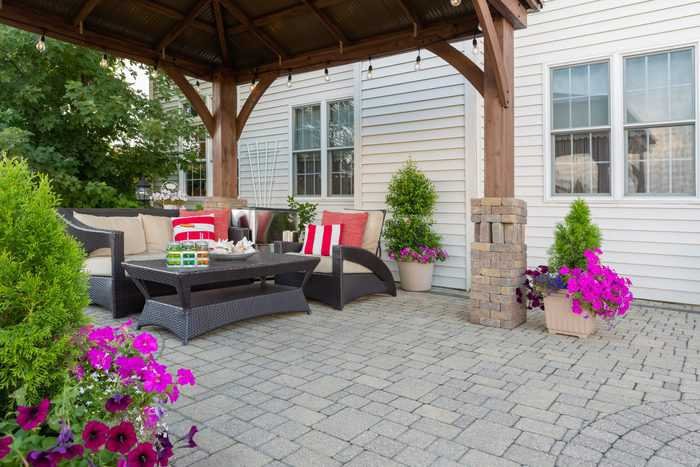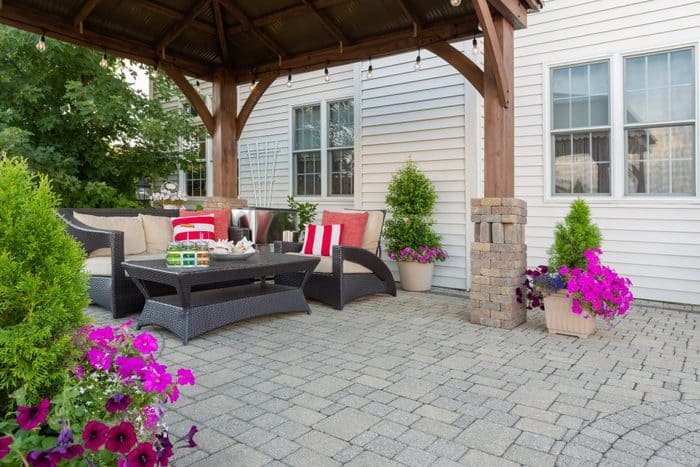 Pavers can be used in many different ways in your landscape, from edging around your plants to a patio where everyone can have a seat and relax. Another great thing about pavers is they come in a variety of materials, and they are simple to place yourself.
Hide Air Conditioner Unit
Practically every modern Florida home has an air conditioner unit. These ideas are simple ways to hide your air condtioner unit outside to make the area nicer to look at. It's a great weekend project that will cover the unit, while also allowing you to remove the cover when you need to maintain or clean it.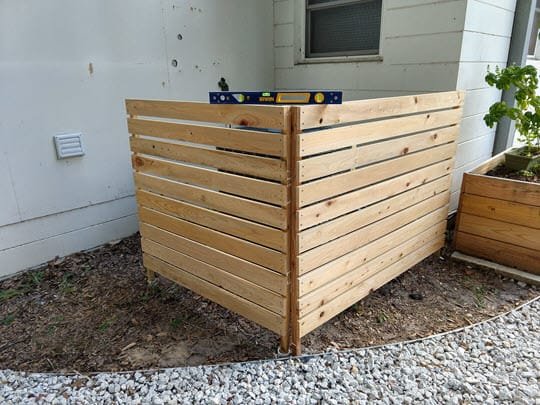 Low-Cost and Low-Maintenance Ideas
If you are on a budget but would like your backyard to look beautiful and be a place of relaxation, then these low cost and low maintenance ideas can help you save time and money.
Low-cost Ideas
You can save a lot of money on your backyard landscape by DIYing the hardscapes and softscapes. It will be a lot of hard work but very rewarding once everything is built or planted and you're enjoying spending time in your new backyard.
Buy plants from a large nursery that's a bit out of town. If you go to your local big box store to buy plants, you're paying more than going directly to a local nursery that isn't paying high rent in the city.
Buy smaller versions of the plants you want especially if you have a lot to buy. Rather than a 5 gallon size plant, buy a 1 gallon version. The price difference is significant and it will grow faster than you realize.
Want landscape boulders, gravel, fill dirt? Don't buy from nursery or landscape companies. Go direct to where this material is being excavated. There is usually 1-2 construction companies that sell direct to consumers the same materials that they also sell to nurseries. Cut out the middle man and save money.
Instead of buying landscape cloth to place around your plants to prevent weeds, you can use newspapers, then place mulch on top.
Low-maintenance Ideas
Having low maintenance plants and other materials is great if you generally do not have enough extra time to properly care for them.
When choosing plants, it is best to choose ones that grow best in your hardiness zone. Don't plant flowers that will need to be covered or taken inside the house each winter.
Buy plants specifically for full sun or shade depending on how much sun your yard gets.
Buy your plants at local nurseries as they will have plants best suited for your area.
Make sure your soil is right for the plants you buy. If you have a local university, they will usually test your soil for free.
Install irrigation or drip irrigation that can be controlled automatically so your plants are watered no matter where you are.
Build hardscapes out of materials that will last in the brutal Florida sun and thunderstorms. Always use exterior rated wood like pressure treated pine, cypress, cedar, tropical hardwoods or composite.
Ideas for Small Backyards
If you have a small backyard, you might not be quite sure how to landscape it without running out of space, so this section can help you decide how to set up your landscape.
Layered Landscape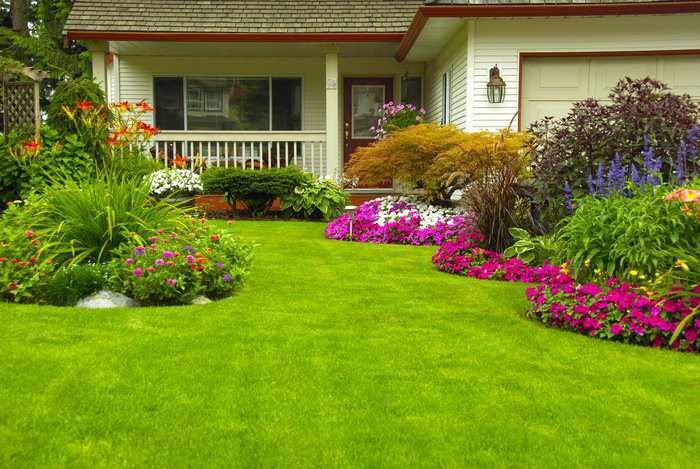 Creating a layered landscape is simple, and it adds depth to your backyard by layering plants and trees in rows similar to how plants and trees grow in a forest.
Here are the four distinct layers to layered landscaping:
| | | | |
| --- | --- | --- | --- |
| Background Layer | Midground Layer | Foreground Layer | Ground Layer |
| The background layer is the back row or tallest part of a layered landscape. | The midground layer takes up most of the landscaping space, and the plants in this area should be between two and six feet tall. | The foreground layer is the front layer, and the plants used here should only be between one and two feet tall. | The ground layer is the lowest layer to the ground, and it should be no more than 12 inches tall. |
| This layer consists of large trees or shrubs. | This layer consists of tropical shrubs, small hedge material, or dwarf shrubs. | This layer consists of small shrubs, tropical plants, or annuals. | This layer consists of ground covers, low perennials, or annuals. |
| The background layer can be used to provide shade or privacy. | The midground layer is mostly a filler. | The foreground layer is used to fill in spaces not filled in by the midground layer. | The ground layer covers the soil and provides protection between the bigger plants and the yard or walkways. |
Climbing Plants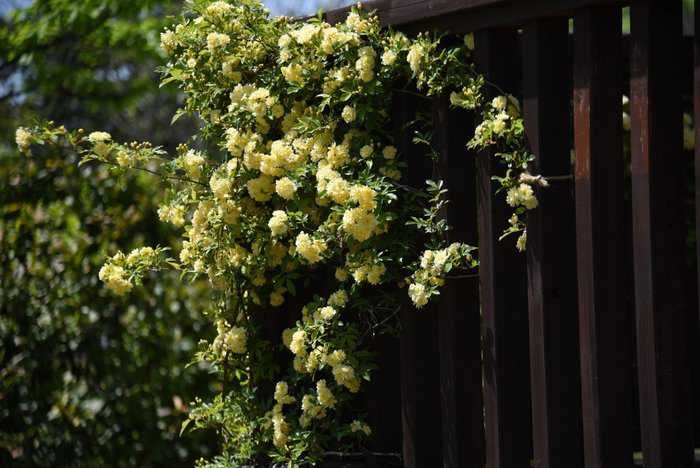 If you have an exceptionally small backyard and would like to save space for an outdoor area like a patio or swimming pool, then planting vines or climbing plants can be a fantastic way to incorporate plants into your yard. It will give you a green, tropical feel without using a lot of space.
You can plant vines and climbing plants next to your home or along a fence for privacy as well as looks.
When using climbing plants, you will need to ensure they are controlled to not spread all over your backyard.
Containers
There is no shortage of plants that grow well in containers if you do not have enough space for a large landscape design.
The containers you decide to plant flowers in can add an additional pop of color to your backyard as well as save much-needed space.
When choosing containers, you can choose ones that sit on the ground, deck or by the edges of your home, or you can use hanging containers to add more plants.
Conclusion
There is no limit to creativity when designing and creating a winning backyard landscape in Florida. With the ideas listed in this article, you can easily design a backyard landscape for any sized yard on any type of budget.