Entertaining friends in your home is a pastime that is making a huge comeback. Many are creating outdoor spaces for this purpose. What better way to elevate your outdoor area than with an outdoor kitchen? But, of course, that kitchen will need countertops. What are the best options for your outdoor space?
It will only take one trip to a local store or a quick internet search for you to discover that there are a ton of options for countertops! It can be difficult to determine what is best for your needs and wallet. Luckily this article will make things simple for you. Keep reading to learn about the great choices for your outdoor kitchen countertops!
Concrete
Concrete is the ultimate option in terms of customization. You can pick everything from color to thickness and shape. You can design it to include custom features as well such as lighting or a cutting board to create a countertop that perfectly fits your needs and aesthetic.
Concrete is also incredibly durable, so it can handle the outdoors well. It is however susceptible to stains and may fade if in a very sunny spot. Concrete, especially more customized jobs, will need to be designed and poured by a skilled craftsman which can result in a higher labor cost.
We created these countertops for our friends' outdoor kitchen area. We also have plans to create a concrete countertop for out backyard patio.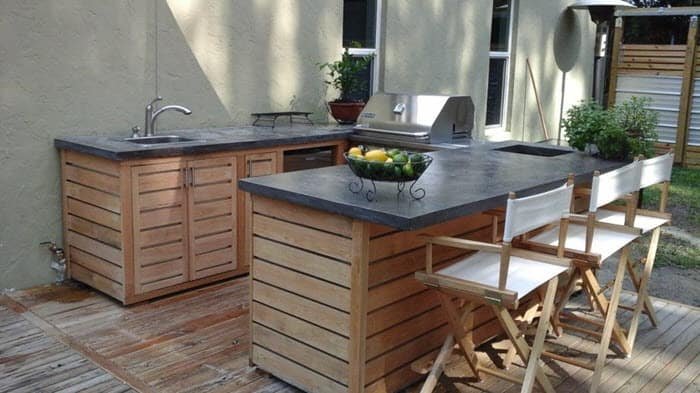 Concrete Breakdown:
Cost: $65 to $135 per square foot
Biggest Pro: Extremely customizable
Biggest Con: Requires a skilled worker and may take more time to get everything designed and installed
Best For: People who want their outdoor countertop to have special features or a specific shape or color.
Granite
Granite is one of the best options for an outdoor kitchen. Not only does it come in many different colors, but it is also very durable. Much of its durability comes from sealing the countertop to help it resist mildew, mold, and stains from dining. There are even some types of granite that are dense enough that they don't require sealing.
In addition to resisting wear and tear from the outdoor weather, granite is very resistant to high temperatures which makes it perfect for people who plan to cook often in their outdoor kitchen.
Choosing granite is also a less expensive option than many other stone countertops. According to Home Advisor, the cost of granite slabs can be anywhere from $40 to $60 per square foot. However, granite may not feature as many color and design options as some other stone countertop options.
Granite Breakdown:
Cost: $40 to $60 per square foot
Biggest Pro: Extremely durable
Biggest Con: Lack of design
Best For: People whose main concern is durability and cost.
Marble
Marble is another popular option for your outdoor countertops. If you aren't concerned with staining or etching, this might be the perfect choice for you.
Marble countertops with a honed finish have a more polished and shiny look to them. They even maintain that sheen in rainy and snowy weather. Even with this honed finish, they are still susceptible to stains and etching.
Foods, like ketchup, that have an acidic base will cause etching. Some drinks can also do this. A stone sealer can help with stains but not prevent them altogether. Keep in mind that the stains and etches can be repaired, but it takes time and labor to do so. This will be an additional cost in the upkeep.
However, if you let the stone age naturally while being exposed to the elements, there can be little maintenance cost. The weather helps to blend the stains and etches. This form of natural aging gives your countertop a more authentic look. You would just have to go about your normal cleaning routine for it to give you years of use.
Marble Breakdown:
Cost: $40 to $100 per square foot
Biggest Pro: Elegant design
Biggest Con: High-level maintenance
Best For: People who want a classy outdoor kitchen, who don't mind performing upkeep, or who like a weathered look.
Quartzite or Natural Stone
This is a higher-end option that will give your kitchen a unique piece. Quartzite is a natural stone that has all the qualities of granite with a heftier price tag. Natural stones offer variety and uniqueness in the sense that no two pieces are alike. They are also very durable.
Despite being durable in many aspects, this material does need refinishing regularly due to a porous texture. If refinishing is not kept up they will stain easily.
What does the price range look like for Quartzite and natural stone? According to marble.com, the most common white quartzite ranges from $65 to $85 per square foot. More unique slabs can even cost around $100 to $200 per square foot. The price can also be affected by color and where you purchase your countertop.
Quartzite and Natural Stone Breakdown:
Cost: Widely varies ($65 to $200)
Biggest Pro: Unique and stylish
Biggest Con: Price
Best For: Those who want a more unique and durable countertop.
Tile
Tile is less of a particular material and more of a style of countertop. You can have a tile countertop made of granite, slate, porcelain, ceramic, and more. A tile countertop is made up of multiple pieces rather than a single cut piece, which makes it much more affordable than the other options.
Depending on the material, your tile countertop can be quite durable and stain-resistant. The problem with tile is that the seams between the pieces can attract dirt, and the grout may fade or wear.
Tile Breakdown:
Cost: varies immensely depending on the material
Biggest Pro: Generally cheaper and easy to install
Biggest Con: Seams may be difficult to keep clean
Best For: People who want to save money and like the patterned design of tile.
Ipe Wood
Some wood is not suitable at all for outdoor use as it will rot when it gets wet. However, a suitable wood choice can be put to great use in an outdoor kitchen, even as the countertop! Ipe wood is such a choice.
Ipe wood can give your kitchen a natural look. It has a darker color and is considered to have an exotic look. To use this wood as a countertop you will need to have it sealed, and for proper maintenance have it resealed once a year.
Ipe Wood Breakdown:
Cost: $4 to $8 per linear foot
Biggest Pro: Durable wood option
Biggest Con: High-level maintenance
Best For: People who like the look of a wood countertop and need something suitable for outdoor use.
Stainless Steel
The final option for outdoor kitchen countertops is stainless steel. Stainless steel is a good option for those who do not want to spend much time and effort in upkeep.
If your countertop will be exposed to a lot of direct sunlight, stainless steel might be a bad choice because it will become very hot. Stainless steel countertops also tend to be expensive.
Stainless Steel Breakdown
Cost: $75 to $150
Biggest Pro: Low effort
Biggest Con: Gets very hot in the sun
Best For: People who want a countertop they will not need to spend hours cleaning and who like the sleek look of stainless steel.
Conclusion
There are many different types of countertops for outdoor kitchens. Cost and design are the two biggest considerations for which countertops to choose. For more information on outdoor kitchens, check out our article to find out how much does an outdoor kitchen cost and can you put a refrigerator outside. Lastly checkout our list of the best grill covers we could find!