Are you wondering what countertops are best for outdoor kitchens? To withstand a harsh outdoor environment, an outdoor kitchen countertop has to be weather resistant, bug resistant, and able to handle humidity changes. You can't simply use the same types of materials that you find in an indoor kitchen. In this article I'm going to show you the best options for an outdoor kitchen as well as list which countertops you shouldn't use and why.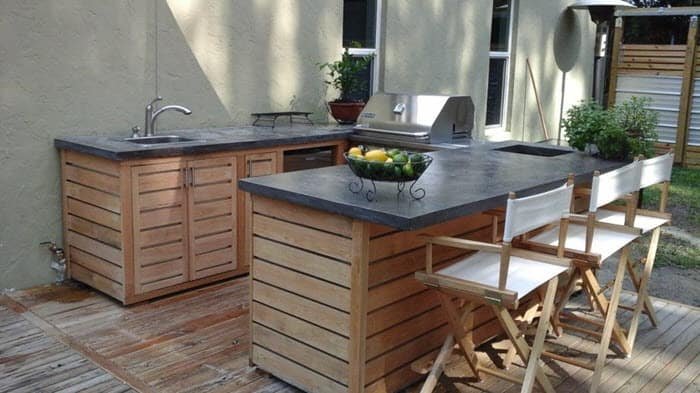 Concrete – one of the best options for an outdoor kitchen is concrete. It's weather, sun and rain resistant, bug resistant and can handle any type of humidity. Concrete is used in many different outdoor home features.
Siding, driveway, walkways, patio and yes, even countertops. Because it's so durable and long lasting, concrete works for many different applications. Concrete countertops have been around for a long time but it's popularity is growing, even for indoor kitchens. There are two types of concrete countertops. Poured in place or a form mold countertop.
Poured or Cast in place is exactly what it sounds like. You add exterior grade plywood to the top of your cabinets and then build forms around your cabinets to the height you want your countertop and forms around any voids you want in your countertop i.e. sink or drop in grill.
Once you have your forms, you mix your concrete and pour it right on top of your cabinets within the forms. You will need to make sure you use rebar in a grid design to help the countertop from cracking, especially around any voids such as sinks or grills.
Form molded countertops are built by using forms to create your countertop. You still need to build the mold similar to the poured in place but you actually measure everything so that the bottom of the countertop in the mold becomes the top of your countertop.
The biggest advantage of the form molded countertops is the smooth finish from the mold. The biggest problem with this is then having to move a very heavy countertop and place it on your cabinets.
I prefer the pour in place due to not having to move the heavy countertop and since it's for an outdoor kitchen, I don't mind if the counter doesn't have a perfectly smooth finish.
The cost of concrete countertops will depend on if your DIY or hire a professional. If you hire a professional to design, build and install your outdoor concrete countertop, you're going to pay between $70-$100 a square foot.
If you have a simple 8×2 outdoor kitchen, that's 16 sq ft of counter which will cost you between $1100 or 1600. If you DIY, you're looking at materials for the forms and concrete or about $8-15 sq ft. That's a dramatic savings if you are up to the task.
Stone countertops are a popular option for outdoor kitchens. Of the different stones, granite is more durable than say quartz, marble, or soapstone for outdoor applications.
How big your counter is and if it's directly in the sun determines if stone will work for you. If your granite will have seams, they may tend to yellow over time if epoxy was used and it is exposed to the sun. Granite will cost similarly to pro installed concrete.
There isn't a DIY option for granite as you need heavy duty tools to cut it and hone it which only professionals know how to use properly.
Tile countertops are a popular option for outdoor countertops for the fact that they are more DIY friendly. Of the tile choices, porcelain and granite are the most durable.
The most issues with tile outdoor countertops is the grout. It gets dirty easily, so choose a darker grout as well as the grout cracks from the weather changes. You could use an epoxy grout but only if your outdoor kitchen is covered and doesn't have direct sunlight.
You also need to use a combination of exterior plywood and backerboard to install your tile and try to waterproof your exterior plywood as much as possible. Tile countertops range from $7-10 sq ft.
Wood countertops can be very beautiful but they require a lot of maintenance on an outdoor kitchen. If you have a patio roof over the wood so that it isn't getting wet or direct sunlight, then the maintenance will be less.
If the wood countertop is exposed to both sunlight and rain, then expect to apply a spar varnish finish almost yearly, similar to a boat. Choose a wood that you like and it is relatively stable. Make sure whatever finish you apply, that it is waterproof, UV resistant, and also protects from mildew.
I built a large cypress countertop since cypress is readily available in Florida. Florida is full of cypress trees in our swamps so it can handle our Florida humidity and bug don't like to eat it.
I used waterlox marine finish and assumed that it was also mildew resistant. Nope, about a year and a half later, there was mildew growth in the finish so I had to strip everything down to bare wood.
I verified with waterlox that I could use a mildewcide additive in the finish and reapplied the marine finish. So far so good, but we'll see in another year. The cost of wood countertops depends on the choice of wood as well as DIY or hiring a professional similar to the costs of cement.
Laminate is a kitchen countertop you see often in indoor kitchens but should never be used in outdoor situations. The pressboard will fall apart when it rains and with the weather changes will crack. Don't forget that size of an outdoor kitchen is important, as well a coming up with an estimate on how much you should expect investing in an outdoor kitchen.