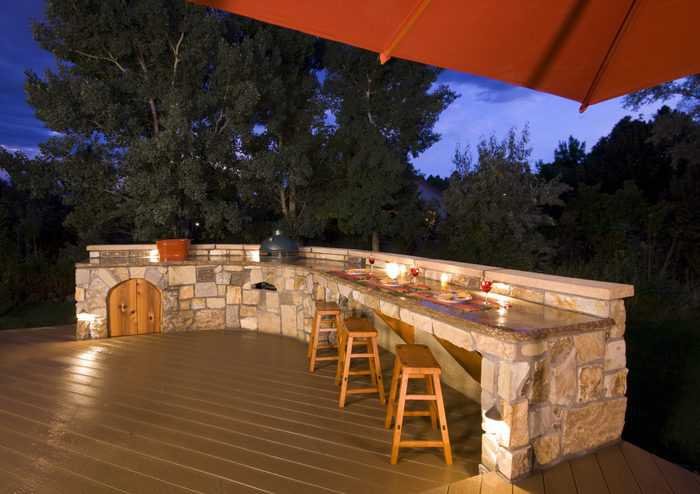 Are you somebody who loves backyard get-togethers? Invite a bunch of your closest friends and family over on the summer weekends to enjoy delicious dinners and tons of laughs? If so, have you ever considered investing in a modern-day backyard kitchen?
Adding a backyard kitchen to your home can cost you anywhere from $3,000- $15,000, depending on the appliances and additions you need to make to your space to make it a functional kitchen. Another factor that will play into an outdoor kitchen's cost is the style and decor you choose to go with.
Whether you are looking for country chic, old and rustic, or a beautiful modern outdoor kitchen space, we have you covered. You'll be making quite the investment when adding a kitchen to the back of your home, so read on to learn more about what you can expect to pay to build out various types of backyard kitchens.
Types of Backyard Kitchens vs. Cost
When preparing to create a beautiful backyard entertainment area, choosing a style that fits your home and personality is key. You want to style your kitchen to match the food you like to cook and serve when firing up the grill. However, naturally, the costs you can expect to pay will differ between styles.
Modern Day Backyard Oasis
To create a beautifully sleek and shiny modern-day oasis right off your back porch, you will need weatherproof and well-crafted appliances and gear. Here is a list of things to consider buying to create the look that would make your favorite celebrity chef envious.
Large stainless steel grill and matching cabinets: The grill will be the priciest appliance because you want one that can hold up to years of use and weather. It needs to be versatile and have plenty of useful features. You want to purchase a grill with plenty of cooking space and room for tons of storage. Look for a good BTU output, and make sure the appliance can be transported if needed.
Outdoor refrigerator: Make sure you find a stainless steel metal that matches your grill and cabinets to maintain a beautiful modern look. Find a refrigerator designed for the outdoors and is large enough to hold at least a few side dishes and plenty of beverages.
Patio Furniture: Finding some high-end patio furniture to seat plenty of guests and impress them all can be pricy, but when you find the perfect set, it will all be worth it.
Lighting and decor: Bring the look together with some decorative porch lights and matching dining sets.
If you're looking for a backyard appliance that does it all, check out this stainless steel MCP Island Grill outdoor kitchen set, complete with grill, refrigerator, and countertop.
Country Chic
The down south country-chic design has become very popular these days. There are many different ways to create a relaxing backyard country barn feel.
Rustic and Relaxing
When you think rustic, you think of old re-purposed wooden designs, along with the old country feel. Entertain your family with an outdoor dinner with a down-home atmosphere. Cooking up some BBQ chicken or grilling your favorite steak—no matter what you are creating, it's not going to be the only thing your guests will enjoy.
Backyard Hibachi
If you really want to spice things up, try adding a backyard hibachi to create an ethnic dining experience from your own backyard.
Hibachi grill: Adding a hibachi grill to the center of your patio can create a fun and unique experience for your guests or a stay-at-home dinner date with your significant other.
Outdoor furniture: Wrap a seven-piece wood and cushion furniture set around the grill for comfortable seating while watching the cook at work.
Outdoor refrigerator: Make the experience complete with a stainless steel outdoor sink, complete with a bottle opener, four bottle wells, and sliding door ice bucket.
Pizza Night Backyard Style
Have you ever considered installing a pizza oven on your patio? This is a new trend that's starting to gain a lot of attention. You can create your favorite combinations of tasty ingredients as soon as you step out of your backdoor.
Other Costs to Consider for Backyard Kitchens
The cost of these looks can vary tremendously depending on your budget, style, and current backyard design. Choosing more inexpensive products can save you some big bucks if you can find ones that are still high-quality. However, a few other things can add to your overall cost as well:
Patio: If you do not currently have a patio, you may consider installing one to make your back yard kitchen complete. The average cost to build a 12-foot by 16-foot patio is around $4000.
Outdoor electricity: If you need electricity running outdoors, you will have to budget for around $400 for that kind of work. You may need to invest more if you need more than one outlet or need the electricity to extend further away from the home.
Landscaping: If you really want to create a backyard oasis that makes the whole neighborhood jealous, add some flowers and shrubbery to your yard to enhance nature's beauty. Depending on the extent of the landscaping work, you can expect to pay as high as $8,000-$10,000.
Decorations: Adding matching decorations to spruce up the place can be a great way to really represent the look you are going for. This can include special light fixtures, yard or garden statues, planters, water fountains, and more.
Final Thoughts
There is no better time than now to find new and fun ways to spend at home entertaining and enjoying the company of the people you care about. And what better way to do that than by creating the perfect backyard kitchen that fits into your life and makes your guests feel welcomed? If this wasn't enough for you and need more information, we have an article that goes over more examples of what you can expect the cost would be for investing in a backyard kitchen.