An outdoor kitchen can take your backyard from a decent lounge area to the ultimate summer hangout spot, but what is a good size for an outdoor kitchen? 
You don't want to overdo it and end up with an extravagant kitchen to cook fantastic food in and no yard left to enjoy it. Still, you also don't want to skimp on the wrong things and end up disappointed and underwhelmed, flipping burgers and wishing they could instead be a smoked pork shoulder. 
A good size for an outdoor kitchen can range from just a sink, stove, and grill and a minimum of 36 inches of counter space for smaller areas, to enough appliances to accommodate multiple chefs and more than 156 inches of counter space. It depends on your square footage, your culinary needs, and your budget.
Read on to learn how to determine a good size for the outdoor kitchen in your yard, and what appliances and features should be included to give you the experience and capabilities that suit your needs.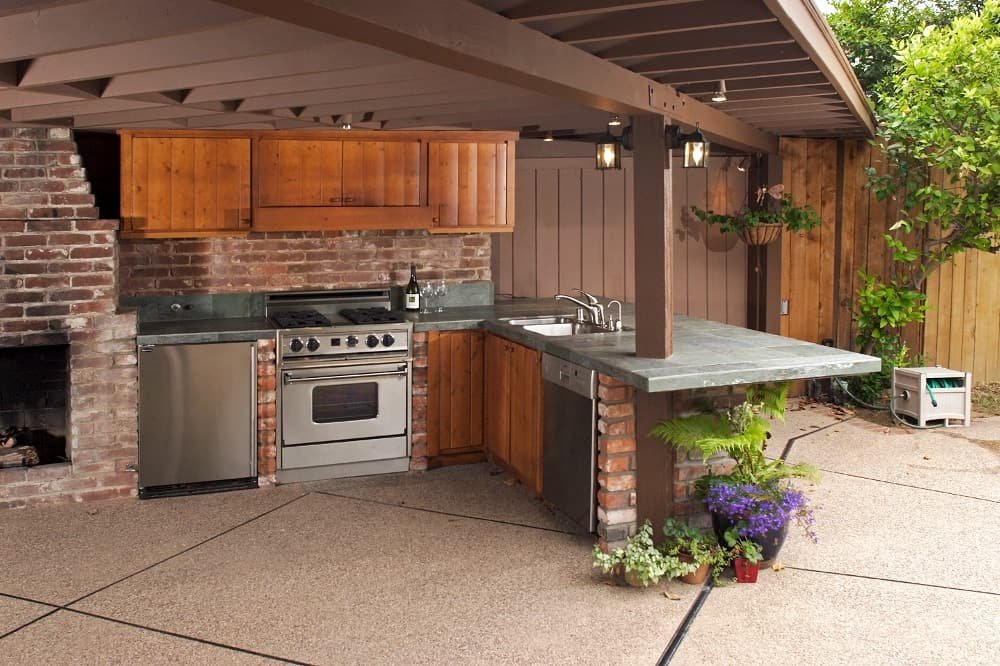 Size Is Important
Outdoor kitchens come in all shapes and sizes, just like indoor kitchens. When deciding how large to make your outdoor kitchen space, it is essential to consider how much available square footage you have in your yard to work with.
If the kitchen is going to be the central gathering point or the most utilized feature of the yard, then drawing out plans that use a large portion of your yard space can be a good idea. 
If, on the other hand, the outdoor kitchen is just another feature that complements other, more often-utilized features in a yard such as a pool, tennis court, or a garden, then keeping it small and simple might be the way to go.  
A large and extravagant outdoor kitchen may seem out of place for someone who doesn't entertain very often, or who rarely uses their yard for gatherings or events involving food. 
However, a tiny and minimalistic outdoor kitchen in the yard of someone whose house is the gathering spot for large groups or parties would seem insufficient.  
Consider the size of your space and how central or important the kitchen will be in your yard.
Sizing Your Kitchen
Over at Brownjordanoutdoorkitchens.com, they have a few recommendations to consider when dealing with the space available, and specifically the length of that space as it applies to your outdoor kitchen:
The smallest outdoor kitchens are a minimum length of 10 linear feet, to accommodate the minimum needs for a kitchen, including necessary appliances and counter space.
A slightly larger, or "essentials" outdoor kitchen, should have an available minimum length of 12-14 linear feet. This is to accommodate the necessary appliances, and one or two additional features and added workable countertop space. 
A medium-sized outdoor kitchen will supply an additional 3-4 linear feet to that length to make 16 linear feet.  Although this doesn't require additional appliances, it does allow for more storage or countertop space and adds room for options.
The larger outdoor kitchens will comprise a minimum of 20 linear feet and are an extravagant feature in the yard. They can accommodate multiple chefs comfortably and may have more than one of each of the essential appliances listed later on.
Appliances and Required Storage Space Are Major Determining Factors
When referring to necessary appliances, what is considered truly "necessary" for an outdoor kitchen? 
Indoor kitchens almost always have several appliances consisting of a sink, stove, dishwasher, and refrigerator.  The needs of an outdoor kitchen are different, though.
An outdoor kitchen is much more specific. It is used more often for parties, family meals, or events being hosted. These types of gatherings require less of the day-to-day storage capacity of an indoor kitchen and much more of the grilling, smoking and refreshing that happens at a backyard party.
You can keep it classy and cool with a wine refrigerator and a fancy grill, or you can go all out and dive in whole-heartedly to the outdoor chef life and get a built-in beer dispenser, a smoker, a double cook-top, an oven, a broiler, and a charcoal grill. Either way, you will need to begin with the basics.
Keeping It Light
Taking your outdoor cooking from just a BBQ on the patio to a fully-functional kitchen requires a few additions. The essential appliances recommended for even the smallest of outdoor kitchens include:
These are the most minimalistic, necessary features for any outdoor kitchen, no matter the size, to be considered an outdoor kitchen rather than just a grill spot.
Not Required but Nice to Have
If your kitchen is more of an "essentials" size or a medium-sized space, then you may have the room to add things such as:
Freezer
Smoker
Full Refrigerator
These things are more practical for people who are using their outdoor kitchen fairly often and cook and store various foods and supplies in that space. To delve in deeper of can you put a refrigerators outside, to find which type of refrigerators to use outside.
Appliances if You Really Go Big
However, if you are looking to add a large or luxurious outdoor kitchen to your yard, Installitdirect.com brings up lots of ideas for other features that can be exciting additions to your plans. They recommend considering features such as:
Pizza Oven
Blender
Ice Maker
Garbage Disposal
Dishwasher
Wine Refrigerator
Warming Drawer
Bar
These things can take your kitchen from practical to extravagant, and will really impress guests and family members alike. They can add a few wow factors to an event and broaden your options for what you can make and how you can make it.
A Different Approach
Suppose you have spent some time measuring out your yard and the available space you have for an outdoor kitchen, and you have found that you have plenty of space but don't think you need an elegant kitchen. In that case, there is a different way you can determine the size of your kitchen.
Porch.com recommends that you consider what features you really want or need in your outdoor kitchen before you make any sizing decisions. Ask yourself these questions to help you come up with a more concrete list:
What will I be using this outdoor kitchen for the most?
How often will I be using the outdoor kitchen?
What do I plan to make the most often?
How many people will it need to accommodate?
What appliances do I use most often during a gathering?
What appliances do I most often find myself wanting?
Once you have asked yourself those questions, then you can work through those answers step-by-step to create a starting point for your kitchen.
Their website suggests that you let your appliances determine the size of your outdoor kitchen. That way, you will end up making it the size that you need it to be in order to accommodate the features you would like to have, rather than too big or too small.
This is a fantastic way to help you focus on your outdoor kitchen's size to meet your specific culinary and social needs.
Get Cooking
Once you have determined the available space that you have for an outdoor kitchen, the daydreaming can begin. Figure out which appliances you will need for the meals and masterpieces you plan to make, and then make sure you leave room for counter space and storage areas.
After those needs have been considered, you are in the clear to begin building your new dream kitchen in the backyard that you will, no doubt, be spending much more time in.
Now you may be wondering just how much does a backyard kitchen cost? Be sure to check out our article where we go over the costs along with 6 examples of what the cost could look like.