Fire pits are undoubtedly one of the greatest features to add to any backyard. They provide warmth on those chilly winter nights, not to mention they're aesthetically pleasing and add a dose of elegance, class, and cool to backyards. While they look and feel great, they still require a bit of maintenance to ensure they're safe while withstanding the elements of nature.
Can propane fire pits get wet? Yes, they can get wet. However, the buildup of moisture inside a propane fire pit can cause interference with the gas burners, which can prevent lighting and rust of the equipment. Proper care should be taken to avoid these things.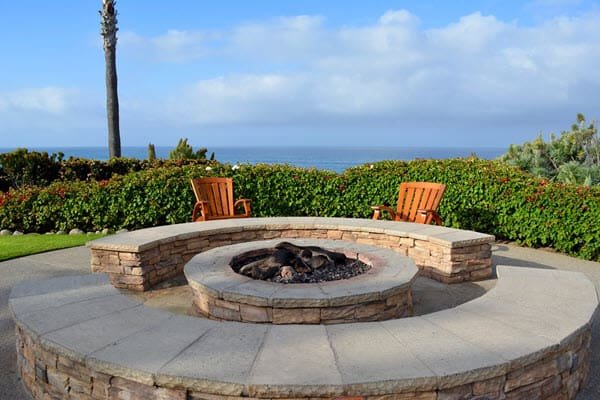 While propane fire pits are specifically designed to be placed outside, it doesn't mean that you should leave them to the elements without any care. Without proper care for your fire pit, you may notice rusting to the equipment along with a burner that does not light or a malfunctioning burner.
We Recommend:
We're going to breakdown why a fire pit can acquire water damage and how to avoid the situation altogether so you can enjoy many years of relaxing by the fire outdoors!
What is a Propane Fire Pit?
Most of us are familiar with fire pits that contain logs in order to create the flame. They come in beautiful styles like copper fire pits here. While these create a delightful view that's natural and smells wonderful, it can cause a great deal of a mess due to burnt wood chips and residue. They're also pretty smoky, which some might not like.
A propane fire pit, on the other hand, will provide a flame using propane. It will have the look and feel of the real thing without the smoke and cleanup. A lot of propane fire pits will also have artificial logs and beautiful designs to mimic the real deal.
Shouldn't My Fire Pit Be Able to Handle Rain?
Propane fire pits that are designed to sit outside are constructed to handle the elements of nature. Cold temperatures, wind, rain, and snow are all things that will come in contact with your propane fire pit, and it's ready to take on the challenge.
That doesn't mean that it can withstand the elements with little to no protection, however. While it can withstand rain for a long period of time, without proper protection and cleaning it will begin to start rusting and the gas burner will start to malfunction from the excessive amount of moisture.
If it has begun to rust, then take a look out our article were we go over how you can remove rust from your fire pit.
That being said, yes, your propane fire pit is designed to handle nature and rain. That does not mean it should be left to fend for itself for extended periods of time. Almost any structure left outdoors and not taken care of will begin to breakdown, even though they are designed to use outside.
Can My Propane Fire Pit Get Wet?
The problem with propane fire pits in the rain isn't that they can't get wet. Propane fire pits built for outdoor use can certainly handle a bit of water here and there. The major concern begins when it is left outside in the rainy season without any protection, and the moisture builds up inside of the propane fire pit.
What Happens if My Propane Fire Pit Gets Wet?
If your propane fire pit gets wet, it isn't a big deal right away- especially if it is only a little bit of water. In fact, if you left your propane fire pit out in a small storm that only lasted for a few hours, it would probably be okay.
A small amount of water coming in contact with your propane fire pit is not a big deal, and nothing will happen to your piece of equipment. However, if left in the rain for extended periods of time, the fire pit will begin to breakdown.
The most common thing that will happen will be the interference with gas burners. Once the moisture builds up in the burner, it likely won't light. If you do happen to get the fire pit lit, you're likely to hear a popping sound which means it isn't working at its full potential.
Another thing that is common with excessive moisture in a propane fire pit is rusting. While stainless steel fire pits won't rust over time, other materials will begin to rust up with too much water. Rust is not only visually unappealing, but can cause the fire pit to fail altogether, rendering it useless.
How to Stop Damage from Moisture
It's clear that excessive moisture isn't ideal for propane fire pits and can cause quite a bit of damage if not taken care of. Knowing how you can stop damage from moisture is imperative if you want to continue enjoying your fire pit for several years.
Cover your fire pit. The best thing to do for your fire pit is to cover it up when not in use. Even if there's no potential for rain, covering your fire pit will keep it safe from other elements like heat, bugs, etc.
Make sure it's designed for the outdoors. There are different types of propane fire pits. Make sure you buy an outdoor fire pit that's designed to handle rain, snow, etc.
Buy a stainless steel fire pit. Stainless steel won't rust! That's the major advantage. However, that won't keep the burner safe from moisture, so combine this with another safety tip. We go over how you can keep the stainless steel clean, here!
Have proper drainage. A lot of propane fire pits are including drainage systems underneath the fire pit to avoid moisture damage. If your fire pit doesn't currently have a drainage system, you can add on yourself by drilling small holes into the bottom. Be careful when doing so!
Place in a covered area. Some people have covered patios, but have a separate seating area that isn't covered. The best solution to the moisture issue is to place the fire pit in an area that is covered so it does not come in contact with the rain.
As you can see, avoiding water damage is fairly easy when you follow these steps. The biggest and most important thing to remember is that the propane fire pit should always be covered when it is not being used. Even if there's no chance of rain coming up, the fire pit should remained covered at all times to avoid normal wear and tear and stay looking fresh.
One of the most favorable fire pit covers on the market is the Porch Shield Fire Pit Cover. This high quality fire pit cover is made with 600D thick polyester material with a waterproof coating. With a variety of sizes to choose from, it's easy to find a large and affordable full coverage product that won't let a speck of rain touch your equipment.
By following these simple tactics to avoid water damage, you can have a propane fire pit that literally lasts decades. They are specifically designed to last a lifetime, and with proper care, you will never have to replace or fix your prized piece of backyard equipment.
Conclusion
Propane fire pits that are designed for outdoor use are able to come into contact with water without being damaged. However, long periods of exposure to rain and water can cause buildup in the burner, damaging it and rendering it useless. Rusting may also occur.
The best solution is to cover your propane fire pit after each and every use, even when it's not raining. This will keep the propane fire pit from being exposed to other harmful elements such as heat, debris, and bugs, which will cause unwanted wear and tear.