You've bought your new grill, now where to put it?
You want a location so you'll have enough room to grill or if you have a smoker, you'll want a location that the smoke won't bother your guests.
In this article, you'll learn how to build a small deck for your grill in one weekend.
And this is perfect for a grill or a smoker.
In our case, we're using it for our smoker, but the end result is the same:
To have a small area to put your grill and space enough to work comfortably around it.
Items Needed:
Wood framing 2x material
Decking boards
Level
circular saw
Drill
Structural Screws
Decking Screws
Pea gravel or concrete
pressure washer (optional)
For this project, you'll need the materials showing above. A circular saw works well for this small project but you could us a miter saw as well if that's what you have.
You also need a drill, structural screws, deck screws, and concrete if you're going to concrete in your posts. You can also use pea gravel or crushed concrete like what we use.
If you need to clean up your old deck boards (like we used) then you'll also want a pressure washer as well.
Once you have all your materials ready on site, you're ready to start. First thing you want to do is measure out the area where you want the grill deck to go.
How Close To Your House Can You Put Your Grill
You want to clear the house and a good rule of thumb is 3 feet, but really 10-12 feet is a good idea if you really want to be safe. I would say this is dependent on the type of house siding you have. If you have wood siding, then definitely move the grill farther away from the wood siding. If you have cement block or other non-flammable materials, then it's fine to have your grill closer.
For us, since we have a smoker, we wanted to move the smoker away from our main deck where our guests would be sitting since the smoke can get overwhelming.
We wanted the smoker to be located on the side of the house off our main deck with the smoke stack directed away from the main deck.
This is a perfect little nook off the side of our house that we'll build a small deck for our smoker. We can match up the width to our main deck to make it look cohesive.
My smoker is about 3-4 wide, so I decided to build the deck 5-6 feet out to give me 2-3 feet on all sides of the grill as a comfortable working area.
Clear the area for the deck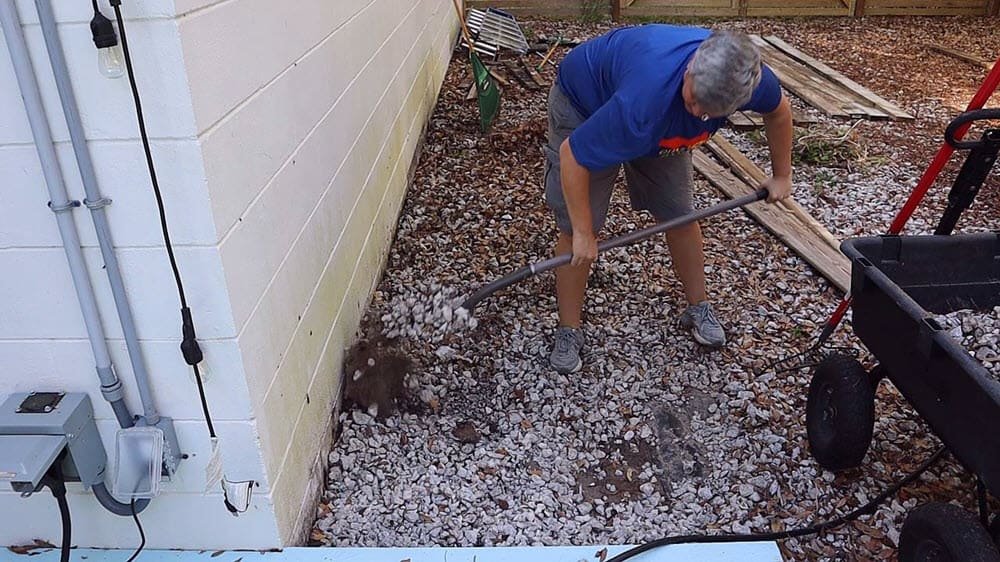 The next thing you want to do is simply clear out the area. If you have weeds or grass, you want to remove all of that.
For our case, we had crushed concrete, so we took some of it out to match the height of our current deck.
Once you have your final dimensions, cut your framing wood, in our case 2×6, and use the structural screws to assemble them together. I used two screws per corner and for each side of the two middle joists.
Construct the frame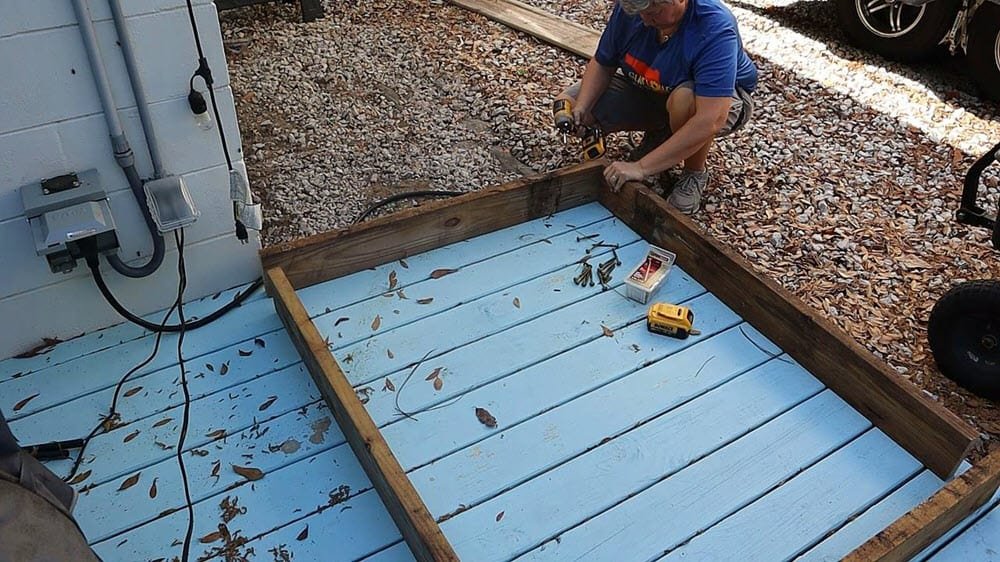 You want to assemble your frame and square it up, then go ahead and install the joists in the middle.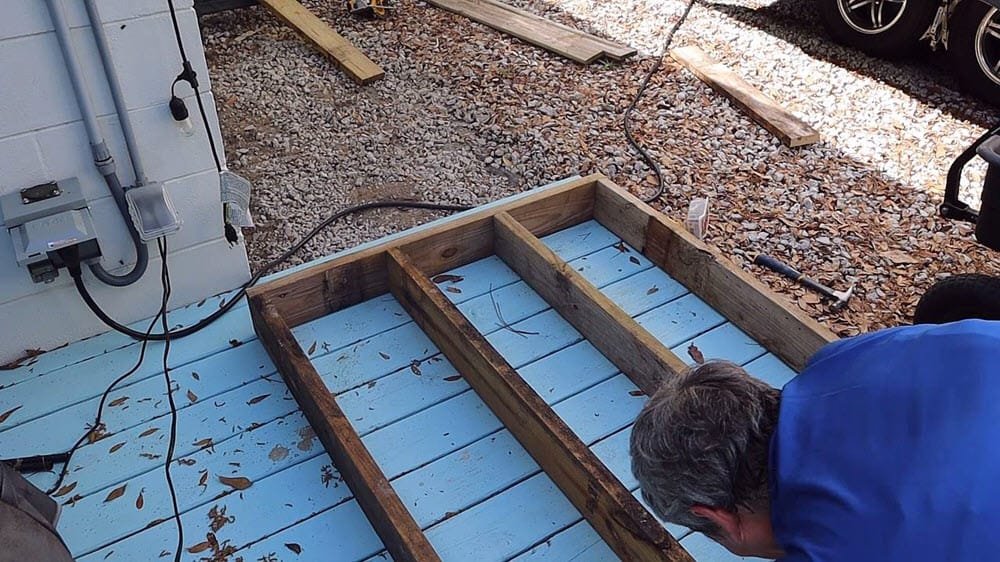 Installing deck posts
Now that the frame is assemble, you're ready to dig your post holes next. Because this grill deck is adjoining the main deck, we're using the main deck joist as our ledger board. We're attaching the small frame to the main deck joists with structural screws.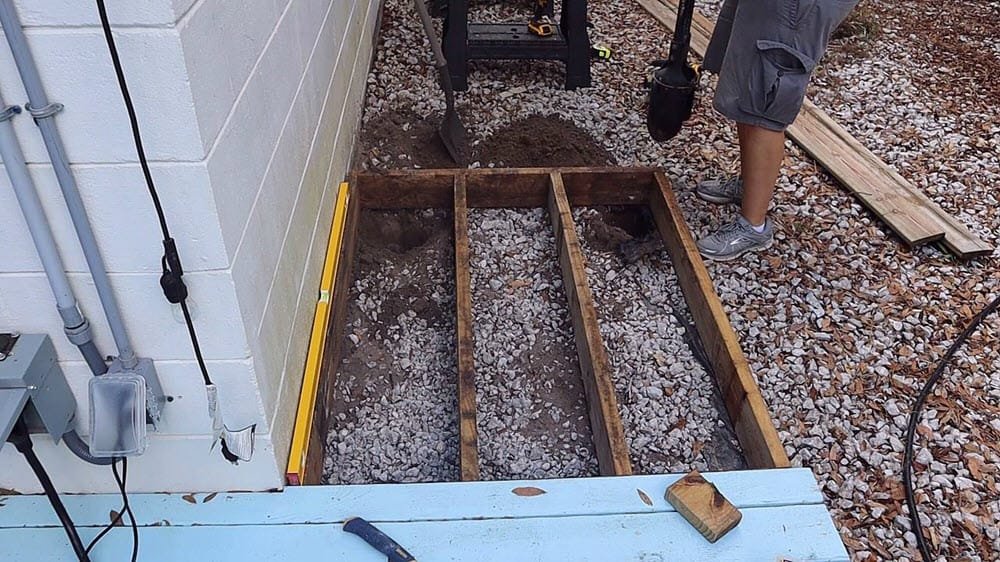 If you don't have a deck that you're extending from, you'll want to dig four holes.
Make sure to use your level to verify everything is level before you screw it in.
Once the small frame is securely attached to the main deck, we're ready to dig holes. You could also mark where holes should be dug before securing your frame, move the frame and dig, which would be easier than digging around the frame, but since it's a small deck with only two holes, I decided to leave the frame attached.
Since this is a low small deck, the posts can go into each corner on the far side for support. For the main deck, I actually dug out an addition 8-10″ of dirt to install beams and posts running underneath the joists for maximum support. Wood over wood is always be stronger than wood supported solely with screws, even if they are structural screws.
The hole on the left was a little bit off because the foundation of the house. The concrete underneath there comes out about four inches from the concrete block wall.
You'll want to go at least two and a half feet down so that you can put your posts in at least two feet with room for the 3-4″ of gravel and then your concrete. Always use gravel on the bottom of your hole for drainage.
Our main deck posts all have 3-4″ of gravel underneath then concrete around, but since this is much smaller, we just used crushed concrete under and all around and packed in really well.
Next thing you want to do is screw those posts in to the frame, again using structural screws.
Verify that everything is still nice and level, then you're ready to add the decking boards.
You want to measure it out and make sure that you have the right length.
If you have a bigger deck, you can run the boards long, use a chalk like to mark the cuts and then cut long the line with a circular saw.
Since this was less than 10 boards and everything was square, we measured the first board and used that measurement for the rest.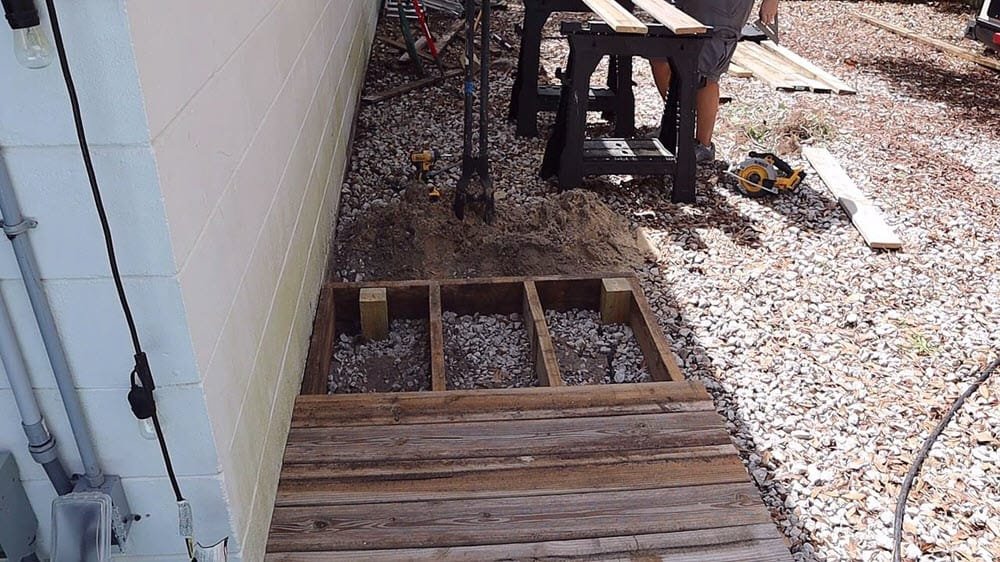 On your final board, you may have to rip it if it hangs too much over the edge of the frame. You want a maximum of 1.5″ hanging off the edge.
We got really lucky without having to rip the final one.
All the boards are on and the final thing is to screw all of the deck boards. into the framing with deck screws.
However, on our main deck we used the Camo hidden deck fastener system shown below.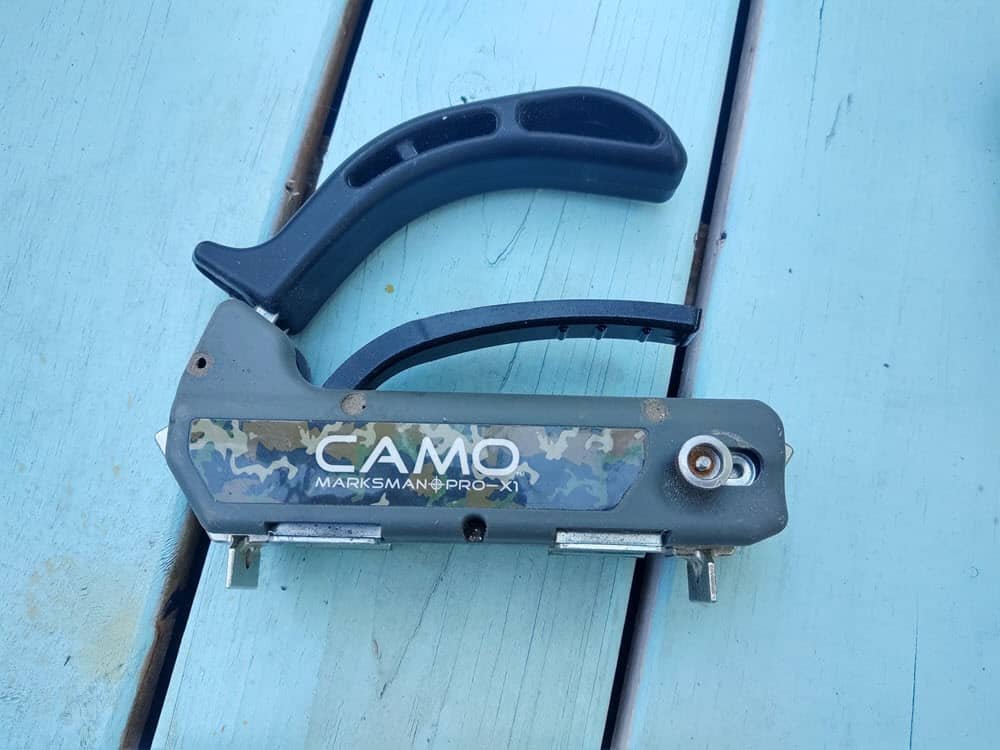 It's just a fancy way of saying that the screws go in the side and I really like the look because there are no deck screws on the face of the board.
Because our boards are older that we had lying around, we went ahead and did a final pressure washing to clean it all up before staining to match the main deck..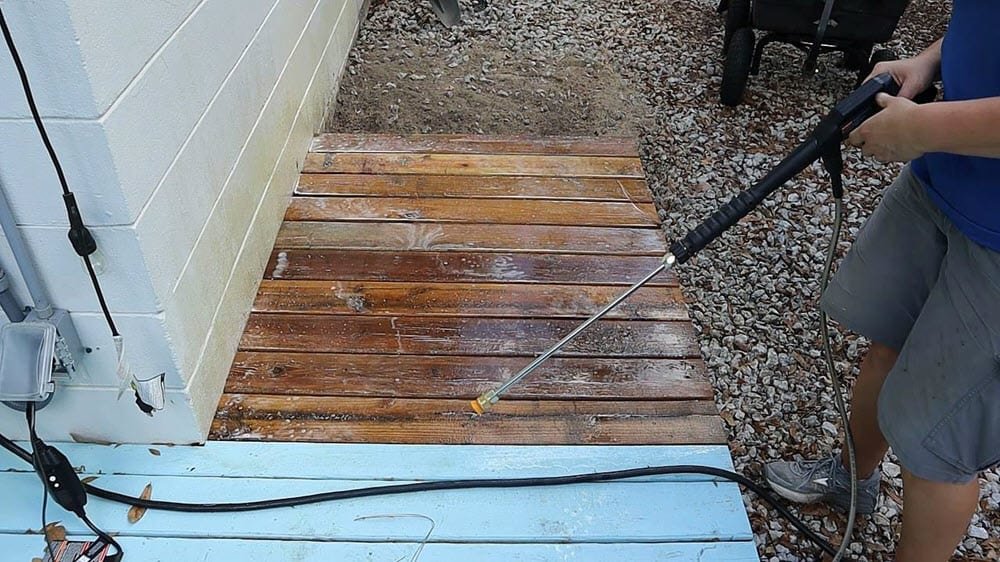 Is it OK to Grill on a Deck?
Yes. Most grills are on legs, which is tall enough to keep any heat from getting to the wood. And you usually keep the lid on while cooking, or if the lid is up, you're tending to the food, so if something did fall out, you'll be ready.
As a safety precaution, it's always good to have a fire extinguisher nearby, in case of grease fire or if something goes wrong. This is true whether your grilling outside or cooking in your kitchen inside.
What do you put under the grill on deck?
If you're worried about dropping grease or other liquids on the deck, you can put a grill mat under the grill to protect your deck.
These usually have a barrier that keeps grease and liquids from soaking through. You'll probably want to pick it up when you're not grilling simply because having the mat down can trap water and discolor your deck area underneath.
Final Look Deck on Grill
What do you think? We were able to do the whole project in one afternoon because we had all the supplies needed and really like how it turned out.
Let us know how your project goes.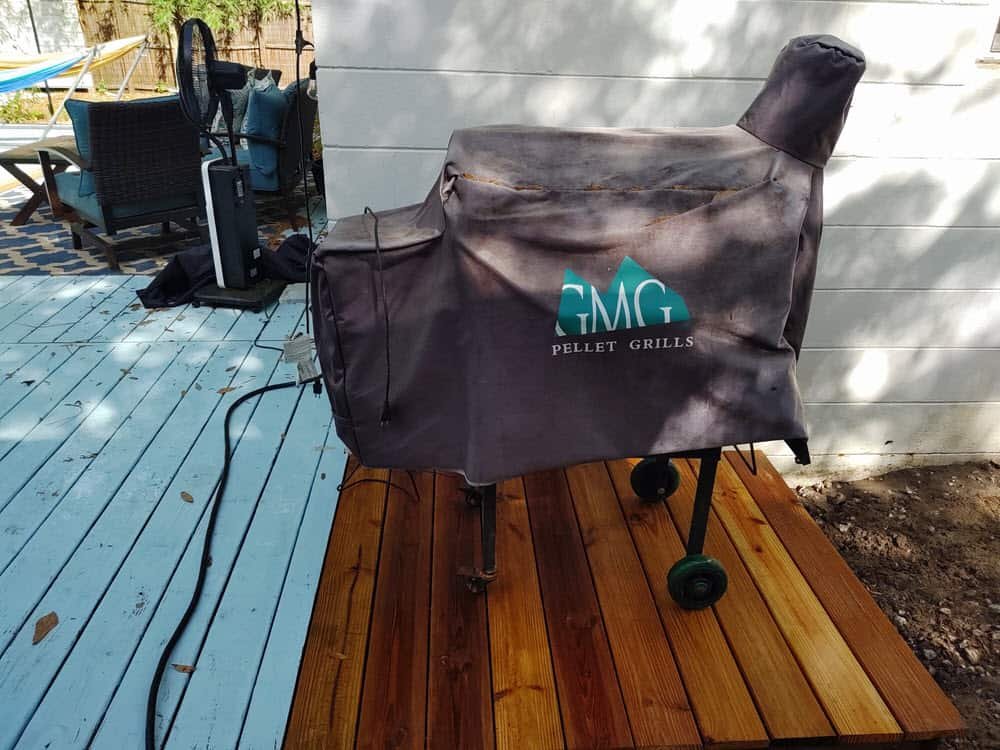 We hope this article helped you build a deck for your grill. If you need lighting ideas, then you may also want to take a look at deck lighting ideas for your backyard.
If you liked this article, then please subscribe to our YouTube Channel for Backyard video tutorials. You can also find us on Facebook.