Your deck is a big investment and there are things you'll want to do to keep it in good shape. One of the best things you can do is to power wash your deck.
In this article, we'll show you how to power wash your deck to remove dirt and debris as well as mold and mildew. I'm going to give you some tips to make your power washing go smoothly and get your deck squeaky clean.
When to Pressure Wash Your Deck
When should you pressure wash your deck? My deck was less than a year old, but had mildew on parts of it that didn't receive any sun, near the house under the roof eaves. We have a north facing backyard so parts of the deck never get direct sun. Be mindful if you have a similar situation or trees that block the sun.
You should clean your deck regularly to prevent dirt and mildew buildup. A deck with a lot of mildew will become very slippery when wet and a fall hazard. Dirt buildup on or between the deck boards will shorten the life of the deck boards and they will start to deteriorate or rot. We show you tips on how to extend the life of your deck.
Where you live will dictate how often you may have to pressure wash your deck. Here in Florida, I pressure wash every 6 months at least due to parts of my deck not getting any sun. If you live in a dry climate, you might only need to do it once a year since a simple sweep off might be good enough.
As with regular pressure washing, you need to stain and or seal your deck regularly to keep it in good condition.
Before you can do that though you need to make sure your deck is clean so the stain or sealer will adhere to the deck boards.
I built my deck Fall/Winter of 2017 with pressure treated deck boards. Pressure treated pine (common in Florida) is very wet once you install them and you have to wait for them to dry to be able to stain or seal them.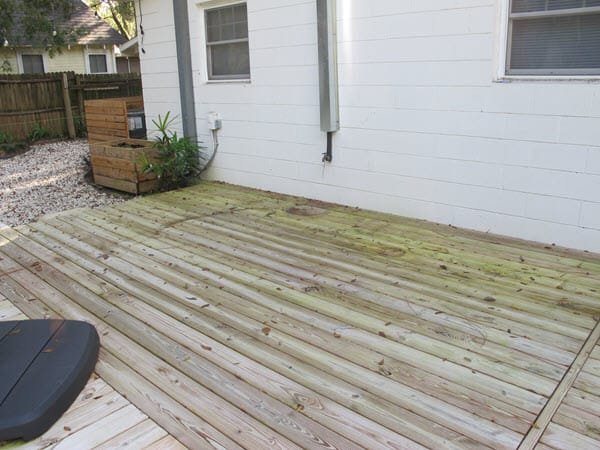 Do You Have to Use a Pressure Washer?
Sometimes you can get away with just scrubbing your deck down to remove unwanted stains.
I thought I could simply clean my deck with a scrub brush and oxiclean mixture. I had mold on the decking boards that were in the shade most of the time next to the house.
I did some research and heard people were getting good results from mixing oxiclean with dish detergent to get mold off decking boards. I wet the deck down and scrubbed the mixture over all the deck.
I allowed the areas with mold to soak some of the mixture longer than the rest of the boards. It certainly cleaned some of the mold but it didn't get everything. It did a good job on the rest of the deck.
After finishing, it was time to use a power washer.
How much does it cost to pressure wash a deck
It's a great weekend project that will cost the average home owner between $200-300 dollars, if you're buying the pressure washer for the first time. After that, the cost will be more like $40-60 for the scrubber, bucket, and deck cleaning solution.
The cost difference will depend on whether you buy or rent your power washer. Many homeowners choose to buy a power washer from Home Depot or Lowes simply because you have several things you could pressure wash during the year.
The range for a pressure washer runs from $129 for a lower end electric power washer up to over $1,000 for premium, heavy duty pressure washer to buy. If you rent it for the day from an equipment rental, then it could run you between $75-150. The range is close enough that many will choose to buy one and keep it.
If you buy, just get a medium duty pressure washer and it will do most of what you need at your house. The 2300 PSI Ryobi Electric pressure washer was powerful enough to clean our deck easily.
What Pressure Washer Tip Should You Use
Power washing a deck is instant gratification but if you're not careful, you can damage your deck and cause more headache in the long run, which is why I tried to clean my deck without power washing first.
When using a power washer on a deck, you need to be careful on which tip you use. All the tips are color coded to show the degree of spray that it will emit.
I never use the red or yellow tips because they can actually damage the wood fibers of the deck board. I mostly use the green tip which is great for cleaning pretty much anything.
These are usually the jet style tips that you want to stay away from. Use the fan or rotating tips instead.
How to Use the Wand
The key to power washing is keeping the wand an even distance from the deck boards and moving in a sweeping motion. Never leave your wand in one spot for an extended time. This will make sure that you don't damage any of the wood fibers.
You know you're too close when the wood starts to look fuzzy. That's because you're peeling through the wood and pulling back the wood fibers. Our goal is to only get the grime on top of the wood.
Usually you want to keep the psi less than 1200. The sweet spot will be 500-700 psi, since most woods used for decking are softer. Pine and cedar are often used for decking and can't tolerate higher psi.
If you have an area on the deck that's not wanting to come up, then you'll want to scrub it with a brush and the deck cleaning solution, instead of trying to get it up with the pressure washer.
What's Next
Even though I had already scrubbed most of the deck down before power washing, I still was able to remove even more dirt with the power washer. It was great for getting in between the boards to remove very small debris.
Power washing goes by very quickly. I think it took more time to get everything off the deck than to actually power wash it.
Let the deck dry to see if there are any areas that you missed, since when a deck is wet, it might not show the spots. This is also a good time to evaluate if you should replace any decking boards since there's no more dirt to hide any defects.
If your deck is older and the pressure washing didn't help, you might want to consider upgrading your decking. Here's our best composite decking article as well as our best decking for full sun decks to help you decide.
From here, you might want to sand down any areas where you got too close to the deck and see raised wood fibers. Sand it down to a smooth finish if you can. Then your deck will be ready for stain or paint.
You'll need to let the deck dry out completely before staining or painting it. Depending on humidity and area where you live, this can take a couple of days to a little longer.
Conclusion
Living in Florida is great for having a low deck to enjoy year round. We hope that this article gives you great pointers for pressure washing your own deck without damaging it. After cleaning your deck you may enjoy our article on how to stain your deck.
If you're up for more projects, we will show you how to accessorize your deck with several deck lighting ideas or deck railings to make your deck the focal point of your backyard.
A year later and we just had to power wash our deck again. This is after we stained it. You can watch the video here of how it went.