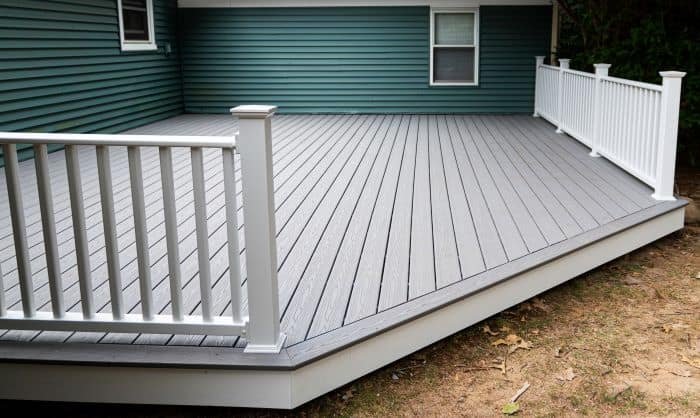 Homeowners are spending more time in their backyards. The best way to enjoy their backyard is with a deck, and one of the best projects for improving your home's backyard is a deck addition.
While the added space is a major benefit, a deck project can add value to your home. The 2021 Cost vs. Value Report found a composite deck addition returned 63.2% of project costs.
While this is exciting, it is important to remember that not all deck projects are created equal. We will look at the three top Composite decking on the market today.
The following breakdown will highlight the most important composite decking features and provide a guide to the best composite decking options on the market. It's also some of the best composite decking for full sun.
Composite Decking Features
A composite deck will last a long time and offers a number of benefits over traditional wood decking. Some of the most notable include:
Lower maintenance – composites are made from a variety of compounds that are weather resistant and can maintain their functional benefits with little maintenance required. However, you will need to know how to clean your composite deck regularly to keep debris and dirt at a minimum.
Durability – composite decks typically come with at least a 25-year limited warranty.
Aesthetics – fabricated using a combination of natural and synthetic compounds, composite decks can be created in a wide array of designs and colors to meet the aesthetic preferences of any homeowner.
While there are a number of products, such as PVC and pure plastic, that are used to fabricate composite decking, the best option for guaranteeing all of the aforementioned features is a composite that blends wood fibers with a polyethylene or polypropylene film.
With this in mind, the following breakdown looks at some of the most notable names in the composite decking sector.
Best Composite Decking Brands
Choosing the best composite decking brand involves carefully balancing a number of factors: cost, ease of installation, maintenance, and durability, to name a few. Let's take a look at some of the most recognizable names in composite decking and see how they stack up.
Trex is one of the most well-known composite decking companies. One of its key selling points is its innovative Trex® Hidden Fastener system, making it convenient to evenly space decking planks as part of a DIY project.
While the fasteners are more expensive than simply crewing the planks to the deck joists, they are stainless steel for long-lasting performance. They are invisible from the surface view, creating a completely smooth deck.
Some other benefits of Trex® composite decking include:
Environmentally friendly – Trex® decks are made from recycled plastic (polyethylene) bags and waste wood fibers. These waste products are then compressed and molded together, creating a solid, weather-resistant plank.
Durability – Trex® composite decking comes with a 25-year limited warranty, guaranteeing that the planks will not fade or stain.
Safety – in addition to long-lasting aesthetics, Trex® planks will not splinter or chip like wood planks. They are also not as slippery as 100% plastic planks.
While there are many more benefits of Trex® composite planks that could be listed, it is also worth considering a couple of potential negatives:
Cost – although you will probably recoup most of your money due to low maintenance and replacement costs, the upfront commitment to Trex® decking may cause some people to choose wood or lower-quality composites
Fasteners – although the benefits of the hidden fastener system have already been extolled, the higher cost may not be worth it for those who prefer regular screws.
Another big hitter in the world of composite decking is Dura-Life. Best known for their classy, hardwood-like finishes, Dura-Life composite decking also offers a host of other benefits, including:
Compatibility – in addition to the deck, Dura-Life systems also come with matching handrail and stair components, creating continuity and class for your backyard
Durability – like Trex®, Dura-Life planks come with a 25-year limited warranty against general damage, fading, or staining.
Sustainably sourced – while not composed completely of recycled and waste products like Trex®, Dura-Life is made of 90% recycled material, with just a little natural hardwood to give it its classy finish.
Step-Clip – an innovative clip installation system installed on joists that you simply step on to clip in the decking. Cutting installation time in half!
While you can't go wrong choosing Dura-Life for your composite wood planks, there are a couple of potential drawbacks to keep in mind:
Limited styles – there are four solid wood-grain tones and four solid landscape colors offered by Dura-Life. While this is nothing to sneeze at, it is not nearly as wide an array as most other composite brands.
Ordering – some DIYers note that it is difficult to order the correct amount of planks, while others report trouble finding local vendors.
If you are interested in a name that has one of the widest varieties of composite decking options on the market, then Fiberon may be a perfect choice. Fiberon offers a number of nonporous decking options to satisfy all budget ranges with a solid PVC outer shell and a composite wood interior.
In addition to the wide selection of products, some additional benefits of Fiberon include:
Low maintenance – despite the more affordable price options, builders can be confident that their Fiberon composite decks will stand the test of time, maintaining their original aesthetics
Bundling options – in addition to a wide range of composite decks, Fiberon offers railing, stairs, and fencing components that can help give your home's exterior a uniform appearance
Ease of use – Fiberon is a relatively easy product to work with, making it a strong option for DIY deck installations
On the flip side, there are a couple of points to keep in mind when choosing Fiberon:
Limited sizes – despite the wide range of designs and price points, it can be difficult to find all of these varying products in the correct dimensions
Lower scratch resistance than other composite options – despite the generally low maintenance requirements for the price point, Fiberon decking will scratch a bit easier than other composite products in the face of heavy use.
Final Thoughts
Composite decking, in general, offers some major advantages over wood decking, such as lower maintenance requirements, less porosity, and ease of installation for DIY projects. It's a great product if you're building a ground level deck since it won't cup or warp like wood.
When searching for composite decking, the highest quality products will feature some sort of recycled wood fibers bound together with polyethylene or polypropylene film.
While there are many names on the market, Trex®, Dura-Life, and Fiberon are some of the best composite decking companies to consider for your new composite decking project.