Whether you have dogs that get out of your yard often, or you just want privacy in your own backyard, fences are the solution to your issues. However, it's challenging to find a fence that requires low maintenance and will last you long enough to make the price tag worth it.
When looking for a fence that will last as long as possible, you want to purchase materials that will hold up through all of the elements. There are a few fencing materials that can last for decades, such as:
Wrought Iron
Wood
Vinyl
Chain-link
Just because a fence lasts a long time doesn't mean that's the only factor you should consider. Maintenance and function are also significant factors when considering a fencing material and should be researched thoroughly. But first, if you have neighbors, make sure that its your side of the fence.
Types Of Fencing Materials
The material you choose to build your fence with depends mainly on the purpose of the fence. If you want privacy, you wouldn't be able to go with a wrought iron fence, but if you only want to keep your children and pets inside the fence , you have quite a few options. In a separate article, we discuss the 10 best secure dog fence ideas.
Now, if you want a fence with low maintenance and excellent longevity, you will need to do a bit more research as some fences can last several decades, and others only five or so years.
Wood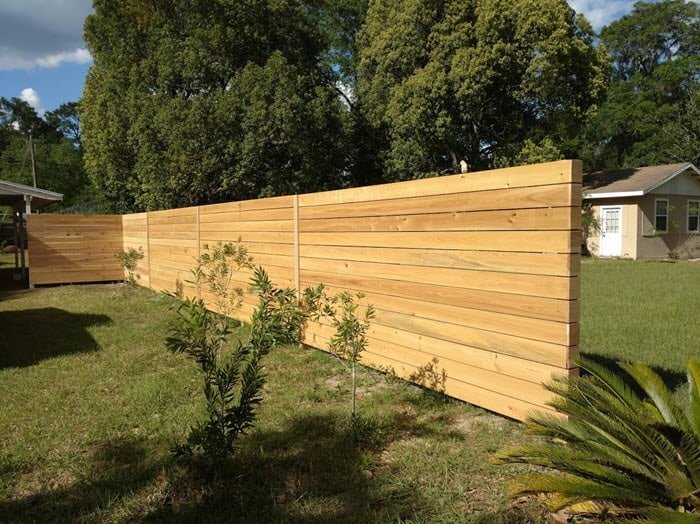 How long your wood fence lasts depends primarily on what type of wood your fence is made from. The most common types of wood that people use to build their fences are Cedar, Spruce, and Pine.
These are all durable types of wood but have differences in longevity depending on whether they are treated or untreated. People build wood fences the most due to the privacy they can provide over other fences and the cost vs other materials. Different fence styles can allow you total privacy in your backyard, as well as the ability to keep children safe and animals contained. 
Cedar
Cedar wood can last anywhere from 15-30 years for untreated wood, making it the most durable wood you can use for your fence. If you choose to get your cedar treated, cedar can last upwards of 40 plus years.
However, while cedar will stand up well to elements like snow and rain, it can have rotting issues when put into the soil for several years. Your best bet is to put it in pressure treated posts around a concrete base.
Cedar also has a tendency to fade to a silver/grey color if left untreated. To avoid this, it is best to apply a sealant to your planks as soon as your fence is installed; otherwise, you risk having to replace boards every few years.
Spruce
Untreated spruce wood usually lasts anywhere from 4-7 years, depending on how extreme the elements are that it is expected to withstand. If you choose to get treated spruce, you can make your fence last around 20 years before it starts needing severe repairs.
Pine
Pine is the second longest-lasting type of wood you can build a fence with, coming in around 5-12 years before needing severe repairs or rebuilds when using untreated wood. If you choose to go with treated wood, you can stretch this to 20 plus years, depending on how well it is taken care of.
Vinyl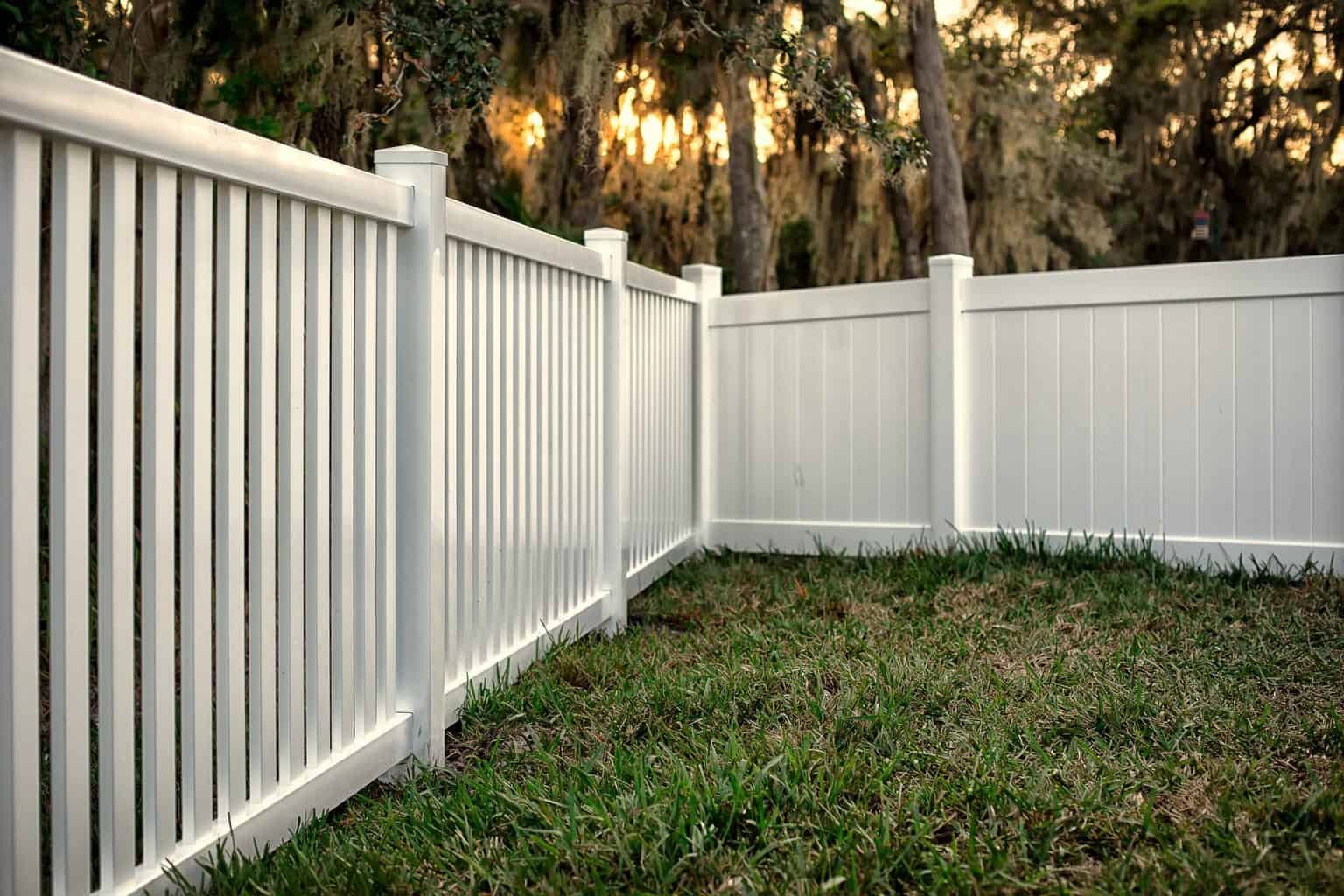 If you are looking for a fence with minimal maintenance but good longevity, vinyl fencing is a great option. You really would only need to hose it off every few months or as needed, and it can last upwards of 20 years before needing extensive repairs. The cost of vinyl is twice as expensive as a wood fence.
Vinyl is good for privacy reasons as well as containing children and pets. You can also build vinyl fences decoratively so you can have them match your house or yard's aesthetic. While some early vinyl fences would fade to yellow and become brittle, new advances have fixed this issue, and your fences usually come with a lifetime guarantee.
Wrought Iron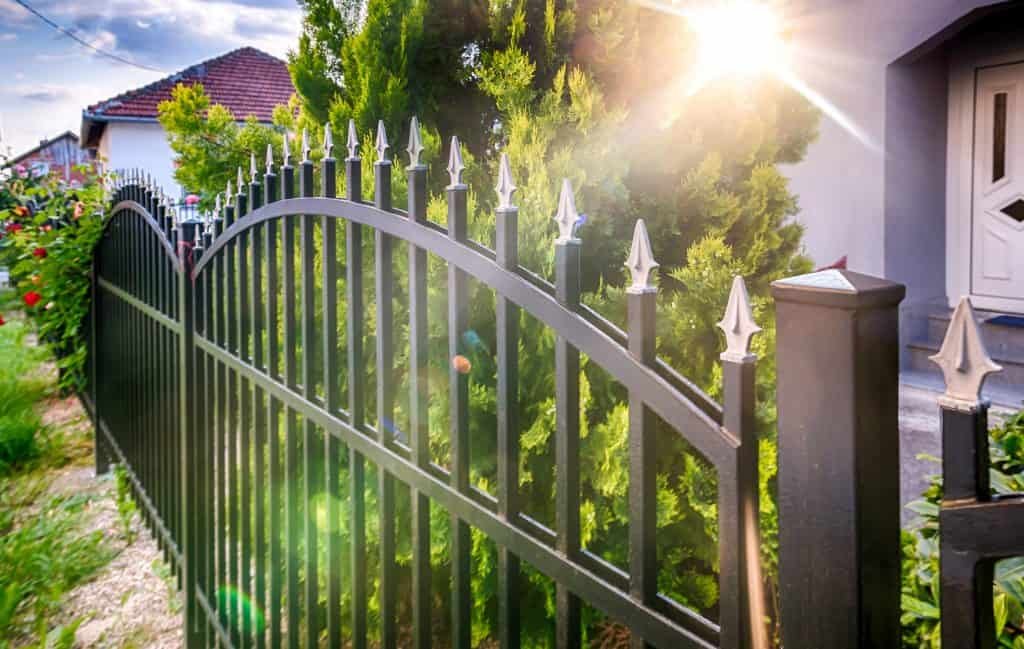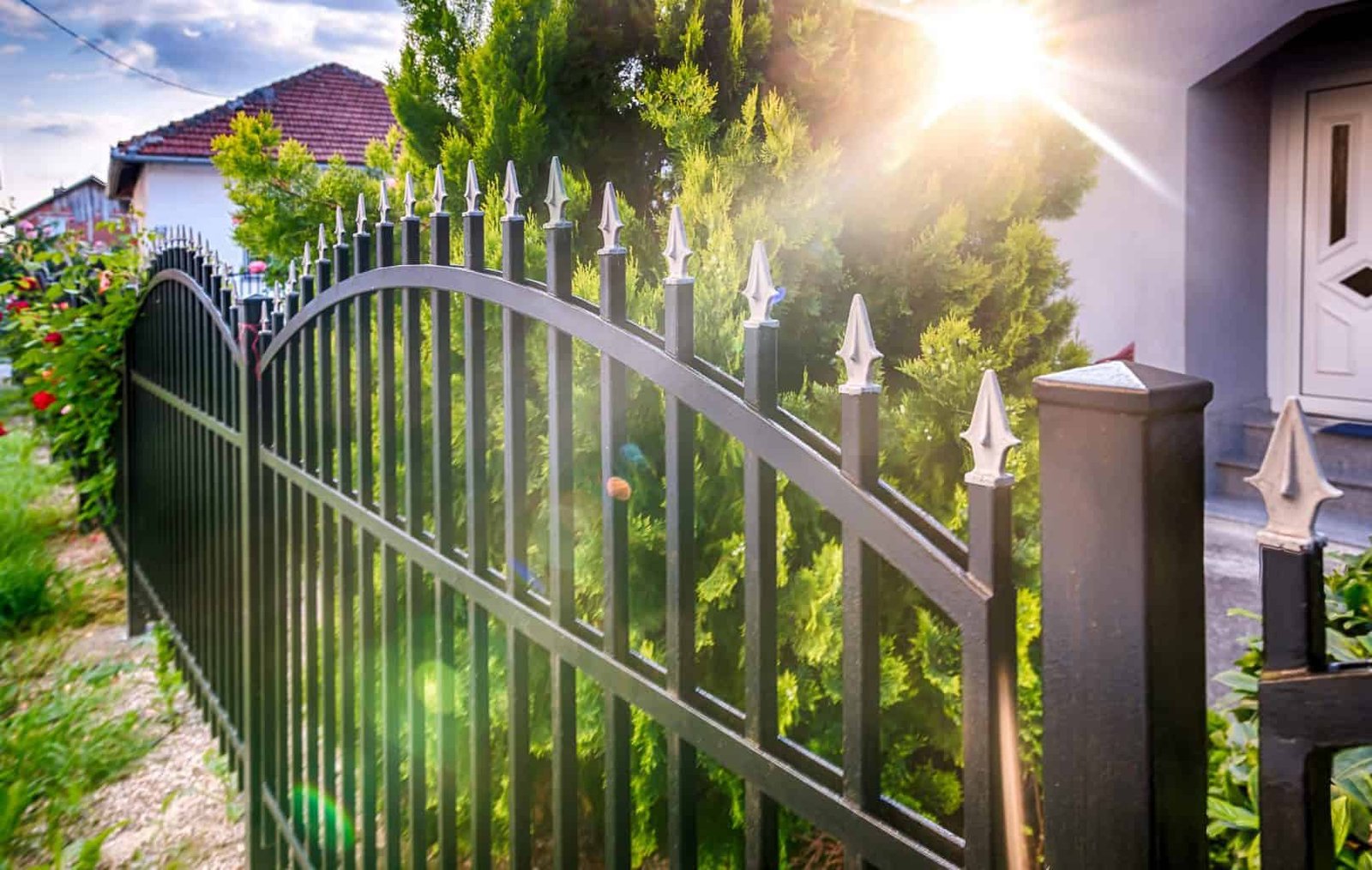 Iron fences are some of the oldest types of fences that have been used. If you have ever been to countries with mid-century castles, you will still see that some of them have wrought iron fences still standing after hundreds of years. This is definitely a material that can stand the test of time but you will pay much more than a wood or vinyl fence.
The issue with wrought-iron is how heavy and hard to manipulate it is. It is also not great for privacy due to how it has to be made. If you wanted a wrought iron fence, you would be looking at a fence that can keep children and pets in but won't give you much privacy.
Most wrought-iron fences will be made and sold with anti-rust dust powder already applied to them; however, you may have to do an annual inspection to look for problem areas. If you find a spot with rust issues, simply applying rust-proof iron pain will fix your issue.
Chain-Link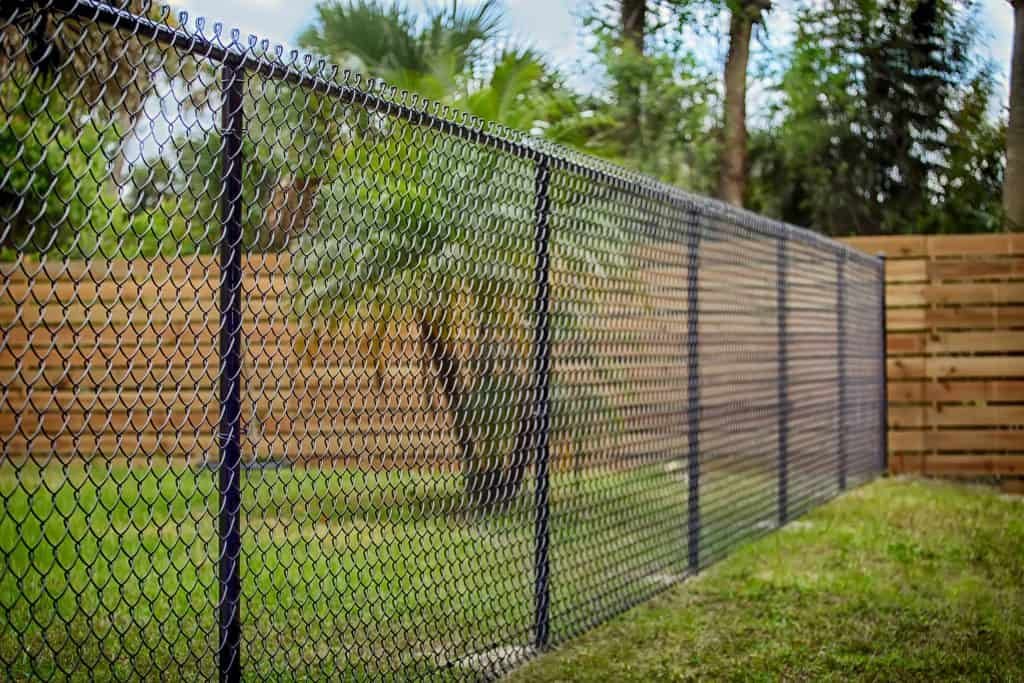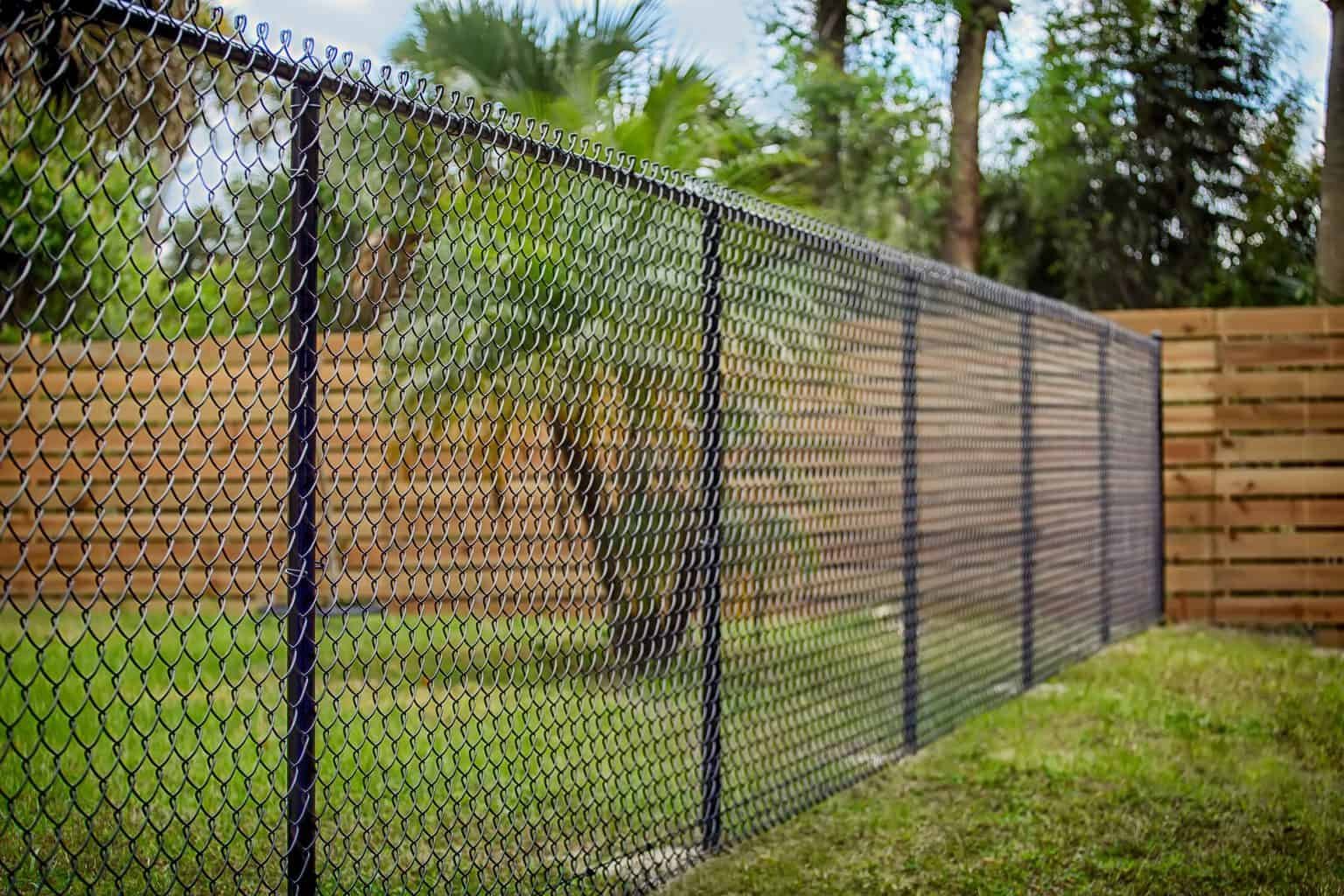 A common misconception about chain-link fences is that they are weak and thin; however, that depends on the quality of material you choose for your fence. If you choose a high-quality metal and a good company that coats it in rust-resistant powder, then you have a fence that could last for a few decades.
While chain-link fences are great for keeping in children and pets, they are often not suitable for privacy. Due to the misconceptions about them being weak, they are usually not allowed in specific neighborhoods for fear it would make the houses look less than what they are worth.
It is common for chain-link fences to rust at the joints where the corners are, and while it is almost impossible to prevent, choosing vinyl-coated chain-link fencing will undoubtedly help remove this risk.
Things to Know Before Building A Fence
Before you start the DIY process or bring in a company to build your fence, you need to know what your county and HOA requires of you when building anything on your property. If you are building a fence on your property line, you will need to check your survey (most are required when buying a house) or get someone to come out and survey your property for you, so you don't go over into your neighbors' land.
Your HOA may have stipulations on the height or type of materials you can use when building a fence, and it may be different depending on if you are building it in the front or back yard. All of this is crucial information to know before anyone starts planning to build a fence; otherwise, you risk wasting money and getting fines.
It can be pretty expensive when looking for fencing companies and materials to build out your yard; however, saving for the materials and doing it yourself can be a viable, inexpensive option. If you do your research and buy suitable materials, you should be able to build your fence with minimal problems that last just as long as using a company.
While most fences require minimal maintenance, certain things such as rinsing your fence off with a hose are needed to keep a fence looking nice. You also should expect to do annual or semi-annual checks of your fence for any problem areas or damage to help reduce the risk of rotting or severe issues.
Final Thoughts
Having a fenced-in yard is one of the best aspects about owning a home, especially if you have children or pets to freely run about. The maintenance of your fence can be a nuisance if it's older or wasn't installed properly, but a new fence built properly with any of the materials showcased will alleviate many of those problems.
Using the proper installation methods and the right sealants will be critical to how much time you have to spend yearly on your fence maintenance, but if you keep up on your maintenance, you will have a fence that will last you a very long time.