A DIY fencing project can save you money, but only if you know how to build a fence correctly. If you're in the process of designing and gathering materials to build your own fence, you might wonder if it's worth it to use a nail gun rather than a regular hammer and nails.
I wholeheartedly say yes to using a nail gun rather than a hammer.
The nail gun will make your fencing project go by much easier and way faster than if you try to hammer each nail in each picket.
Your next question may be which nail gun should I use for my fencing project?
Whether you want a coil or stick framing, these are the two that we recommend. Keep reading to find out why.
We will discuss in detail which type of nail gun to use for your new fence. The nail gun type we feature will be for installing fence boards or slats or pickets to the fence rail.
We advocate using screws or metal fence rail hangers for attaching fencing rails to posts, rather than nails.
Depending on the size of your fence, you could be looking at installing several hundred or several thousand fence boards. A nail gun will make it go by very quickly.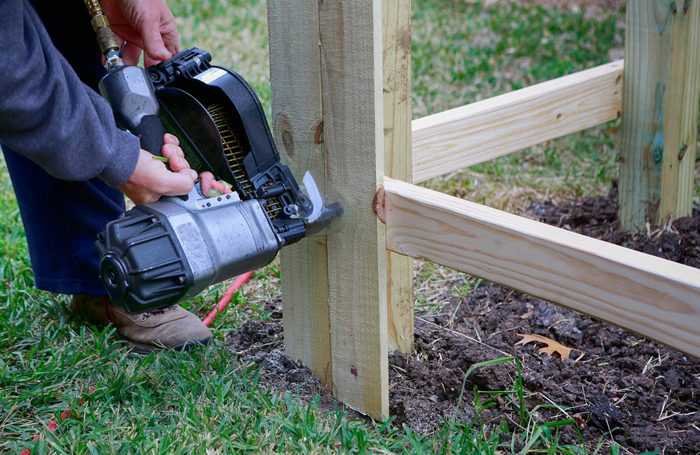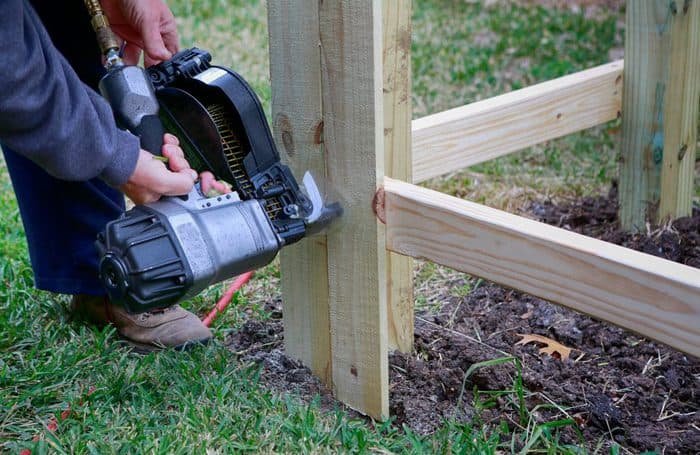 Nail Gun Types
There are many different types of nail guns on the market and to a DIY newbie, it can be very confusing on how to choose a nail gun. Many are used for interior projects such 16 gauge finish nailers or 18 gauge brad nailers. Nail guns used for outside projects will include framing nailers, roof nailers, siding nailers and even palm nailers.
You want to use a framing nail gun for your fence project as it uses larger ring-shank nails. Ring shank nails have small rings on their body or "shank" which have more holding power than a smooth shank nail.
As the wood fence boards expand and contract, a smooth shank nail will come loose compared to a ring-shank nail. The framing nail gun will also be versatile to use in different projects, such as framing a lean-to shed or framing a deck. The list is endless.
Now the question is which framing nail gun should I choose. There are strip and coil collated framing nail guns.
Stick vs Coil is referencing the way the nails are stored or collated in the gun. Sticks have nails that are collated vertically while coil nail guns are stored in a circular or "coil" shape.
Stick Framing Nail Gun
Stick or Strip framing nail guns shoot nails ranging from 2 inches up to 3.5 inches long. Most common stick nailers are classified as either 21 degree or 30 degrees. This is the degree that the nails are collated together, not the degree to which the nail gun shoots the nails.
I always use a 21 degree nail gun because it uses full head nails where as the 30 degree nail gun only uses clipped nail heads.
For holding strength and many local building codes, the full head nails are required rather than the clipped nail heads.
For building a fence or any exterior project, you will always want to use exterior hot dipped galvanized or stainless steel nails as they are exterior rated meaning they won't rust as fast as other nails.
The downside of using the 21 degree is it holds only about 70 nails at a time which will required a lot of reloading when installing fence pickets. Also, be sure to use eye protection since the 21 degree framing nail guns uses plastic collated nails and bits of plastic will become projectiles when the nails are shot.
Sale
Metabo HPT Framing Nailer, The Pro Preferred Brand...
NAILER: 21 degree plastic collated framing nailer
APPLICATIONS: Great for flooring and framing, truss build-up, window build-up, sub flooring, roof decking, wall sheathing and housing construction
LIGHTWEIGHT: At only 7. 5 lbs and well-balanced allowing for ease of maneuverability and less user fatigue
Coil Framing Nail Gun
Coil framing nail guns are very similar to their strip framing counterparts with the biggest difference being they hold 3-4 times the number of nails. There are several different types of coil nail guns, with roofing and siding being two of the most popular, but I'm specifically just talking about coil framing nail guns which use bigger nails than the roofing and siding specific coil nailers.
The biggest downside to the coil framing nailer is the cost. You will pay 2-3 times more than a strip nail gun for the advantage of having more nail storage. The other con is that it does weigh more than the strip nailer, largely because of the increased nail storage.
Sale
Metabo HPT Coil Framing Nailer | Pro Preferred...
LIGHTWEIGHT: Only 8.8 lbs (or 9.1 lbs if the rafter hook is installed) lightweight and well balanced for easy maneuverability
POWER AND SPEED: Cylinder valve drive mechanism provides quick response and rapid, powerful driving
AWARD: Rated the Pro Preferred Nailer for 9 years running (2014 - 2022) by Builder and Developer Magazine
Which Should I Use?
The Coil Nailer will help you get through your fencing project faster but it will cost 2-3 times the amount as a strip framing nailer. If time is a bigger motivation than money, then the coil framing nail gun will be the best choice. But, if your tool budget is tight, then the strip framing nailer will be your best choice.
Either framing nail gun will do a good job and if you're curious which brands are good choices, stick with brands that have been around a long time. Bostitch, Metabo (formerly Hitachi) and DeWalt all make good nail guns.
The Metabo nail guns are consistently ranked high on any best of lists and I personally have used the same strip framing nailer for over 10 years without issue. I went with the strip nailer for the low price, but either would be a good choice.
Below I list two popular Metabo framing nailers and compare the features between the strip collated and coil collated.
| | | |
| --- | --- | --- |
| | | |
| Price | Check Price | Check Price |
| Model Number | NR90AES1M | NV83A5M |
| Housing Material | Aluminum | Plastic |
| Degree | 21 | 15 |
| Maximum Nail Length (Inches) | 3.5 | 3.25 |
| Minimum Nail Length (Inches) | 2 | 2 |
| Warranty | 5-year | 5-year |
| Maximum Nail Diameter | 0.148-in | 0.131-in |
| Fastener Head | Round head | Round Head |
| Depth Control | Tool free | Tool Free |
| Weight (lbs.) | 7.5 | 9.1 |
| Minimum PSI | 70 | 70 |
| Maximum PSI | 120 | 120 |
| Inlet Size in Inches | 3/8-in | 1/4-in |
| Collation Material | Plastic | Wire |
| Magazine Capacity | 70 | 300 |
Conclusion
Regardless of which nail gun you choose, I'm sure your fence project will be successful. Check out some of our other fence articles if you have further questions.