If you're about to build a new backyard fence, one of the questions may be what size nails to use. You're not along in wondering which nails to use to install your fence pickets.
There are many different types of nails and you should make sure you get the right one for a long lasting fence.
There's a couple of different right answers concerning which gauge nail to use for fence pickets. There is the correct size for hand nailing fence pickets. There's another right answer if you're using a pneumatic nailer.
We'll go over both so that you can see which to use no matter how they are being installed. We'll also talk about how nail gauge descriptions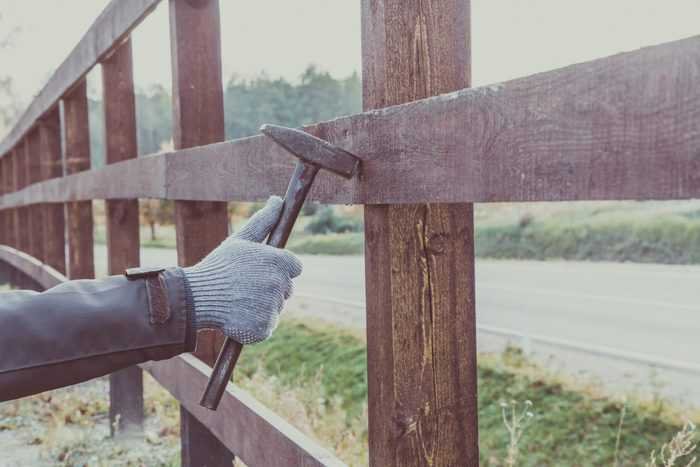 Nail Gauges
When you go to the big box store to buy nails it can be very confusing reading the numbers on the box. What does 6D mean? How many nails are in 1 pound? Are smaller gauges bigger than larger gauges? Smooth vs Ring shank?
I found this article with handy nail chart to be very helpful describing the different nail sizes and corresponding gauges.
Regular Nails for Fence Pickets
Hand nailing a backyard fence together is a lost art since the invention of pneumatic nailers.
I know for fact, it takes me a quite a while to get in a groove when I'm hand nailing a lot of joist hangers.
This is because I use a nailer for everything else since it's so much easier.
Sometimes though people prefer to hand nail since it's cheaper than owning a nail gun and they prefer it due to the larger gauge nails they can use.
If you're hand nailing your fence pickets to your fence rails, use an 11 gauge, 2 inch long galvanized or stainless steel ring shank nail.
Make sure they are hot-dipped galvanized rather than electro-galvanized of they could stain certain woods.
Depending on the thickness of your fence pickets, you could get away with 1.5 inch long nails as well.
Don't skimp and get smooth shank nails as they will pull out rather quickly. The ring shank holds much better. Same with cheaper interior nails as they will rust almost immediately.
You can also use spiral shank nails if you have a denser hardwood as your fence pickets.
Pneumatic Nails for Fence Pickets
If you have a large yard or just prefer the quicker method of nailing your fence pickets with a nail gun, here are the sizes you need depending on the type of nail gun you have.
Framing Nail Gun
For a framing nail gun, you will need 2 inch x .113 inch, exterior galvanized ring shank nails for your fence pickets. You can find these in 21 or 30 degree framing nail guns.
Coil Framing Nail Gun
For coil or round framing nail guns, you should buy 2 inch x .092 inch, exterior galvanized 15 degree nails.
Siding Nail Gun
If using a siding nail gun, either the 1 7/8 or 2 1/4 length, .086 inch, exterior galvanized rink shank 0 degree will work. Just know that the nail diameter is smaller than the stick framing gun and coil framing gun.
Conclusion
Now that you know which nails to use no matter your installation method, you may be ready to learn how to install a fence post.