Wood fences are a great way to partition off your space and create the perfect backyard retreat.
Having a great wooden fence also helps to keep your backyard private.
In this article, we'll cover some of the most popular wood fence ideas so you can pick the one that works best for your space. Once you find your favorite style, you can see how to build a fence, step by step.
Why Use Wood Fences Anyway?
Wood fences are the easiest way to get a fence around your property. They are easy to manufacture in panels or in planks, so you can purchase everything you need from your local hardware store and have a new wooden fence up by weekend's end. If you're unsure if the fence is yours to renovate, read our article on how to tell if a fence is on your side of the property.
There are a few other reasons for a wood fence:
Cost – among all the fence types, these can be some of the least expensive.
Privacy – if you do your fence properly, you'll have great privacy in your backyard.
Looks great – adding a finishing touch around your home with a fence, makes your property look great and adds to it's home value.
Now let's take a look at some of the most popular ones. I didn't go for hundreds of ideas that are really just the same 10 designs. Instead, these should be unique wood fence ideas to help you with the creative juices for your backyard design.
Wood Panel Fence
The wood panel fence is one of the least expensive wood fences to put up around your home. Since they come in panels, it's also the easiest to install in your backyard, if you're doing it yourself.
Varying Width Wood Fence
These fence styles are very pleasing to the eye and adds an extra level of elegance to your fencing.
Keep in mind that they are more complex and will cost more. Since you're buying different width boards, you'll also need to keep track of which board goes up next.
If you hire a contractor to build this fence, it will also cost more simply because it will take them longer to install because of the varying widths.
But just look at that fence. So beautiful.
Basket Weave Wood Fence
The basket weave wood fence is very pleasing to the eye. Plus, if it's done correctly, both yards that share the fence have the nice looking part. Which is a good neighbor friendly fence.
The basket weave also does a great job of allowing air to flow so you can get a cross breeze. It's also a great privacy fence design as well.
I took a picture from the side to show what it looks like from a corner view.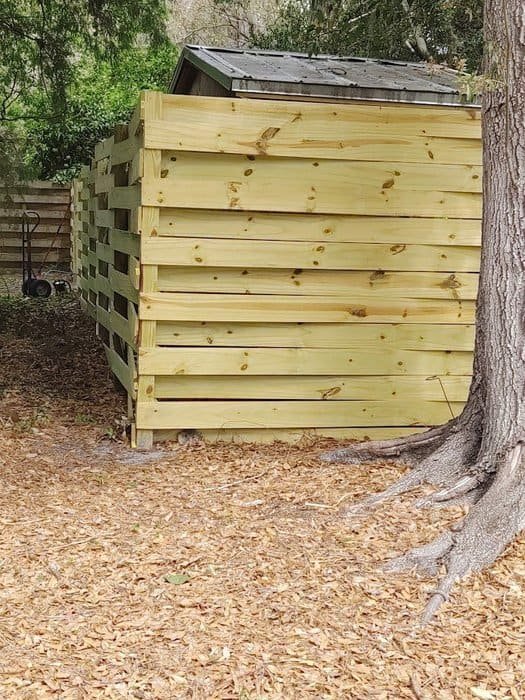 Herringbone Style Wood Fence
This geometric beauty adds depth to your fence and draws your eyes differently than the vertical or horizontal.
Like the varying wood fence, expect to pay more to get this fence or spend more time building the fence if you are tackling it yourself.
The biggest reason is it will take you longer to cut each board to get the 45 degree angle. You'll also have more waste since you're cutting the boards and they go a certain way.
But if you're looking to get a fence like this, then it's not about the money. You're looking to have a styling wooden fence in your backyard to add a lovely accent to your space.
Shadow Box Wood Fence
The shadow box wood fence is the classic upscale fencing that's been around for decades. People love the look of this fence because it provides enough privacy, but allows for air to circulate through the fence.
If you look dead on, it's completely blocked from seeing through, but if you look at a slight angle, you'll see through some area.
The other big appeal for this type of fence is that there is not "bad side" to the fence. Since the boards are put on alternating sides to the post and rails, both sides of the fence look great. This is a good neighbor fence as well.
Picture Frame Fence
Similar to the shadow box fence, the picture frame fence is built in a way that both sides of the fence look the same. It's considered a "good neighbor fence" since the panels are inside the picture frame.
You can make it even more fancy by making the frame part of the fence a different color from the fence boards.
Board on Board Wood Fence
With the board on board wood fence, nothing is getting through and is probably one of the best for privacy. It's a step up from the panel fencing that you get at Lowe's or Home Depot. You still get individual board and install them, but there is no spacing in between the board.
Instead, you put two boards close together and stack the third board on top so there is no gapping between the boards.
It's more difficult to explain in words than just seeing a quick video about it, so here is a great clip on what I mean
Horizontal Wood Fence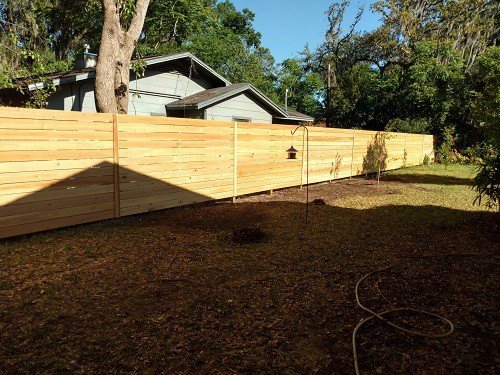 Horizontal wood fences are super popular right now. People just want to see something different when they look at their fencing. Instead of the typical vertical styles, you can pick different types of horizontal wood fencing for your back yard.
Horizontal Wood Fence with Metal Accents
We love the wooden fence with metal accent look. It's pretty versatile style and you can choose from several different metal sheets.
Another bonus is you can reduce the overall cost of the fence by using the metal. Since the wood for horizontal fencing can be pricier than the metal sheets.
Pallet Fence
I'm putting this here, because the idea of having a $0 cost fence is great for some people. The pallet fence will be less about privacy and more about keeping certain animals in or honest people out.
It also will be more about having a functional fence and not necessarily a fence that will add curb appeal.
But if you can get enough pallets and don't care how it will look, and you love DIY, then this might be the best route for you.
If you are going this route, then make sure that the pallets you use can be safely reused you can read more about it here.
Painted Wood Fence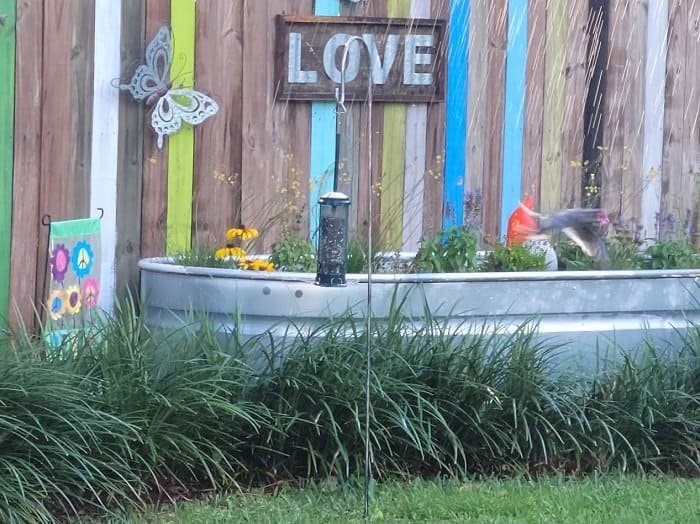 A painted wood fence can give your backyard area a personal touch. The great thing about a painted fence is you can choose to go with a classic, solid color like white or green. But you can also get creative and revive a fence with a splash of a variety of colors.
Our best friends chose to add a splash of color to their back fence to add new life to the fence.
Rail Fence
A rail wood fence is a type of fence that uses horizontal or vertical boards to create a rail effect. Rail fences are a popular choice for both residential and commercial applications because they offer a clean, simple look that can be customized to fit any space. Plus, rail fences are easy to install and require little maintenance.
This painted rail fence showcases black paint to accentuate the bamboo as well. It's one of my favorite fences in our city.
Most people will put up the rail fencing around their larger property to keep the boundaries clear for the horses or other larger animals.
Conclusion
We hope this article helped you look at the different wood fence styles out there to see which one might work best for your backyard. You may also want to take a look at how to clean your wooden fence to keep your fence looking great.
If you liked this article, then please subscribe to our YouTube Channel for Backyard video tutorials. You can also find us on Facebook.