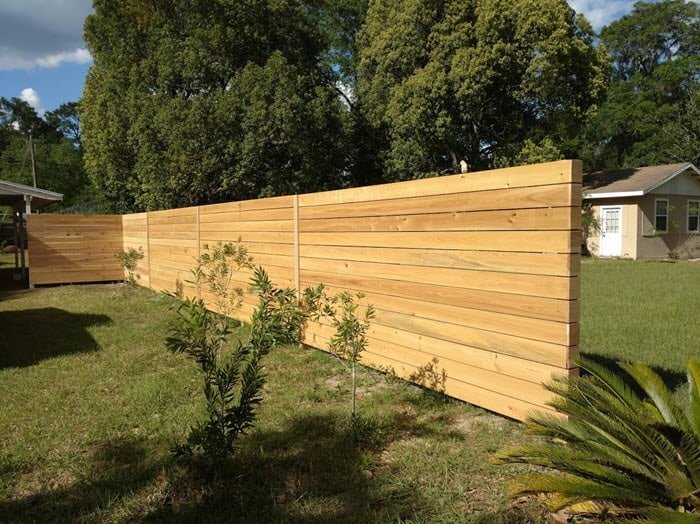 Are you looking for horizontal fence ideas for your backyard?
Horizontal fences are our favorite type of fencing right now. Between our homes and helping friends with their fencing, we've built 3 or 4 horizontal fences in the last few years.
In this article, we'll show you some great looking horizontal fence ideas that you can add to your backyard.
And make sure you scroll to the bottom as we show you several from Instagram.
What is a Horizontal Fence?
Most people are used to seeing the typical vertical wood fence structure. This is where you have the posts set 6 to 8 feet apart. You either have vertical wood panels attached to the posts or add each board individually.
The horizontal style is a great privacy fence idea for your backyard. Horizontal fences last just as long as other wooden fences as well.
You still have your posts set with horizontal fencing, but your wood boards are 1X3, 1X4, and 1X6 width boards and are smooth surfaces where most vertical boards are usually rough cut cedar. They are fuzzy or rough to the touch and didn't go through a planer.
You can also use other materials, like corrugated metal for the fence, or vinyl, but most people use different types of wood for their fence structures.
This is also usually why horizontal fences cost more. But many people who choose these types of fences are going for a certain look and aren't worrying about the price per square foot.
1. Varying Width Horizontal Wood Fence
I love these varying width horizontal fences. They really draw the eye and add variation to your backyard.
Since there are different widths to deal with, this fence will take a little longer to build. Plus, it's not the cheapest fence to build. Or, if you are hiring a contractor will cost a little more just because of the extra complexity of making the right varying widths pattern.
2. Metal Accent Horizontal Wood Fence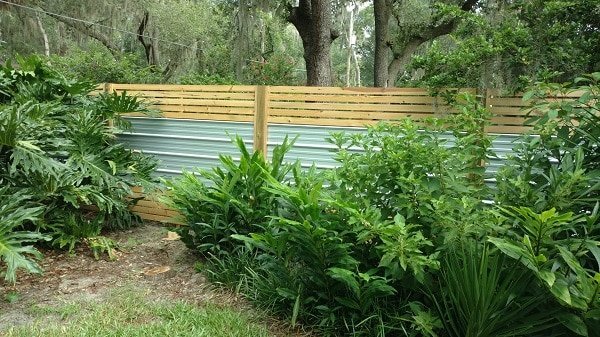 The last two fences we did had metal accents. We really like the look of this mixed media fence. Plus, the metal can be less expensive than the price of using all wood boards for the fencing.
3. Dark Horizontal Wood Fence
If you're looking for a modern look for your backyard, then you can add a level of elegance by choosing darker woods for your horizontal fence.
And if there aren't any naturally dark woods that you like, then you can also consider painting cheaper pine with black or deep browns to get the same look and feel.
4. Stepped Horizontal Wood Fence
Stepped horizontal fences are great if you have a graded yard or if your house is on an incline. The staggered fence is easiest to create by making each stagger the same height and width, then stepping down with the fence structure.
5. Barn Door Gate Horizontal Fence
Add a little extra pizzazz to your horizontal fence by creating a barn door gate for it. If you're looking to build the fence yourself, this structure is super easy and is great if you don't have the space for a hinged gate.
Maybe you have plants or a structure near the gate. In that instance, the barn door will work well. They latch easily so they stay shut when you want them to.
6. Horizontal Louvered Fence
You know how you can switch your blinds a certain way where you can see out, but people can see in? That's what I love about the horizontal louvered fence.
The boards are angled just right where you can see out if you need to, but people can't easily see into your backyard.
7. Shadow Box Horizontal Fence
The shadow box fence is considered the "good neighbor" fence, whether you have a horizontal fence or a vertical one. That's because the posts and boards look good from either side of the fence.
There are boards on either side with the shadow box, which creates a gap for airflow. Because of that, there is also an angle where people can see part of your backyard through the fence, but with the horizontal fencing, what they can see is way less than the vertical shadow box style.
8. Container Garden Horizontal Fence
Horizontal fences really lend themselves to adding containers in the slats for easy herb gardens or other container garden ideas.
I also love this because you can change up the containers each season to add a little different look to your backyard.
Make sure you aren't adding too many containers to one fence area, since the weight will pull on the fence.
It won't bother the fence structure if you have just a few but too many and you could see some leaning.
9. Corrugated Metal Horizontal Fence
This horizontal fence idea is mostly metal with just a little wood for the posts and frame. You can choose different corrugated metal shapes to make the perfect backyard fence for your privacy.
When adding metal, you will notice a bit warmer areas in the summer. We notice that with our partial metal fence, so be mindful if you plant anything nearby.
10. Horizontal Fence with Shelving
A horizontal fence with shelving is a great cheap landscaping idea to add any cute backyard yard art to your fences. It takes the container garden idea to a new level. When you add shelving to your fence, you can easily come up with backyard lighting ideas, add bird feeders, fairy houses, or anything you can think of.
11. Horizontal Vinyl Fence
Like the corrugated metal, the vinyl has a different look and feel from most of our shared fences. Most people will use wood for price and availability.
The vinyl fence will cost more but should last longer than any wood fence. And it should be fairly easy to maintain because you don't need to worry about staining it or do any real maintenance.
The biggest thing you'll probably have to do with vinyl is it if it gets that green, mildew look.
Bonus Instagram Inspiration
We hope this article helped the perfect horizontal fence ideas for your backyard. If you have fur babies, you may also want to look at dog fence ideas if you don't already have a backyard fence.
If you liked this article, then please subscribe to our YouTube Channel for Backyard video tutorials. You can also find us on Facebook.