It's that time of the year to start Spring projects and if you're like us, building a new fence is on that project list. If you're new to fencing you may be wondering what type of screws should you use to build your new backyard fence. Making sure to use the proper fasteners is key to building a long lasting fence. We'll cover several different kinds of screws that are recommended and which screws to avoid using.
Screws can be used in several phases of fence building. They can be used to installed fence rails to fence post as well as installing fence boards "pickets" to the fence rail. Lastly, they can be used to hang gate brackets to fence posts. All of those points of contact are crucial to a fence and you want to make sure you're using the best screws built for excellent holding power.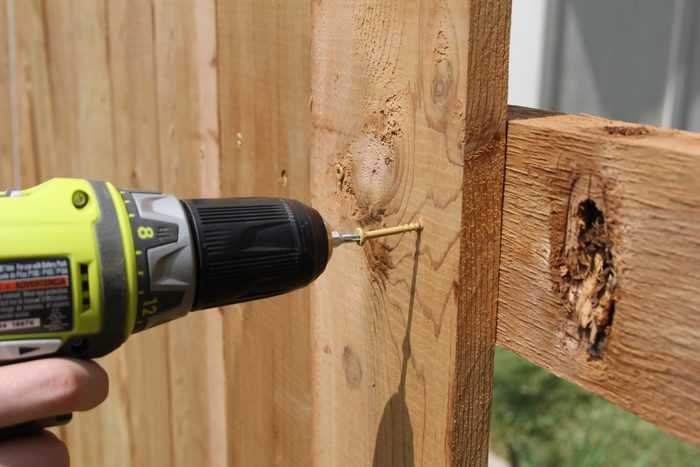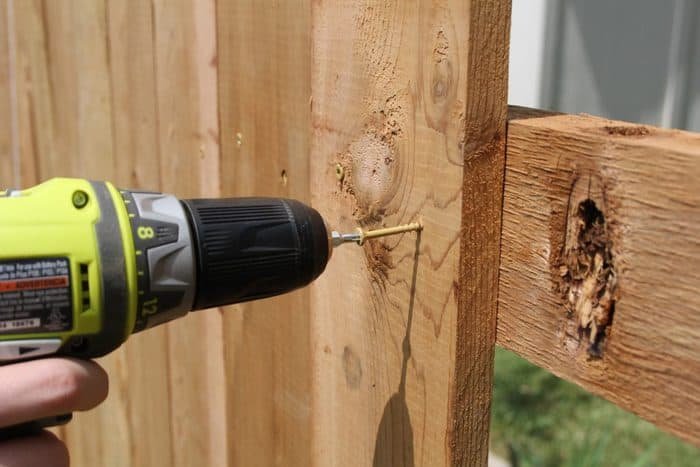 Polymer coated exterior screws or stainless steel screws are best for installing fence boards, while exterior rated structural screws are best for attaching fence rails to fence posts.
Below we talk about the screws above in detail and showcase why we think they're best for building your new backyard fence and how we will be using them in our new fence.
Polymer/Ceramic Coated exterior screws
You might be scratching your head when I say polymer or ceramic coated exterior screws, but you see them all the time at the big box stores. They are the tan and green screws that are rated for exterior use and many times called "deck screws". They are coated with the polymer coating so that they don't rust like regular zinc interior screws.
Stainless Steel Screws
Stainless steel screws are best when using certain hardwoods, such as Ipe or Cumaru, since their oils can corrode other types of screws. These screws will cost 2-3 times more than regular exterior screws and are harder to install due to their need to be predrilled. Stainless steel is a softer metal, so screw heads can pop off if too much torque is applied. While all of this sounds like reasons not to use stainless steel screws, they will never rust making them an excellent exterior screw. They just require extra time and patience to install.
Structural Screws
While structural screws look like regular screws, they are VERY different. They have the holding capacity to rival lag screws and lag bolts but are much easier to install. While they have been around a while, they are only becoming more common in the past several years. I've been using them for the past 7-8 years on several decks I've built due to their easy installation and holding strength.
While they are more expensive than regular screws, they are worth every penny for the amount of comfort you will feel when the next big storm comes around with heavy winds, which is frequent in Florida. Structural screws can hold between 250-400 lbs. while regular screws are rated far below between 80-100 lbs.
I'll be using GRKs R4 structural screws to attach my fence rails to my fence posts. I like to install my rails in the middle of the posts and not on the outside of the posts. In my opinion the fence looks more balanced rather than everything installed on the outside of the fence post.
When you attach rails to the inside of the fence post, they will either be installed with brackets or by diagonally screwing through rails to the posts. If you're not used to driving screws at an angle, using a kreg pocket hole jig makes is easier. You can use a 2.5 – 3 inch length screw for the proper holding strength for the rail to the post.
Kreg even has a new XL jig along with larger exterior rated screws for greater holding strength. I may test these out on my own fence to see how well they work.
Screws Not to Use
People tend to go to the store and pick up the cheapest screws they can find to build everything. Many times this will be screws only meant to be used indoors where they will never become wet. Drywall and Zinc coated screws are not meant to be used outdoors. They will rust quickly and disintegrate till they can't hold your fence board or fence rail any longer.
Conclusion
In the end, you will pay more by having to repair and replace fencing that was installed with cheap interior screws and the time that it takes to replace every single screw. Use the proper screws for your new fence and you'll be very happy with your good looking long lasting DIY project.