A deck makes a backyard more enjoyable. A deck allows you to enjoy outdoor grilling and dining or simply hanging out with friends. Unfortunately, upkeep for a deck is a nuisance and one that homeowners fail to do on a regular basis.
With the cost to build a deck being very expensive, you should maximize the life of your deck in order to save money. We'll show you several tips to help extend the life of your deck, no matter if it's brand new or many years old.
Sweeping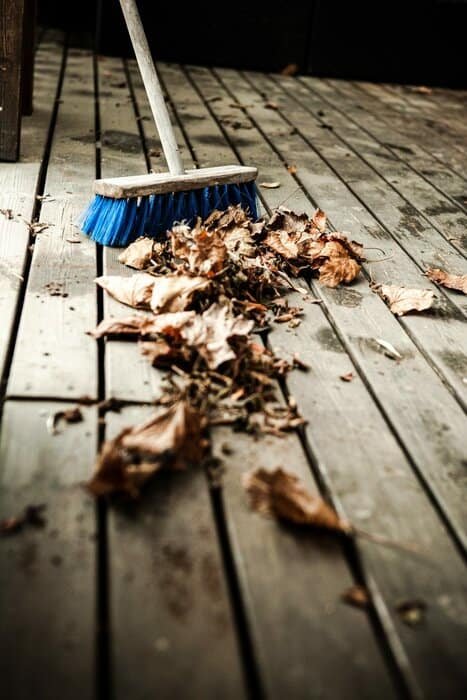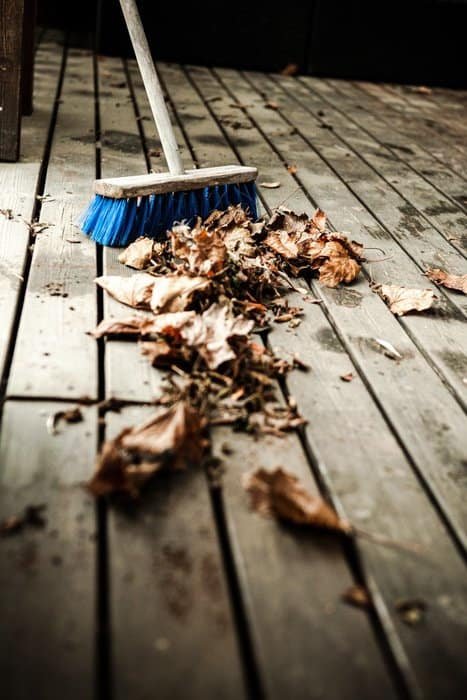 The best way to keep your deck looking new is to sweep your deck weekly. How often will depend on how much debris falls on your deck. This will keep dirt, leaves, acorns etc. from accumulating and potentially causing the wood to rot.
Pressure Washing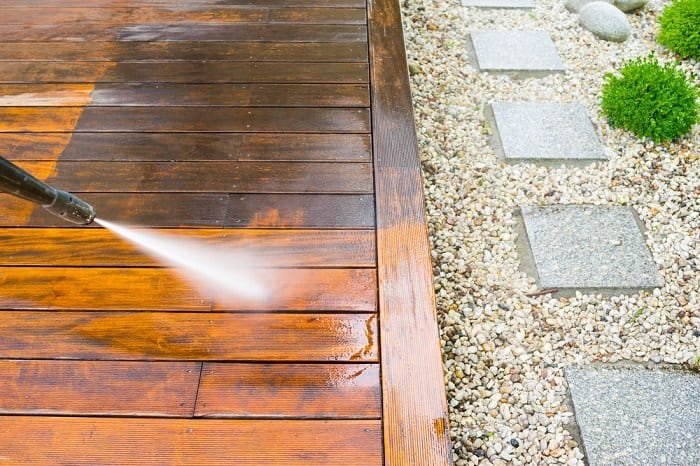 Pressure washing gives your deck a deep clean to remove mold and mildew as well as residual dirt that can't be swept off. Here in Florida we have to pressure wash at least a couple of times a year due to our humid climate and mildew growth.
Depending on your climate, you may only need to pressure wash your deck once a year. Be careful that you don't damage your decking boards with too much pressure. We detail how to pressure wash your deck in a separate article.
If you don't have a pressure washer, you can also use a bleach cleaner to remove mold and mildew that can be scrubbed and hosed off. We've used Mold Armor with great success on our deck and fences. They even have a version for pressure washers for really stubborn mold and mildew, which we use all the time.
Cleaning Between Deck Boards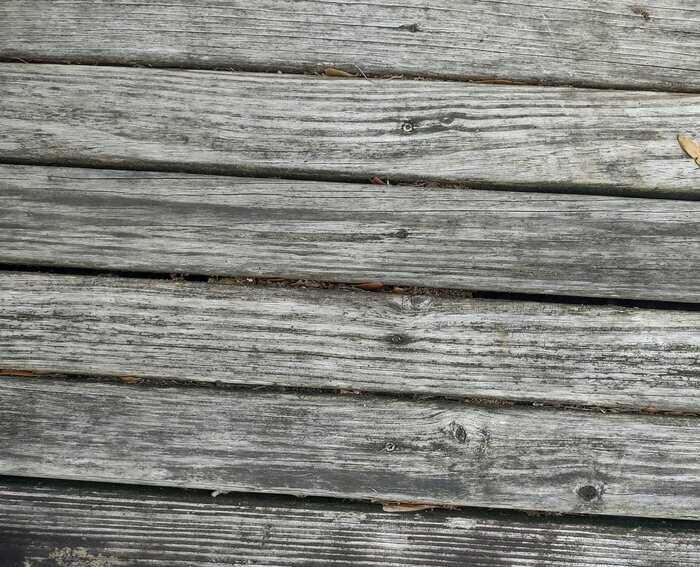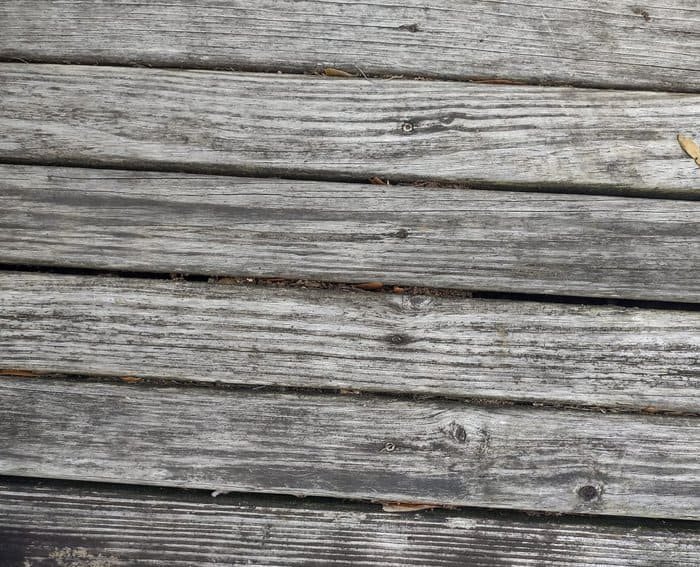 No matter if you have small gaps or large gaps between your deck boards, things will accumulate in those gaps. Our neighbor has a large oak tree that rains down acorns all over our deck, getting wedged tightly between the deck boards. Squirrels love to eat acorns on the deck leaving pieces that get stuck.
Between the leaves and the acorns, we have quite a few items that get lodged between boards and sitting on top of the joists. The best tool to remove all those items is a 5 in 1 paint tool. It's thin enough to get between the boards but also has a curve to get underneath and push upward to remove items such as acorns.
If you have a lots of trees around your deck, you should clean between your deck boards monthly. All that debris will hold moisture on the boards and top of your joists, which will cause rotting if left unchecked. You should always clean between your deck boards before pressure washing.
Plants on Decks
Having potted plants on a deck brings nature closer to you. Anything that blooms or smells good we love having on the deck to enjoy close up. The unfortunate part of that is pots leave stains on the deck. After watering, the pots can retain moisture on the deck boards, causing them to rot faster.
If you plan on having potted plants on your deck, always use a plant caddy or some type of stand that has a smaller footprint than the entire pot. The caddy or stand will allow airflow underneath and help drain water away from the deck boards.
I actually am in the process of helping a friend whose deck has rotted where she had many pots sitting on her deck shown below.
Replacing Deck Boards
If your deck is older but mostly still in good shape, you may only need to replace a few boards hear and there. Sometimes certain deck boards may age differently on a deck by cupping, warping or splitting. If you have any of those situations then replacing a deck board will help extend the life of your deck.
Maybe you just need to replace deck nails with screws in areas that the deck board is popping up.
If the board has started to rot, its imperative that you replace it immediately as the rot can start to spread to the joists underneath. Knowing when to replace your deck boards is as important as knowing how to replace your deck boards.
Treating Your Deck
Treating your deck by staining or sealing is essential at extending the life of your deck, specifically your wood deck boards. No matter if you have pressure treated, cedar, redwood or even ipe, regular sealing is required to help with UV degradation and moisture.
You may be asking what's the difference between staining a deck and sealing a deck. Deck sealer is a clear or transparent finish that provides deck boards water protection but no sun UV protection. Deck stain is a colored finish that provides UV and water protection.
You want to treat your deck with both. UV degradation starts to compromise the wood fibers in deck boards causing cracking and splitting. You add water intrusion inside those cracks and splits and in no time your decking boards will become compromised. This is why we recommend staining rather than just sealing your deck.
Staining Your Deck
Stain not only protects your deck from harmful UV rays and water intrusion, but it also gives your deck boards a more uniform appearance. You can choose a vast array of colors to stain your deck boards or even just a shade of brown to match your current boards.
The more solid the stain color, the more UV protection it provides. As you can tell from the pics above, the deck is very gray from the UV in sunrays. This deck needs to be pressure washed and then use a deck cleaner and brightener to bring the original wood color back.
Once the deck is clean and brightened and completely dry, you can now apply your stain. We used a roller to apply our stain, but you can also use a deck stain pad as well.
This process will need to repeated every few years, depending on your location. Here in Florida, 3 years is our max before our deck starts to look weathered with the heat and moisture.
Conclusion
The more you take care of your deck on a regular schedule, the longer your deck will last. The biggest caveat is that your deck frame is built correctly. No amount of deck maintenance will help a deck that was framed and built improperly.