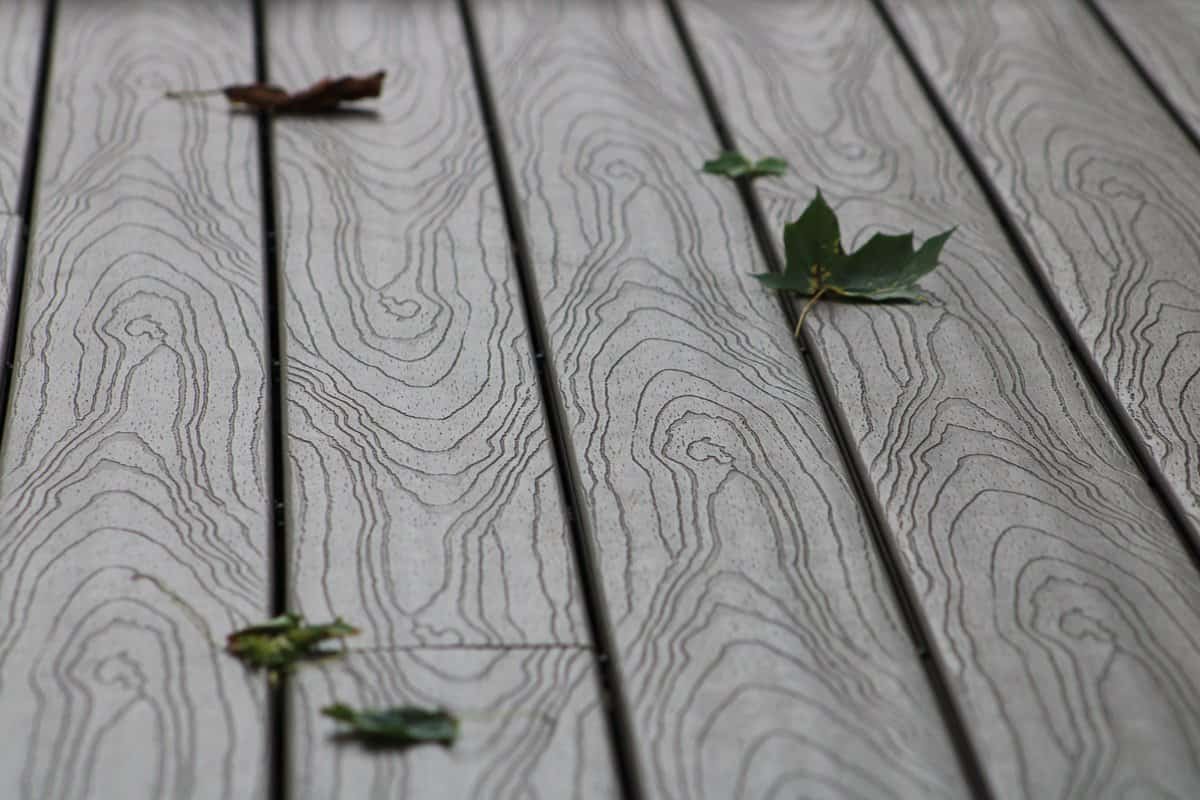 Trying to decide between wooden decking and Trex composite decking? If so, I'm sure you're wondering how long a Trex composite deck will last?
A Trex composite deck comes with a 25 year warranty. with far less maintenance requirements than a wooden deck.
Trex is one of the oldest composite decking companies in business and continuously updates their products to make them better with new technology. Newer Trek decks last longer and better looking with many different colors and realistic wood grain.
Trex is a great product for your new deck if you want low maintenance. Pricing will be 3×4 times higher than most woods, such as pressure treated pine, cedar and redwood. A tropical hardwood, such as Ipe, will be similar in price or more than the upper end Trex decking.
Does Trex Decking Last Longer Than Wood Decking?
Yes and no, depending on the type of wood decking you're comparing it to. Trex will outlast pressure treated pine decking easily.
Cedar, Cypress and Redwood decking can last as long as Trex composite decking but will require a lot more maintenance. For each of those woods to last as long as composite, they will need to be stained/sealed every few years.
Will Trex decking last as long as Ipe or any other tropical hardwood? No, it will not. Ipe can last as long as 75 years. Ipe is also a low maintenance decking just like Trex.
How Long Does Composite Decking Last?
Trex and most other composite decking manufacturers have a minimum 25 year warranty on their decking products.
Many of the companies have different levels of products, ranging from entry level to high end decking. Each product has different warranties and scratch resistant capabilities. We list details of the three best composite decking manufacturers in a separate article.
Trek has 3 levels of decking to give you more options when choosing which decking is right for you. The higher end model Trek Transcend is the most realistic looking and comes with a 50 year warranty from fading and staining and any structural issues.
Maintenance & Durability
The great appeal of composite decking is it's low maintenance claims. It certainly is lower maintenance than most other wood decking options. But, it does still have maintenance involved to keep it looking good.
A twice a year composite deck cleaning will go a long ways to keep your Trex composite deck looking its best. Be careful though with how you clean your Trex deck. Using the wrong cleaners and methods can actually damage your deck.
Be careful pressure washing your Trex composite deck and using bleach or harsh chemicals that can damage the top layer. Harsh chemical cleaners, wire brushes and too much pressure can cause your Trex deck color to fade prematurely.
As far as durability, this changes depending on which Trex product you choose. The lower end Trex Enhance and Select are not as scratch resistant as the Trex Transcend. All three though have the same fade and stain resistance 25 year warranty.
Most people don't realize that composite decking materials are not very strong. As such, you have to use more deck joists closer together to compensate.
FAQs
Do Trex decks scratch easily?
Older Trex decks are easier to scratch than the newer ones with better scratch resistance materials. Trex Transcend has the best scratch resistance of all other Trex materials.
When should I replace my Trex deck?
You should replace an older Trex deck that has faded, is unstable or is 20+ years old. The newer Trek decking is much more durable.
What is the downside of composite decking?
While composite has many upsides, it has a few issues with fading, scratching and mold and mildew. While the newer composite decks are better at protecting against all three, the older versions are highly susceptible.
What are the problems with Trex decking?
Older Trex decking had quite a few problems. They could get moldy, fade quickly and rot from within due to trapped moisture. All newer Trex decking do not have the same issues due to a better manufacturing process.
Is it OK to power wash Trex decking?
You should be very careful power washing your Trex composite decking. Using too much pressure will damage the boards beyond repair or cause premature fading.
Is there anything better than Trex?
While Trex is a pioneer in composite decking, several companies such as Fiberon, Dura-Life and TimberTech also make great composite decking.
Does Trex get slippery when wet?
An older Trex decking material may be more slippery than wood. Newer Trex and other composites have more gripping ability and is not slippery.
Does Trex warp in sun?
Most composites warp when they don't have enough room to contract and expand.
Trek just like regular wood decking needs room to expand from moisture and change of temperature. Improper installation gaps are the main cause of composite warping.
Does Trex decking have a lifetime warranty?
No, while it has a long warranty at 25 years, it is not a lifetime warranty.