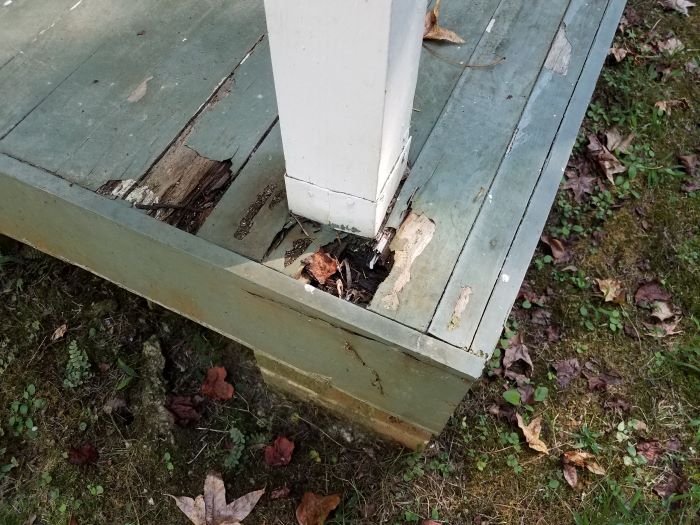 For most homeowners, their deck space will be the centerpiece of their backyard. It's a place for celebrations, relaxation, and enjoyment, but over time, it's going to need some type of maintenance or replacement.
If you notice erosion, surface damage, rotten posts, or gaps between the deck and the house, then it's time to replace your deck boards.
A deck, along with its boards, is an extension of your home. Over time deck boards are damaged from outside conditions or just natural occurrences. It is very important to notice these signs and take care of your deck boards in a timely manner for safety reasons.
Signs It Is Time to Replace Your Deck Boards
You should annually inspect your deck at the start of spring and assess any major damages. Finding problems with your deck boards could save you a lot of money in the future and prevent any major issues or accidents.
Issues your deck boards could have:
Erosion
Loose railings
Rooting wood
Age
Widespread discoloration
When you do the annual inspection of your deck boards, you want to look for any signs of wear and tear. Try to spot any cracks or missing screws on your deck boards, as these can signal a simple fix, which will prevent anything major from popping up in the future. Something significant such as large holes, split boards, or termites could possibly mean you need to replace the deck completely.
Also, look out for unsecured boards. Not only is this a safety hazard, but wobbly boards definitely mean it's time for a replacement. And with loose boards, the decking can weaken from rain, water, or pest damage.
Wood rot is something else serious to be on the lookout for. This could become a serious issue because wood rot can spread from decking to the joists. This can weaken the structure of your deck boards and require you to build a brand new deck.
But if you notice some wood rot, take care of it quickly and see how far the rot has spread. If possible look underneath the decking to see if there's any rotting in the joists and beams. If it's in one location, that's good. Just remove the affected wood, replace it and clean the deck area.
Consider the Age of Your Deck Boards
Nothing is built to last forever and your deck boards unfortunately won't last forever. Over time normal wear and tear such as rain and debris will degrade the wood of your deck boards.
Most wood deck boards can last anywhere from 15 to 40 years, but it ultimately depends on the material, how well the deck was built and how well the deck was maintained. Listed below are average lifespans of different decking materials.
Pressure Treated Pine Decking – 10-15 years
Cedar/Cypress Decking – 15-20 years
Redwood Decking – 20-30 years
Composite Decking – 25-30 years
Brazilian Hardwood IPE decking – 40-50 years
How to Check for Damages
When you give your deck a yearly inspection, it's crucial to do your inspection the right and correct way. Checking for damages on your deck can also prevent a future accident from happening to you or your friends. So when the weather turns from winter to spring and it's warmer outside, go out and take a look at your deck boards.
Make sure to look for rot with an awl or a screwdriver. Inspect around the posts where they connect to the ground or sit on concrete blocks. If you notice any wood that's soft, that's a cause for concern. Also, be sure to check around the railing posts and the decking surface.
A Thumb-sized area of rot can be removed with a chisel, be sure to treat the hole with a wood preservative to stop it from rotting or spreading, but bigger areas of rot might require the whole wood area to be replaced. Look over your joists and beams for rot.
Check for any cracks in your decking boards, small or large. Usually, a crack means a deck board needs to be replaced, which is a simple fix, just make sure to stain the new board so it won't stick out or look different from your other deck boards.
What to Consider for Your New Deck
Instead of fixing your deck boards, it might be easier to just replace all of your decking. If you believe your deck boards are done and it's time for a replacement, take these things into consideration.
Materials
Contractor
Budget
Maintenace
The material you pick for your next deck is obviously the first thing to consider. If your last deck boards deteriorated quickly, then you should buy something with tougher and stronger material. Listed below is the popular options for decking materials.
Cedar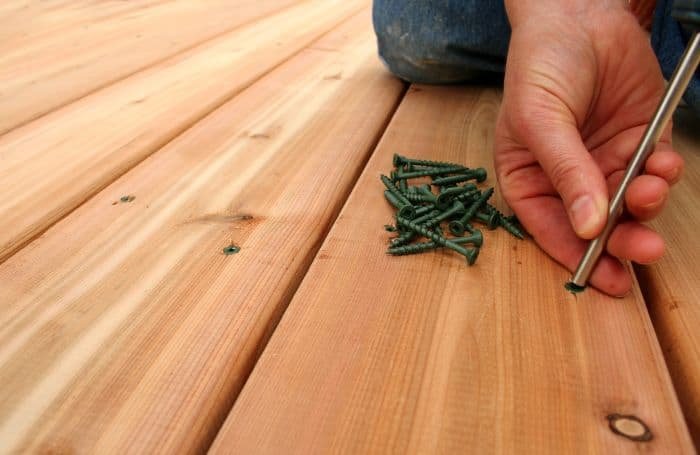 Cedar is a great choice for aesthetic reasons, the only drawback of cedar is its lifespan, on average cedar can last 15-20 years if taken care of correctly. Similar to cedar, redwood is another softwood that is often used for deck builds because of its durability. It's also resistant to moisture, rot, and insects.
Pressure-Treated Wood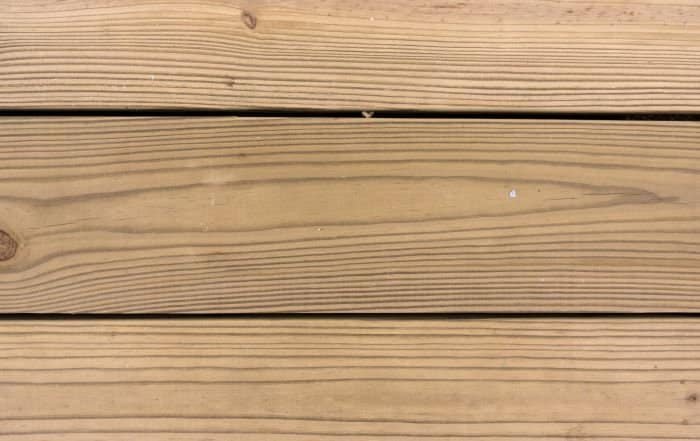 If you're looking for an economical option for wood, then pressure-treated wood is a great option. Pressure-treated wood is popular because of its price and accessibility and will last for decades. Yearly pressure washing and staining every couple of years is necessary to keep it in great shape.
Composite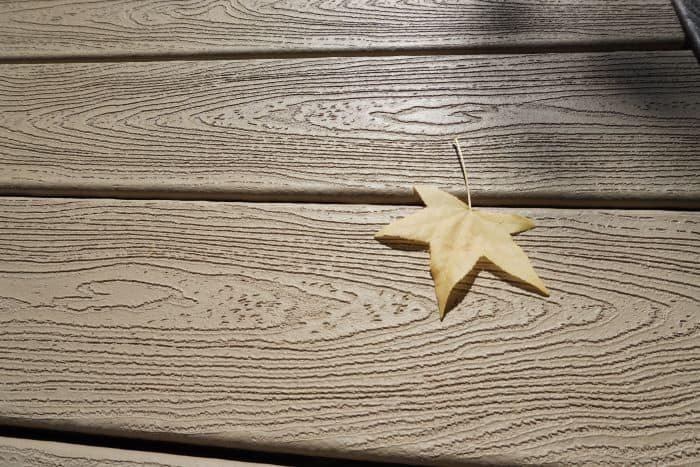 Composite wood is starting to become a popular option for outdoor decks. It's usually made from polyethylene or polyvinyl chloride. This is essentially recycled plastic mixed in with wood fibers and there's a wide range of colors and options. Here are your best composite decking choices.
Composite wood also requires very little maintenance, so that means no staining or cleaning that's needed. Newer composites are better at not getting as hot in full sun, which makes them a good choice for decking for full sun.
Ipe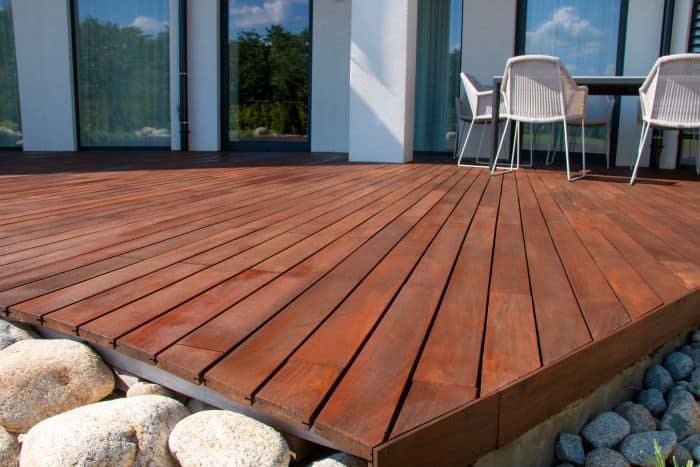 If you want something that lasts a long time and don't spend extra money, Ipe decking will last longer than any of the other types listed. It's a hardwood from South America that is very dense and insect repellant. Its nickname is ironwood since it's almost as hard as iron. It will not break down like the other wood decks and like composite, needs minimum maintenance.
Take Good Care of Your Deck Boards
Regardless of the wood material you buy for your deck boards, as long as you keep good maintenance schedule, they'll last for a few decades. Make sure to do regular inspections, don't overlook any small or large damages and your deck will stay in top shape.
Keep them clean by pressure washing your deck to reduce debris building up in the joints. Here's how to stain your deck regularly to reduce the UV exposure that breaks down the wood. Doing these two simple things will make your deck last longer!