Looking for flagstone patio ideas for your backyard. Ready to turn your backyard into an awesome gathering place? An excellent suggestion is to use flagstone to create a magical place for family time as well as the perfect stage for parties and events.
Not only is flagstone beautiful, but the stone patio also adds value to your home. Here are some ideas that will inspire you to add a flagstone patio to your landscape.
Flagstone Patio Idea with grass in between the stones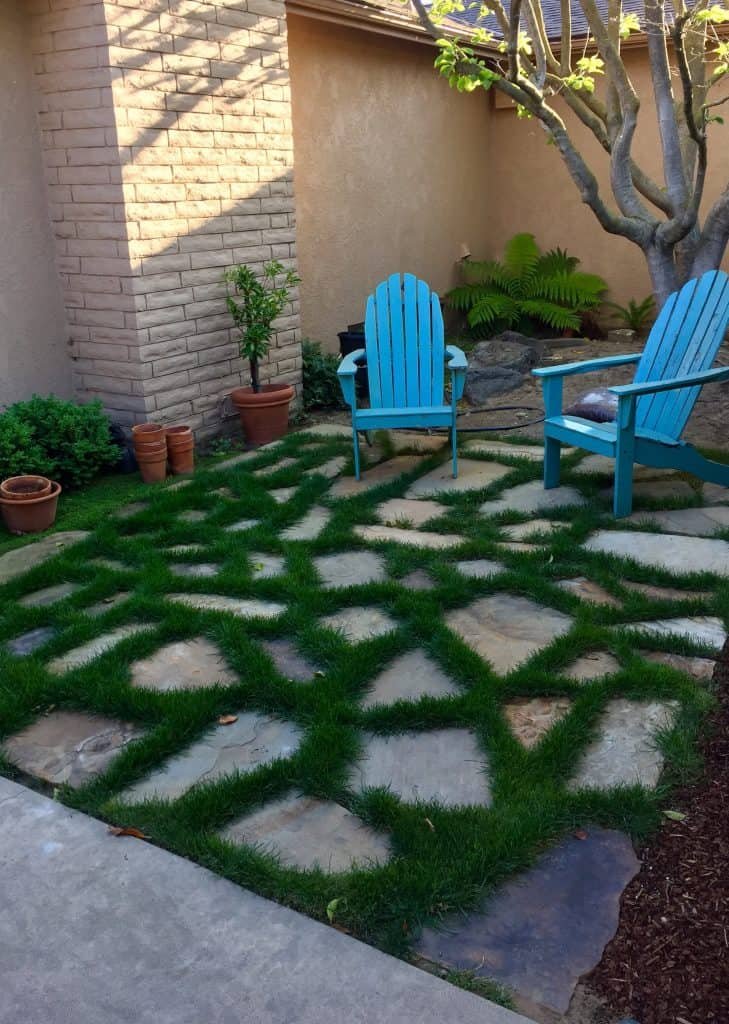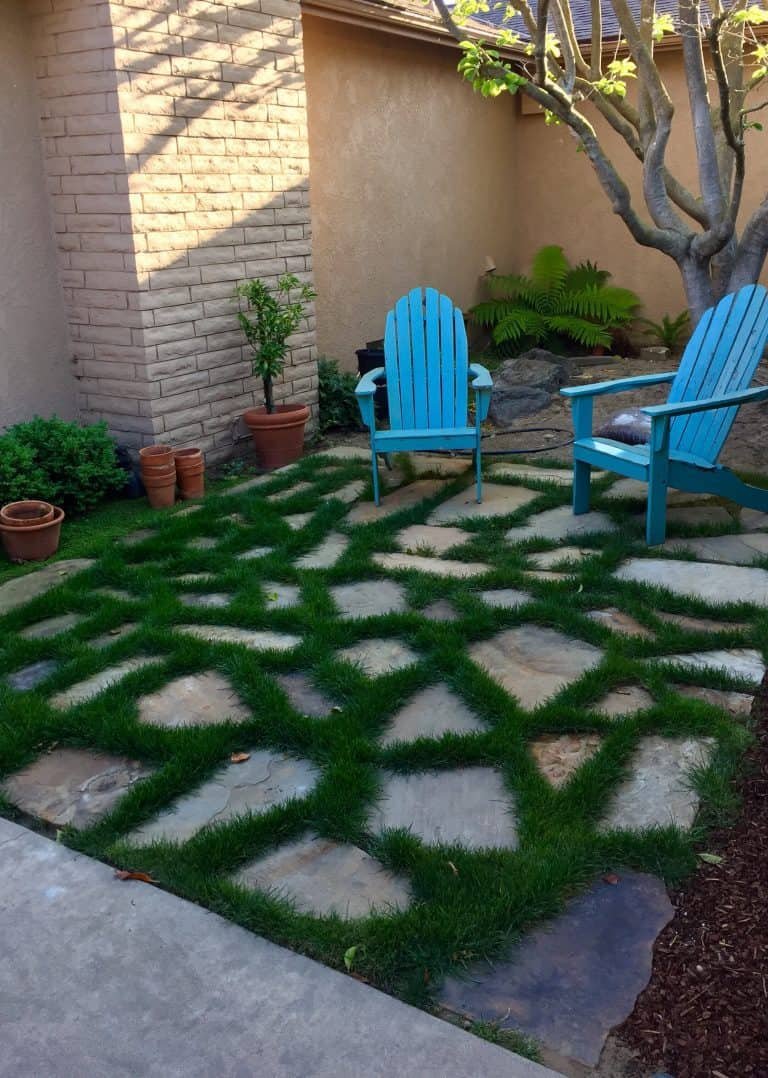 Using flagstone as pavers (which can also be used to build a fire pit) while adding low growing grass or ground cover that frame each of the stones, gives a more natural feel than just a solid stone patio.
Firepit Patio
Flagstone can give your patio a great mosaic look coupled with the fact you can have your firepit made with it too. This feature makes the patio a year-round gathering center.
Can't you taste the s'mores on a fall night while sipping hot chocolate? How about a wiener roast on the 4th of July followed by chilled watermelon. You can make this patio the centerpiece of the back yard.
And if it's mosquito season, you can add these plants that repel mosquitoes the most.
Down The Flagstone Patio Path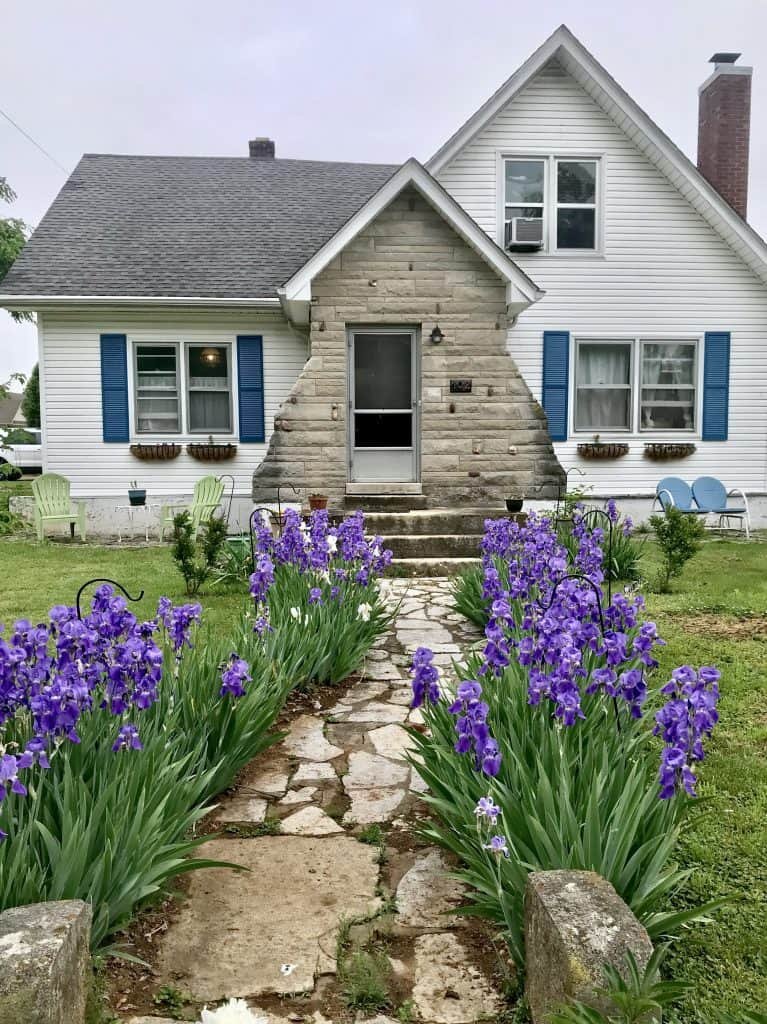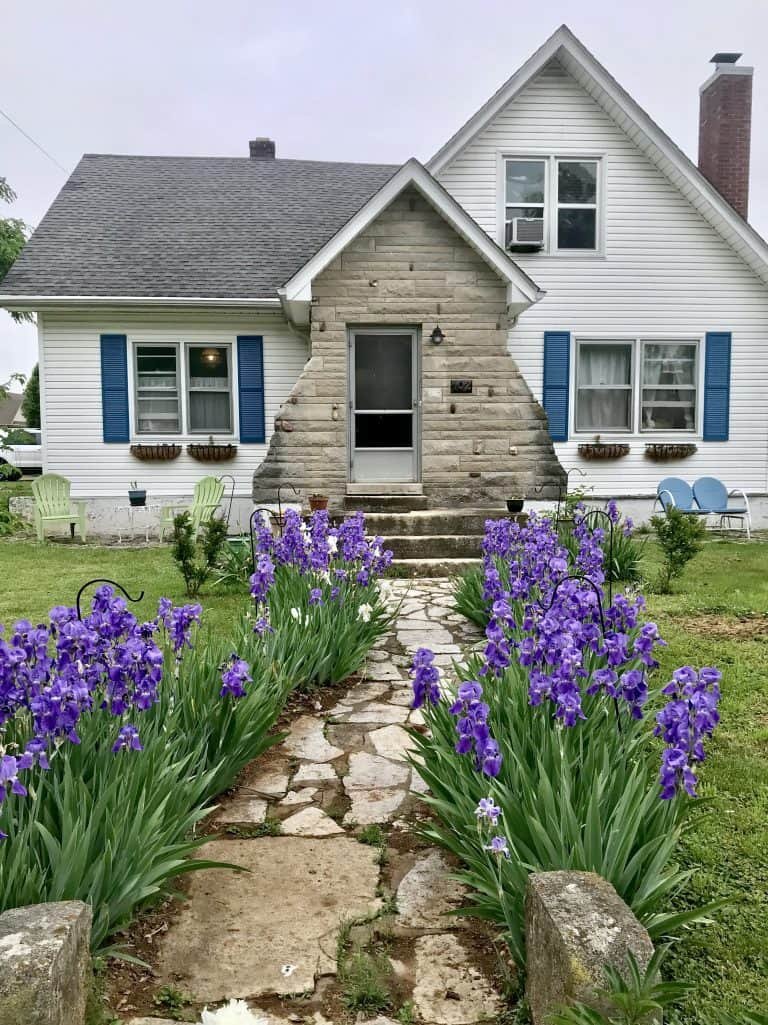 Flagstone paths make a big statement for the front of your house. Pair it with lovely colorful blooming plants, and it really makes a statement.
It's A Conversation Area Patio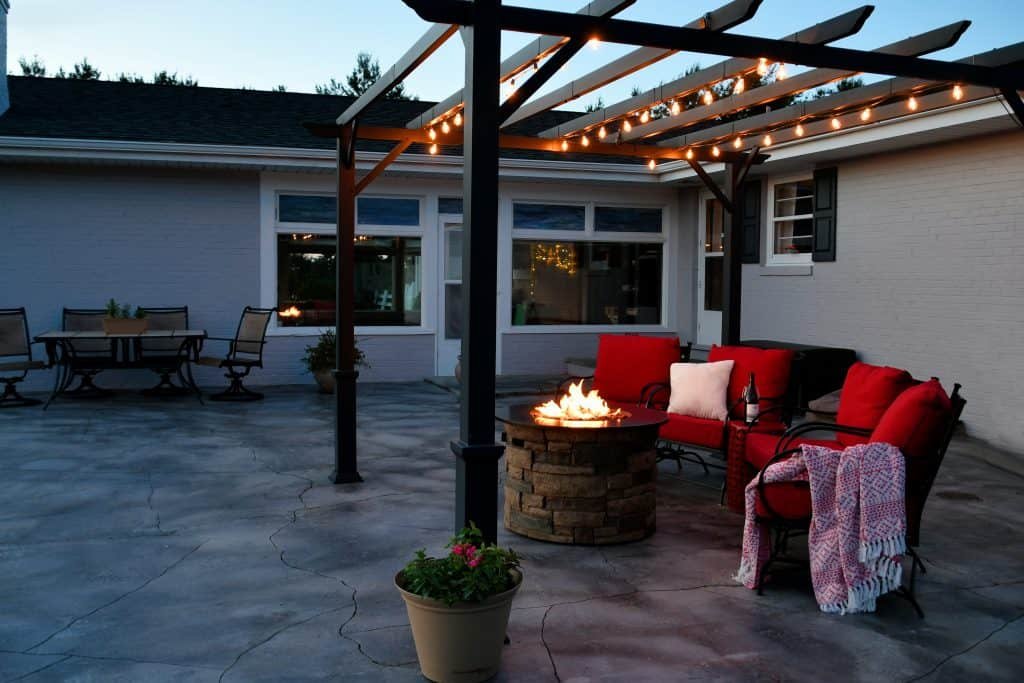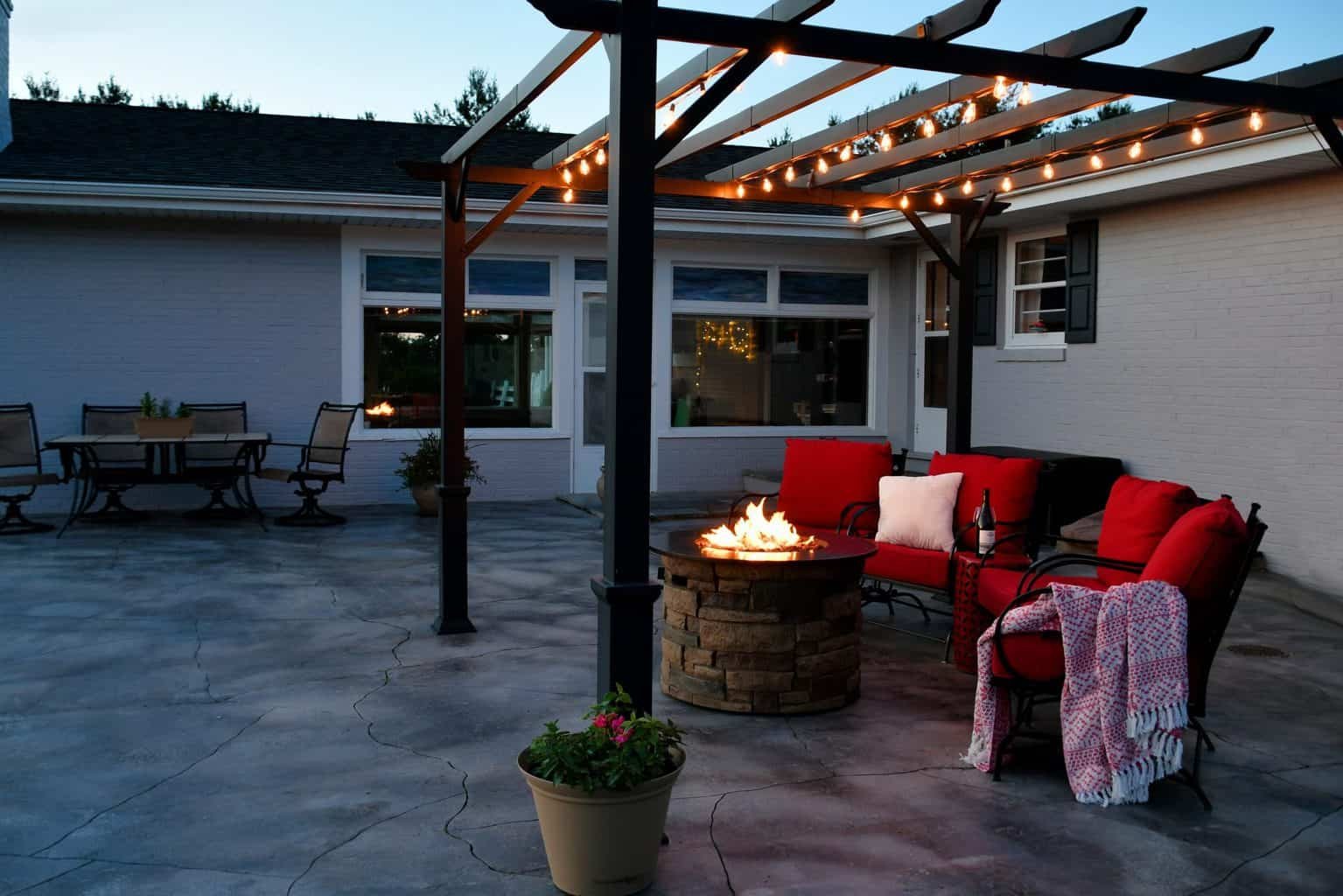 Creating a conversation area in the backyard with a flagstone patio is an idea that will be enjoyed for years to come. Grab a few friends and enjoy the fire and catch up with a few drinks to keep you warm.
Flagstone Patio with Raised Beds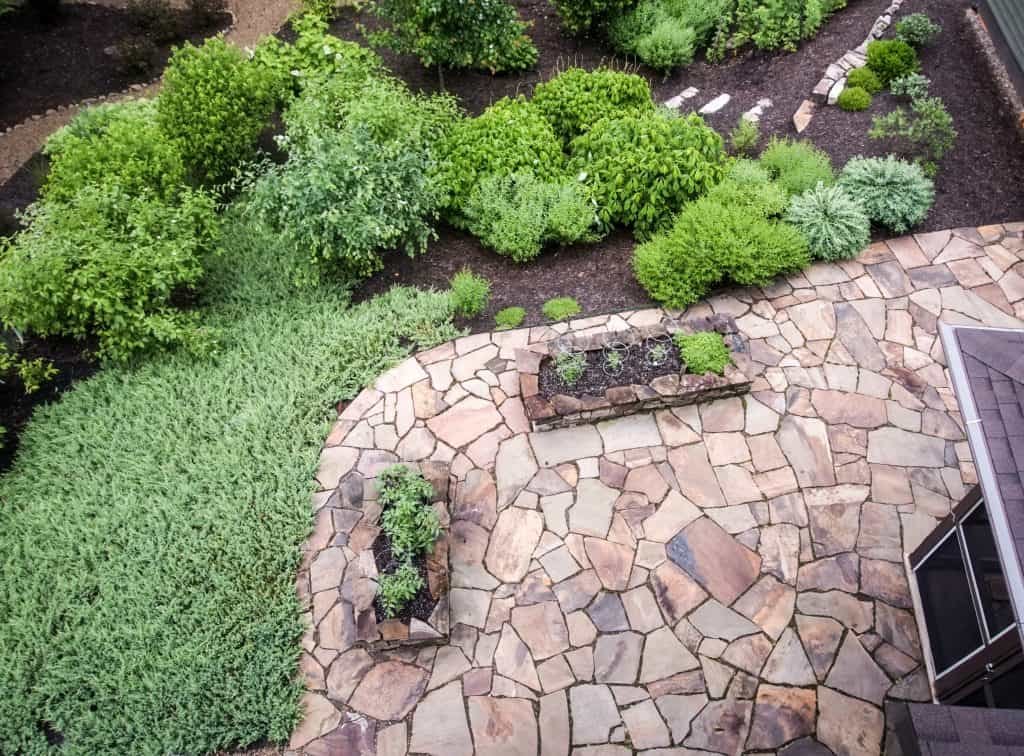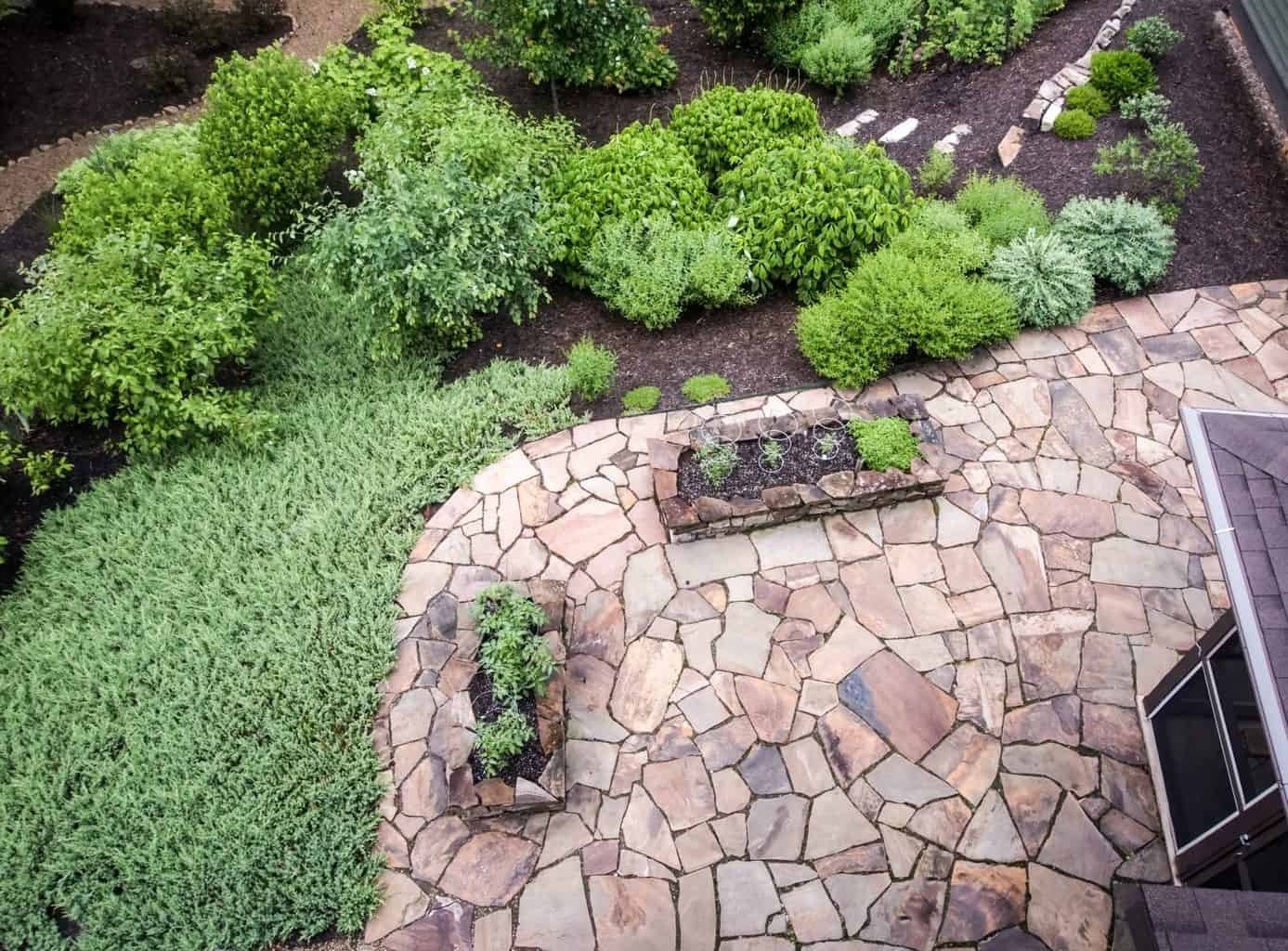 This patio in a backyard showcases two raised beds where you can plant ornamental plants, herbs or a few garden vegetables. The flagstone patio set next to the lush green ground cover and green shrubbery looks great. If flagstone is more expensive than you'd like, you can find other cheap landscaping ideas that might be more budget friendly.
Poolside Pleasure Patio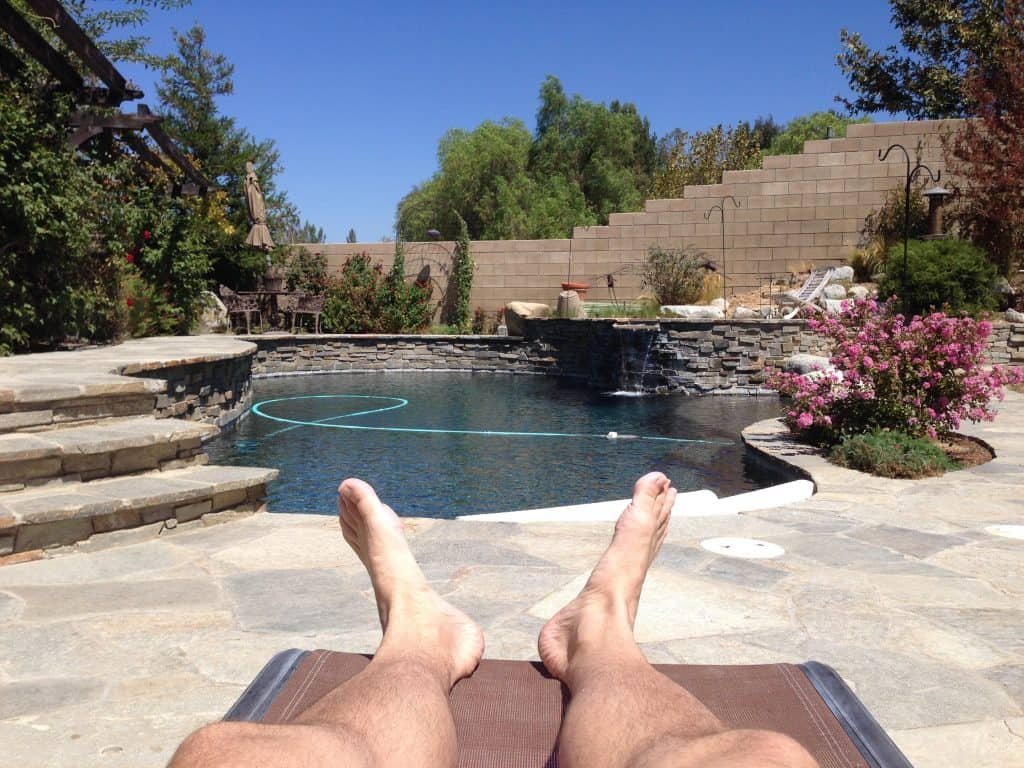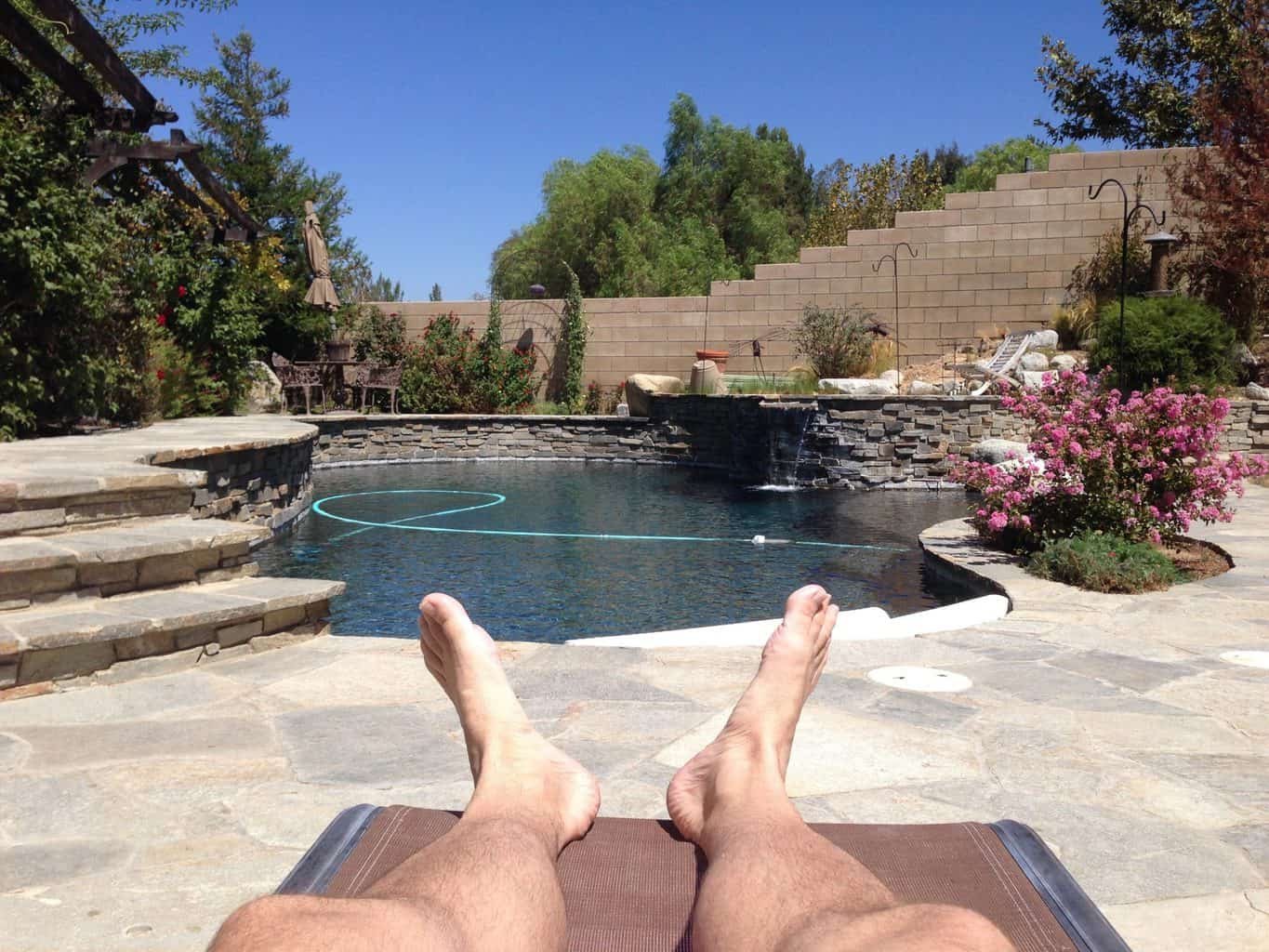 What could be a more natural surrounding for your backyard pool? Flagstone has a natural beauty that fits well around an in-ground swimming area that also provides a function.
The irregular surface of the stones is naturally slip-resistant to help prevent falls. Water will not damage the stones, even in freezing temperatures. This is one addition to your backyard that you will be glad you made.
Sunken Fire Pit Flagstone sitting area
Sunken fire pit seating area made with flagstone becomes a place of intimacy with a snuggled-in feel. Built in seating creates a great place to have lots of friends over to enjoy some smores from the fire pit.
Fire It Up Patio
Nothing like a warm fire to take off the chill. This outdoor fireplace is made of flagstone that is a beauty to behold. Can you see yourself sipping on your beverage of choice starring into the mesmerizing fire after a busy day?
There is nothing more relaxing. The natural stone tends to allow the fireplace to fit in anywhere, whether in the city or a rural setting.
Rock Border Patio Wall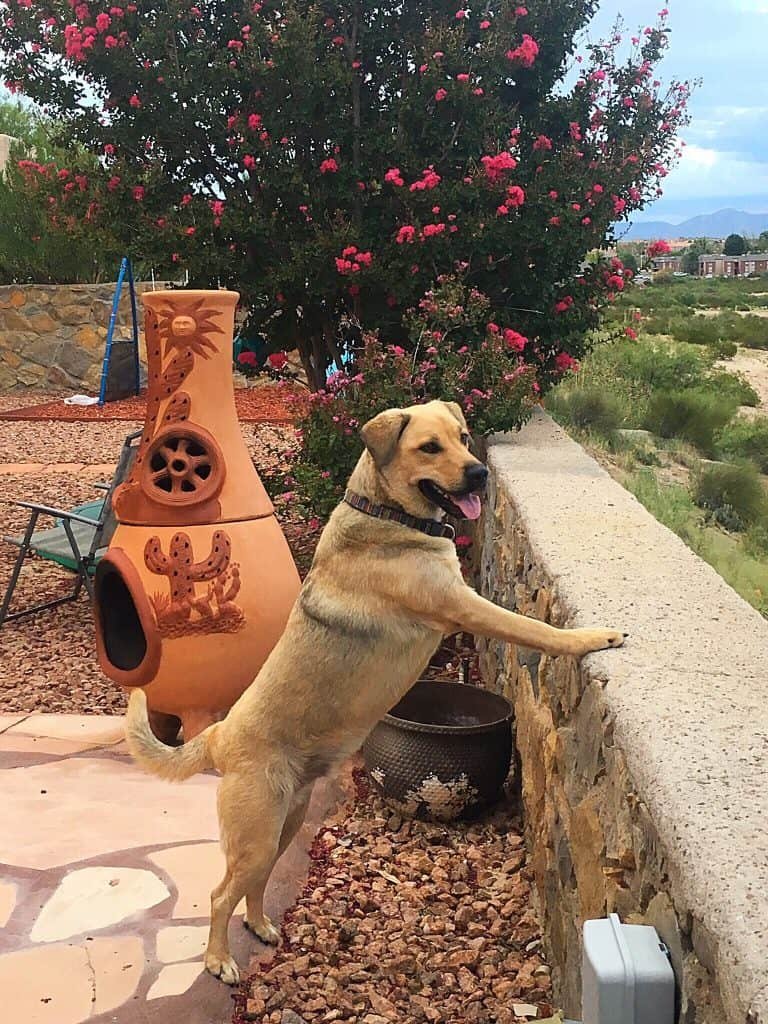 Sometimes you need a border for your patio, so why not choose flagstone. Built correctly, it will last as long as the house and look perfect with your flagstone patio. Stepping outside your back door onto a small but efficient flagstone patio is all you need to grill a steak or get a tan. Adding local gravel as a border can give it a rustic look.
Chef's Stone Patio Kitchen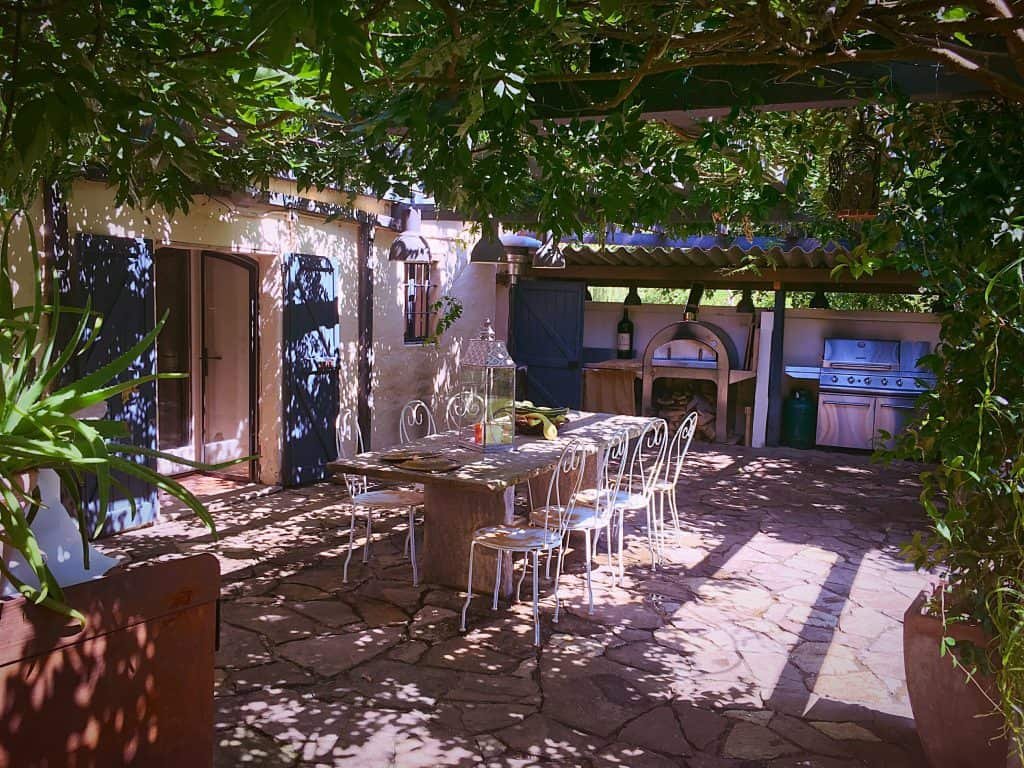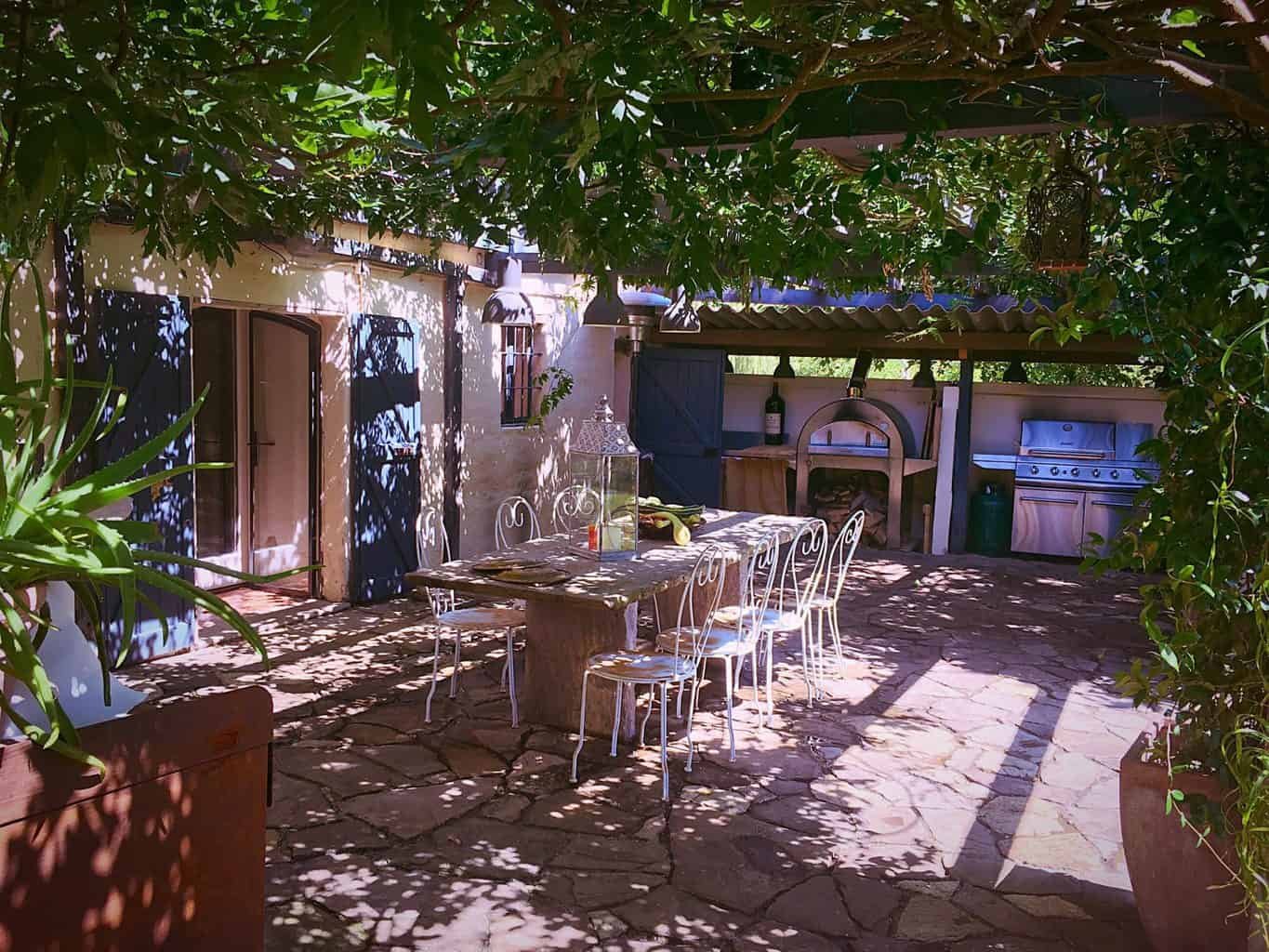 For those who are known for their culinary and grillmaster skills, nothing can be more satisfying than having a kitchen patio outside your home. The stone used in designing the area speaks of rustic and function. Your family and guests will delight in spending time here watching the master chef at work.
The versatility of flagstone is endless as shown with these examples of it in different backyards. The beauty and function of the stones is timeless and versatile. Can you envision this setting for your next evening meal with your friends and family? The stones provide such a wonderful natural ambiance that you will forget you are in the backyard.