We've been working on our backyard this winter to have a great area to hang out in the warm months.
The only problem?
Mosquitoes.
And this year seems to be worse than usual. If you're home is having the same issue, try planting these plants around your home to kick the mosquitoes to the curb. If you're like us and you don't want to pollute your outdoor living area with lots of chemicals, then take a look at this list of plants that will work.
Perennial Plants that Repel Mosquitoes
Perennial plants are ones that grow year round and make it easy to keep your outdoor living space free from pests, including mosquitoes. Although I added one annual, here are the best perennials plants that repel mosquitoes
1. Basil
Basil is great for cooking, but also an awesome mosquito repellent. Mosquitoes don't like the pungent smell, so it should help to keep them away. We recently planted basil in our 2X4′ planter and it's thriving.
Basil like full sun and we got lucky by planting it in full sun. It's great for keeping mosquitoes and flies away.
2. Mint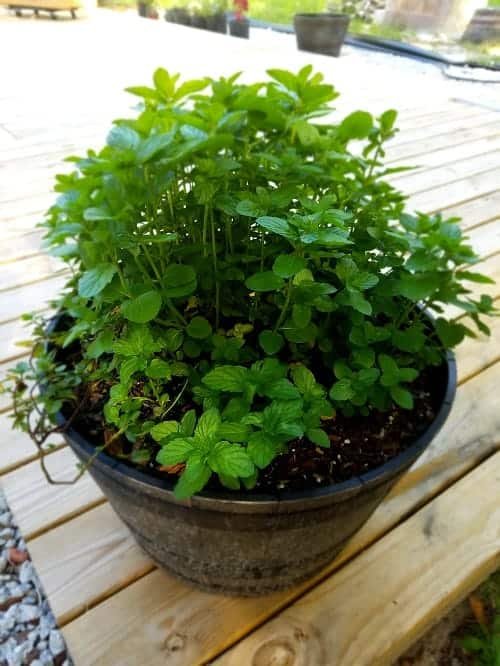 We talked about having mint in your garden for making great cocktails. Luckily, growing mint also keep mosquitoes away and has been show to kill their larvae. Honestly, we didn't know it was a great deterrent when we got it, but we'll like add more plants around because we love the smell and because you can also make great cocktails and simple syrups with it.
Just keep them in their own planters because they are very hardy and can take over any area. It will make you feel like you have a green thumb to have mint on hand.
3. Marigolds

By No machine-readable author provided. Goku122 assumed (based on copyright claims). – No machine-readable source provided. Own work assumed (based on copyright claims)., CC BY-SA 3.0, Link
We're not big on annuals, because if I'm going to fret about a plant, I want it to grow year 'round. But these guys should be added to your area to keep insects at bay. They contain Pyrethrum, which is in most repellent sprays. You can also use them as companion plants to tomatoes since they repel a lot of the insects that attack the tomato plant.
4. Scented Geraniums
Called mosquito plant. We got one of these plants on the discount isle at Lowe's and were happy to find out that it's great at repelling mosquitoes. It has the scent of citronella and they can grow up to 2 feet.
Ours is about that high and really took off when we re-potted it from the smaller pot it was in. We have a hammock area and plan on putting more of these around the hammocks since there's nothing worse that trying to take a hammock nap and fighting with mosquitoes.
5. Citronella Grass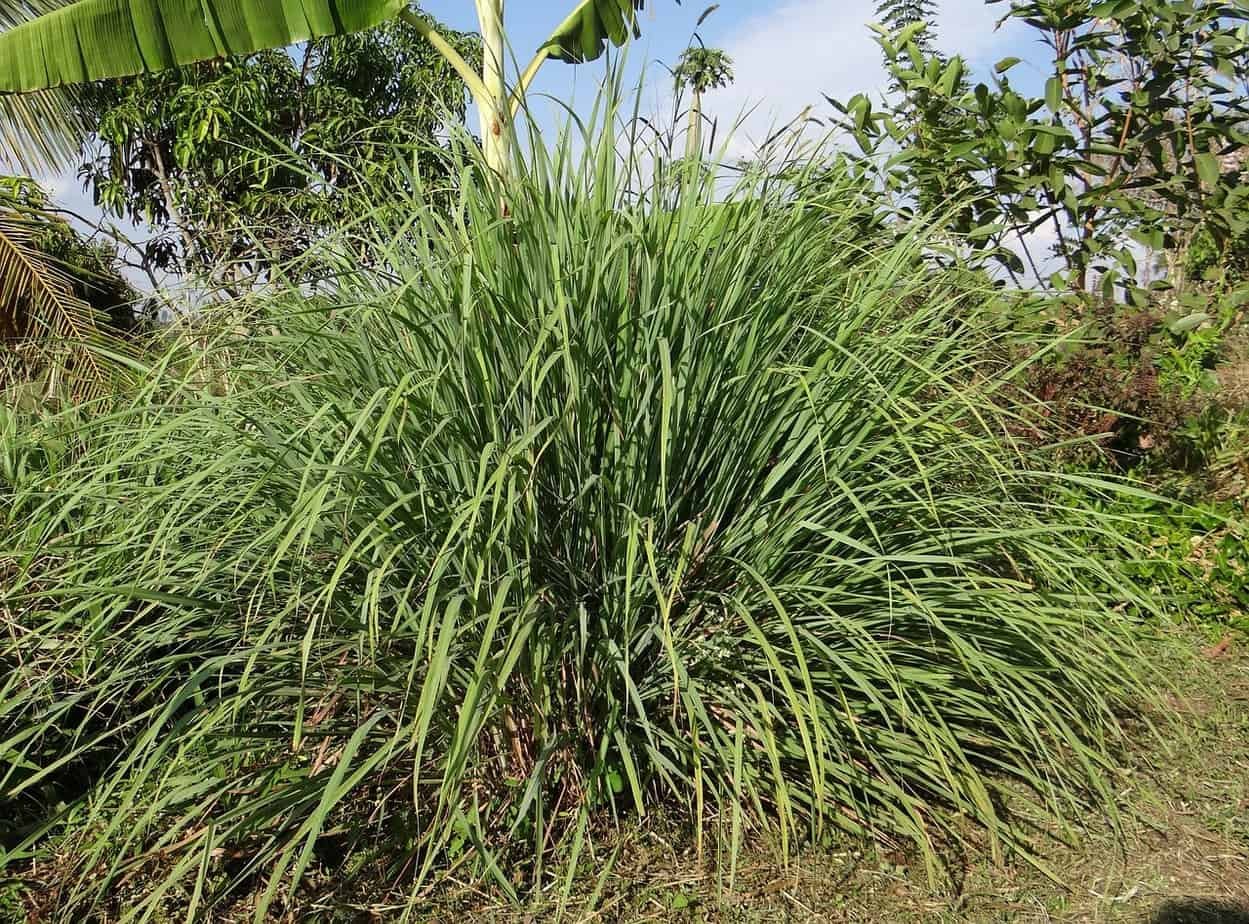 The actual citronella. You can grow these clumping grass around your outdoor living area and create like a barrier. Now that we know that the scented geraniums is NOT citronella, we'll be planting this grass along our deck.
Side note: it's also referred to as lemongrass
6. Lemon Balm

By Nabokov at the English language Wikipedia, CC BY-SA 3.0, Link
Lemon balm is also in the mint family and does a great job of being very fragrant for the yard, but in also repelling the blood sucking bugs everyone hates.
7. Lavender

By niaz0981 – Flickr: 130515041228065, CC BY 2.0, Link
Love that the lavender will repel mosquitoes because it also have calming affect on humans. So having lavender planted around areas that you lounge provides a great double dose to you.
8. Rosemary

By Petar43 – Own work, CC BY-SA 3.0, Link
Honestly, I'm not a huge rosemary fan, but it's a great fragrant plant that repels mosquitoes. Bonus is you can use the herb is several recipes. A local bakery is famous for making rosemary bread. I might have eaten too much of it, which is why I'm no longer a huge fan of it.
9. Garlic

By Kickof – Own work, CC BY 3.0, Link
Since garlic can be used for many things, I love that we can grow this for cooking and for keeping the bugs at bay. You can grow them in plant beds and raised gardens. They are great for repelling a lot of pests, not just mosquitoes.
10. Catnip

By Forest & Kim Starr, CC BY 3.0, Link
Our cat isn't too hip on catnip, but since this plant also repels mosquitoes, we'll get it for the backyard and see how she likes it. Catnip is also in the mint family so growing it should be easy. They repel all the unwanted pests in the garden so be on the lookout for placing them strategically around your outdoor living area.
Along with the citronella grass, you can use the lemongrass along the perimeter of your outdoor living area to create a barrier effect. I especially love the idea of lemongrass for it's other uses. You can use lemongrass in recipes as well as cocktails.
What about Sun? What do plants like?
Basil, mint, marigold, Lemon Balm, Lavender, Rosemary, Garlic, Catnip love full sun or at least 6-8 hours for most of these plants.
Scented Geraniums does well in full sun, but during hot afternoons, they need partial shade.
Citronella Grass does better in partial shaded areas.