Are you looking for an easy way to hide pipes on your outside walls? We recently repiped our house. Since we have a concrete house, the in order to repipe, the plumbers ran the pipes outside the walls. And it doesn't look great. Fortunately, there are clever ways to hide them.
There are many ways to hide outside pipes, with many of them being easy and inexpensive. In fact, you might be able to do some of them without even going out and getting something. Some of the methods can even add value to your home! So, if you are looking for a way to hide the pipes on the outside walls of your home, keep reading.
The Best Ways to Hide Outside Pipes
This is a great example of pipes on the wall. On the right, we have electrical pipes showing, on the far left, we have them covered by a metal chase.
In the middle, those are pipes that we created a pvc chase to cover them. The metal and the pvc chase can be painted to whatever color the house is to better camouflage the eye sore.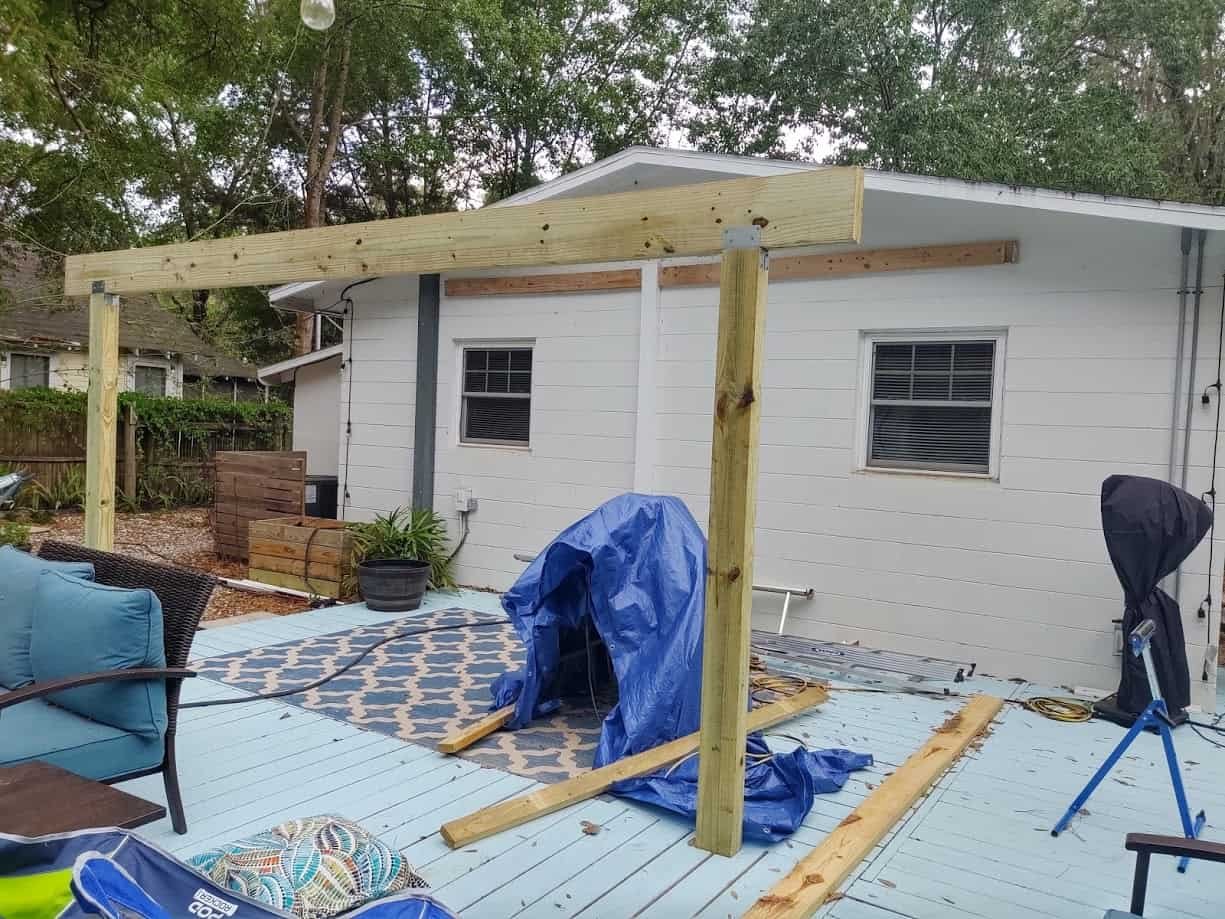 Even with the advent of indoor plumbing and modernized approaches to building that attempt to place most of the pipework under or within the interior of buildings, outside pipes are still a thing. And they are still an eyesore.
Sometimes people paint pipes in an attempt to camouflage them, but this only helps them blend into their surroundings. It does not hide them. Not to mention that you will have to repaint them periodically. The best way to cover an eyesore is to hide it, and there are several ways to hide outdoor pipes.
In this article, you will find a few tips and tricks for hiding unsightly pipes. While all of them are useful, it is all about finding which method suits your needs best. The methods include:
The use of plants and shrubs
Installing a privacy screen or a trellis
Building an attached shed
Fabricate a wooden box or cabinet
Placing a wall or fence
Within all of these recommendations are a variety of options. The right option for you will depend on your budget, skill level, and what may be permitted by your homeowner's association. Always check with the necessary authorities before you build permanent structures on your property.
Use Plants and Shrubs
Using plants and shrubs to hide unsightly pipes is the most popular and arguably the most affordable option. You might be thinking that plants and shrubs will only conceal the pipes a few feet above the ground, but you just need to get creative. After all, plants and shrubs do not necessarily need to be planted in the ground.
There are a few ways to use plants to cover pipes that reach well above the ground. You can research vertical landscaping methods, or you can simply build planter boxes. Depending on how much overhang space you have available, hanging plants are also an option. Being creative can even add an appealing look to your home.
Trees, shrubs, and hedges are also a good way to solve the height issue. After all, they grow big and look great in almost any yard. Some examples of good plants that have a high coverage are:
Italian Cypress
Arborvitae
Fountain Grass
Spartan Juniper
Boxwood Shrubs
Another great option that is both fast-growing and easy to manage is bamboo. Bamboo is growing in popularity due to its modern and calming aesthetics. Your local nursery can help you track down the best options for your climate, water availability, and sun cover needs.
Use Privacy Screens or a Trellis
Outside of plants and shrubs, installing a privacy screen or trellis is the next easiest and low-cost option for covering eyesore pipes. You can purchase these items already built, and you just have to install them, which is not difficult at all.
Privacy screens can either be mounted to the ground or hung from ceilings. They have the added benefit of increasing privacy and creating shade.
A great thing about trellises is that they are designed to hold vines and orchids. Vines often grow faster than ground plants and can not only hide pipes but add beauty, so this is a great option for several reasons.
Privacy screens and trellises can be purchased ready to install and are available in various colors and materials. You will rarely need to seek approval from your homeowner's association or apply for permits to install a privacy screen or a trellis.
The downside is it can take a while to get the vines to work and to cover the area, but it will look great once they've grown.
Hide the Pipes in a Shed
Building an attached shed for your home can solve several issues for you. It can cover unsightly pipes, and it can also provide an aesthetically pleasing place for all your yard tools and equipment.
Building a shed is probably the most expensive and involved method of hiding outdoor pipes, but the effort and expense can be worth it if you have other storage needs to solve. Always check with your homeowner's association and a local ordinance to confirm you are permitted to add a permanent structure to your home.
While building a shed is likely to be the most involved and expensive method of hiding outside pipes, a shed can add value to your home when done right. In that situation, the investment could well be worth it.
Build a Wooden Box or Cabinet
Building a simple wooden box or even a storage cabinet to cover outside pipes is another great option. This approach is less expensive and involved than building an attached shed. A wooden box or cabinet may also avoid the need to consult your HOA or get a permit.
Simple wooden boxes are often used outside to hide things such as:
Air conditioning units
Ground pipes
Hoses
By simply mounting them to a wall, you can use the same method to hide outside pipes. You can either design the box to be removed entirely or just have a panel that can be removed when you need access to the pipes.
If you have some storage needs to solve on top of hiding ugly pipes, then you may want to do one better than just building a box. A simple cabinet would require some more effort and maybe a few more dollars but would give you a great place to store yard tools or lawn chemicals, keeping them away from pets and children.
Build a Wall or Fence
The simplest option that involves building or installing a structure to hide ugly pipes is placing a wall or fence in front of the pipes. We did something similar to hide our air conditioner unit outside. Doing this could be as simple as purchasing a pre-built segment of a fence from your local hardware store by building something custom.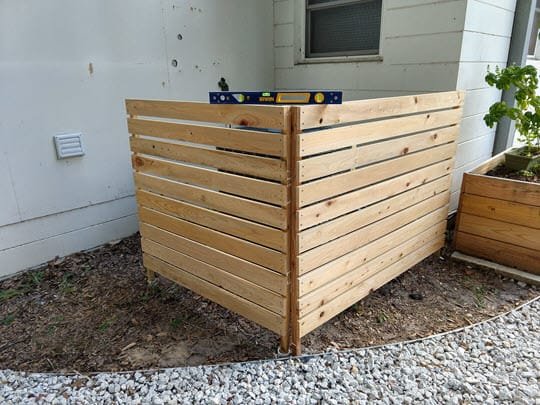 Walls and fences are often permanent fixtures but are the easiest to remove when compared to sheds and cabinets. There are a few other benefits to simply placing a wall or fence to hide unsightly outdoor pipes:
Create a space in your yard to store things like garbage cans and lawn equipment.
Unlike the shed or cabinet, a fence or wall will still allow plenty of room to work on the pipes in the event you or a repair worker needs access to them.
They can increase privacy and provide shade.
There are several options for color and material when it comes to walls and fences.
They are the easiest and cheapest approach other than using plants or privacy shades. But they are more secure and require less maintenance.
There are many different ways to use a wall or fence to hide outside wall pipes. There are also many different styles of wall or fence. You do not have to use wood. You can use stone, metal, even concrete if you want to. As always, check with your HOA and local ordinances before you invest in installing a fence or wall.
With it comes to winter, it can be great, but it can also be bad for your pipes if you don't know what you're doing. Learn how you can drain your water pipes for the winter season here!