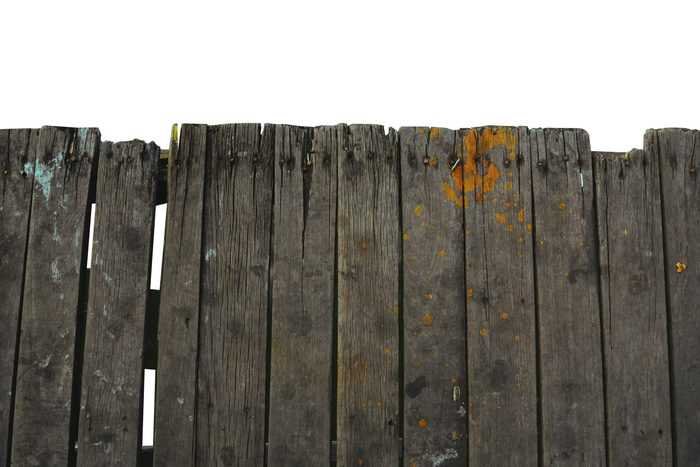 When searching for the perfect property, people tend to focus more on what is inside the house rather than surveying the outside. Now that you found the home of your dreams, you cannot wait to move in. There is just one small problem. You need to know how to hide the ugly backyard fence!
It certainly is not a deal breaker to have an ugly backyard fence, and there are plenty of ways that you can hide it so that visitors and people passing by will not even notice it. Take a look at these excellent ideas first, and you will have the solution to increasing the curb appeal and potentially even the property value!
Paint It
You want to know how to hide the ugly backyard fence without completely replacing the entire thing. It can get rather pricey, depending on the size and materials used. Even if you plan on doing the work yourself, the supplies required to replace even a small fence add up quickly.
Take a survey at the other aesthetics of your yard, and then think about what colors would coordinate with the existing look. Often, you can repaint an unsightly fence for a fraction of the cost, and with a little help, the entire project is wrapped up in a day. When painting your fence, you should try to stick with neutral colors. A few examples are:
If you have a fence that is starting to rot out, you will want to be careful and make sure the structural integrity is there to withstand the painting project. It is also a good idea to put a durable, waterproof undercoat before applying the chosen shade of paint.
Not all paints are suitable for outdoor elements. Read the manufacturer's directions to ensure what you are purchasing can withstand the conditions. If you want a visual representation of what the final product should look like, search online.
Add Landscaping
Planting flowers, trees, bushes, and other foliage will help to disguise your ugly backyard fence too. You want to keep the privacy, but without all the distraction of worn out and shabby wood. Some living fence ideas of the best greenery for covering fences include:
Trumpet Vine
Dutchman's Pipe
You will have to see what kinds of plants thrive best in your climate before deciding what your final design will be. Most nurseries and big box stores have employees on staff knowledgeable in this field and can point you in the right direction.
The only downside to using landscaping to screen your ugly backyard fence is you have to wait for the foliage to grow. Some plants increase in size vastly after just one season, while others will take a year or longer to reach their final stage. If it is fast you are looking for, there are many popular quick-growing plants that you can find online.
Use What Is in Your Yard
Your backyard is already full of stuff, so why not use what you have to camouflage your fence? It is essentially free because you have already invested in what is there, so you might as well put it to work!
Using what you already have can mean anything, and it does not have to be a tacky option if done right. Walk around outside and see if you have any of these items that can be moved to block the unappealing perimeter:
Children's playscape
Large potted plants
Water features
Hardscape features
Small shed or storage unit
You might be surprised at what a difference it makes to reorganize your backyard and break up the sightline. Make sure you have help for any heavy lifting.
Decorate
Decorating your ugly backyard fence is one of the most immeasurable ways to customize the look to suit your preferences. There are limitless options of decor available that can be placed strategically to cover up any rotted wood or even pieces of missing fencing.
Do you have an existing style either inside your home or elsewhere on the property like Americana, farmhouse, or contemporary? There is a reasonable likelihood that you can find something that goes along with it to add to the overall scheme. Some of the possibilities include things like:
String lights
Furniture
Flags
Garden decorations (butterflies, nomes, dragonflies, etc.)
Hanging plants
You can add just about anything, whether it is something to fit the house or the fence as a whole or a style that speaks to you personally. Of course, one constituent that many worry about when getting into the outdoor decorations is the price. Some of the items available might be outside of your budget, but there are ways around that.
Check garage sales, flea markets, or even ask friends and family if they have anything lying around outside that they do not want anymore. Think outside of the box to pieces like wagon wheels from old carts, farm equipment, watering cans, and other items that would otherwise be pitched. One person's trash might be your new treasure!
Replace Pieces with Different Materials
You may not have the funds to replace the whole fence, but you do not necessarily need to remove each piece. Take out slats at varying intervals, replace them with something more attractive to take away from the existing look, and make it more eye-catching.
Some materials you can install directly over the existing pieces of wood by screwing or hammering them on to what's there. When you have rotting or decaying pieces, it is more suitable to tear them out and start from scratch. That way, you are not dealing with damages to the new construction when the inevitable collapse occurs in the future.
Explore some of these traditional selections, and decide which fits into your budget and matches your idea of a nice-looking fence:
Bamboo
Metal panels
Vinyl fencing
Aluminum
Chain link
When adding new material to an existing fence, keep in mind the durability of what is already there. Start taking pieces out, and you could weaken the wall to a point where it no longer can withstand wind, hail, or heavy winds.
You also should be confident that you have all the appropriate tools and equipment, along with the physical ability necessary to do this kind of strenuous activity. If you have a budget for exterior renovations, call around to get estimates for having a job of this capacity hired out before going at it alone.
Plant a Garden
You can hide your ugly backyard fence without covering it at all by planting a fruit, vegetable, or flower garden in front of it. While the fence itself is not being hidden, your line of vision will be directed to the gorgeous plot of vegetation, and you will not even notice that it is there. Of course, there is also the added benefit of fresh produce.
When you plant your garden, you can put other fencing material around what you are growing. Chances are you will want to so that you can keep kids out and any pest or critters that will try to destroy it. You can even be creative. Depending on how much you want to invest, you have the option to edge your new garden with:
Wooden landscape edging
Vinyl fencing material
Wooden fence posts with plastic mesh or vinyl coated welded wire
These new elements give you plenty of free space for adding other garden decorations, flags, or hanging baskets after it is installed. Plan out everything precisely with accurate measurements before starting, so you get the right materials for the job.
We have plenty of other articles on fencing, one being how to clean your PVC fence to get it looking brand new again. So be sure to check one of these articles out, and they can provide you with your next project to keep you busy!