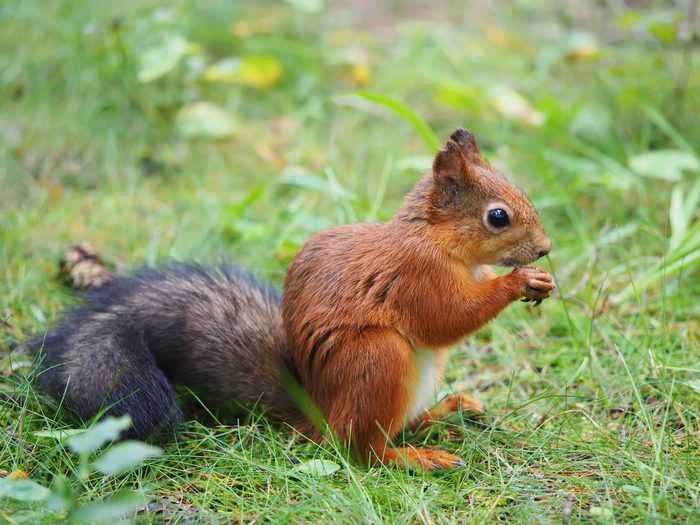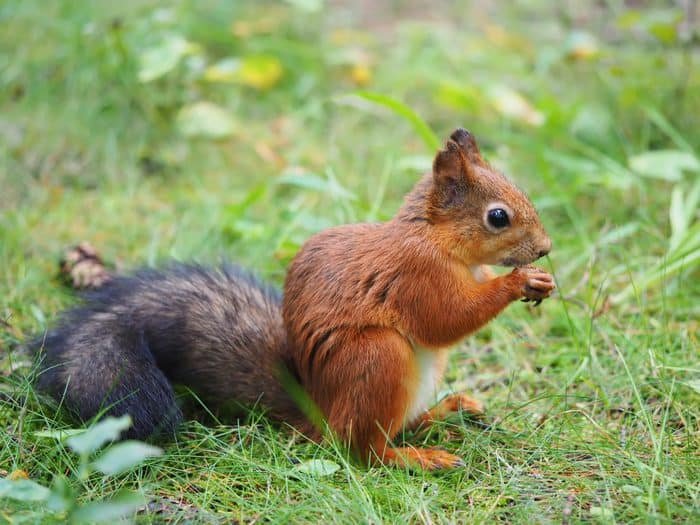 Squirrel-watching is a popular pastime. People enjoy seeing these fluffy little critters in their yards and gardens. Squirrels are so much fun to watch as they scavenge and play on the grass and in the trees. In the winter months, when food is more scarce, it might be less likely to see squirrels since they rarely venture down from their trees.
Once you figure out what to feed squirrels, you can keep cute squirrels coming to your yard with well-placed squirrel feeders. These are the best things to use in order to view the animals from the comfort of your own home. It can be daunting to shop for quality squirrel feeders since there are many to choose from. The following list will help you decide on the best feeders for you.
This is an incredibly simple feeder to set up and refill. Birds cannot access the feed inside, which ensures only the squirrels get fed. Unfortunately, the feeder lid lifts up in such a way that raccoons could potentially access the food inside. Despite this one drawback, customers love this feeder for its simple design and low maintenance level.
Benefits of the Woodlink Squirrel Diner Feeder:
It is constructed of highly durable and resilient steel.
It has drainage holes to keep rain from spoiling the feed, saving you money.
You can easily install it on a variety of surfaces like trees, posts, and metal hangers.
It stores a hefty four pounds of feed, which means you can refill it less often.
Mounting equipment is included with the feeder upon purchase, so you have everything you need from the start.
Woodlink Squirrel Diner Feeder Model 75590
Woodlink Squirrel Diner Feeder has steel construction with powder coated green finish to resist chewing
Holds 4 lbs. of peanut, corn or wildlife mix
Mounting hardware for tree, post or deck included
This squirrel feeder offers a circular perch that the squirrels will love to sit on while they eat their feed. This feeder holds the largest amount of feed of any on this list which makes it a great choice for those who want to make fewer trips to refill it. You can mount this feeder on a number of different surfaces, which makes it very versatile.
Between its easy upkeep, large capacity, and simple setup, this feeder is an excellent choice. It will provide you with years of enjoyment and will keep the squirrels happy and coming back.
This is an excellent squirrel feeder. It has a nice rustic look, thanks to its red cedar construction. This is an excellent feeder to put in the yard or garden. It will fit in naturally with your outdoor scenery. The MARIGOLD Squirrel Munch Box Feeder is made in a US factory.
The feeder's face is covered in transparent plastic that allows you to know how much feed is in it at all times. You will never have to wonder whether or not your feeder is full or empty.
Key benefits of the MARIGOLD Squirrel Munch Box Feeder:
All of the mounting equipment is included in the package upon purchase.
The feeder is constructed of strong, weather-resistant cedar, which ensures a long lifespan.
The cedar materials are renewable and environmentally-friendly.
The feeder holds 2.75 pounds of feed for hungry squirrels to eat.
The feeder can be filled and cleaned easily due to its simple and compact design.
The plastic covering shows current feed levels.
This feeder will hold up in all weather conditions thanks to its superior design. It holds enough feed that you will not have to refill it constantly. People prefer this squirrel feeder because of its superior craftsmanship and handsome design. Available for about $20 on Amazon, it is an affordable, simple squirrel feeder perfect for any squirrel lover.
For those who want an awesome squirrel feeder that will stand the test of time, you should look here. This squirrel feeder is made of highly durable plastic and metal. It is painted to ensure that the materials do not rust or deteriorate from exposure to the elements outdoors. It is small, compact, and easy to install. You can place it anywhere.
Key benefits to the Zenport Squirrel Lunch Box:
It is constructed from strong plastic and heavy-duty metal, then covered by a protective layer of paint.
The hinged lid makes refilling this feeder an incredibly quick and easy task.
The extended perch allows for multiple squirrels to eat from the feeder at the same time.
The hinged lid allows squirrels to easily open this feeder but prevents birds from getting into the feed.
The small design and muted colors make it less noticeable than other feeders, so squirrels will feel safe while eating.
The small, compact shape allows this feeder to fit in small spaces.
Sale
Zenport Squirrel Lunch Box Z38079 Hopper Bird...
The Zenport Z38079 Lunch Box Squirrel Feeder&44; Feed the squirrels and Chipmunks too
This Squirrel Feeder is designed to feed squirrels and other critters
The lid is hinged for easy opening and closing
This feeder is a great option if you want something that blends in with the surrounding foliage even better than treated wood. It is very easy to clean due to the glossy paint covering the metal surface. One downside of this feeder is that you have to buy all mounting equipment separately. This feeder is available for about $30 on Amazon.
If you want something more unique, check out this squirrel feeder. The Enclave Squirrel Picnic Table Feeder is one of the most fun and quirky feeders on the market. The little critters will be all over this feeder, allowing you to capture some great photos while you watch the show from the comfort of inside your house. This is not your average feeder!
Benefits of the Enclave Squirrel Picnic Table Feeder:
It is crafted from treated lumber to resemble a life-sized picnic table.
It features a large area for several squirrels to perch and eat from at the same time.
Its simple design allows squirrels easy access to the feed inside.
It is very easy to refill since there is no lid to open.
Mounting equipment comes included with purchase.
The feed cup includes a drainage hole, so no rain or filth builds up inside.
Large Squirrel Feeder - Cute Removable Tablecloth...
Create year-round memories with those you love! - Laugh from your window as squirrels and chipmunks picnic in style! Countless chuckles and entertainment, right in your own yard!
Large feeder keeps squirrels away from bird feeder! - Even the largest squirrels can pull up a chair! The roomy table is great for a fun squirrel outing and will distract them from your bird feeder!
Choose the food your squirrels love most! - Do your squirrels prefer peanuts over a corn cob? With the removable cup, feed your squirrels a variety of healthy treats as you discover their favorites!
This feeder is unique. It has a few drawbacks when compared to other feeders on this list, though. It must be refilled every other day, depending on how many squirrels visit and eat from it. Birds and other animals can access the feed since there is no lid. The food is open and available to all. Still, the adorable design might still be worth it.
This feeder is available on Amazon for about $40.00. It is the most expensive feeder on this list because of its added wow-factor and high-quality design.
For those looking for a more traditional squirrel feeder, this is the feeder for you. It is constructed from sturdy wood and allows for a squirrel to perch atop it while they eat. It is a very simple feeder to set up and refill. These are very attractive features for those wanting an easy way to feed and view the squirrels in their yard.
Key benefits of the Picnic Table Platform Feeder with Peanuts:
It is constructed of strong and durable treated lumber.
It holds around 10 ounces of feed for hungry squirrels to eat.
It has a wide perch for squirrels to sit on while they eat.
It comes with a complimentary bag of peanuts to get the feeding started.
The company offers 100% satisfaction and a money-back guarantee.
This super simple feeder is easy to refill and install. The wood build ensures that it holds up well in all weather conditions. This feeder is great for those looking for a traditional product. The feeder is available for about $35 on Amazon. Drawbacks include the small feed capacity and the fact that installation equipment is sold separately.