Gone are the days of simply grabbing a lawn chair and an ice chest for your food and drinks; for a more luxurious and relaxing space, people are now building entire outdoor "rooms" that many times come with a refrigerator.
As with any appliance, an outdoor refrigerator needs regular maintenance; you may be wondering what preventative maintenance measures you can take and what to do if your outdoor refrigerator stops cooling.
Prolong the lifespan of an outdoor refrigerator by keeping it cleaned and maintained properly. If it stops cooling, check:
That your electricity is working
For debris that could be causing the compressor to stop
If it is still not cooling, it may be time to repair it or purchase a new one.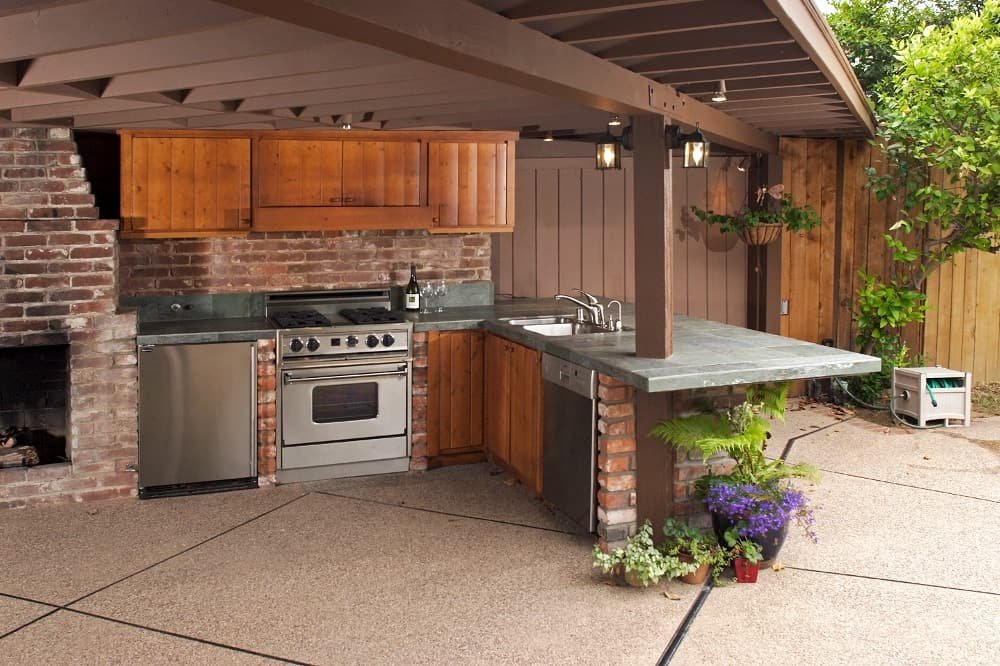 If you have an outdoor space where you plan to keep a refrigerator, continue reading this helpful article on how to keep it properly cleaned and maintained and what to do if it stops cooling.
The Average Lifespan of a Refrigerator
The average lifespan of a refrigerator can range between 10 – 19 years. How long a refrigerator lasts can significantly depend upon the following things:
How well it has been cared for
The brand and style
The climate and temperature that it is kept in
The size of the refrigerator:
Full size
Apartment size
Mini/portable size
Next, we will discuss how to keep your outdoor refrigerator clean and properly maintained to avoid performance issues.
How to Keep Your Outdoor Refrigerator Cooling
The following preventative measures should be taken to ensure that your outdoor refrigerator is cooling as it should be. If you follow these recommendations, you will prolong your outdoor refrigerator's life so you can enjoy years of fun with your family and friends in your outdoor space.
Avoid putting it in direct sunlight.
Be sure that there is plenty of space between the back of the refrigerator's condenser coils and the wall to ensure proper air circulation and enough ventilation.
Clean the door seals with warm soapy water at least once a month to prevent them from becoming moldy, drying, or cracking.
Empty and clean the drip pan a few times per year if your refrigerator has one. Not every model comes equipped with a drip pan.
Empty the contents of the refrigerator entirely and clean it thoroughly at least once per month.
In colder climates, it may be necessary to unplug the refrigerator or wrap it in insulation. Freezing temperatures can potentially cause your outdoor refrigerator to stop working.
Keep away from areas that get high-winds where debris can cause damage to coils and other parts of the refrigerator.
Keep away from areas that receive direct ice, snow, or rain. If you have a space that collects water, it is recommended that you set the refrigerator on a platform or blocks.
Keep away from other heat-producing sources and heat-producing appliances.
Keep the space behind the refrigerator free of debris so nothing clogs the condenser coils up.
Monitor the temperature often. The best temperature range is between 37°f – 40°f.
Steps You Can Take Before Calling a Repair Service
If you find that your outdoor refrigerator has stopped cooling, you can take some steps before rushing off to call a costly repair service. Check the following things before calling for help or tossing it to the curb.
Check the thermostat gauge to be sure it has not accidentally been turned down.
Check to see that the cord is properly plugged into the outlet.
If the cord is properly plugged in, you need to check your electric panel to ensure no fuses have been tripped.
Pull the refrigerator off of the wall and check to see if there is any debris around the condenser coils. If there is dust or debris built up, you can clean this by using the hose from your vacuum cleaner.
If you have completed all of these steps and your outdoor refrigerator is still not cooling, you may be having coolant issues that will need to be handled by a licensed professional. At this point, it is time to contact your local repair service for help.
Refrigerators – Knowing the Difference
The type of refrigerator you are using in your outdoor space can affect how well it functions and how long it lasts. While you can technically use any type or style of a refrigerator outdoors, some models are specifically designed for being exposed to the elements.
Refrigerators that are kept outdoors have to work harder and withstand more abuse from the elements. Therefore if you plan on keeping a refrigerator outdoors for a long time, it is best to purchase one that is meant to be in these conditions.
Indoor Refrigerators
Refrigerators that are designed for indoor use ideally need to be kept at an average temperature range of 60° – 80° in order to work properly. Keeping a refrigerator that is rated for indoor use outdoors can potentially cause the compressor to burn up more quickly because it is not meant to handle the differences in temperatures as well as one that is rated for outdoor use.
Outdoor Refrigerators
If you purchase an outdoor refrigerator, you can have peace of mind knowing that it is designed to keep the same internal temperature no matter what the temperatures or conditions are outside.
An exception to this is if you happen to live in an extremely frigid climate, you may have issues with condenser coils freezing, in which case you may need to unplug the unit for the season or add some extra insulation to the area.
Outdoor refrigerators are typically constructed with 304-Food grade stainless steel to withstand the natural elements' effects and prevent rusting. The door seals are also beefed up for added insulation and protection from the elements.
Other Perks of Owning an Outdoor Refrigerator
Refrigerators that are designed to be put outdoors also tend to come with some additional features that you may not typically find on an average indoor refrigerator. Some of these features are added to give you peace of mind while you are not at home.
Security reasons. Many refrigerators designed for outdoor use come with a lock and key system so that you can keep your food and beverages safe from unauthorized hungry hands. It is a good way to keep your adult beverages from getting into the wrong hands or bellies. It is also a good way to keep children from hiding inside the refrigerator.
Digital thermostat. This is a great feature that allows you to know the precise temperature in your refrigerator. Fancier models even have apps that you can download on your smart device and monitor your appliance that way. If there is a temperature change, it can send you an alert.
Built-in versus freestanding. Outdoor refrigerators are made in two different ways:
The first style is the built-in version that is literally built directly into your outdoor space, usually into a cabinet or wall cut-out.
Freestanding refrigerators can be moved if you decide that you wish to re-design your layout. There is not as much work involved with installing and owning a freestanding refrigerator.
Each of these options has benefits that you can enjoy, whether it is having the refrigerator being part of a formalized area or simply trying to create a convenient gathering area.
Proper Care Extends Life of Outdoor Refrigerators
If you wish to have an outdoor refrigerator, regular cleaning and maintenance are necessary to your appliance's optimal functioning. You will be glad you have one on a hot summer day when you want to reach for a nice cold drink and see that your outdoor refrigerator is keeping everything at the right temperature. Be sure to check out our list of some of the best undercounter refrigerator we could find.