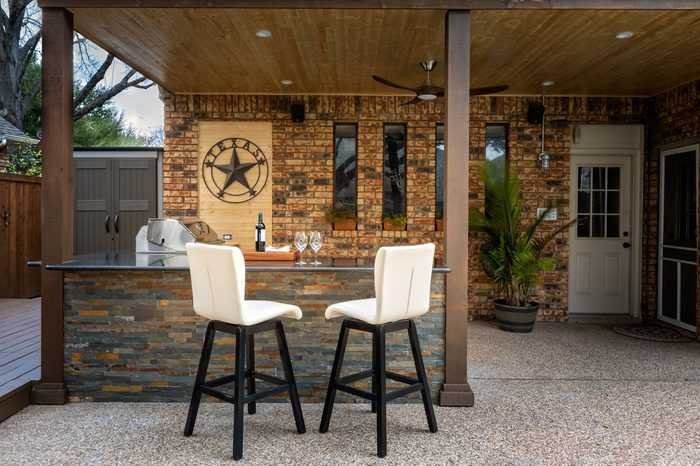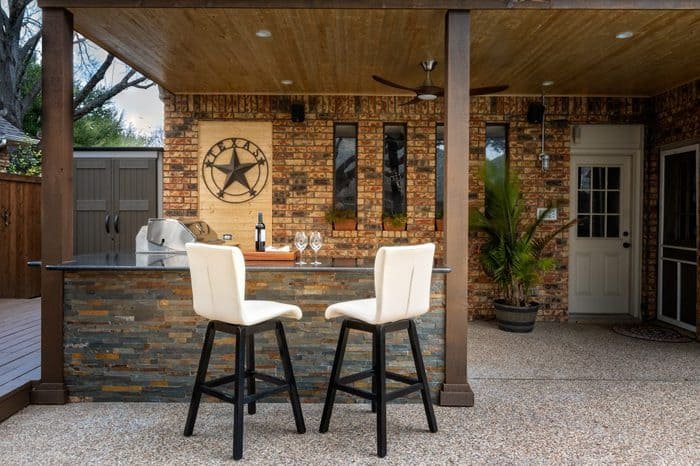 A backyard bar can make hosting your friends and family much easier than before. With everything all set up in one location, you can host any party you want, while having the backyard bar be part of the topic of conversation.
A backyard bar does not have to follow any traditional style. There are many options based on the amount you want to spend and how much space you have available. With a little creativity and resourcefulness, you can find the right bar for any occasion.
We'll explore 7 of the best backyard bar ideas that you can use, no matter how much space you have available.
Create a Bar Attached to Your Home
This is a great idea if you are limited on space and materials. You can attach a simple plank of wood to the side of your home, preferably in an area that has a window to open things up, though this is not a necessity.
If you already live someplace where it is warm most of the time, this is a great way to make eating outside fun as well. Place the bar right by the kitchen and let everyone sit down and enjoy their morning meal.
In general, to make an attached bar:
Pick out the piece of wood you want to use. Choose something thick enough to be sturdy, but nice enough to use as a countertop.
Paint the board the color you want.
Use four mounted corbels and attach them to the wall.
Add the board on top. Screw it in for more security.
Add some chairs and you are ready to go!
Some homes already have something attached to the outside that you can use as a bar with a little ingenuity. Experiment a little to see if you can make this work for you.
Set Up Garden Bar as a Getaway
If you are already going to be outside, why not enjoy some of the greenery that is out there too! This is the perfect idea for those who love to spend time with nature, soaking it all up. This type of bar is attached to a potted plant structure of some kind.
You can mess around with this one a little, but the basic idea allows you to create a simple box that holds any plant that you would like, with the bar part over to one side and a few chairs. You can easily turn this into your garden if you are short on space.
To go about crafting a garden bar:
Find or make a tall hollow box. You can choose the height you want.
Decide how tall to make the garden. Add in a board inside the box about 1/3 of the way down.
Fill with dirt and plant the seeds. You can choose any seeds you want.
Add the bar. Choose a small piece of wood and the corbels to screw it in place.
Add a few chairs and accessories for the bar and for watering your plants.
Turn this into your little garden and get a bar at the same time. While something like tomato plants may not work, a few flowers or smaller plants can fit right into the box so you can enjoy fresh produce while sitting outside at the bar.
Pallet Outdoor Bar for Those on a Budget
This is the perfect option if you like to work with pallets and want some of that country charm while not spending a lot of money. This option is very space-conscious, so you do not need to have a lot of room around. You can often find others offering these for free or cheap, so that makes it better.
You can keep this as simple or as complicated as you like. You can simply add a few pallets together to make the bar as big as you want. Or add some additional features like your own premade seating or a covering on the top with lighting.
The benefit of using pallets include:
Inexpensive. You can often find pallets for free.
Only need a few supplies to make a simple one.
Looks charming in any yard
Does not take up a lot of space.
Making a quick backyard bar out of pallets is an inexpensive method that lends your backyard a folksy attitude.
Stone Bar: Expensive, but Elegant
This one will take a little bit more effort to get things done, but it looks natural and beautiful in almost any yard. You may need to plan things out a little more to get it to look nice. And keep in mind that this one is more of a permanent addition.
Unlike a few of the other options for outdoor bars, the stone bar will not move around. You need to be very certain you will love it (and you most certainly will) because it is staying put. You can add in a few chairs and even your grill to finish the look.
Some benefits of choosing this type of bar include:
Looks natural and elegant in any backyard.
Lots of designs to choose from.
Is a permanent fixture in your yard.
Stone bars take a lot more effort and are permanent installations, but they bring the highest level of class to a backyard bar.
Bar with Barrels: Straight Out of Tolkien
The main appeal of this one is that it is unique and will give everyone something to talk about. You can design this to work in any way that you would like. Choose a few barrels and have those as your corners. You can attach some metal or another material of your choice in between to make the bottom.
For the top, choose the type of wood you want to use. To keep it rustic, you can go with dark-colored wood that closely resembles the barrels. If you want to make sure this one is sturdy, you can add some wood under the barrels as well.
The benefits of a barrel bar include:
Looks unique and can get the conversation started
Provides many options to make it unique.
You can make the bar as big or small as you would like.
Barrel bars just have a certain fantasy charm that you can be sure will be the talk of everyone at the barbeque.
Wicker Bar: Easy and Durable
If you are a fan of wicker or want something that will last a long time outside, then consider creating a wicker bar. You may even have some outdoor furniture already that will work for this. Use some of the old wicker baskets in your home and update them, or purchase something new.
You can get some interesting colors to go with the wicker if you choose, but the main appeal of using this is that it keeps everything simple. Add in some wicker chairs or another option that looks nice, and you are ready to go.
The benefits of backyard wicker bars include:
Easy to set up
Easy to maintain
It Will last well outside in any weather condition.
A simple look that goes with any décor.
Wicker may not be for everyone, but a wicker bar can be cheap and easy.
Portable Outdoor Bar: For Those on the Go
There are a few options of this that you can choose from. Some are available online or you can create your own cart with a few wheels on it. The point of doing this is to make moving the bar around a breeze.
For those who may need to store it in a garage or out of the way and then move it, this is a perfect solution. Have one or two shelves to make it easy to move everything around easily.
The benefits of a portable bar include:
Easy to move around.
Easy to store anywhere
Lots of options to customize
Make it unique by turning an old cart into a bar!
This may be the best option for most people's needs—it's there when you need it, and disappears into storage when you don't!
Choosing the Right Backyard Bar for Your Needs
The neat thing about using an outdoor bar is you get the freedom to create it the way you want. There is no right or wrong way to set up your outdoor getaway!
Put in a little effort to tailor it to your exact needs and space, and you'll have a beautiful addition to your yard for years to come (and one that can be a lot of fun, too)! You can also have fun with it and hang up bar signs to bring the whole area together. Be sure to checkout our article on what the best type of countertops for an outdoor kitchen!