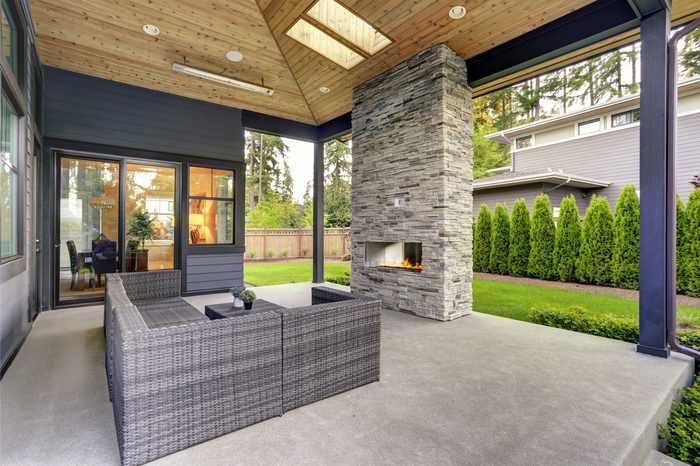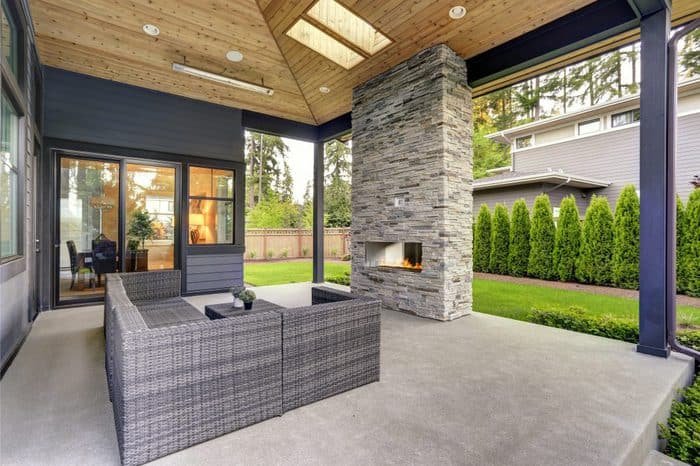 Are you tired of not having anywhere to put your grill and backyard furniture on? Are you tired of tracking in dirt every time you come back inside from your backyard? If so, you might be wondering about your options.
How about a beautiful concrete patio? A concrete patio is a low cost, low maintenance alternative to a ground level deck.
You might be thinking that a concrete patio is bland but there are several different design options to personalize and upgrade the basic concrete patio even as simple as painting a concrete patio.
With so many possibilities with different materials and finishing techniques, most people can afford some type of concrete patio. A basic poured concrete slab costs on average about $8 per sq. ft. or between $6 and $10 per sq. ft. which includes labor.
A concrete patio is a valuable and beautiful addition to your backyard. It provides a great place to relax with friends and family and enjoy the summer months. Just as your house is unique, reflecting your personal style, so should your patio. Fortunately, there are many choices when it comes to concrete patio design and materials.
Let's look at the different factors that affect the cost of a concrete patio along with possible design options to take your basic concrete patio to a backyard showstopper. Knowing how you will use the patio space will help decide how big to build your patio.
Factors that Affect Cost
Concrete is a basic material for patios. While some may think it's not as attractive as other choices, it is the most cost-effective. Below are the specific factors that will affect the cost per square foot of your patio.
Thickness of Slab – Average thickness of a patio slab is 4 inches on level ground. If you have a slope, then the thickness will be more on the low end of the slope. If you plan on placing a hot tub on your concrete patio, you might need a thicker slab.
Thickness of Edges – Generally you want a thicker edge around your concrete patio to prevent cracking from possible erosion along the edges.
Leveling or Grading Area – If your area isn't level, or on a slope, the labor involved to get your area level and ready for your concrete patio, will increase the price.
Local Material Costs – Where you live may increase the price of materials.
Reinforcement Material – If you plan on using your concrete patio for hot tub, outdoor kitchen or any other heavy items, you may need reinforcement material such as rebar or wire mesh to strengthen the concrete patio.
Radiant Heat – This is a luxury upgrade but If you live in a colder area, you can enjoy your patio in the winter without snow.
Labor Cost Factors
Concrete work is labor-intensive, and factors that can affect project and labor costs include:
Concrete Reinforcement – It takes many hours for labors to install rebar and wire mesh throughout a concrete patio to reinforce it for a higher tensile strength.
Type of mix – A higher strength mix of concrete has a lower water to concrete mix ratio. This type of mix is more labor intensive to mix and spread.
Stamped, Scored, Stenciled or Stained Concrete – If you want the look of natural stone, stamping and staining your concrete will cost more due the additional labor involved. Though it will still cost less than using natural stone.
NOTE: While concrete is quite durable, if your home is located in an area prone to very extreme winters, it has the potential to crack. It is vital to talk to a licensed concrete patio installer in your area that has experience with pouring slabs that can withstand extreme cold temperatures without cracking.
No matter where you live your concrete may develop hairline cracks from shrinkage months after your patio is poured. We show you how to fix the cracks in a concrete patio in a separate article.
We'll showcase a few different styles of concrete patios and their average costs.
Types of Concrete Finishes
There are different types of concrete you can choose from before installing your patio, which will significantly impact the overall cost.
Concrete Slab Patio
A standard concrete slab patio is durable, attractive, long-lasting, and virtually maintenance-free. Unlike pavers, a poured concrete patio significantly reduces cracks and gaps that can lead to ant infestations and weed growth.
This is another project you can save money on if you are brave enough and skilled enough to take it on. You can save 40% or 50% on the cost of the job by doing it yourself.
However, it is a big job to pour a patio slab properly. Unless you are highly skilled in the particulars of concrete pouring, perhaps this should be left to the professionals.
A basic poured concrete patio 4″ thick measuring 20′ x 15′ or 300 sq. ft. can accommodate a couch, coffee table, and lounge chairs, perfect for a backyard patio. The approximate cost of this size concrete patio is $2,400.
Stamped Concrete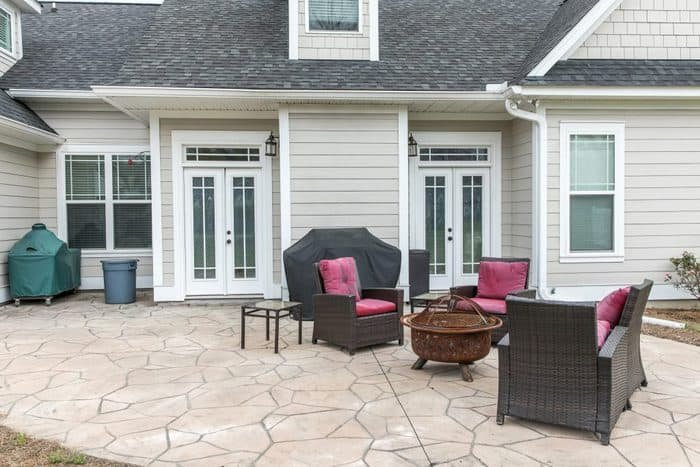 Stamped concrete is similar to a basic concrete slab, with a textured finish to resemble brick, flagstone, and wood. This decorative effect requires a more generous budget but adds style and appeal to your patio that you will not get with an unfinished slab.
Basic stamped concrete will cost between $8 and $12 per square foot. More involved projects can cost as much as $18 per square foot. The cost for stamped concrete varies greatly, depending on material prices and labor costs in your local market, along with the complexity of the job.
Stamped concrete is one of the strongest, durable and long-lasting paving materials available and requires less maintenance than the original materials used.
Stamped concrete requires resealing every two to three years, depending on the weather conditions in your area. Be careful that the concrete is sealed properly, otherwise it could become slippery when wet.
If the concrete is left unsealed, the colors will fade, watermarks could be a problem, and stains can penetrate the surface. The stamped concrete patio will not retain its beauty without a good sealer.
If you currently have a concrete patio that requires upgrading, repairing, or just enhancing, you can place stamped concrete overlays on your existing patio slab.
Stamped concrete is simple to maintain. Basically, sweeping and wet mopping with water is sufficient for maintaining a stamped concrete patio. You can also mop or pressure wash the surface using a mild detergent. Avoid using harsh chemical cleaners on any stamped concrete surface.
Concrete Pavers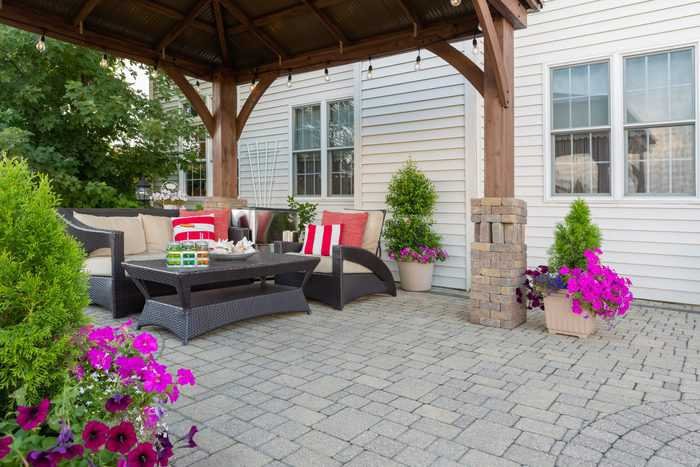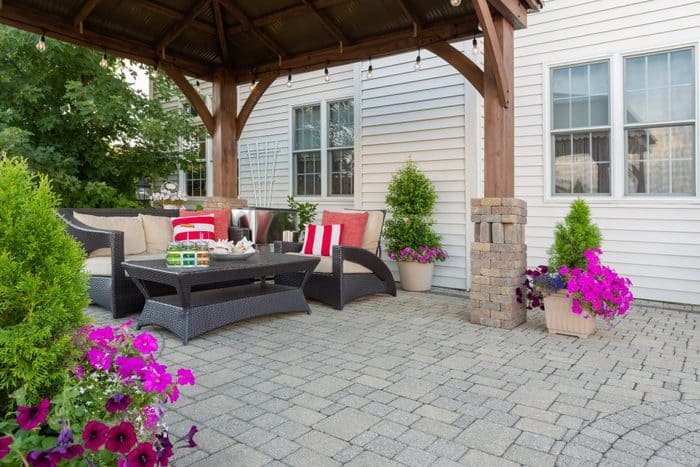 Although the initial cost of concrete pavers is about $16 sq ft installed, they are significantly more flexible and durable than poured concrete. Concrete pavers are separate pieces, making the overall paver pattern more flexible and adds resiliency when the ground fluctuates, like in freezing weather.
Concrete pavers do not have the tendency to crack, but they can loosen over time. If that happens, it can become a safety hazard and will need to be replaced.
How about making the concrete paver installation a DIY project? It will take approximately one weekend to complete. Besides the pavers, you will need a base layer of gravel for the paver base and a 1″ layer of polymeric sand, a unique blend of sand, and other additives that fill the joints between concrete pavers.
You can prevent the pavers from moving by adding a solid edge to the patio. You can use metal or plastic edging or a cement lip. When you're finished, spread the fine sand blend over the patio, sweeping it into the cracks to help hold the bricks in place.
The polymeric sand increases longevity, which is generally 50-100 years for concrete pavers.
Concrete pavers have a higher resale value due to their versatility and beauty. Concrete slabs are typically more common, but pavers will add more value to your property over time. Learn how to properly clean your patio pavers.
Exposed Aggregate Patio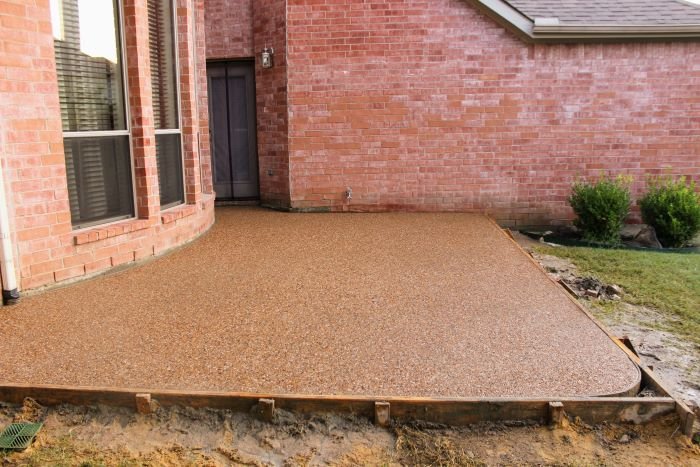 Exposed aggregate concrete is a popular type of decorative concrete formed by removing the top outer layer of cement to expose the coarse decorative aggregate in the concrete mix. The aggregate can either be mixed into the concrete or seeded onto the surface.
Exposed aggregate is more costly than standard aggregate as it requires more labor and material expense. When the concrete is poured, the aggregate exposed, and the surface cured, it will need to be sealed to shine.
With proper maintenance and care, the average lifespan of an exposed aggregate surface can be thirty years or more. But the lifespan can be affected by several factors, such as incorrectly filled surface cracks or improper maintenance methods.
Though still incredibly durable, exposed aggregate is more damage-prone than standard concrete and will need resealing more often. The decorative top layer is also more likely to trap dirt or other debris and is somewhat trickier to clean.
Similar to stamped concrete, exposed aggregate is relatively cost-effective in several ways. It is sturdy and able to endure almost any weight or weather. Another benefit of an aggregate patio, aside from its being a strong, solid material, is that it is a non-skid surface making it perfect for children and the elderly.
Conclusion
If you're looking for a low maintenance patio, you can't go wrong with concrete. Your budget will be the biggest deciding factor on what type of concrete patio you'll be able to install.
Once you have a patio built, you may be wondering how much is cost to install a patio door to upgrade from your current door or how much does a screened in patio cost.
Hopefully we've given you some ideas on different concrete patio styles and their potential costs to build. Even those with a modest budget can have the patio of their dreams.