If you have pine trees in your backyard, you may notice that it's mostly barren underneath with just a pile of pine needles and not much else. Most grass won't grow under pine trees due to the acidity in the tree roots and the constant shade.
If you're like us and want to get some color underneath that barren pine tree we will cover what ground covers will grow under pine trees in this article.
Ground covers provide attractive texture and color to your hard to grow areas in your backyard, like under pine trees. Many can have very colorful flowers growing from them. Ground covers are big plants with a lot of character. The following examples of ground covers are sure to delight whoever sees them.
We'll also cover a few varieties of grass that will grow well under pine trees if ground covers are not your first choice. This is a great cheap landscaping ideas project that you can do this weekend.
What Ground Covers Grow Well Under Pine Trees?
Bugleweed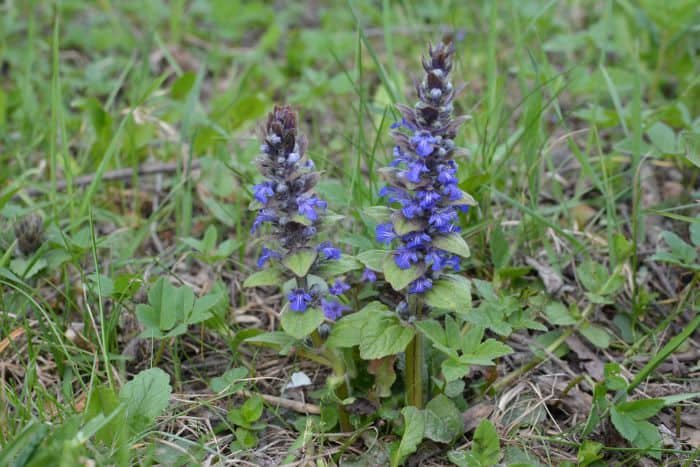 Bugleweed has purple flowers, though some varieties come in white and pink, and is an evergreen perennial that creeps along the ground and has 6 inch tall blooms in the spring. It grows in hardiness zone 4-10. It comes from the mint family so it can creep into unwanted areas quickly, so be sure to add a landscaping border to control where it grows.
Sweet woodruff
Yes, we highlighted it under plants that grow under pine trees and it can be planted as either since it's on the smaller side. It blooms white star-shaped flowers in the spring with fragrant dark green leaves. This creeping ground cover loves moist soil and grows well in hardiness zones 5-9.
Wild ginger
Wild ginger creeping ground cover is dense green with heart-shaped leaves with a hidden red bloom found in May to June. It grows well in hardiness zones 3-8. Native Americans used the root to flavor foods, due to the ginger like smell from the leaves.
Pachysandra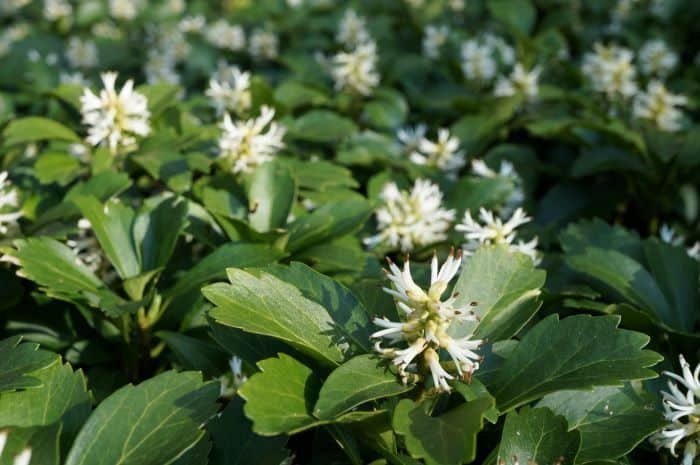 It grows to be about 6 inches tall with white flowers sprouting in the spring. It is both a perennial and evergreen but is slower to spread than some of the other grounds covers mentioned above. It grows well in hardiness zones 5-9.
Ferns
An example of this is Lady fern. It has needle-like leaves that point upward and grows between 18-24 inches tall. They are deciduous grow well in hardiness zones 3-8 though there are many different types of ferns that grow in much warmer areas as well.
Bunchberry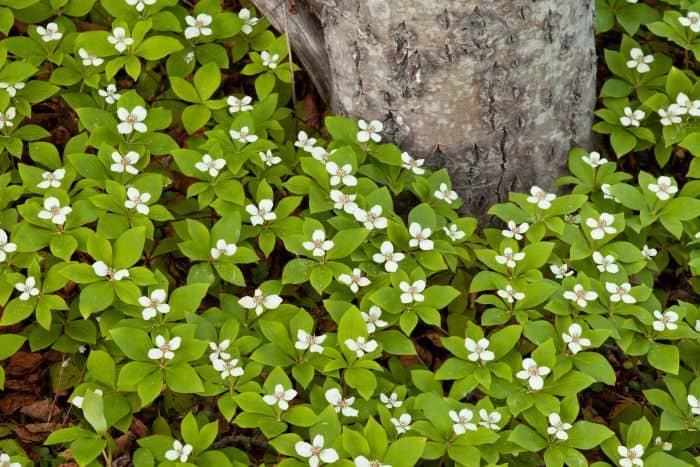 A low-growing deciduous shrub. It is a form of dogwood, and when it blooms in spring and summer, it looks like a flower on a dogwood tree followed by red berries in the fall. It is 6-12 inches in height and likes cooler climates such as hardiness zones 2-7.
Hosta
There are many different forms and colors of Hosta. They grow and spread slowly and will not encroach on other plants which make a great ground cover under pine trees. Most varieties of hostas grow well in hardiness zones 3-9.
Creeping phlox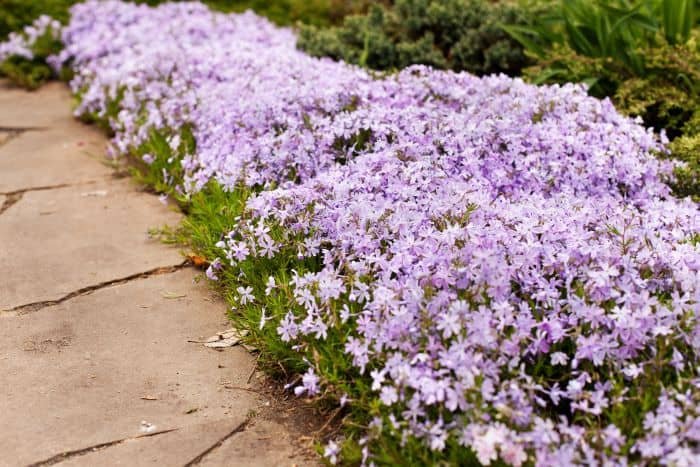 It has groups of aromatics, five-petal flowers that bloom in the spring that stretch about an inch across. This slow growing 6 inch tall ground cover comes in blue, purple, red, pink or white flowers for one of the most colorful ground covers you can find. It grows well in hardiness zones 3-9.
Will Grass Grow in The Shady Areas Around the Pine Tree?
Pine trees are known for their appealing cone shape. They look impeccable in a well-kept garden or landscape. Many people do not think grass can be grown under a pine tree, which is mostly true unless you pick the right type of grass. Depending on your climate, see the following grasses to grow under pines:
Grasses for cooler zones with a temperature span of 65 to 80 degrees in the spring:
Fescue – A popular landscaping grass; it loves the shade and does not need mowing.
Rough Blue Grass – This grass does well in shaded areas and is quite hearty.
Perennial Rye Grass – It thrives in the shade but likes filtered, not deep shade.
Grasses for warmer zones with a temperature of 80 degrees or more in the spring:
Zoysia – This grass is dense and will work in shady areas
St. Augustine – This grass is one of the most shade tolerant and is very thick
Centipede – This grass creeps as it grows and tolerates shade or sun
As you can see, there are choices for grass that will successfully grow.
What is the Proper pH Level for Acidic Soil?
Before you choose which plants, ground covers or grass to plant under your pine trees, take into account how the pine tree affects the soil and area directly underneath it. Knowing the conditions that the plant will face, will allow you to have a plan in action and allow you to choose the best plant or ground cover for your situation.
The acidity of the soil comes from the roots of the tree. The ground is 4.5 – 5.0 pH under pine trees. Pine needles have a pH level of 3.2 – 3.8 when it falls to the ground. The needles will not affect the soil's pH level; they make excellent mulch and help keep moisture around the plants.
Because the pine tree branches block water from getting to the ground, it tends to be dry underneath. This dryness means you will need to water your plants frequently or install a drip irrigation system. You could also place some peat moss around the plants, as this will help retain water.
If you believe the soil is too still too acidic, which would be below 4.5 pH, upon testing acidity levels, try the following:
Add limestone powder to the soil. Apply a ratio of 25 lbs of lime per 1000 square foot area. Do this a year before planting anything under the pine tree.
Dig out the acidic soil and replace it with clean surface soil. Be cautious not to injure the roots of the pine tree.
Watching the soil's acidity is an essential factor and will dictate the health of your tree and what plants you choose to place there. Now that the soil is good to go, you should choose your plants./ground cover.
Conclusion
Many ground covers and few grass varieties can grow under pine trees as we've shown above. With a bit of learning and ingenuity, you can find the ideal plants or ground covers for your landscape.
If you have other trees with exposed roots, we showcase how to landscape around them.