Everything deserves to have its special place, and let's face it, all of the junk that we keep in our homes do not always have a place to go. Coming up with and utilizing innovative backyard storage ideas can mean the difference between an organized and serene space to enjoy and entertain outdoors or a cluttered and dysfunctional space that will take away from your relaxation.
Making sure that all of your belongings have a special place to be stored will increase usable space and organization. You are also providing protection for your items from the environment and from being stolen. Ideas include small organizational items like a grill set holder or larger things like a shed.
By having specific spaces for your belongings, you are essentially creating the opportunity to turn newly found vacant outdoor space into anything you would like. Of course, there's nothing wrong with wanting a little extra space and more storage for your clutter. Stay tuned while we give you some great backyard storage ideas and some DIY options to make your organization journey that much more fun and fulfilling.
How Can Storage Optimize My Space Outdoors?
Optimizing your outdoor space is all about organization, multi-functionality, and general storage options. You can make the most use of your space by having items that do multiple things. An example of this would be an end table that provides a tabletop surface and possibly storage on the inside, or the inside could even act as a wine cooler.
If you have a coffee table outdoors, make sure that it offers some type of storage solution underneath, and the tabletop could act as a game board with board game decals on the surface, or it could even hold a tabletop fire pit.
Often people can modify and update their outdoor spaces with items and furniture that they already own. Try to think outside of the box and be ready to flip some furniture.
Real optimization is all about storage solutions, and it's fairly easy to incorporate different ideas for storage into items that you already own or that you're looking to purchase. Check out the list below to see a few go-to options for innovative backyard storage ideas.
Backyard Storage Ideas
Everyone gets to the point where they have too much clutter taking away from their entertaining space throughout their backyards, or they want to enhance the space that they already have. So take a look at a few suggestions below for some great backyard storage ideas.
Never forget about vertical space. A grill set holder or a grill organizer can be a simple piece of wood and hooks but can make a huge difference in the space that you have for your grill tools. This would be a great option if you are a frequent griller and have tons of supplies laying around. Doing this makes your grill accessories more accessible, and depending on how you set it up, it could be a great statement piece for your outdoor barbecue area.
Often people struggle with needing space for larger outdoor items. Those who are experiencing this issue should probably consider purchasing or building a small shed. Doing so will give you the space to keep your larger lawn tools like lawnmowers, power tools, or even off-season items.
Regardless if you buy a shed or build a shed, make sure you put it on a solid foundation such as solid concrete slab, gravel or a modified deck.
Whether you're going to make them out of pallets, some scrap wood, or buy one from amazon, a potting bench is always a good idea to help give you an area to work on your plants. An option like this can give you newfound storage space for all of your gardening tools.
Multipurpose Furniture and Décor
Finding furniture that also serves as storage is a clever way of adding storage while you're adding style. This could be a deck box used as a coffee table or end table that has storage for pillows or cooler. Now that's functionality at its best.
Plant Shelving provides a great option for heightened storage while showcasing multiple things. It could be used for general storage or as a statement planter section for all of your plants 
DIY Storage Options for Your Backyard
You've seen a few ready-to-go options for your backyard storage venture. Why not take it up a notch by taking on a project yourself. Check out the list below to see a couple of DIY options that you can finish in just a day.
Upcycle Existing Items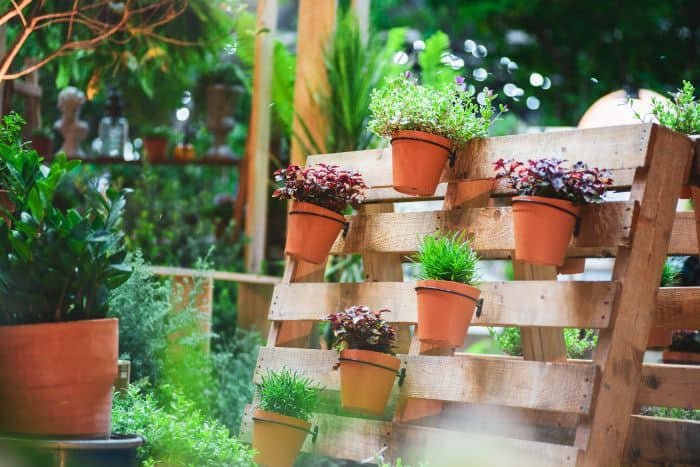 An idea that you may be overlooking is the use of wooden pallets. They are already built for storage, but when modified or added to other crates, they can greatly enhance the space that you will have available. They can be turned into tables, shelves, or even raised surfaces for tabletop firepits.
Turning Old Furniture into Storage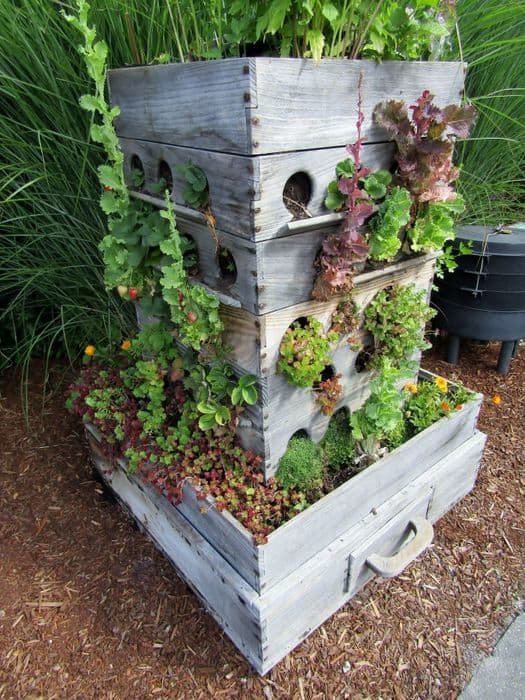 Old furniture that you have can easily be turned into much more. Old drawers can be turned into planters and even old tires into jute twine-wrapped ottomans. Functionality isn't the only key when it comes to storage, creativity plays a part as well.
Final Thoughts
Now you should have a few great ideas for storage options for your backyard. You can also use these ideas for any type of outdoor space as many of them can be interchangeable to not just a backyard but a balcony or small patio.
If you're more interested in the DIY suggestions, you may find them as fun DIY projects that you can use for conversation starters when you entertain guests or to make sure that you achieve the aesthetic that you want while staying on a budget.
Proper storage gives you secure ways to protect your expensive and heavy-duty equipment as well as other items that are usually outdoors. It protects against weathering, thieves, and animals. Having the perfect storage solutions in your backyard is like having the perfect weekend getaway.
You want your options to stay aesthetically pleasing while providing you with enough space to store your items and being heavy-duty enough to withstand the elements or thieves. When building out, your storage options, think outside of the box and utilize this time to be creative. Remember that any storage is better than no storage.