Have you ever questioned if you could grow plants underneath your pine trees? It can be challenging because there is heavy shade and highly acidic soil under pine trees due to the pine needles. We've picked several different plants for cold and hot climates that will add color underneath a pine tree.
Living in Florida we have many pine trees in or near our backyard so we have this problem all the time. In our previous houses, we had many azaleas in our front and back yard and I loved when they bloomed in the spring.
While azaleas are great and I'll be planting several, I love having a variety of different plants in our backyard and hopefully get a chance to plant many of the options below.
What Nine Perennials Grow Well Under Pine Trees?
The perennial plants we have highlighted do well in acidic soil, which is what you get under pine trees. These varieties also do well with filtered sunlight since that's all you get under a pine tree. These plants return year after year and add a colorful touch to the green and brown of your pine tree. 
Azaleas
Azaleas are found everywhere in Florida under pine trees with vibrant blooms ranging from white, pink, orange, red and purple. Some varieties bloom in Spring and Fall but all love the acidic soil under pine trees. Most varieties grow well in hardiness zones 6-9 and average size is 4-6 feet tall and wide. These are very hardy and need little watering after they are established.
Hardy Geraniums "Cranesbill"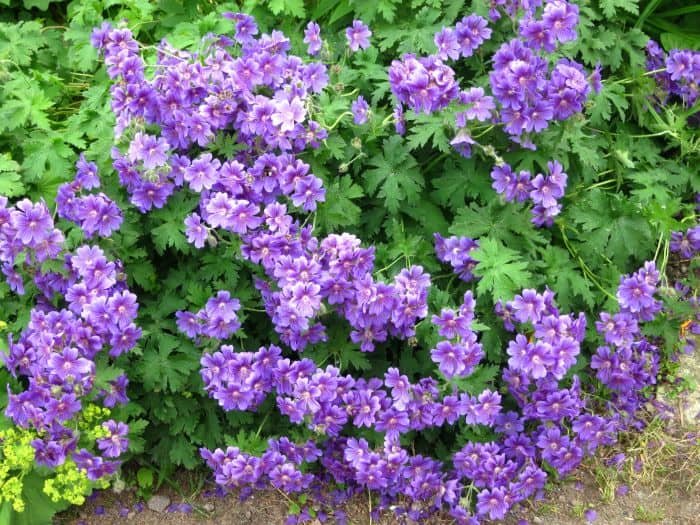 Hardy geranium, also known as "Cranesbill", creates a mound of crisp green foliage 12-28 inches tall and spreading 12-18 inches. It grows well in Hardiness zone 3-9. Most blooms are shades of pink and purple. This geranium is different than other species that require full sun.
Lily of the valley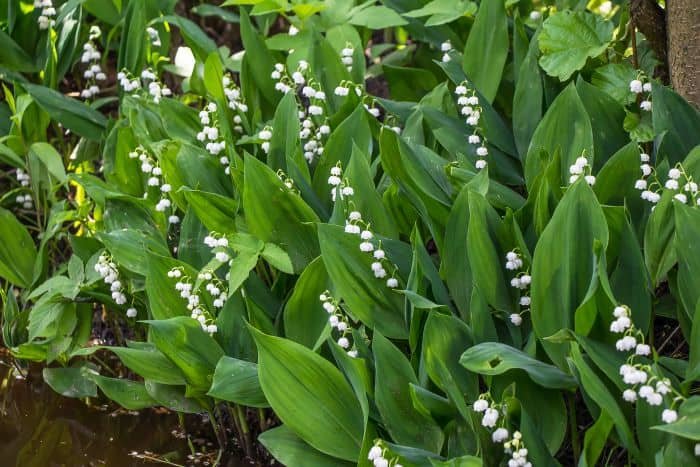 Lily of the Valley is hardy in zones 3-9. It has a white bell-shaped flower with an intoxicating aroma. they grow 6-12 inches wide and tall and can be used as a plant or ground cover under pine trees. Their spring blooms are mostly white while some varieties are pink.
Mountain Laurel
This is a low-growing evergreen shrub that is in the family of Rhododendrons, just like Azaleas. They also bloom in the Spring and love acidic soil. They grow well in hardiness zones 4-9.
Columbines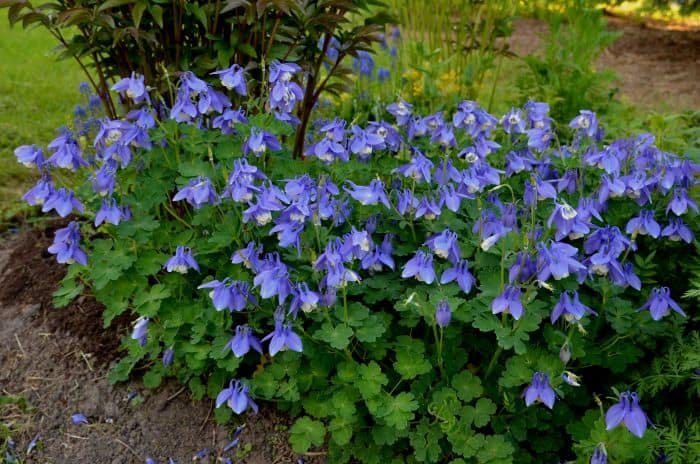 This gorgeous plant comes in many different colors, such as pink, purple, blue, or yellow. They grow well in hardiness zones 3-8, so they can't tolerate too much heat.
Catawba Rhododendron
This plant, just like azaleas and mountain laurel are related and all love acidic soil. It does well planted under pine trees and thrives in hardiness zones 4-7. It can grow to 6-12 feet tall and wide. Most common bloom color is lavender-pink.
Jacob's ladder
This plant forms a clump of fern-like leaf stems with smaller leaflets that come up past the stem-like ladder in the Biblical story of Jacob. This plant grows well in hardiness zone 3-8 and likes to be in shady areas.
Sweet woodruff
It has delicate clusters of white, star-shaped flowers that smell divine. It prefers being planted in a shady area and grows well in hardiness zone 4-8. It's size is 6-12 inches tall and will grow sideways with creeping roots, so take care to not let it run wild.
Hydrangeas
It has large flowers that are purple, blue, and pink depending on the acidity of your soil. If you plant them under a pine tree, their blooms will be blue. Most varieties grow well in hardiness zones 3-8, while a few such as "limelight" variety grows well in Zone 9. Most varieties are on the larger size at 6-9 feet tall and wide.
Conclusion
Many plants flourish in a shaded area with high acid soil and pine trees are perfect in this instance. Hopefully you'll be able to find one or several of perennials in the above list for your backyard. Depending on where you live you have a plethora of options to liven up that barren area under your pine trees.