Most individuals wake up and have their first cup of coffee to start the day. They brew their coffee and then throw away the coffee grounds, but did you know those grounds could be a healthy resource for your plants? Coffee grounds have become a very popular compost substance that can really benefit certain plants in your garden.
Plants that like coffee grounds include: roses, lilies, hydrangeas, carrots, blueberries, strawberries, and more. Coffee grounds can be made into compost and fertilizer to increase nitrogen in your soil, encourage worms, retain water, and keep away cats, slugs, snails and weeds.
Although coffee grounds can do wonders for your garden, they are not healthy for all plants and should be used correctly. Read on to find out why coffee grounds are so beneficial to your plants and what plants benefit, and do not benefit, from using coffee grounds as fertilizer so that you do not inadvertently kill your precious plants.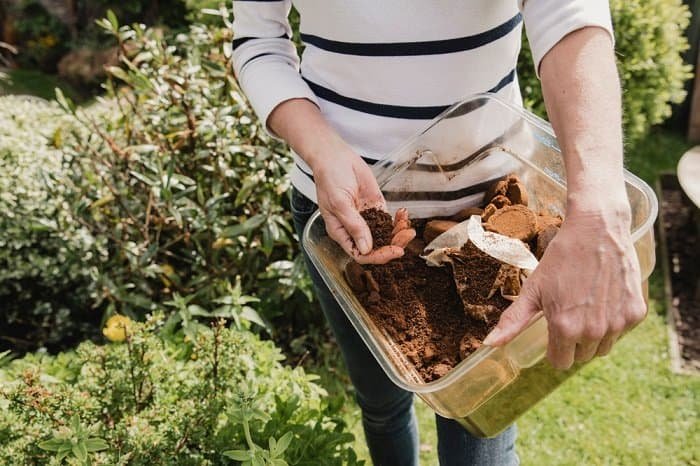 What Plants Like Coffee Grounds?
Coffee grounds can add much-needed nutrients to your soil. The nitrogen in coffee can improve your soil's fertility, but there are other specific benefits of coffee grounds that meet the needs of plants. Coffee grounds contain potassium, calcium, magnesium, and phosphorus, which can help plants grow strong stems and green, luscious leaves.
When used outside, coffee grounds can overpower weeds and fungal pathogens that can take over your garden and the foods you are trying to grow. There are also specific plants that love acid, so coffee is the perfect fertilizer since it raises the pH level for these acid-loving plants:
Carrots
Blueberries
Wild strawberries
Gooseberries
Radishes
Cabbage
Soybeans
Parsley
Pepper
Certain flowers and shrubs also thrive on acid, including the following:
Azaleas
Maidenhair fern
Camellia
Duke
Roses
Rhododendrons
Hydrangeas
Hollies
Lilies
Coffee also helps your soil retain water more efficiently, so it is beneficial to moisture-loving plants while also may help you not have to water them as much:
Bugbane
Calla
Crinum
Elephant Ear
Forget-Me-Not
Hibiscus
Iris
Lily of the valley
Marigold
Coffee grounds can be mixed into your soil with other soil fertilizers and can take between 25 to 35 percent of the soil mix. However, coffee grounds are not just for the outdoors. You can also use coffee grounds for certain house plants, but the grounds should first be diluted with water because the acidity could damage some normal plants.
Why Coffee Grounds are Beneficial to Plants
Coffee grounds are full of a vital plant nutrient – nitrogen. They also contain potassium, are acidic and, of course, contain caffeine. Coffee grounds that are fresh and have not been brewed are even more acidic, so you should use your already used coffee grounds as fertilizer. That means you can enjoy your coffee and then share the grounds.
Since coffee contains nitrogen, it helps the grounds mirror fertilizers since this is a definitive ingredient. Plants need nitrogen to grow so your already-used coffee grounds can be an inexpensive way to mirror fertilizer. Coffee grounds may also encourage your soil to retain water for your plants while weakening the growth of weeds.
Coffee grounds are also popular with those ever-important worms needed to keep your soil healthy. Yet, they keep away the pests you do not want in your garden, like snails and slugs, so they will not be crawling all over the plants you intend to eat. Some experts have even said coffee can also keep wandering cats from digging in the garden.
What About Using Coffee Grounds for Houseplants?
The nitrogen and other micronutrients in coffee grounds are not just beneficial for your garden plants, but also your house plants. If you would like to use coffee grounds to fertilize your normal house plants, you should dilute them with water because the high acidity could harm these plants.
You could also use decaffeinated grounds so that you are not giving your house plants too much caffeine, which could hamper the growth of your indoor plants. Yet, only acid-loving house plants like the following are appropriate for coffee grounds:
African violets
Christmas cactus
Cyclamen
Ghost man
Golden pothos
Jade plants
Miniature roses
The house plants above can thrive in coffee grounds. For example, snake plants need a pH level of 5.5 to 7.5 in the soil and are very low maintenance, so you could water them with liquid coffee for acidity. Coffee grounds are also beneficial to pH-loving philodendrons and can give jade plants a thick stern growth and help them retain water.
Spider plants require a 6.1 to 6.5 pH level in their soil and can also be watered with diluted coffee. Even miniature roses are acid-loving, much more than other similar plants, and will welcome the coffee in the soil or even being watered with liquid coffee. So, that leftover coffee you did not drink can be served to your roses with ease.
What Plants Do Not Like Coffee Grounds?
As noted earlier, coffee is acidic, which means it can alter the pH of your soil. This can be very beneficial to some plants, but could be deadly for others. The caffeine in coffee can also prevent certain plants from growing because plants that like caffeine get greedy and end up taking in all of the nutrients and water in the soil.
Coffee grounds will impede the growth of the following plants and should be avoided:
Asparagus fern
Geranium
Italian ryegrass
Chinese mustard
Alfalfa
Red and white clovers
Remember how coffee grounds help soil retain water? Although this can help you not have to water your plants as much, it could be deadly to the following dry-soil plants:
Black-eyed Susan
Century plant
Lavender
Madagascar periwinkle
Orchids
Pothos
Rosemary
Sago palm
Coffee grounds could be toxic to the plants listed above and should be avoided. If you have these plants in the garden near coffee-loving plants, you will want to be very careful to not just throw the coffee grounds periodically because they could end up impeding the growth of your precious tomatoes, rosemary, or orchids.
How to Use Coffee Grounds to Feed Your Plants
When using your used coffee grounds to nourish your plants, you should take the old piece of advice that everything is better in moderation. This holds true for feeding your plants nutrients like nitrogen and potassium. You will want to dilute the coffee grounds first and use sparingly in your garden.
First you should dilute your coffee grounds similarly to other types of fertilizer, by mixing around a teaspoon of the grounds with a gallon of water. Once it is diluted, the best way to use coffee grounds in your garden is to add it into your compost and then mix this into the potting soil. Then you can see how your plants respond to the coffee.
If you use paper coffee filters, they can also be mixed into the compost to help your acid- and water-loving plants. You can also mix your coffee grounds into your mulch to keep pests away like slugs and snails.
Conclusion
Using coffee grounds in your garden is a great way to get rid of something you already have in your home and feed certain types of plants both outside and inside. When used correctly, coffee grounds can encourage the growth of certain plants that thrive on acid and a lot of water. It also inspires earthworms into the soil while scary away pests.
Some coffee shops even give away grounds for free if you are not a coffee drinker. Just make sure to brew the coffee grounds first, as used grounds are best as fertilizer. In addition, coffee grounds could impede certain plants and should not be used in all cases. As with everything in life, using coffee grounds in soil should be in moderation.
We put together a list of annual plants that bloom all summer long that you maybe interested in!